Employee directories have been an indispensable communication tool for organisations who use them. Not so long ago, finding a colleague you needed to speak to could take a frustrating amount of time. You would rely on your Rolodex or on interrogating the rest of the office over who is 'the best person to speak to'. 
Even now, it can be difficult to link up with the right people without an in-depth knowledge of the company structure. 
Evidently, this is an issue in modern times. Oak's Future of Working report found that 47.4% of leaders think inter-department communication has been an issue during remote working.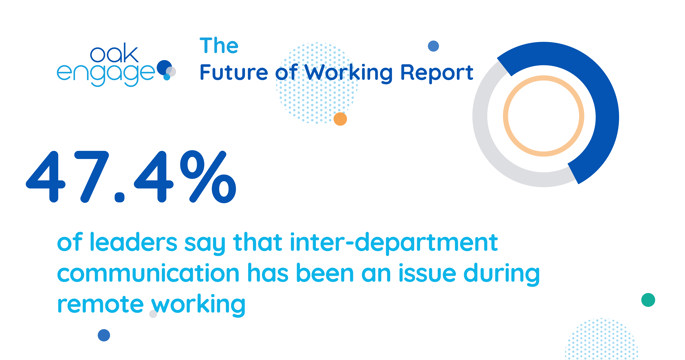 An employee or people directory (it can come in different packages) can be the solution. 
They can make for more efficient communication and provide a fast track to getting in touch with other members of staff.
This blog is your guide to employee directories and everything they can do for your business. 
It includes: 
What is an Employee Directory?
Why Do You Need an Employee Directory 
Advantages of an Employee Directory 
4 Ways to Use an Employee Directory 
What to Include in Your Employee Directory 
4 Features That Make a Good Employee Directory 
3 Ways Oak Engage's People Directory Can Help Your Business 
Conclusion 
What is an Employee Directory?
An employee directory (or staff directory) is a central, digital source where the contact information of every employee in the organisation is stored. There will often be an accompanying photo, alongside email address, company phone number and a link to their intranet profile if they have one. 
They also tend to show which team/department they belong to and who they report to, so you can find out who sits where in the organisational structure. 
Why Do We Need an Employee Directory?
Technology has evolved most aspects of our day-to-day roles, so why shouldn't we use it to connect and communicate with colleagues?
Even in smaller companies, it's unlikely you're going to know every person in the organisation, let alone everyone's job title and contact details. The increase of remote working has intensified the need for a digital staff directory. 
28% of employees pinpoint poor communication as the main reason deadlines are missed, so there is a real risk to businesses that don't have the right comms tools or accessibility to people.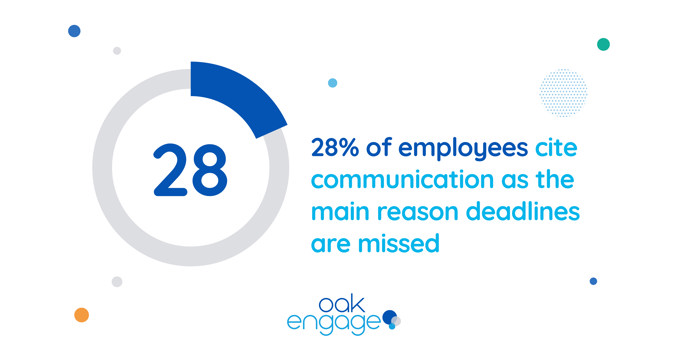 ---
Recommended Reading 📖:  Internal Communications Software [Buyer's Guide] 
---
Advantages of an Employee Directory
So, we've established the need for an employee directory. Quite simply, your business will work more efficiently with easier communication, but that's not all it can be useful for.
Let's look at some more of the benefits of an employee directory:
Helps Improve Onboarding
There is so much information to take in when you begin with a new business and it can be overwhelming. New starters will want to get a proper understanding of the company structure as well as who their coworkers are. When onboarding remotely this can be quite tricky. 
To address this issue, an employee directory can be a valuable tool. It allows new employees to explore and learn about their colleagues at their own pace. Moreover, if they require guidance or have questions regarding a specific area, they can easily identify the appropriate person to speak with.
Find the Expertise You Need 
It is so frustrating when you can't continue a piece of work until you speak to someone with specific expertise. Flow gets interrupted and deadlines can be missed. 
With a staff directory, you can search for the skills you need. With Oak's staff directory, their job role will be attached to their profile so you can search for the specific job title or through their department to narrow your search.
Socialising 
People directories are perfect for workplace communication, but the social aspect is also vital. 21% of employees believe having friends at work makes them more creative, so building a social environment is a contributor to innovation. 
With Oak, you can attribute both skills and interests so that people will be able to find you by searching the terms they are interested in. 
This is perfect for striking up conversations with like-minded people and adding people to hubs to build up virtual communities. With employees onboarding or working remotely, it is important to create a space where it is easier to strike up social relationships. 
Ways to Use an Employee Directory 
The employee directory is far more than just an estate for contact details. It's an information source that can help improve employees' knowledge of their organisation and the overall experience.
Here are some of the ways you can use an employee directory: 
Searching for Employee Contact Information 
Gone are the days where you would either patrol the office asking 'do you know Joe Bloggs' number' or guessing someone's email address on a wing and a prayer. An employee directory takes all the leg and guesswork out of getting contact details for someone. 
You can search either for the contact details of a name or by their job title, skill set, department and more. If like Oak, you have a federated search in your intranet, you can just type the name or department you want to view, the same way you would on social media.
Finding Out Where Someone is Based 
Most businesses are multi-location. Even smaller businesses or those who operate locally may have a cluster of offices spread across the region or people working fully remote. 
If your staff directory is equipped with a location filter or tag, you can view who is in each location. You will be able to see who you share an office with and can help guide conversations with colleagues in other locations. 
Seeking the Specialist
If you're seeking a particular skill set for a piece of work but aren't familiar with that area of the business, a people directory is the solution!
Oak's employee directory has keyword filters so search the term or job title that you need and the missing piece of your project is just a click away! 
Onboarding
An employee directory will help new starters get to grips with the organisational structure, as well as their teammates and colleagues, in their own time. 
Only 12% of employees think their organisation does a great job of onboarding, largely down to a lack of clarity of the business and their role or the monotonous nature of certain tasks. 
A people directory can help make the learning of the company structure a more interactive experience as well as direct them to the personnel they need if they're unclear about anything.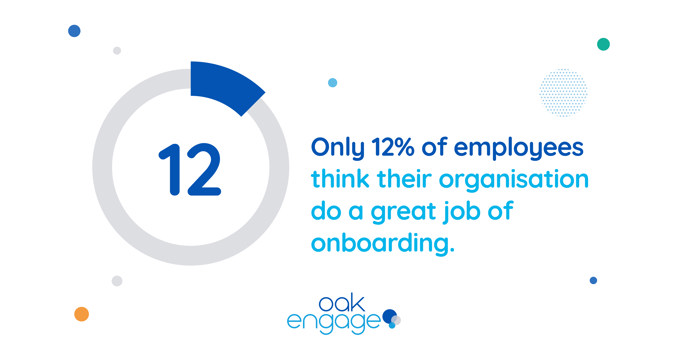 What to Include in Your Employee Directory 
So you've decided to implement a people directory, but what details do you need to acquire and present to fulfil its purpose?
Organisation chart 
Names
Job titles 
Contact details 
Location/Office
Reports/Managers 
4 Features That Make a Good Employee Directory 
Easily Accessible 
A good employee directory should be easy and quick to access, not hidden away in an old, unused piece of software. It is reported that accessible workplace apps can boost collaboration by 16%! 
When you have an all-in-one platform like Oak, you'll be able to access your people directory from the same place as your rotas/payslips, absence planner, news updates and pretty much everything else internal comms related. 
By customising your intranet homepage you can ensure employees can access their employee directory as soon as they log in.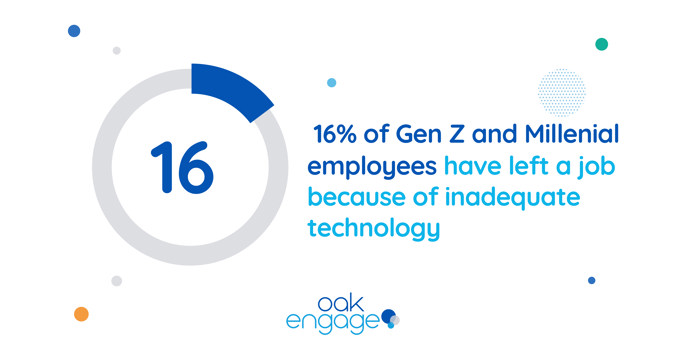 ---
Recommended Reading 📖: Oak Features
---
Simple Navigation 
Part of the issue with unused software is that it is often clunky and difficult for the average worker to navigate. With features that improve navigation like federated search and clear organisational charts as part of your directory, you will see an increase in usage.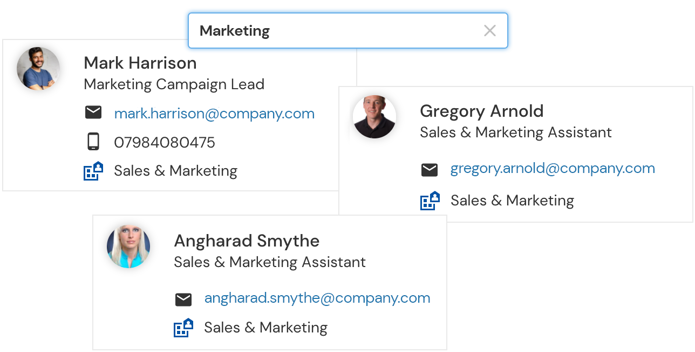 Kept up to date 
The makeup of the workforce can change regularly. If you don't ensure your directory is up-to-date, structural changes hire and leavers could go undocumented. An outdated directory defeats the whole point. 
To keep the directory updated, you need user-friendly profile management, and automation that links to Active Directory or other company databases to keep the directory updated in real time.
Visually Appealing 
Comms applications can have as many features or functions as you want, but if it doesn't look good the chances are the average worker won't want to use them. Choose software that not only feels slick but looks it too and watch the user base grow. 
You can also design with your brand colours to give your employees an authentic experience unique to your company.
3 Ways Oak Engage's People Directory Can Help Your Business 
Connect People with Profile 
Not only does Oak's employee directory connect you with a colleague's department and contact details, but also their own social profile. Here you can see the content they're posting or interacting with. 
You can get to know more about a particular project they've posted about, congratulate them on a recent recognition post or even strike up a conversation about mutual interest!
Every user can upload their own profile picture too, so you can put a face to a name!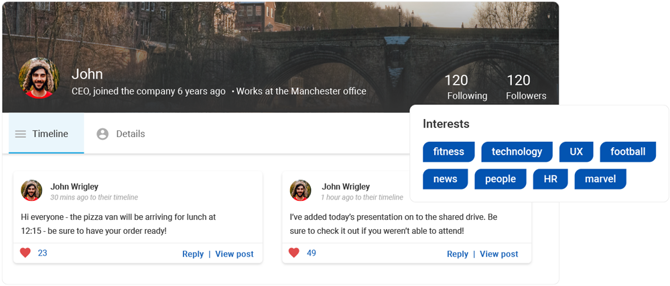 Find Anybody in Your Department 
With Oak, you can navigate your employee directory by department, in order to find the skills or person you need-even if you don't have a name to hand! 
Alternatively, you can go through the staff directory list to find who you're looking for, as every contact will have their job title attributed to them. 
This is perfect for the modern workplace. As more employees in your business would have onboarded remotely or not met some of their colleagues in the flesh, they will be able to get up to speed on who does what in the organisation and who they will need to collaborate with.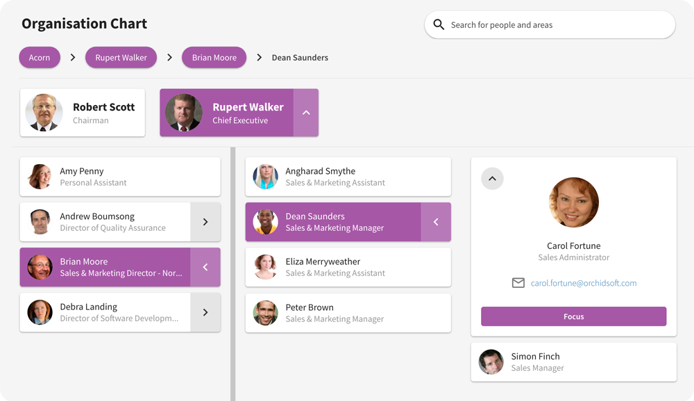 People Search, Made Easy
Oak's federated search function and defined search filters make finding colleagues a straightforward task.
Just have a name? Type into your search bar and their profile will be there. 
Only have a department to go by? Search will bring up all the possible results based on this.
Need to speak to a senior member of staff but unsure of the hierarchy? Your Oak directory is fit with an organisation chart.  
Whatever the level of information you have on the person you need to contact, accessing contact details is quick and painless. 
---
Recommended Reading 📖: Oak People Directory