The importance of internal communications can not be overstated. A good internal communication function can boost engagement and productivity in your workforce to unprecedented levels. 
Amazingly, 60% of companies don't have a long term strategy for their internal communications. 
However, implementing a plan and improving internal communications needn't be an arduous task. 
As international experts on internal communication, we know what makes your employees tick. Join us as we guide you on how to improve internal communication in a company. We'll be discussing:
Internal Communication Definition 
What is Effective Internal Communication
What is the Goal of Internal Communication
Challenges Faced by Internal Comms Teams
11 Tips to Improve Communication 
Tools to Improve Internal Communication
Internal Communication Definition
Internal communications is how information is shared in an organisation. This applies to the processes and tools that facilitate communication.  
Internal communication in its true form will keep employees connected and informed. Engaged employees are 17% more productive than their peers. Effective communication is vital to future success.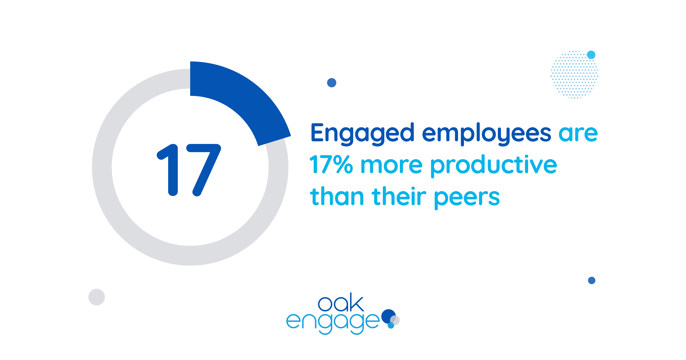 What Is Effective Internal Communication?
Effective internal communication can take many forms depending on the business. There is no 'one size fits all' approach. What it will always entail, however, is communicating with employees sufficiently at all levels.
Oak Engage's Head of New Business & Marketing, Rachel Davison, believes that effective internal communication must start from the top. 
"With internal communication it is key to set an example from leadership first and foremost. This will establish the tone, culture you want to create and set a precedent for the rest of the business."
Rachel Davison, Head of Marketing for Oak Engage 
"You also have to learn how people within the business want to communicate and share to create a two-way dialogue. This will help you understand what an effective internal comms strategy will look like." 
---
Recommended Reading 📖: How to Improve Employee: Engagement 10 Simple Steps
---
What Is the Goal of Internal Communications? 
Ultimately, internal communications should provide an effective flow of information throughout the organisation. It will ensure employees have the tools that they need to do their job to the very best of their ability. 
However, there are several goals underneath the overarching aim that also must be met. For example:
Ensure employee understanding of company policy and procedure
Align workforce with organisation brand, vision and values 
Streamline and standardise company processes 
Develop a collaborative culture in teams and across departments
Make employees feel engaged and happy in their role
Challenges Faced by Internal Comms Teams
Too Many Internal Comms Channels
Having too many internal communication channels is akin to too many cooks spoiling the broth. Overcomplicating communication with disparate tools will cause as many problems as solutions.
This type of unorganised approach usually causes headaches for internal comms and employees. With many unintegrated tools, people will be confused and generally not want to use them.
---
Recommended Reading 📖: Too Many Internal Comms Channels? Read This
---
Lack of Feedback
Without two-way communication, any internal comms approach is built on guessing rather than fact. How do you really know how to connect and engage your employees without actually asking them?
A lack of feedback avenues for employees will result in them not feeling heard or valued. Also, not utilising the data and insight it can provide is a missed opportunity for the business.
Deskless Workforce
80% of the global workforce are deskless, so they're a pretty significant internal stakeholder. Despite this, deskless workers are often the last to hear about news and updates relevant to them.
This often stems from a reluctance to embrace mobile technologies . Mobile employee apps have given companies a golden chance to engage with them. Deskless workers pose different communication challenges, but now there is the capability to connect with them.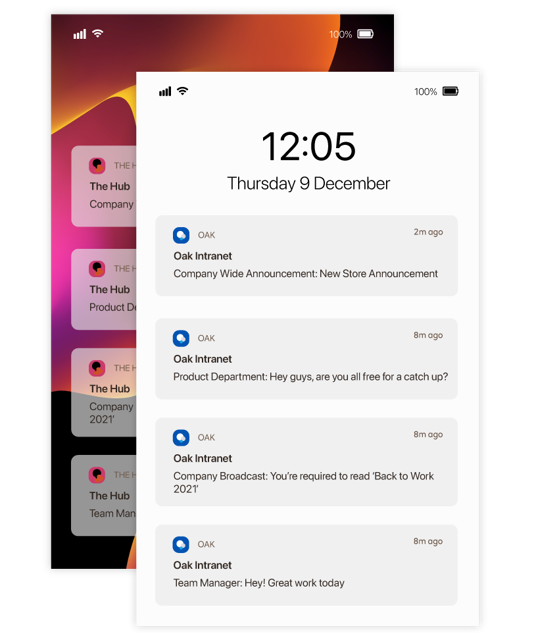 ---
Recommended Reading 📖: What is an Employee Engagement App? [A Simple Guide]
---
Remote Onboarding
Remote onboarding has posed one of the biggest obstacles to internal communication in modern times. It has posed new challenges and getting it wrong can have significant consequences.
The lack of in-person interaction may lead to new employees feeling isolated. This isolation paired with ineffective training may result in a lack of knowledge of business systems, processes and an inability to collaborate.
Message Overload 
There is such a thing as too much information. A bombardment of messages will cause disinterest and difficulty in distinguishing essential information. This makes it increasingly difficult to engage employees.
With targeted content you reach the desired audience without the overspill caused by monotonous company wide emails. Content feeds as part of your intranet can target information to the relevant employees.
11 Tips to Improve Internal Communications in the Workplace 
Meeting your internal communications goals will help your business in a myriad of ways.  
What journey do you need to take to get to that stage? Without defined tactics it will be very difficult to realise any of your objectives. 
Here are 11 tips to help improve internal communication in your workplace:
Evaluate Your Current Internal Comms
Albert Einstein famously said: "The definition of insanity is doing the same thing over and over again, but expecting different results". 
Many businesses haven't heeded those words. A Bambu report found that 29% of internal communication plans aren't working.
So why not make changes? Surely making an effort to improve internal communication in the workplace should be a top priority? 
Being honest about your own failings and being open to change can help mould a plan that does work. Before devising a strategy that's right for your business, first pinpoint what is and what isn't currently working. 
It will help shape an effective internal communications plan. 
Identify Aims & Objectives
How do you measure success? When implementing an internal communications strategy, you must establish what it is you are aiming to do.
You must define SMART objectives in order to evaluate and measure this. As you map out your aims, establish specific metrics and measurable targets within timeframes to keep you on track. 
   
Regular Check-Ins 
The 2020 State of Remote Working report found that 20% of remote workers experience loneliness. This makes it increasingly important to regularly check in.  
A simple message can make a world of difference and shows the organisation cares about connecting with its employees. 
Whilst many of the conversational aspects of work can be lost, you can keep it alive. 
Be Active On Your Company Social feed
To create a culture of transparency the business must be forthcoming when it comes to sharing news. 
A social media like news feed provides a platform to champion successes and announce major changes. It also gives you a chance to convey potentially negative stories before the rumour mill goes into overdrive.
---
Recommended Reading 📖: Social Intranets: A beginners Guide
---
The average employee receives 121 work emails per day. Intranet timelines are a great way of sharing information in a more engaging manner.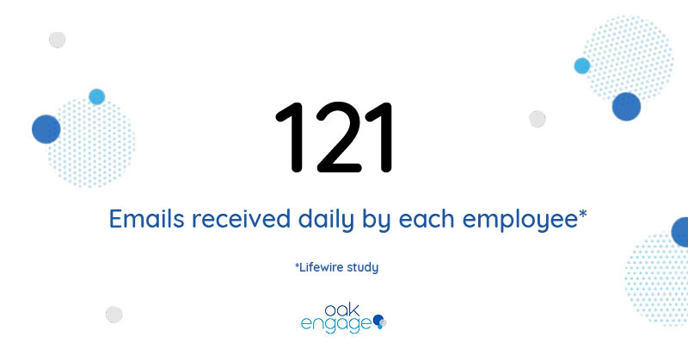 Give Your Employees a Voice
Two-way communication with employees is absolutely key, otherwise you may never comprehend how your workers actually feel about their role. 
Encouraging employees to give feedback not only helps to improve engagement, it gives the business insight . This will contribute to continuous improvement of internal communication strategy.
Pulse Surveys are a simple way to do this- integrated analytics dashboards will also visualise the data you collect.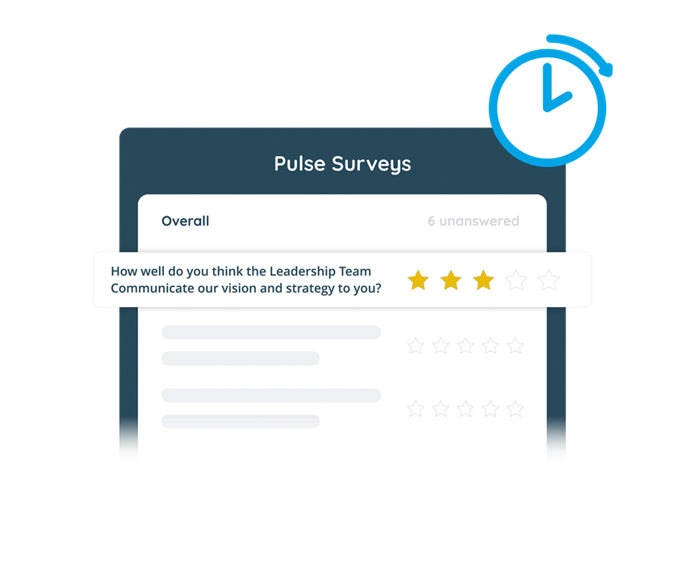 Encourage Social Interactions in the Workplace
Facilitating non-work related communication can lead to higher engagement. 
A Future Workspace study found that 70% of employees say having friends at work is the most crucial element to happy working life.
Of course, this is harder to engineer in modern working environments. Social tools like instant messaging and community hubs can be invaluable asset. They provide the opportunity for employees to chat about things outside of work.
Celebrate Employee Achievements
When employees feel appreciated they are happier, more productive and loyal.
Companies that recognise their workforce's achievements regularly have on average a 31% lower turnover rate than those that don't. Something so simple can have such a significant impact on business success.
A congratulatory message or a post to your intranet news feed are simple but effective methods of displaying your gratitude.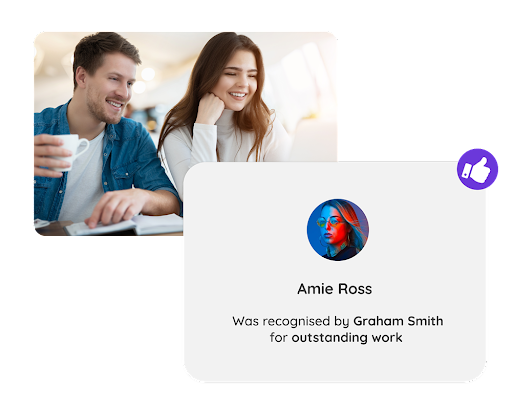 Create an Employee Wellbeing Strategy
Employee wellbeing is the physical and mental state of workers and has a direct impact on business success. 61% of business leaders believe wellbeing improves employee engagement and productivity.
         
Having a consistent wellbeing strategy will help to build internal equity with employees and reap the benefits. The measures you put in place MUST be people centric.
Things to consider as part of your wellbeing strategy could be: 
Health related benefits- gym memberships, health insurance, etc. 
Reward schemes - bonuses, incentives, etc. 
An open door policy or regular check-ins 
Flexible working to help relieve the stresses of everyday life
---
Recommended Reading 📖: Employee Wellbeing: A Beginners Guide
---
Define Clear Mission Statement
How do you know if your employees are on the same page as the company, if they don't know what the company stands for? 
Too many businesses expect their workforce to be aligned with vision and values. But 52% of UK employees aren't aware of their company's vision at all. This would suggest that vision and values are generally poorly communicated. 
 Make sure your mission statement is front and centre of your intranet homepage and get your workforce on the same page . 
Improve Collaboration Between Teams
Internal communication is responsible for connecting the wider business. Projects often demand collaboration between different departments and teams.
86% of business leaders cite a lack of collaboration for workplace failures. This is why you must facilitate broader communication.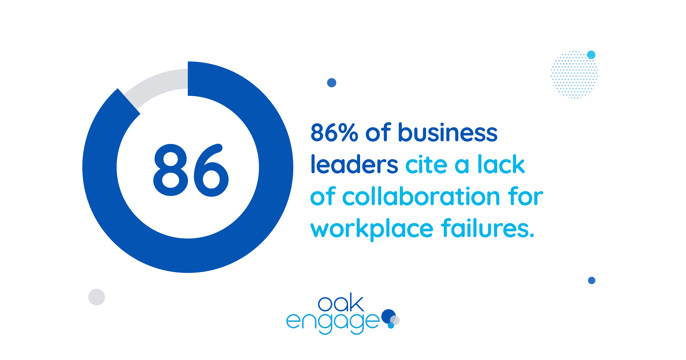 Centralised collaboration channels for all the business to use, as well as staff directories, make cross-department interaction far easier.
Transform Your Intranet
Is your intranet unintuitive, do the bare minimum and provide limited (if any) ROI? If the answer is yes, you are missing out on the benefits of a modern day intranet. The dynamism of the modern workforce requires a solution that reflects the world they live and work in.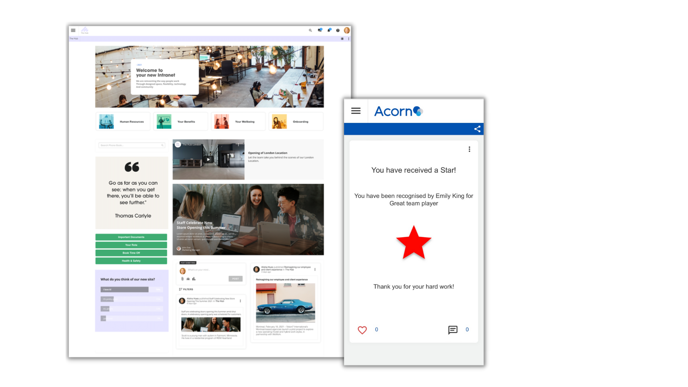 A cloud and mobile friendly Oak Engage solution offers exactly that. Branded to your requirements, it provides employees with all the information and collaboration tools they need to do their job. Transforming your intranet to a modern day solution can turn a clunky, outdated programme into the hub of your business. 
Tools to Improve Internal Communication 
Your internal communication tools underpin any strategy. There are tools you can implement to help towards improving internal communications. 
Here are just a few tools you can utilise to improve internal communication:
Instant Messaging
Instant messaging tools alleviate the issues linked to mass email and outdated communication channels. They are a prime example of businesses embracing modern communication methods.
An instant messaging style platform means more intuitive and streamlined communication. Oak Engage's integrated messaging facilitates interactions between individual users or groups in a central location. It is the ideal collaboration and social tool.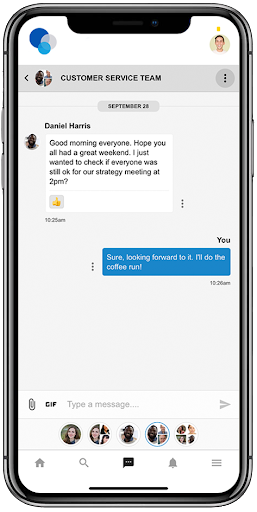 Employee Mobile Apps
Employees without a company email or device may be starved of connectivity. Mobile technology is the key to connecting with deskless workers. Employee engagement apps can provide access to company policy, updates and rotas.
Oak's mobile application integrates features of a modern intranet. Communication and information channels are there on demand. Push notifications also provide urgent updates wherever an employee is.
Employee Community Hubs
A CIPD study found that 46% of employees missed the social aspect of work. Isolation is something any business with remote workers must battle against. Social Hubs and communities bring people together, regardless of location.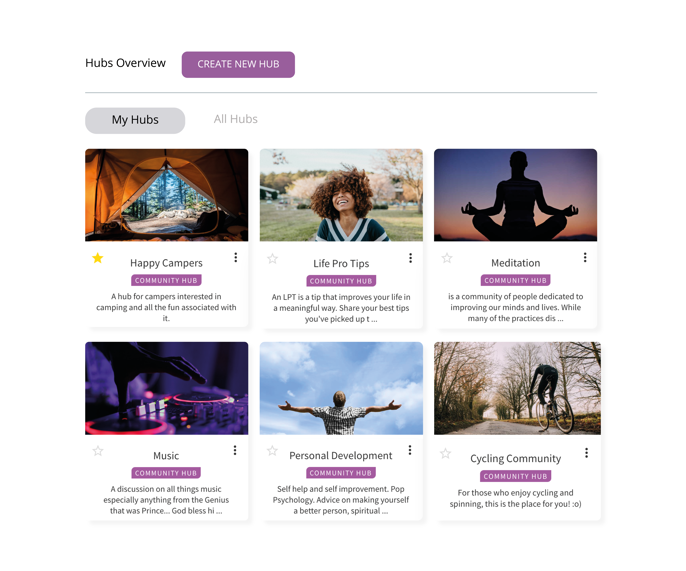 Whether it be sharing information with a select group of people or discussing mutual interests outside of work. Hubs can replicate the office water-cooler and the meeting room. 
Oak Engage - Powering Internal Communication Around The World
We work with the best brands around the world to power their internal communications strategy. Find out more about how Oak Engage can supercharge your comms efforts.