Our world has become increasingly digital. It's hard to imagine life without technology. Communication and tech advances mean we can communicate with ease.
Communication is fundamental to everything we do. The success of our work and building relationships depends on it. 33% of employees have said that a lack of honest communication is negative for morale. In addition to flexible hours employees want a wider adoption of communication tools. 44% of employees in fact. Better communication leads to better employee engagement.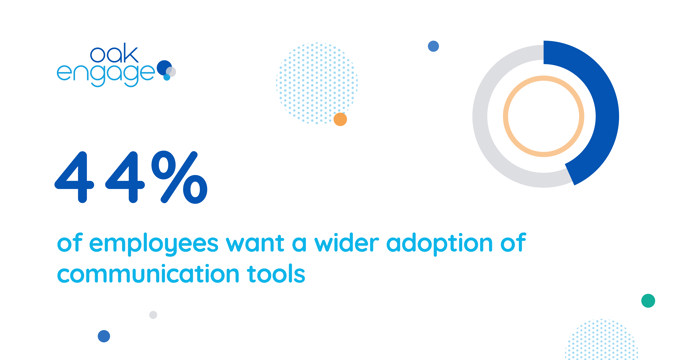 Having a robust intranet software ensures employees can communicate and collaborate properly. The best intranets provide tools to make communication and collaboration easy to help build relationships. Having advanced content management tools, powerful search and engaging features is also beneficial.
Intranets have evolved to become more social. They're a space where all employees can get involved and create content, rather than just leaders and those at c-suite level. A good corporate culture is hard to create if your workforce doesn't have meaningful relationships or the tools with which to facilitate them.
Having a social intranet platform helps connect employees and helps people to establish relationships. If your business allows remote and hybrid working, intranets are essential for knowledge sharing and engaging your workforce. 
What is a social intranet?
If you haven't heard of a social intranet, the first thing to come to mind might be Facebook, Instagram or Twitter. Social networking sites that we use for communications and to connect with multiple people and share new thoughts.
Social intranets are similar, they are essentially a new take on an intranet. They're modern intranets that allow businesses to communicate, but with added features. They're great for improving internal communication. 
Functions like social media apps can now make a workplace intranet engaging and interactive. Social intranets allow employees to contribute, collaborate, connect and improve friendships. They're great for making people feel part of a team.
How social intranets can help your organisation
A social intranet helps foster connections and communication. Workforces are incorporating remote work and hybrid working into their organisational structure. An intranet is essential for making hybrid working successful. So what are the benefits?
           
Creates a positive company culture
Connections and teamwork are crucial for creating a positive work culture and environment. When employees feel connected, the collaboration, productivity and morale of teams increases.
Having a feature like Hubs in your social intranet is great for bringing people and teams together. Create hubs for anything. Work projects, sharing interesting ideas and findings, planning social events and hosting quizzes. Got office dogs? Why not use a feature like hubs for some regular pupdates? Engaging and fun to use, social intranets are great for connecting people.
Social intranets mean that people can connect in real time and form bonds no matter where they are. Being connected to colleagues makes work enjoyable. Employees' lives are so much better when they are happy with their daily routines.
Keeps everyone informed and involved
Social intranets with a range of capabilities gives you the ability to create a variety of content. Rather than corporate content, social intranets mean you can create fun interactive content. Updates, internal podcasts and social hubs can all be part of your modern intranet.
News, social feeds and push notifications mean employees can receive information immediately. Information can be sent to specific teams or to the whole organisation.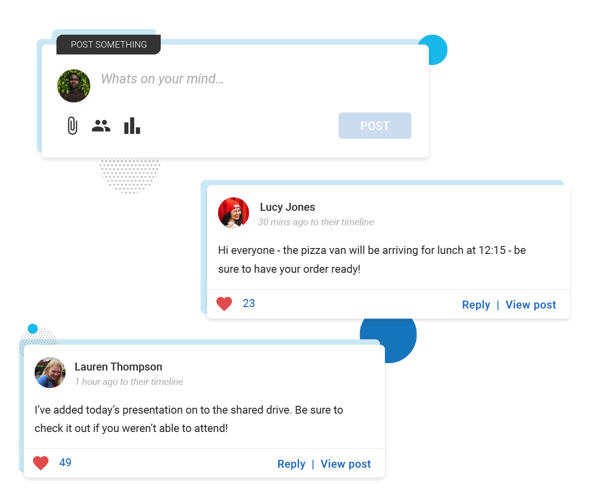 Options like mandatory read mean that business critical information is always communicated properly. Information doesn't get lost in translation or lost in a thread of emails.
Social intranets with these features mean you have the control on who receives what information. All employees are aware of what's going on within the business. 
When employees feel involved and informed, it increases trust. It also creates lasting relationships between teams, employers and employees.
Connect your workforce
Social intranets are people centric. They allow people to build connections and feel like they belong to the organisation. Through likes and comments, everyone can get involved with the conversation.
Our instant messenger features also improve engagement and productivity. Employees can chat with anyone in the organisation and even create group messages. 
With social intranets, communication becomes multi-faceted rather than one way. Anyone and everyone can get involved in the conversation. Social intranets remove barriers that might usually stop people from connecting.

Boosts engagement
The workplace is becoming more digital. Having systems where all employees can receive information in one place leads to improved engagement.
Social media channels allow individuals to connect online, just like the modern intranet. Social intranets with anniversary features and employee recognition software make your intranet personable. Celebrate meaningful moments for individuals, it creates a fun and enjoyable workspace. 
Features like this foster employee engagement and make employees feel valued and important. The more valued and important employees feel, the more motivated they are.
Boosts productivity and collaboration
Certain features are needed for collaboration. Have you heard of document sharing and content management systems with social intranets? They give the user access to content so they can complete tasks wherever they are. 
Employees can also stay connected with anyone in the organisation. This streamlines internal communications and improves productivity. These things are all opportunities to connect your workforce and enable innovation. 
With an intranet, each user is on the same page and working towards the same goals. Everyone feels like part of the team no matter where they are and what they're doing.
Features of Social Intranet
It's important for an intranet to have certain features that make it engaging and easy to use. Here are some of Oaks' wonderful intranet features. Test your knowledge with our quizzes in this section...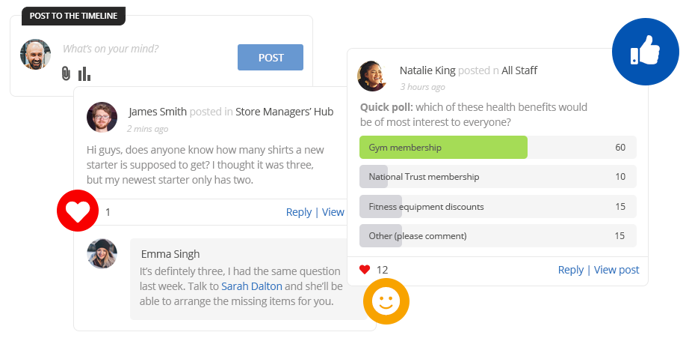 A Mobile App: A dedicated app gives each user access to company information. Everyone has the same employee experience, wherever they are.
Instant messenger: The next best thing to a real conversation. Instant messenger means users can send instant messages to multiple individuals or certain groups. It's great for encouraging social interaction.
Communication hubs: Bring like minded people together to share, socialise and connect. Work related or non work related, hubs are a great way to share informative or fun content company wide. Or both!
Full customisation and personalisation of homepages and feeds: Every intranet will be different. Having freedom to customise your intranet is essential. With Oak you have the ability to create and customise your whole digital intranet to your liking. Need a channel for a certain department? It's easy with Oak.
Branded design: You wouldn't want an intranet that looks the same as other brands. You want it to be unique to your brand identity and embody your company culture and personality. A branded intranet shows consistency. It reminds employees they're part of an organisation and shows a sense of community. With Oak the ability to create a stunning intranet is easy.
Social timelines: Want to catch up on the latest announcements? What about commenting on Susan's latest post about her charity challenge? Social timelines allow you to comment, like and upload various media types. They're great for allowing people to connect and feel like part of a team.
Trending content: This feature gives suggestions on content to view. It's based on what others in the business are searching for to make collaboration easy.
News/social feeds: Reports suggest that we check facebook newsfeed 13.8x a day. Timelines and social media feeds are part of our daily lives. With Oaks, you can create facebook style social feed. Employees have a space to create bonds and relationships with others.
Employee profiles: Employee profiles allow people to get to know each other. It's great for onboarding and helps people to know the company and everyone's roles better. Discover who management are or simply browse employees within the company.
Employee recognition software: Recognising major milestones and anniversaries shows you value your employees. It creates a positive working culture, boosts workers morale and improves employee wellbeing.
Case studies
Want to see how having an intuitive and social intranet can impact your business and your workers? See how it's made a difference to our wonderful customers:
Aldi: Aldi were on the search for a tool to revolutionise their communication. Oak helped them launch their intranet app for desktop and mobile 'MyAldi'. 
It meant all 40,000 workers could contribute to the company conversation. Aldi's engagement rates have increased to 90%. They're now able to align their employees, celebrate achievements and share news. Everyone has access, no matter their job role.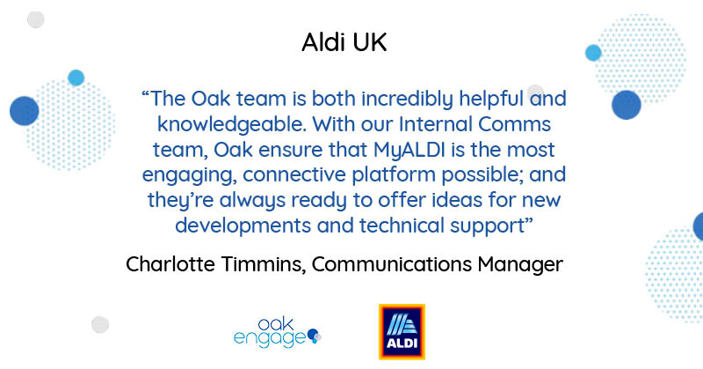 Five Guys: How do you connect a workforce that spans four countries? With an Oak Intranet solution. Oak helped Five Guys shift from traditional printed methods of communication. 
They went from endless emails to a single source of all the company information in one place.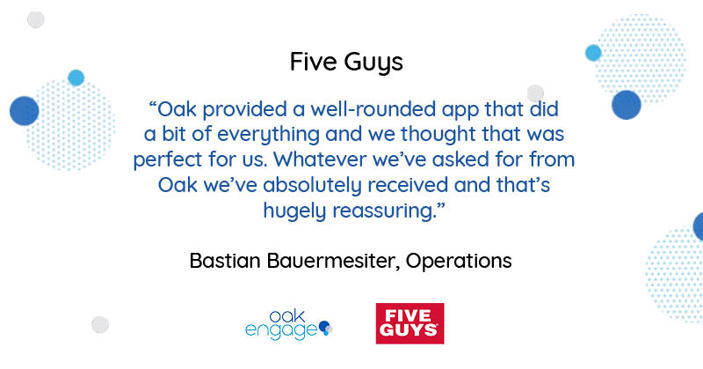 Miller Homes: Social media feeds recognise the importance of visual content. Storytelling and a social intranet is no different. Miller homes are a company who rely on visually showcasing projects. 
Having an intranet with intuitive capabilities lends to creating this type of content. With Oak Miller homes improved their communication. Staff were updated through news articles, notices and interactive homepages.
Buckinghamshire New University: Nothing beats the benefits of face to face communication. Instant messaging is the next best thing. Before their Oak Intranet solution, BNU relied on distributing internal comms through email. 
This proved time consuming and unreliable when trying to reach certain audiences. Having an intuitive intranet meant employees were up to date with instant communication.
BNUs intranet has kept their positive company culture alive whilst remote working. BNU hosted live Q&As, quizzes, online events and meetups. This meant employees could communicate and connect even whilst remote working. And it was fun too.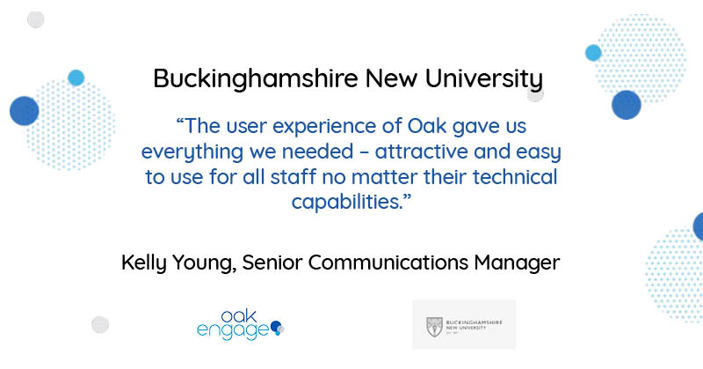 Severfield: How do you communicate when your workforce is office based and deskless? Using an intranet to create engaging content. When employees can connect instantly and digitally it unites a whole workforce. No matter the size it allows people to remain connected though any task or trying time.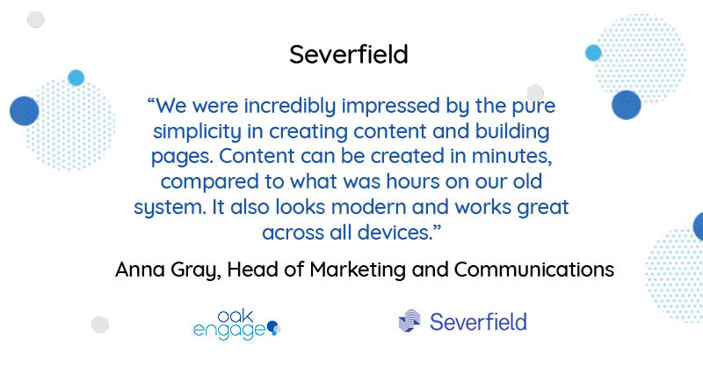 OEC: The beauty of a digital world means we can find everything we want at the click of a button. The same should be said when it comes to searching for things in your workspace.  With Oak, OEC were able to share single documents for all employees to a centralised location.
Push notifications meant company wide updates were getting sent to the right people. Connecting employees via one platform creates a united workforce.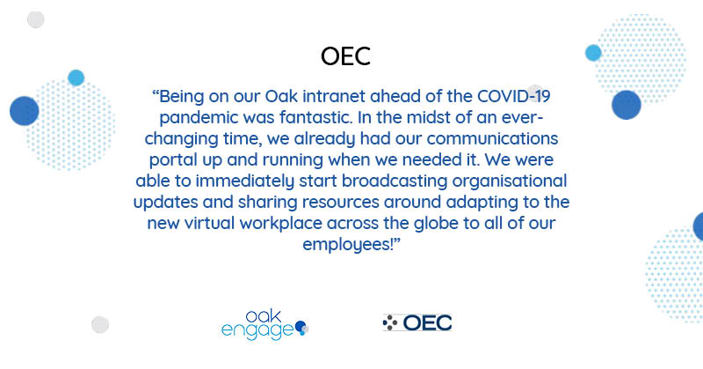 Wing Yip: Wing Yip, UKs leading oriental grocer had an internal communications nightmare. They have stores across Birmingham, Manchester, Croydon and Cricklewood. 
With no place for employees to share information and interact they were struggling.. Using intuitive technology, Oak connected desk based and deskless employees. Having a structured intranet has meant they can align their workforce.