11 Internal Communications Tools for 2021 & Beyond

Your company internal communications tools are integral to getting the best out of your employees in terms of both engagement and productivity. 
Organisation productivity increases by up to 25% when employees feel connected, but it is not something achieved without proper action. The lack of in-person contact in the workplace as a result of increased remote and deskless workers, makes facilitating internal communication all the more important. 
In our guide to internal communications tools we will look at:
Examples of Internal Communication Tools 
Modern Internal Communication Tools 
Internal Communication Tools: A Collaborative Effort
What is internal communication?
Internal communication is all of the communication between any participants of an organisation. It is integral to the relationship between a company and its employees, keeping them connected and informed.
---
Recommended Reading 📖: : Internal Communications The Ultimate 2021 Guide 
---
Examples of Internal Communication Tools 
Generally speaking, every organisation will possess some form of internal communication channels. However, whilst they may serve a function, they are not necessarily effective tools that compliment or integrate with each other. 
Here is a list of just some of the common employee communication tools: 
Traditional Intranet 
Microsoft Teams 
Zoom
Slack
Google Meet
Google Drive 
Microsoft Office 
The likelihood is your workplace will use at least one if not more of these, but having disparate internal communication tools causes confusion. Using several different channels of collaboration that aren't integrated can bring about problems. Oak's solution integrates with your favourite applications, including Office 365, Google Suite, Microsoft Teams, Sharepoint and Workday to name a few. 
Modern Internal Communication Tools 
The evolving workforce has exacerbated the need for innovation when it comes to business collaboration. This is why organisations have embraced modern internal communication tools that make for integrated and seamless communication, increasing engagement and productivity. 
Here are some modern internal communication tools your business can utilise using our platform:
Cloud Based Intranet 
Traditional intranets can be clunky and only accessible through work servers or desktops. A cloud based intranet solution like Oak Engage, means that you can connect a global workforce wherever there is an internet connection. Cloud based software enables heightened connectivity and as such is far more accessible than traditional intranets.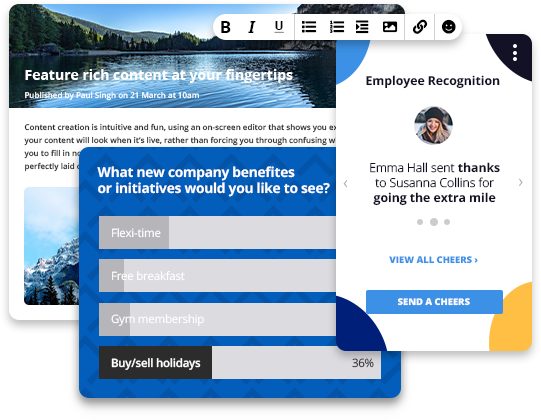 ---
 Recommended Reading 📖: : What is a modern intranet? 
---
Employee Social Platform 
Ensuring your employees are aligned with your company's brand can be tricky. Customisable homepages allow you to design your intranet in line with your brand and add personality to it. News feed and social timelines also allow your employees to view company updates in an interactive way and to also interact with one another through engaging with posts.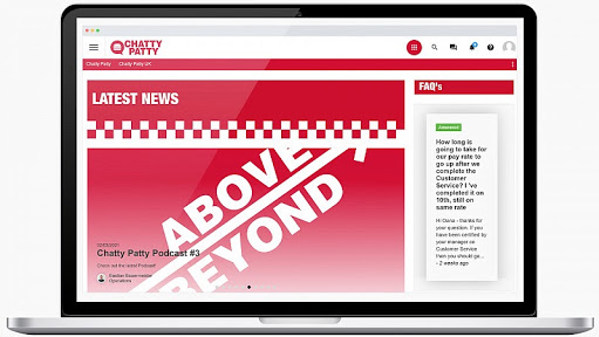 Mobile App 
When you have deskless workers or employees who may be out and about at meetings, access to information while on the go is something a business can not do without. Oak's mobile application with all features integrated, means communication and information channels are always there when you need them. Your employees will never be too far away from their desk.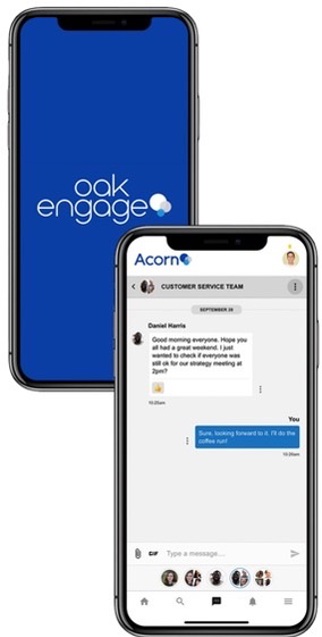 Employee Communities 
According to Gallup, 85% of employees are not engaged at work. Social Hubs and communities bring like-minded people together. Whether it be sharing information with a select group of people or discussing mutual interests outside of work, social hubs can replicate the water-cooler in the increasingly remote workforce. 
---
Recommended Reading 📖: 21 Scary Internal Communications Stats
---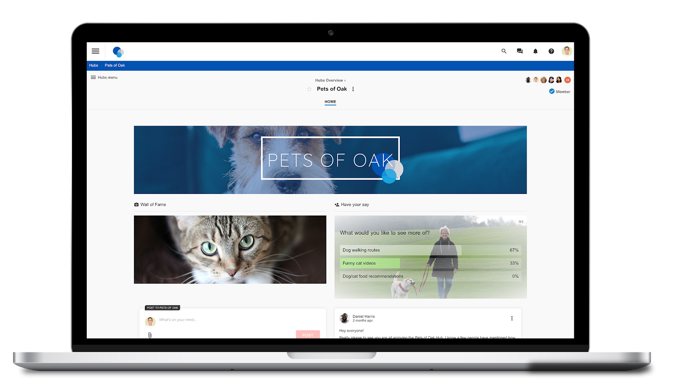 Instant Messaging
Company emails or unintegrated messaging services in the office can lead to information getting lost and more timely interactions. How much easier would it be if your messaging platform was built into the rest of your intranet? Oak's messaging services means interactions between individual users or groups in a central location, making it a great collaboration and social tool.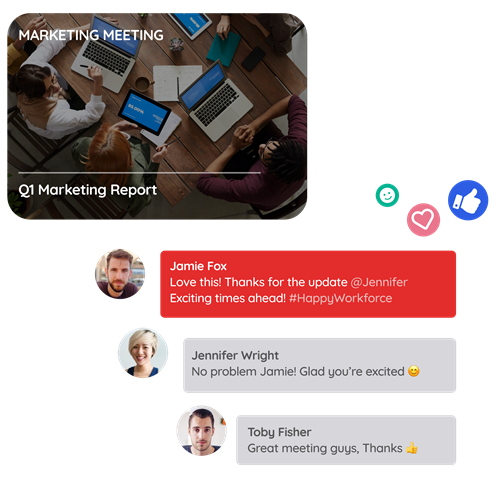 Collaboration Tools
Collaboration has proven links with increasing productivity and ROI.In the modern workplace this takes the form of video calls and online chats. This is why businesses are now adorned with collaboration tools such as Teams, Slack, Zoom, etc. Oak's solution integrates with several third party software and makes collaboration far simpler, as well as offering multiple ways for your employees to work together. 
Company News and Social Feeds 
Company updates through email can often get lost in the pile and means some will be missing out on important information. This can cause a lack of transparency within the business. Oak's pioneering social timeline will keep employees engaged and informed. Content feeds not only help relevant information to reach the relevant people through customisable news feeds, your employees can also interact with content.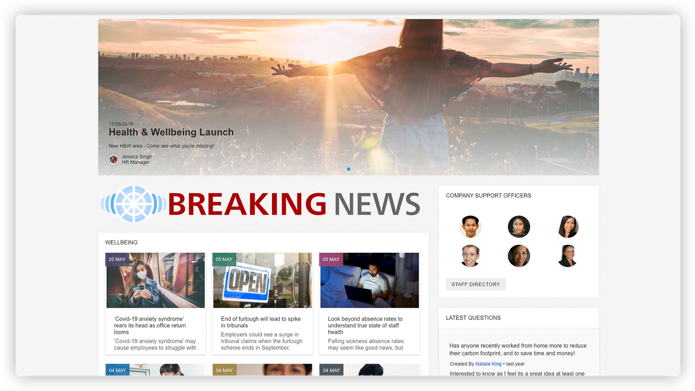 Push Notifications
Employees may not be updated on company events as quickly as the importance demands. Through push notifications real time company announcements can be sent out to each employee's smartphone instantly. This is a really important internal communication tool that acts as part of Oak's mobile application, allowing employees to keep up-to-date on important business news. 
Mandatory Read
Compliance and employee understanding is a worry for leadership in countless businesses. Mandatory reads, attributed to specific articles or documents, can alleviate these worries and leave one less thing on your plate. They track who has and hasn't read specific information or documentation, increasing employee compliance and understanding of company information that relates to them. 
Surveys and Polls 
Many companies produce and implement internal communication strategies on assumptions rather than actual data. To truly embrace internal communications, employee feedback should be central to its function. With Oak's Pulse Surveys and built-in analytics dashboards, feedback on employee engagement and satisfaction can act as a way to continuously improve.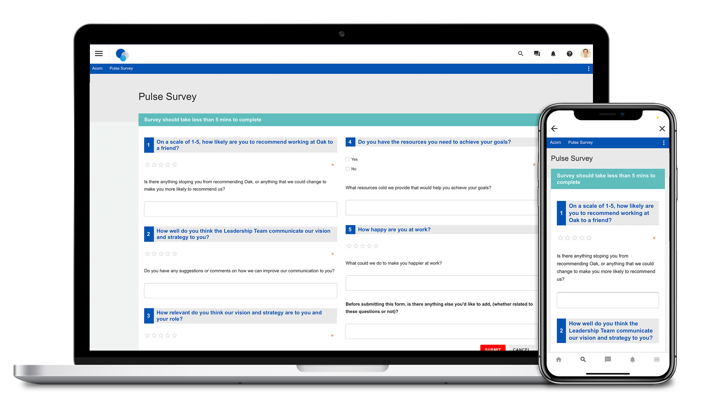 Content Management 
Professionals spend roughly 50% of their time searching for documents with disparate content sources causing a lot of confusion in the workplace. Imagine how much time and resources you would save with uniformed content management. A document management platform makes both uploading and accessing documents a simple task. It increases productivity and helps to align processes throughout departments and the organisation as a whole.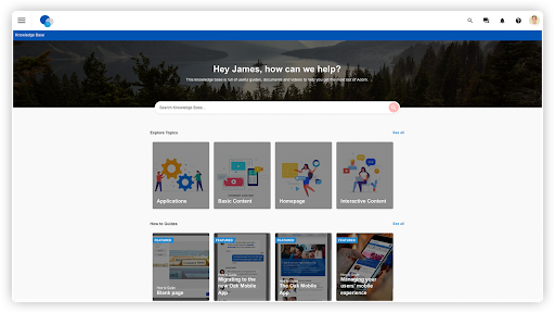 Internal Communication Tools: A Collaborative Effort 
All of these internal communication tools will contribute to a more collaborative workforce, but not one individual tool will make for truly effective workplace communication. In order to fully utilise the benefits of effective internal communication tools, they must work together and not as separate entities. 
How good your organisation's internal communication is will often be a product of strategy, tools and integration. Here are five negative effects of having poor internal communication and tools.
   1. Reduced Productivity 
When we told you professionals spend 50% of their time looking for documents, it was made quite clear the significance of lost time due to poor document management. When your employees aren't aware of content locations they lose valuable time they could better spend on other aspects of their role. Centralised knowledge bases help to cut waste in the time spent looking for information in an unorganised system.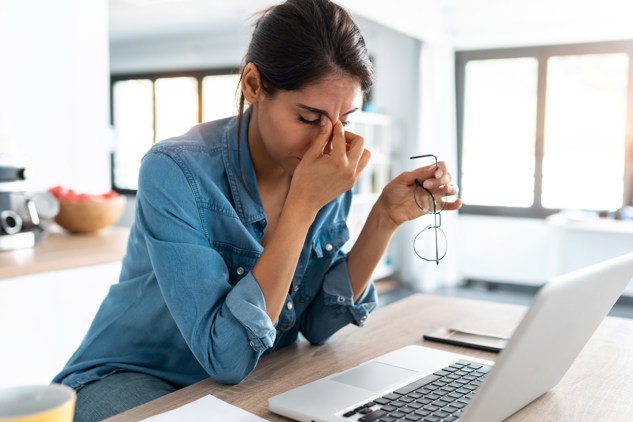 2. Lower Morale 
A myriad of factors contribute to employee morale, but almost all of them will be linked to internal communication in some way. Whether it be through lack of appreciation, feeling isolated at work or not having the tools to do your role to the best of your ability, they are all products of poor internal communication. 
   3. Higher Turnover of Staff 
According to Gallup, businesses that engage their employees saw an 18% decrease in turnover . Nothing is more imperative to employee engagement than good communication from those higher in the business and from peer-to-peer. Particularly with an increasingly global and remote workforce, ineffective internal communication tools could be the difference between losing your best talent and retaining it. 
   4. Lack of Collaboration 
Collaboration between teams and departments can help provide the business with solutions and innovation, but they cannot do that without the tools to communicate. If an organisation does not facilitate collaboration through messaging and social platforms, what it is actually doing is confusing processes and quashing innovation. This in turn will limit the businesses progress as a whole.
   5. Mistrust in the Business
Poor communication from the hierarchy of the organisation can lead to a business culture void of transparency. If employees do not feel fully informed they will also feel undervalued and look at business leaders with scepticism and mistrust. Regular company updates through your intranet's social feed will help the business to relay a culture transparency from the very top and cultivate trust from employees. 
The Solution
It may appear difficult to utilise all the facets of internal communication, but Oak's cloud based intranet solution does just that. It allows for all of the necessary employee communication tools to integrate seamlessly with each other. 
Our innovative software can integrate with your existing tools but add innovation in the form of engaging social platforms, community hubs, document management platforms and more. 
Check out Oak's features and how they can help boost your internal communications. 
FAQs 
What are the best internal communication tools?
The best internal communication tools are the ones that engage your employees and integrate seamlessly with each other. Five of the best are:
A cloud-based intranet
Mobile application
Community and social hubs
Centralised knowledge base
Feedback surveys
What are examples of internal communication?
There are many different examples of internal communications with the dynamics of stakeholders and their interactions being so different. Five examples of internal communication are:
Leadership communication 
Employee-generated communication 
Peer-to-peer communication 
Team collaboration
Change and campaign communication