Internal communication channels are central to business operations and always have been. How people communicate at work has evolved with society and globalisation. But ultimately, it serves the same purpose as it did: to keep employees informed and engaged. 
However, an issue a lot of businesses now face is having too many internal comms channels that serve  too many purposes. This leads to confusion, inefficiency and disengagement.  
If this sounds like a familiar tale, then this guide is for you. Almost 74% of employees feel they are missing out on company news, so we suspect it might be...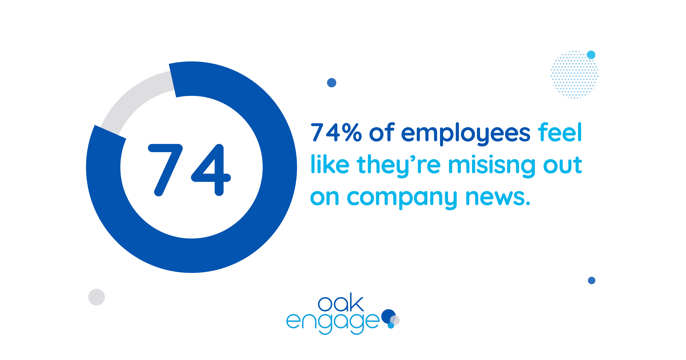 ---
Recommended Reading 📖: 21 Internal Communication Statistics You Need to Know 
---
The blog includes:  
Communication Channels in the Workplace: Definition
Common Types of Employee Communication Channels 
Why do Communication Channels Breakdown? 
What's the Best Internal Comms Channel?
Definition
Communication channels in the workplace are what people use to interact with others in their organisation. The term internal communication channel encompasses everything from word of mouth to online employee feedback forms. Simply, these are methods or means of communication in a physical and virtual setting.
With the increase of remote and deskless teams, the latter has become more prominent. As the work environment and society has changed, so has workplace communication.
Common Types of Employee Communication Channels 
The broad nature of internal communication channels makes it impossible to pinpoint every single possible type. So, here are some of the workplace communication channels you may be familiar with. 
Instant Messaging
Given modern communication, instant messaging is an intuitive way for employees to communicate. Some of the communication issues posed by remote or multi-location workforces can be alleviated when employees are easily contactable.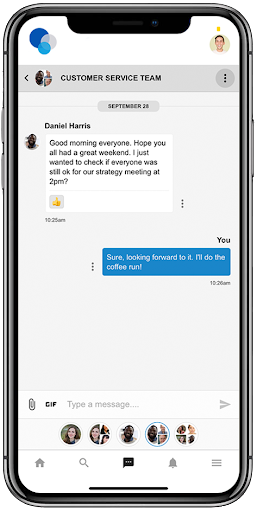 Oak's instant messaging function facilitates interactions between individual users or groups. Along with the staff contact directory, you can reach anyone in the company in a few clicks. Fully utilised, they can be great collaboration and social tools. 
Company News and Social Feeds 
Millennials make up 50% of the UK workforce , so workplace communication should reflect these demographics. Social media plays an ever increasing role in news consumption and communication, so it should be used to connect with and inform your employees.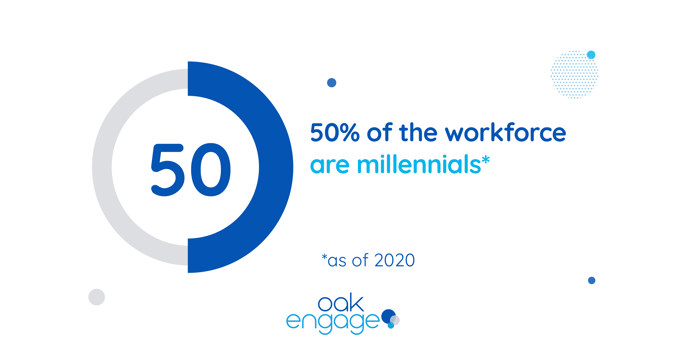 News feeds communicate company news and updates in a more engaging way. Oak's pioneering social timeline will keep employees engaged and informed. Content feeds help relevant information to reach the relevant people and encourage interaction.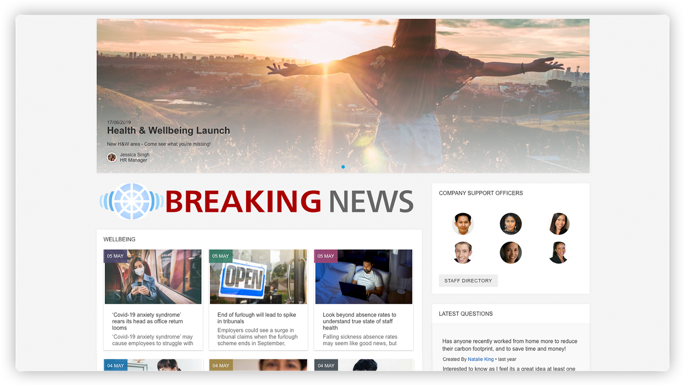 Company Newsletters 
Newsletters circulate company news on a semi-regular basis without subjecting employees to a constant barrage. Not only this but they can also help to form brand advocacy if you name or brand your newsletter. The overall tone and the subject matter of the content can also help to achieve this. 
Of course these no longer need to be physical publications. They can be sent via a company wide email or published on your intranet newsfeed. Whilst they are still a traditional form of internal communications they still serve a purpose.
Push Notifications
Deskless workers are often the last to know. With 80% of the global workforce being deskless this presents a huge challenge. Mobile technology has provided the opportunity for businesses to connect to previously unreachable employees. 
Push notifications are the perfect example of notifying employees on the go. They provide instant updates to mobile devices, so deskless workers are no longer at a disadvantage.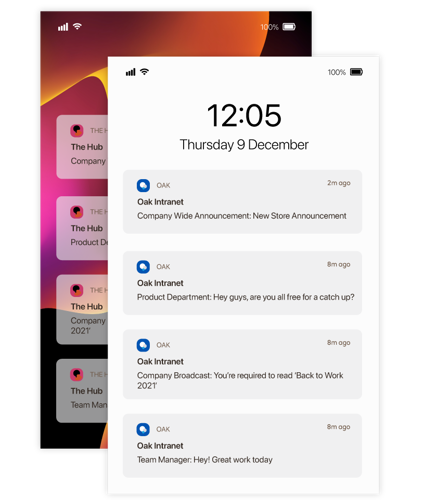 Why Do Communication Channels Breakdown? 
Ignoring Feedback 
Feedback is especially important for enterprises who have remote, multi-location or deskless workers. How can you know the channels to adopt if you don't know how employees effectively communicate?
By using surveys or feedback forms you can collect actionable feedback that can inform your internal communications strategy. Without directly asking employees, implementing new comms channels can be a frivolous exercise.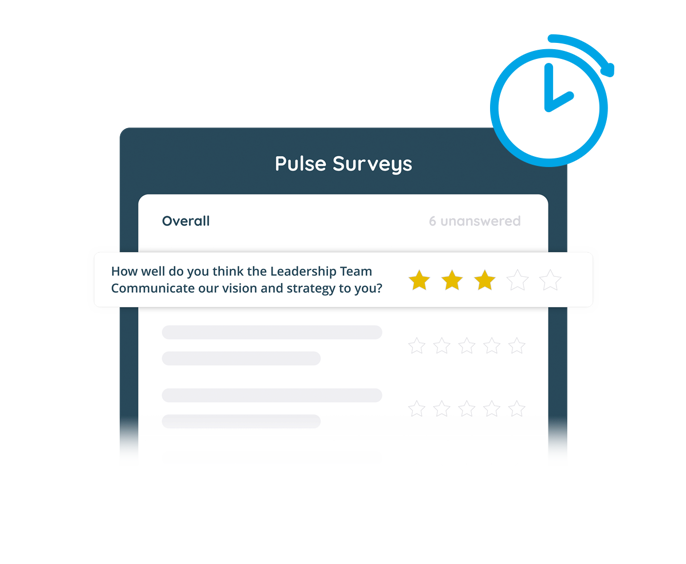 Inefficient or Unfit Technology
Inefficient and unsuitable channels lead to ineffective flows of information. For larger enterprise businesses where face-to-face interaction is not always possible, this is a big problem.
If the technology isn't fit, information may not get to the recipient when needed. Workers may not find out a meeting has been postponed, or a project has changed and create chaos. Poor communication more often than not has a considerable impact on operations.
---
Recommended Reading 📖: Internal Communication Tools for 2021 & Beyond
---
Poor Onboarding 
How do you expect new employees to use or even access the proper channels if they haven't had a demonstration? An onboarding process that does not incorporate training, leads to them not being used. Also they may feel that there is no proper way to air any early grievances that could then snowball .
This could explain why up to 20% of employee turnover happens within the first 45 days of employment. Businesses providing poor onboarding experiences, will also have higher turnover. This creates a vicious cycle of having to train workers in communication channels, decreasing the usage further.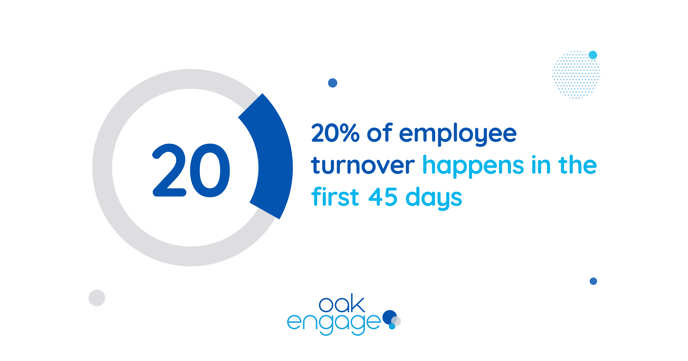 Picking the Wrong Channels
Internal communication is not a one size fits all exercise. Not every set of communication tools will suit every workforce. One of the main reasons for internal communications channels breaking down is that they are simply not suited to that workforce. 
For instance, the needs of a construction business with many deskless workers will not be the same as a multinational fintech company  When implementing communication channels, you must take a considered approach. Otherwise, messages may be lost. 
No Internal Comms Strategy
All the above are likely and many more failings are likely to be the product of having no strategy or an unfit one. 60% of employers have no long-term internal communications strategy, so it's no surprise many businesses fall foul to them.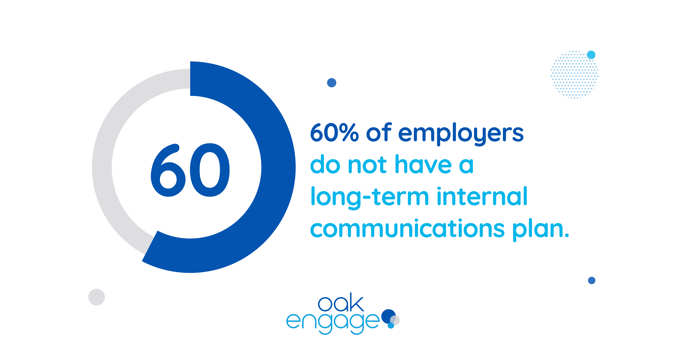 Without the proper planning you will be left with unintegrated and unsuitable internal comms tools. Your strategy forms the very foundation of communication in your business. You must have a blueprint for how to effectively connect your employees. 

What's the Best Internal Comms Channel?
Small Business
Small businesses (less than 100 employees)  tend to have workforces who work closer with each other and management. Here in-person communication is more common. However, with increased remote working, the social aspect of work has been tougher for small businesses to replicate.
Video chat tools and instant messaging can help maintain working relationships and friendships.  Video tools may be used to replicate social events and facilitate work meetings. Instant messaging can help small teams communicate on both work and organising events.
Mid-Market Enterprise 
Medium sized enterprises have workforces of 100-1000, so it is more than likely that different departments will be set apart . For businesses of this size collaboration tools are essential on any interdepartmental project.
Tools like hubs and group messaging ensure that everyone in the business can communicate. Oak's solution provides the perfect place for connecting all personnel. Having these tools in a centralised area makes it far easier for collaboration and projects to run more smoothly.
Large Enterprise 
Large enterprises have workforces of more than a thousand and face big challenges when it comes to connecting the workforce. This is why an all-in-one solution is often the best fit. Oak offers an integrated solution that offers all the facets of internal communication in one place.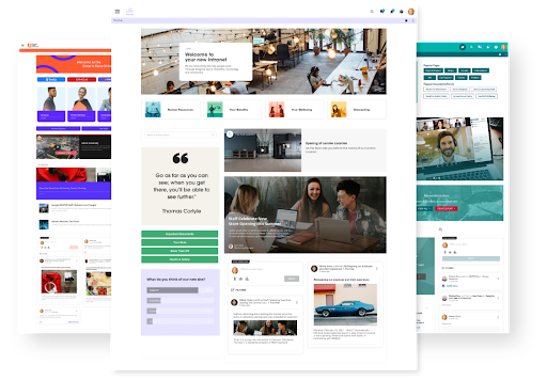 Deskless workers can connect to their colleagues through the intuitive mobile app. With push notifications they receive company updates instantly and will no longer be the last to know. Instant messaging, staff directories and community hubs can also help connect larger workforces who may otherwise be isolated from each other. 
Having too many internal communication channels is akin to having too many cooks spoiling the broth. Overcomplicating communication with many unintegrated tools will cause as many problems as they're supposed to solve.
By acknowledging the issues and solutions outlined in this blog, you are one step closer to effective internal communications and realising its many benefits.
Read more on internal comms: Internal Communications: The Ultimate Guide