Employee Wellbeing: A Beginners Guide
Flexible working hours, health insurance plans, company bank holidays… 
Benefits like these are proven to boost employee wellbeing in the workplace. By introducing these perks, organisations feel confident that their staff are gaining a better work-life balance, ultimately having a positive effect on your employee's mental health. 
However, a recent Gallup report showed that 76% of employees have admitted experiencing symptoms of stress and burnout for reasons ranging from poor management to high workload, and unfair treatment at work. Companies must do better to ensure that their employees feel valued, and that their wellbeing is at the top of their priority.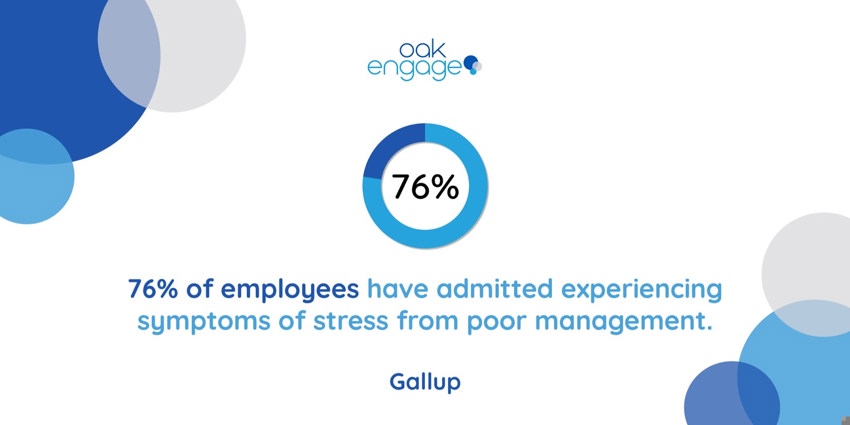 In this guide we'll explain why employee wellbeing is so important and what you can do to boost a positive working culture and make your workforce happier. You'll learn:
Before we get started, take this short quiz to find out how well your current wellbeing strategy is doing and receive a solution to improve employee wellbeing throughout your company.
What is Employee Wellbeing?
Wellbeing is essentially how someone feels about various aspects of their life – their home life, their health, their relationships with others, their job and other activities. It's about whether they feel well and happy.
When talking about employee wellbeing, think about it as the way employees' duties, expectations, stress levels and working environments affect their overall health and happiness.
What is Employee Wellbeing in the Workplace?
Employee wellbeing relates to all aspects of working life, including the environment employees work in, the climate in the workplace and how a workforce feels about their day to day work. Wellbeing is a key factor determining an organisation's long-term success and effectiveness.
According to the CIPD's health and wellbeing report, HR managers identified within a survey that only 40% of UK businesses have a standalone employee wellbeing strategy. What's more, mental health is responsible for 56% of long-term unplanned absences, making it the most common cause of long-term absence.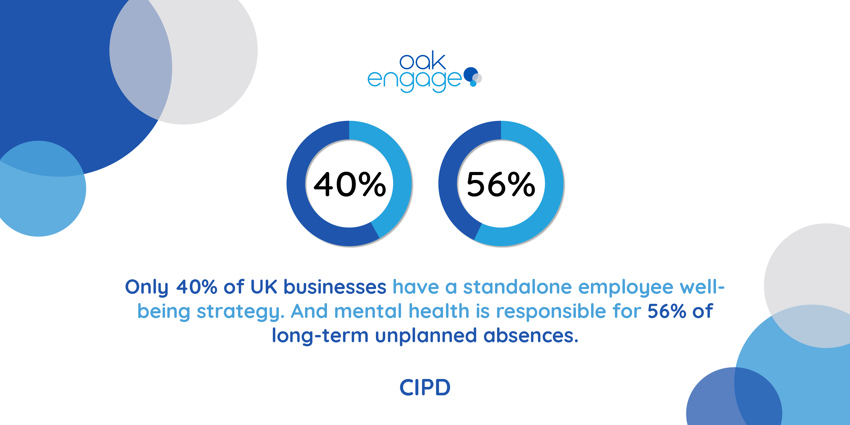 Employee Wellbeing vs Engagement
Employee Wellbeing involves several categories of wellness, which may include:
Physical Health 
Emotional Health
Psychological Well Being
Social Relationships
Financial Stability
Essentially, employee wellbeing looks at employee experience at work from a holistic view and asks, "do they have what they need to do their best work?". Looking at employee wellbeing in your workplace is important for reducing work related stress or instituting incentives for healthy living. 
Employee Engagement on the other hand, is the emotional commitment the employee has to the organisation and its goals. It has been proven to:
Reduce staff turnover
Improve productivity and efficiency
Increase employee retention
Deliver higher profits
Boost business connectivity and performance
Reduction in absenteeism
The emotional commitment they have for their company means engaged employees actually care about the work they do. They don't work just for the pay, but work on behalf of the organisation's goals, ultimately creating more success for the company.
Why is Employee Wellbeing Important?
If you aren't taking a proactive approach towards workplace wellbeing, then your workforce is more likely to be unhappy, unmotivated and unproductive. You need to address this immediately. After all, we all spend most of our week in the workplace (sometimes up to 40+ hours a week).
Creating employee wellbeing initiatives should be just as important as building your brand and developing your product. You need to think about your people - think about what you are going to do to improve their happiness in the workplace. It can truly make a difference and improve employee productivity across the whole organisation.
The benefits of making wellbeing a top priority in the workplace are:
Improved team focus
Reduce of stress
Increased job satisfaction
Positivity among employees
Improved general wellbeing
Specific benefits to your organisation include:
Higher performance levels
Improved productivity
Lower employee turnover
Attract top talent 
Be seen as a fantastic place to work!
By improving your employee health and wellbeing, you're not only giving them an environment in which they love to come to work every day, but you're helping to create a more motivated, engaged and high performing workforce. This ultimately creates higher organisational success.
The Key Domains of Employee Wellbeing
There's no 'one-size-fits-all' approach to designing a wellbeing strategy; its content should be based on the unique needs and characteristics of the organisation and its workforce. CIPD have identified 7 key domains of employee wellbeing that you should consider and start implementing before putting together a strategy.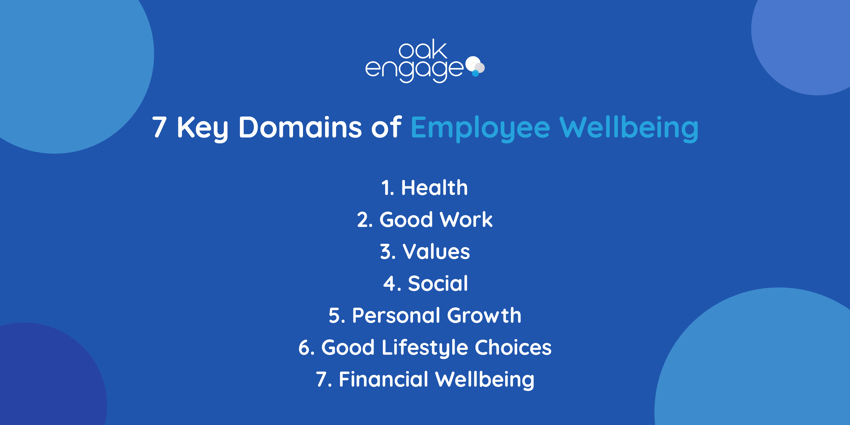 1. Health
Physical Health - Health checks, wellbeing benefits, health insurance protection, managing disability, occupational health support, employee assistance programmes. 
Mental Health - Stress management, conflict resolution training, training line managers to have difficult conversations, risk assessments. 
2. Good Work
Working Environment - Ergonomically designed working areas, open and inclusive culture.
Good Management - Effective people management policies, training for line managers, sickness absence management.
Work Demands - Job roles, job quality, workload, working hours, job satisfaction, work-life balance.
3. Values/Principles
Leadership - Values-based leadership, clear mission and objectives, building trust with employees.
Ethical Standards - Dignity at work, corporate social responsibility.
Diversity - Diversity and inclusion, valuing difference, cultural engagement.
4. Collective/Social
Employee Voice - Communication, involvement in decision making.
Positive Relationships - Management style, teamwork, respect.
5. Personal Growth
Career Development - Performance management, mentoring, succession planning.
Emotional - Positive relationships, personal resilience training, financial wellbeing.
Creativity - Open and collaborative culture, innovation workshops.
6. Good Lifestyle Choices
Physical Activities - Walking/running clubs, lunchtime yoga, charity walks.
Healthy Eating - Recipe Clubs etc
7. Financial Wellbeing
Fair Pay and Benefits Policies - Pay rates above the statutory national minimum wage, flexible benefits scheme.
Retirement Planning - Pre-retirement courses for people approaching retirement.
How to Improve Employee Wellbeing
Start with simple actions, this could be anything as basic as providing flexible working hours and encouraging employees to take an hour's lunch away from their desk. You can then start to look at other different aspects of your organisation where you can continue to make a difference. 
Here are our five top tips to help you improve employee wellbeing, with an insight into how we at Oak Engage, incorporate our company culture into our workplace wellbeing strategy:
Boost Team Relationships
In most cases, the key to a happy team comes down to whether they actually get along. To encourage good working relationships, you should implement more team building activities, informal meetings or lunches/evenings out to bring your team together.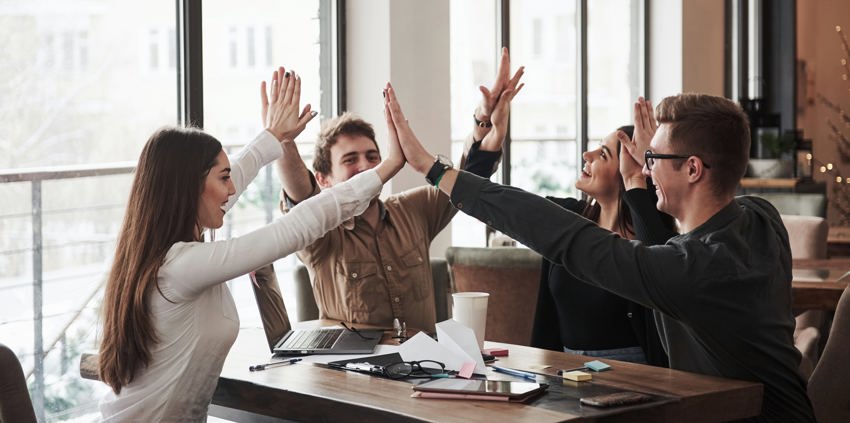 Not only will this support a more fun and sociable atmosphere, it'll also mean everyone is able to get their ideas and opinions heard. After all, there may be some members of the team that wouldn't usually get the opportunity to properly interact beyond some brief small talk in the lift.
Giving employees a voice within your workplace will be key to boosting overall morale.
Introduce Work Perks
Keeping employees happy while they're working can be tricky. So introducing work perks and benefits is the perfect way to ensure that morale is always kept high in the workplace. This could be anything from team events to paying for your employees' gym membership or exercise class.
Here at Oak, we've introduced Oak Bank Holidays to make sure employees get the rest they deserve. Just like an actual bank holiday, we shut down the office for the day and relax.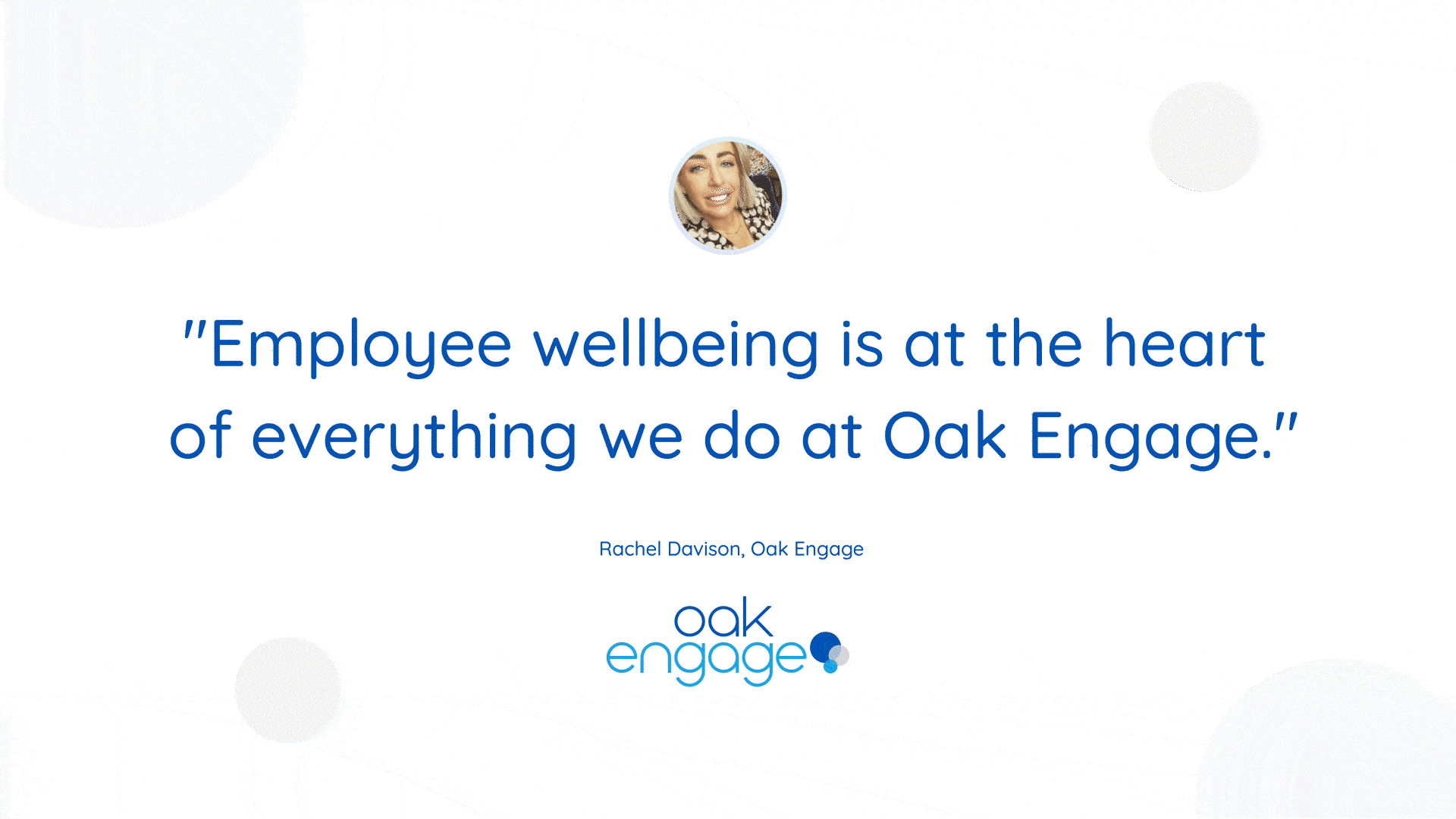 Having that extra time off really boosts productivity among teams, enabling employees to do the best work they can do and ultimately creating further success for your company.
Recognise Good Work
Employee recognition in the workplace has to be a vital part of a company's culture. In today's work environment, the companies with the most satisfied and engaged employees are the ones that have the best training programmes and well-skilled staff. 
However, even the best employees cannot perform well when they are not motivated enough. Most of an employee's motivation comes from getting recognised by their leadership. This means that acknowledging the link between employee recognition and effective management is key when it comes to success. 
Oak's employee recognition feature helps your company boost morale and let your employees know that you care by celebrating milestones like birthdays and work anniversaries. It has an inbuilt timeline, meaning your employees can comment on achievements at any time. This creates a positive working environment, which will in turn, boost morale and improve employee wellbeing.

Find Problems
Sometimes negative employee wellbeing could be caused by underlying problems that might not be obvious without further digging.
If your business is experiencing a high level of absence, for example, you need to get to the root of the problem. Although it could be down to genuine reasons, it could also be because employees aren't happy at work, they're overworking, or aren't being given the means to stay healthy in their job.
Give your employees the opportunity to share what may be bothering them at work. This can be done from holding regular one-to-one meetings and shows your workforce that their issues aren't being ignored.
Encourage Good Lifestyle Choices
By making sure your employees are aware of the dangers of sitting long periods of time, and educating them on how they can keep moving throughout the day, you are helping prevent illness and maintaining a happy and healthy workforce. 
At Oak, we encourage flexible working to ensure that employees have the opportunity to get some exercise throughout their working day. Furthermore, with Oak's social intranet, hubs can be created for like-minded people on topics such as sharing healthy recipes, dog walking or joining the company running club.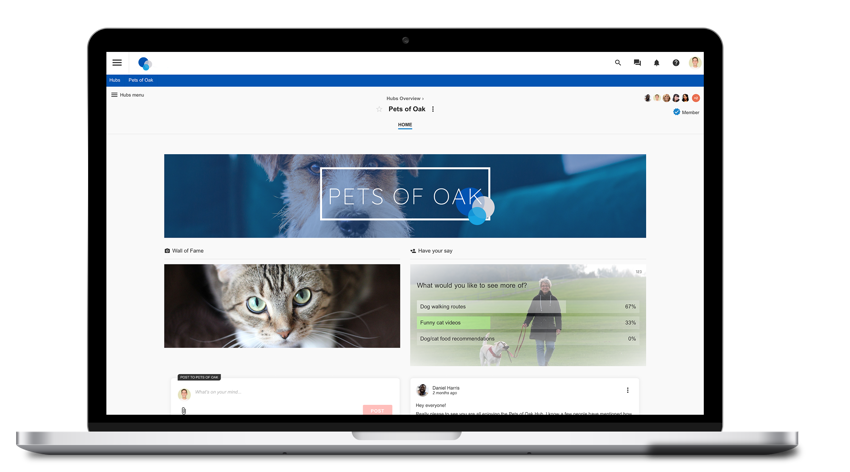 Create communities and improve your culture. Hubs bring like minded people together through virtual groups where they can collaborate, strengthen bonds and grow together. 
Without further ado, let's go on to look at some of the roadblocks to achieving positive employee wellbeing in the workplace.
Roadblocks to Employee Wellbeing
According to research by Ginger, before the onset of COVID-19, nearly 60% of workers shared that stress had brought them to tears at work, a 23% increase from 2019. 
To create the right work environment, you must first find out what the main factors are that are hindering workforce wellbeing and work out how you can improve them as successfully as possible.
Here are five factors to look out for to get you started: 
1. No Work-Life Balance
It is important that employees have a good work-life balance. Not only does it improve employees' mental health, but it benefits your business too. Employees with a good work-life balance are more efficient, productive and motivated.
However, a poor work-life balance can result in burn-out and an increase in stress. A recent survey found that 1 in 3 people are unhappy about the time they devote to work and 40% are neglecting other aspects of their life due to an increase in workload.
2. Lack of Support
Employee relationships are an important factor in the social and working environment, positively and negatively affecting a person's health and well-being. 
If an employee is receiving low or no support from management, they're more likely to not feel appreciated and start looking elsewhere for a new job.
3. Lack of Communication
Ineffective communication can be frustrating to employees, creating a ground of distrust and confusion. If workers don't have good lines of communication with each other and management, and don't feel like they're being heard, their loyalty and commitment to the organisation may suffer. This can lead to a higher turnover rate. A cohesive, open culture can't exist if there is lack of trust.
It's important to have a single method of communication in place, which could be a company intranet. With everything in one location, employees are able to connect with colleagues and management seamlessly.
---
Recommended Reading 📖:  Why a Business Communication App is Needed in the Workplace
---
4. Job Security
Research has shown that job insecurity affects both mental and physical health. Employees want to know that their jobs are safe and that they are valued by management. If you are the manager of a team of employees (or the owner of a business), it's important to understand that people want to feel safe and secure. 
When you have a team of employees who stick together for a long time, they are far more likely to work on dynamic new projects and create innovation. Lifelong friendships are formed, strong bonds and connections are created, and a strong sense of company culture is boosted.
5. Too many hours worked
One of the problems with working too much is that people are trading sleep hours for work hours. Researchers from the University of Pennsylvania Perelman School of Medicine found that people who report sleeping six hours or less per night are also working 1.5 hours more than those who sleep closer to the recommended eight hours per night.
Lack of sleep can lead to health complications like high blood pressure and unhealthy eating that negatively impact health. 
How to Ensure Your Employees Wellbeing
Your company wellbeing strategy should be part of your workplace culture. It's important to identify the problems first before implementing a solution. To sum up, use this list as a starter guide to improving your employees wellbeing today:
Recognise good work
Boost team relationships
Offer flexible working and benefits
Promote a more healthy lifestyle 
Communicate effectively
Give your employees a voice
Accept regular feedback
Raise the profile of mental health
---
Learn more about
Mental Health in the Workplace >
---