Intranets are far more powerful than they ever used to be. The workplace has evolved and so have intranets. Want to know what intranet features you should be looking out for? Read on! In this guide you will learn:
What Is a Modern Intranet?
Today's modern intranet software is the new and improved version of a traditional corporate intranet. It's designed for the way people work today - quickly, collaboratively and in all locations. 
Modern intranets are implemented to:
Help employees access the information they need.
Give employees the tools and resources they need to carry out their job.
Allow access to company documents from anywhere, at any time.
---
Recommended Reading 📖  What Is An Intranet? The Ultimate Guide
---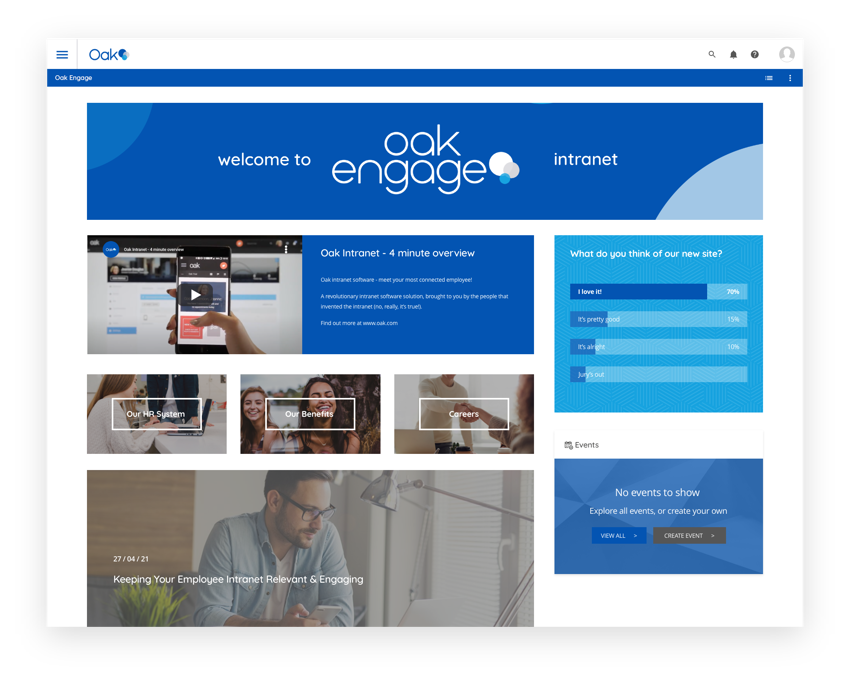 A modern intranet can raise the productivity of workers by 20 to 25% by encouraging communication and collaboration. It can also help your sales team increase sales by 20% by connecting and engaging employees to help them do their job more effectively.
Happier employees develop an increase in agile working, which allows them to accomplish more business objectives. It's fairly obvious then, why a modern company intranet is vital for the success of your company. 
The following tips will give you the knowledge you need when it comes to identifying the right intranet software for your business. Here's a list of the 31 most important intranet features you should be looking for during your intranet search.
31 Modern Intranet Features Your Company Needs
Picking the right intranet platform can be tricky. So knowing what features of an intranet you need to have can be even more overwhelming. Below you find a list of the 31 most important modern intranet features you should be looking for during your intranet search.
1. Cloud Based
Cloud based intranet software is easier to access and has a higher adoption rate among employees. They are able to scale quickly compared to locally hosted corporate intranets. They also allow your people to connect and browse their company intranet whenever they like, wherever they are. 
2. Mobile App
A company intranet mobile app gives employees an enjoyable experience and allows a whole workforce to access their company intranet wherever they are. This is ideal for organisations with deskless or remote workers - Oak mobile app gives companies the power to access their intranet solution at any time, from anywhere.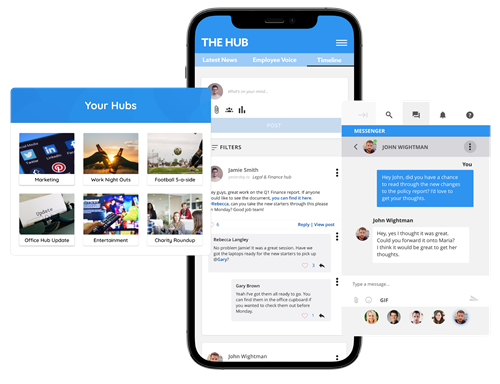 3. Instant Messenger
Oak messenger is designed to improve employee engagement and workplace productivity.  Users can send instant messages to one specific person or a whole group. This feature is perfect for department communication, remote workers and for encouraging general social interaction between employees.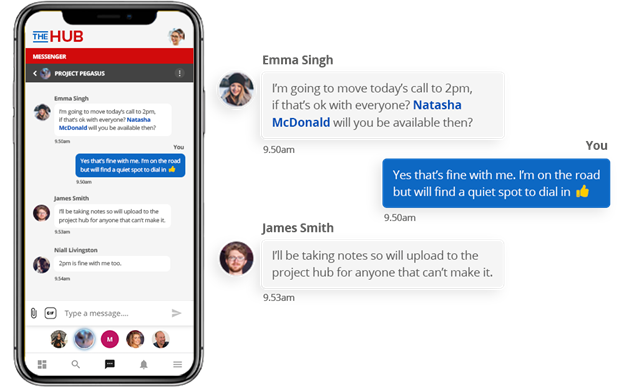 4. Communication Hubs
Communication hubs bring like-minded people together, allowing them to share, socialise and collaborate. Whether you need to share content company-wide, want to share the latest user interface designs with a select group, or simply want a place to talk about the next social event, hubs allow employees to instantly connect and target the right people.
5. Full Customisation & Homepages
Oak's full customisation gives companies a digital workplace that reflects their organisation now and into the future. With company intranets, it's never a case of one size fits all - culture, goals and ways of working are unique and always evolving. The way an intranet looks and works are crucial elements for driving engagement throughout your company.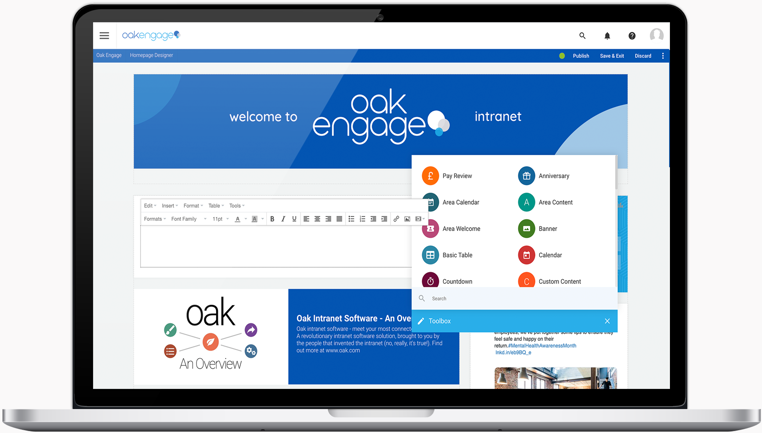 Oak allows you to create homepages for anything including departments, projects, offices, regions or folders. And with over 50 unique homepage applets to choose from, you can have everything you possibly need in your company intranet.
6. Branded Design
Branding functionality allows companies to brand their intranet, making it unique and distinct from other companies. Take a look at how our customer Five Guys have used their unique branding on their own company intranet.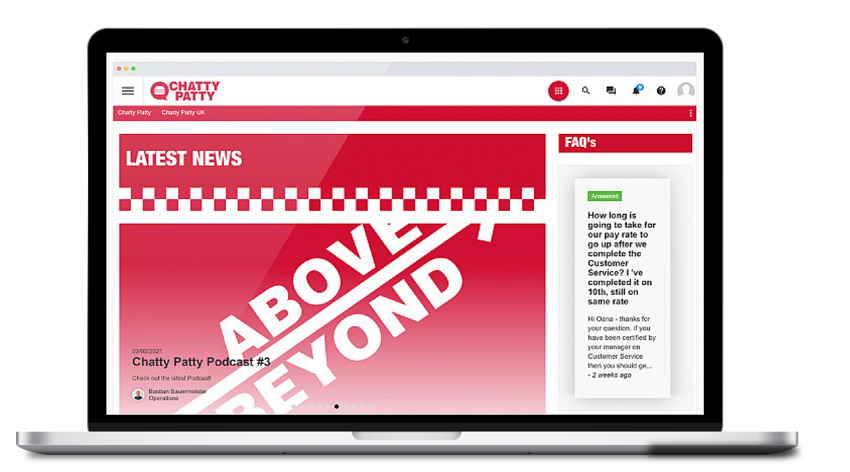 The most commonly associated benefits of branding your intranet are;
Corporate brand consistency.
Reminds employees they are working for an organisation rather than a loosely-knit group of individuals.
Provides a sense of community throughout the company. 
Brings a sense of stability and enforces the sense of a solid foundation.
7. Area Welcome
An area welcome feature personalises the digital workplace experience for all employees, reflecting the organisation's company values and culture. By personalising a welcome message on your company homepage, you can show how much you value your employees, ultimately improving your employee retention across your organisation.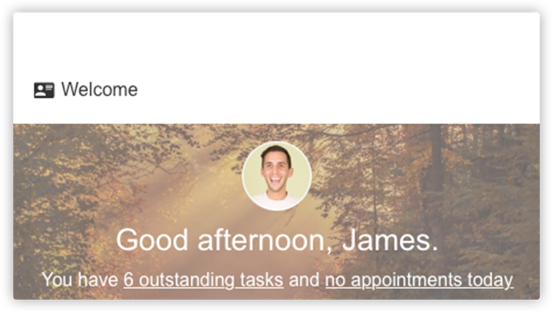 8. Social Timeline
Having a social timeline allows your employees to catch up on the latest news and announcements or interact with colleagues through customisable content feeds. Your employees can comment, like, upload media and more. 
Timeline helps workforces to: 
Connect
Engage with others
Stay aligned
Unite teams and promote solidarity within a company's own social feed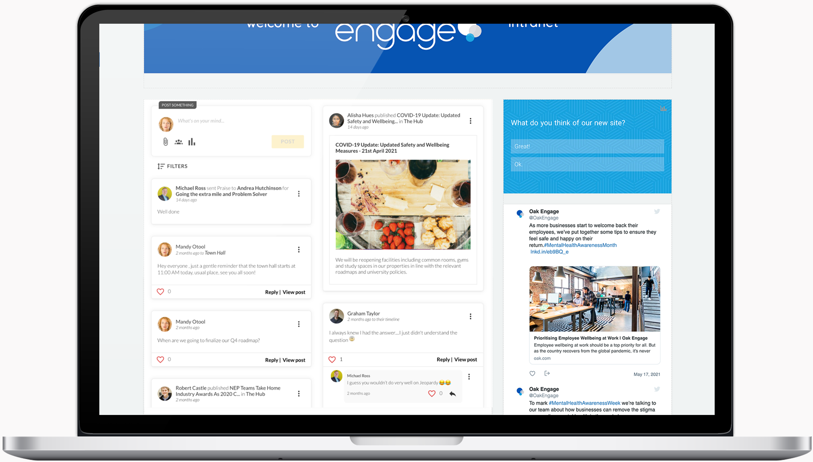 9. Trending Content
Oak's trending feature gives users suggestions on what content to view based on what their colleagues are searching for, enabling workforces to collaborate and stay aligned. This is a bespoke experience and tailored to the company's people and their needs.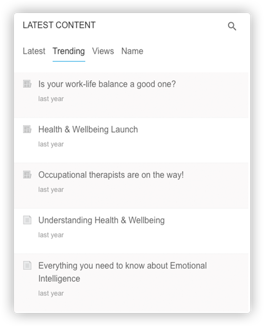 10. News/Social Feeds
Facebook style social feeds can be set up for any homepage area. With the social intranet software, employees have a space to create bonds and relationships with other colleagues, increasing productivity, collaboration and connectivity.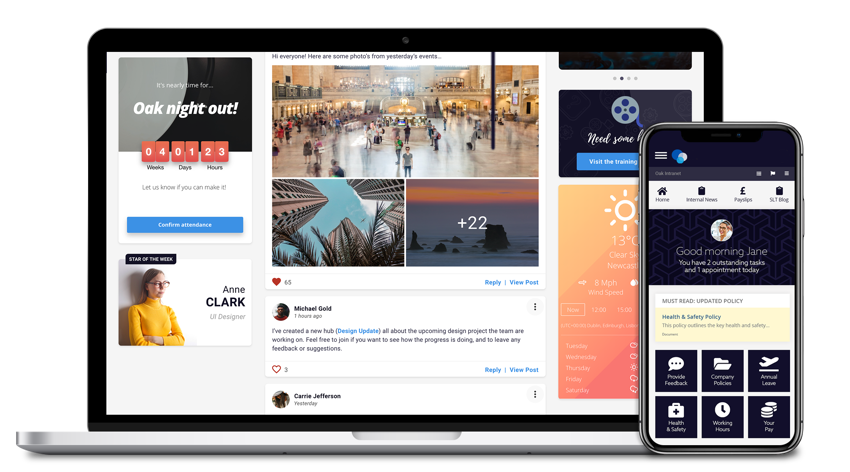 11. Latest News
A news feature provides a single location where employees can learn from the latest news and events about all aspects of the company. A range of news articles can be communicated in this section, such as major corporate updates, messages from the CEO, policy changes and even changes on the internet itself. With everyone receiving company news in one place, its easer for your employees to access.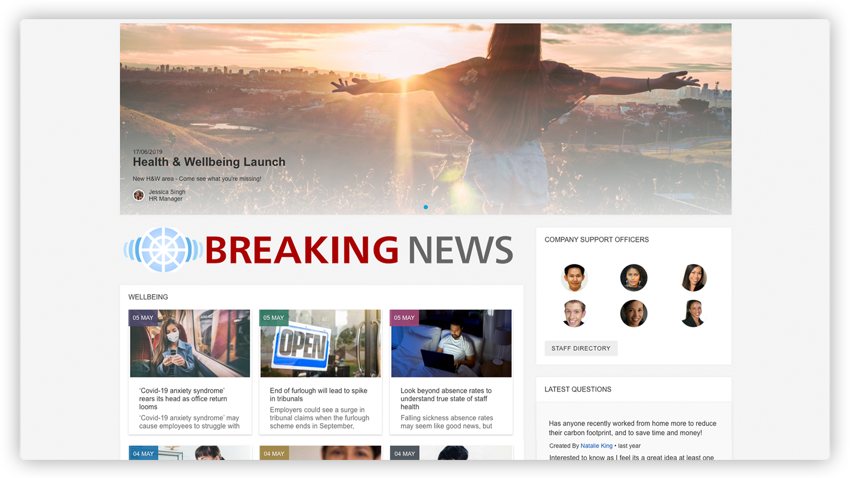 12. Employee Profiles
It's important for a company intranet to make it quick and easy for employees to learn as much about their colleagues as possible. This feature helps onboarding new employees and supporting them in getting to know the company better. Employee profiles also help people get to know each other on a more personal level and makes it easier for management to get answers to questions they may have about an employee's activities in the virtual workspace.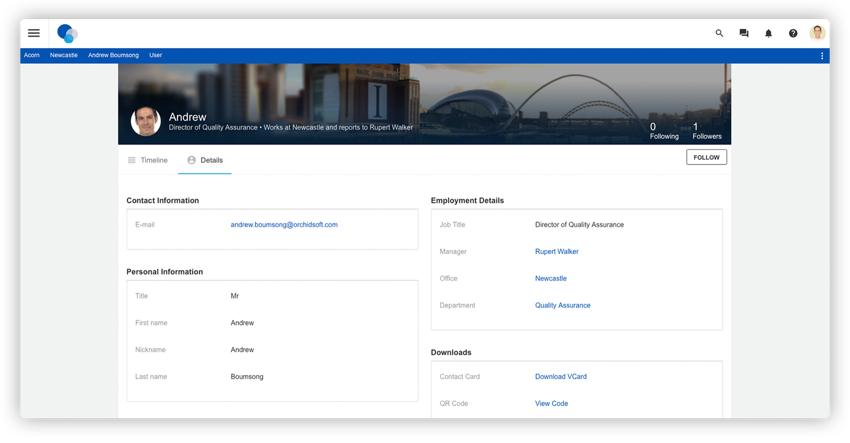 13. Anniversary
Anniversaries creates meaningful engagement between your company and employees, creating a fun and enjoyable workplace by celebrating anniversaries and birthdays. Your company calendar is also a great place to see all important company dates, including work anniversaries.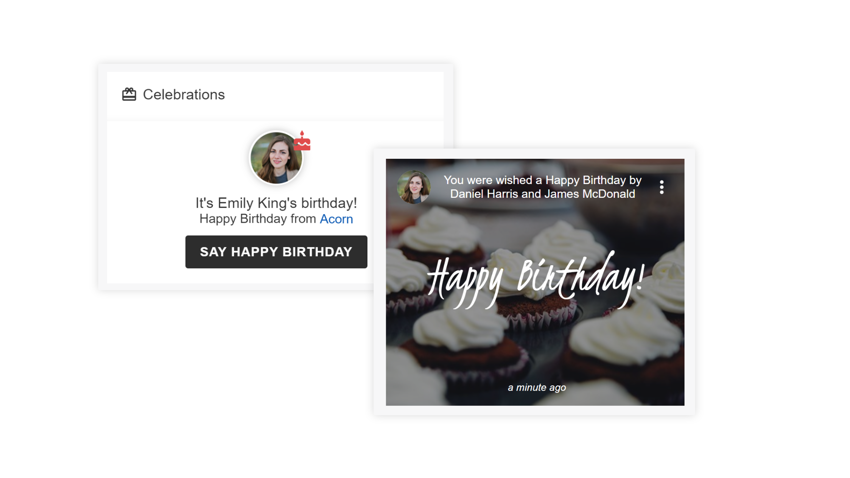 14. Advanced Search
A search functionality enables users to locate all content, past or present. here's no more wasting valuable time searching for important documents. Search is designed to find whatever you need instantly, improving employee productivity. 
15. Knowledge Base
This feature allows users to get the help they need instantly. Knowledge management provides employees with a wealth of information and support so that you can get the most out of your intranet solution. From FAQ's to how-to guides and walk-through videos, Knowledge Base is ideal for new starters and remote workers.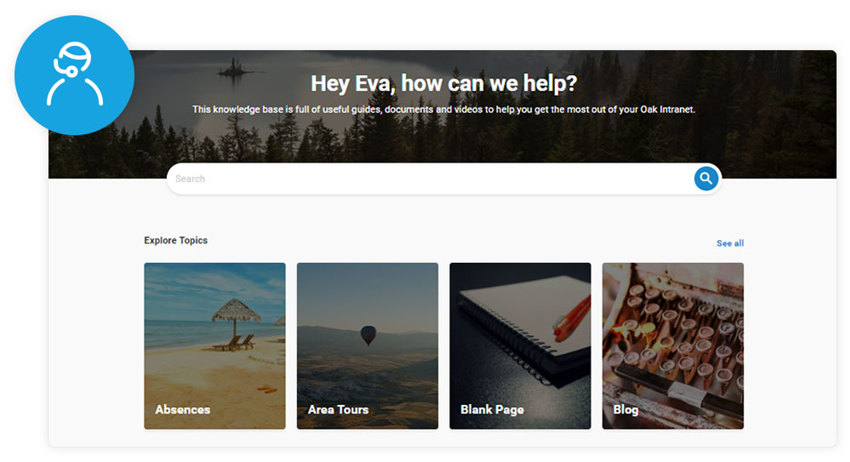 16. Q&A
A Q&A forum is a quick and efficient way to answer internal company questions. It's also a great way to have a living resource always available for your people. No matter what time of the day, answers are just one click away.
17. Intranet Analytics
Measuring your intranet's performance through analytics is a crucial part of your internet's overall effectiveness and longevity. According to research, 90% of intranets fail due to them being poorly managed and through businesses ignoring their intranet analytics. it is crucial that you understand your intranet's analytics so that you can create a productive work environment and improve your company's internal performance.
18. Third Party Integration 
Make your company intranet the gateway to your digital workplace with built-in integrations to all your business platforms, giving your employees everything you need in one place. Oak can integrate with any providers and platforms, improving efficiency across your organisation.
19. Extranet
Collate and communicate with external parties via Oak's dedicated extranet feature. From partners to suppliers, work more efficiently in a secure environment.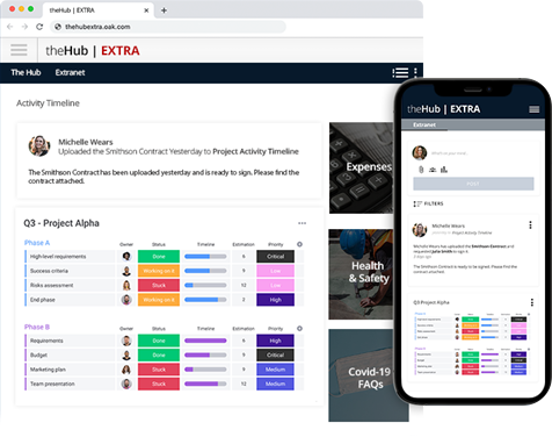 20. People Directory
A people directory is an essential feature you should have within your company intranet. All employee contact information is available including name, job title and phone numbers, making finding employees information easy and accessible in one single place.
21. Holidays
Holidays feature allows employees to book holidays easily in one single place, affording employees full transparency as to when their colleagues have holidays booked in. This feature increases employee productivity across the company as it gets a simple task done quicker.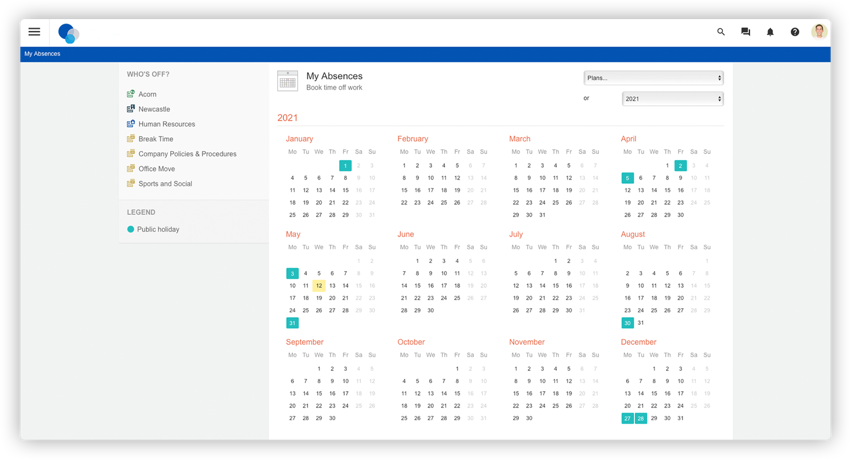 22. Payslips
Accessing payslips through your intranet increases the speed of delivery of payslip information, no matter where your employee is based. This feature gives full access to all payslip in one place and removes the need for sending information physically or via email.
23. Mandatory Read
A mandatory read could be a specific article or document that's been uploaded to the company news timeline. This feature will dramatically help to improve compliance and the flow of business-critical information. It also helps to save on email traffic.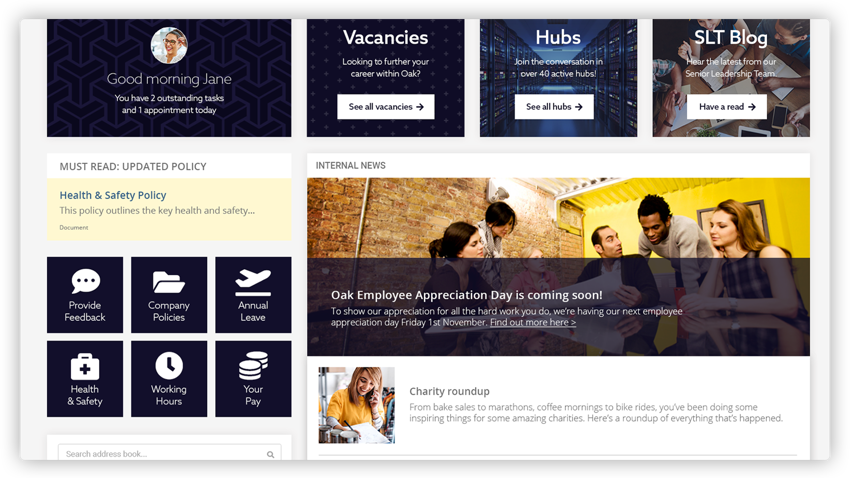 24. Employee Recognition Software
This feature helps your company boost morale and let your employees know that you care by celebrating milestones like birthdays and work anniversaries. The employee recognition feature has an inbuilt timeline, meaning your employees can comment on achievements at any time. This creates a positive working environment, which will in turn, boost morale and improve employee wellbeing.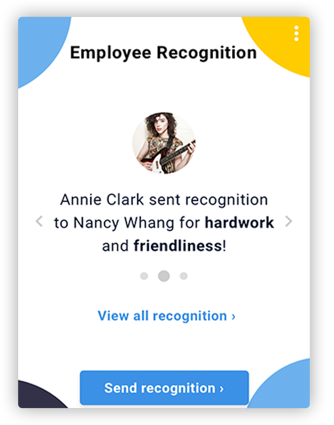 25. Pulse Surveys & Forms
Pulse Surveys are used to gather real, actionable insights that businesses can use to improve employee engagement, collaboration and enhance employee experience. They also allow your business to gauge interest, understand an employees opinion, gather feedback and more. Oak surveys are a versatile tool that gives you everything you need to get valuable data from employees, all within your company intranet.
26. Polls
A poll is designed as a collaborative tool to increase employee engagement, productivity and efficiency. Companies no longer have to gather information by email, but can start a poll on their intranet, it may be used to get an understanding of what your people want, involve more employees in conversations or leverage a poll to generate content. By targeting specific employees, polls can generate data or content that could be reused.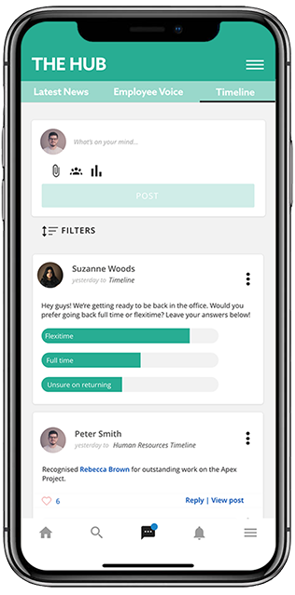 27. Calendar
An intranet calendar is important for your employees to stay organised to track meetings, appointments, events, birthdays or who's out of the office on a certain day. Connectivity and accessibility are at the heart of any great intranet, so companies will want calendars that can be shared among team members and other departments.
28. Push Notifications
Push notifications make the immediate reception of important information possible, anytime and anywhere. Designed to inform, alert and help maximise the efficiency and productivity of workers and increase digital engagement. This transparency increases trust and creates lasting relationships between employers and employees.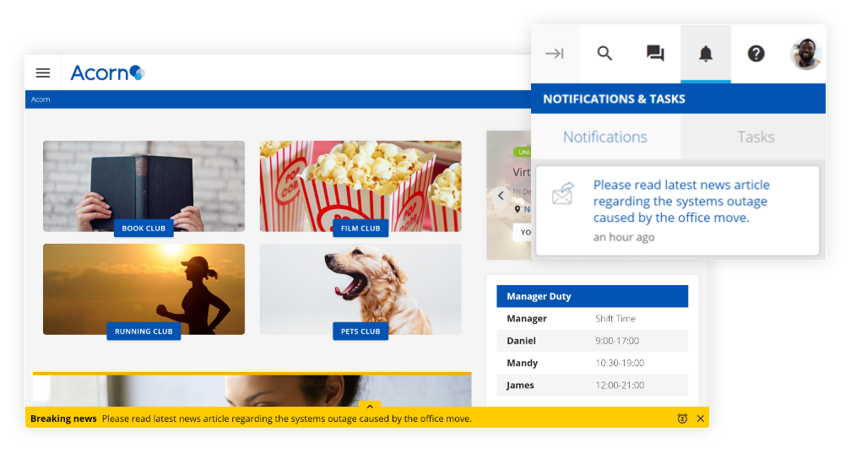 29. Media Gallery
A media gallery feature is designed to bring your intranet to life with a range of multimedia tools. Intranet multimedia can include videos, podcasts, images, blogs and webinars. There's no limit to the media that can be used to engage employees. Integration with platforms like YouTube can make a company intranet more attractive for users, ultimately increasing engagement across the organisation.
30. Navigation
Navigation in Oak allows employees to choose between homepage views or listed content views based on their preference. The bread crumb trail allows you to easily navigate through your intranet as you explore different pages.
31. Content Management System
Oak's content and document management system helps employees easily access content to complete tasks quickly anywhere, anytime. It also helps your people stay connected with other employees and the organisation streamlining internal communication and cultivating a positive corporate culture.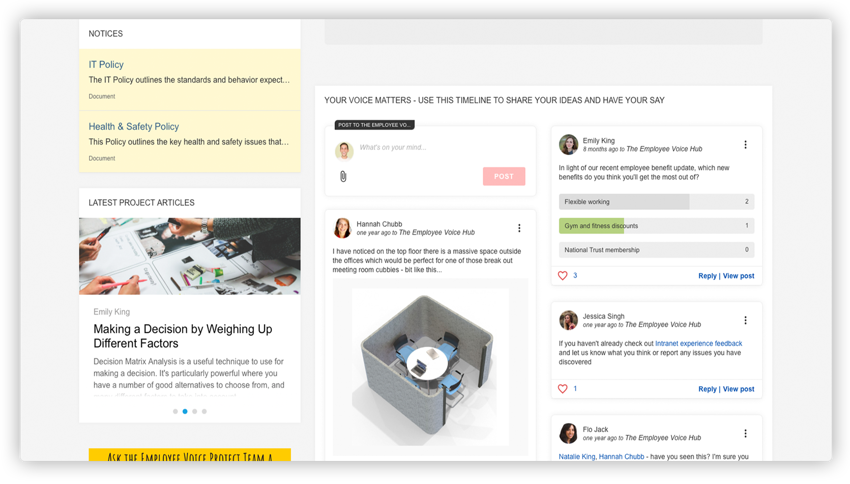 ---
Recommended Reading 📖:
---
Recap: Intranet FAQs
What is a modern Intranet?
A modern intranet is the new and improved version of a traditional corporate intranet. It's designed for the way people work today - quickly, collaboratively and in all locations. 
Modern vs Traditional Intranet
The traditional model of intranets typically had upper management creating content and messaging to go out to the organization's employees, with little to no interaction back on the part of the employees. The modern intranet allows organizations to choose between a cloud intranet option or a local install (on-premise) intranet and enable remote access to the site. 
---
Want to see more?
Get a demo with one of our digital workplace experts and see how Oak could work for you.
---