Improving HR Communication in the Workplace
HR communication is all about how businesses engage with their employees. In this blog we will give you some tips on how to improve HR communication in your workplace and get more from your people. We'll even give you the lowdown on how HR communication software is used by the world's top businesses to improve communication and productivity. We're experts on HR communication, it's our bread and butter. For years we've worked with HR experts from around the world and have experienced first hand the biggest reasons as to why many companies fall short when it comes to HR comms. We know that in order for people to thrive, operate effectively and manage employee satisfaction, communication is an imperative. When encouraged to communicate up and down the chain within a company, employees can experience an increase in morale, productivity and commitment.
HR communication is related to employee training, benefits, wages and any other company news. All of this information helps the workforce succeed, but often the bridge connecting employees to leadership is broken. According to Gallup, 74% of employees feel that they're missing out on company information and news and other research suggests that a massive 72% of employees don't have a full understanding of the company's strategy.
So, how do you ensure a strong communication loop is maintained between both HR and employees? 
---
Top 10 Tips on How to Improve HR Communication in the Workplace:
1. Create a Long-Term Internal Communications Plan 
Firstly, it's important to create an effective communication strategy to increase productivity and improve employee relations and communication. This is vital to measuring HR communication in the company, so you can see what works, what doesn't and how you can make improvements accordingly. 60% of companies don't have a long term strategy for their internal communications. No matter how big your company is, you need to have a long term plan for your internal communications.
Your internal communication strategy should include key steps such as:
Conducting an audit to understand your company's structure and your employees needs when it comes to employee relations and HR communication.
Setting clear objectives to help keep your employees informed, to improve engagement or help employees find meaning at work.
Choosing the channels you're going to use to communicate to your employees. It's important to choose the right type of communication, whether it be an employee engagement app, intranet platform or any other means of communication.
Choosing the type of content you're going to share internally.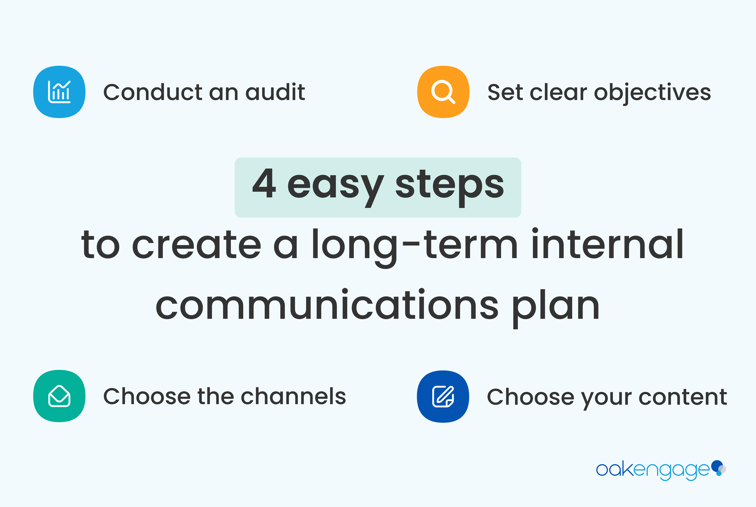 ---
2. Create an All-In-One Communication System
An important part of HR communication is having a single, secure HR platform. This should include all of the information relating to your employees (including employment history, contract details, salary, diversity information, personal information, documents, company assets, performance records, and absence history). 
This platform should benefit every employee and company documents should be easily available for employees to access: policies, procedures, standard templates, guidance notes, and forms should all be available in one central location. This means that when an employee doesn't know or has forgotten an important company policy or procedure, the information they need is ready and waiting.
---
3. Encourage Face to Face Communication
HR often relies too much on email for internal communication, which can cause confusion since tone of voice and facial expressions are not taken into consideration. This miscommunication affects employee relations and performance as organisations rarely have the time to personalise these conversations.
However, if building trust within your employees is part of your company's goal, you will benefit from replacing typing with having a face to face conversation. Since many employees are remotely working, these conversations can be held easily by a simple video call. Having a verbal communication builds and strengthens the relationships within an organisation by maintaining a sense of friendliness, integrity and authenticity towards each other.
In a recent study, it was shown that 60% of emails received by employees are not important. You may want to reconsider your HR communications strategy and start using an employee communications app where you can engage your employees with your company content.

---
4. Make Company Culture the Focus
Employees will communicate better if they have a common goal and a shared culture. HR departments should aim to reach the same atmosphere that they want to see in the rest of the company. Only 23% of executives say that their companies are excellent at aligning employees goals with corporate purposes. So, having a shared culture not only promotes consistency in the business, but also allows organizations to benefit from an open and friendly workplace. 
A great company culture will also create a fun and engaging working environment that can result in a higher level of productivity and employee relations. Having a transparent work culture is important to ensure that there is trust between HR, management and employees.
---
5. Share Engaging Content
You should start by considering your employees a part of your target audience. A company's content needs to be written for them just as much as it is for your other target audiences.
Most people are visual learners and this will certainly include your employees. Employees are 75% more likely to watch a video than read text. However, most companies are still sending out long emails when it comes to internal communications. The key is to share engaging content that will boost the HR communication and information sent to employees.
Some of this content could include:
Video
Infographics
Interactive Newsletters
Visually engaging company news
---
6. Implement Surveys
Surveys are great for effectively communicating with your employees and improving employee relations between HR and the team. Surveys facilitate two-way communication,  your employees will feel more engaged and empowered and, in return, you get valuable information and data that can be used to positively shape your strategy.
It's widely known that when employees are satisfied with their jobs, they are much more likely to be happy, engaged and productive in their role. Therefore, implementing employee engagement or employee satisfaction surveys in your organisation will massively improve your HR communications.
---
7. Strategise an Onboarding Process for New Employees
HR communication will be effective by carefully planning onboarding steps for new employees, it will give them the information, relationships, and communication tools they need to be comfortable and confident enough to do outstanding work for the company. Employee productivity increases by 20-25% in organisations where employees are connected.
Especially for new employees, it can be difficult to learn the ropes in a workplace, therefore it's so important to ensure new employees are connected with teams from their very first day. The company intranet is the perfect place to put together a great employee training program that every new hire will complete.

8. Make Internal Documents Easily Accessible
HR communications isn't just the verbal exchange between employees, it also concerns important information which needs to be shared. It's vital to centralise all of this information in one place. A huge 57% of employees report not being given clear directions when it comes to accessing internal documents.
You can make internal knowledge easily accessible via documentation and training videos on your company intranet.
---
9. Align Employee Goals With Business Purposes
It's important to work towards a common goal, when every person in a team or company is working to achieve the most important business objective, it will deliver success and boost morale.
There are 4 levels of alignment that a business should maintain in order to be successful:
Employee-role alignment - Finding the right fit for the position at hand.
Employee-goal alignment - To get employees moving in the same direction, make sure their business goals are aligned with personal targets.
Employee-team alignment - Effectively combine employee expertise and strengths so they can effectively contribute to the teams success.
Employee-organisational alignment - Level of alignment is strongly connected with the level of commitment of your employees and how successful your business is.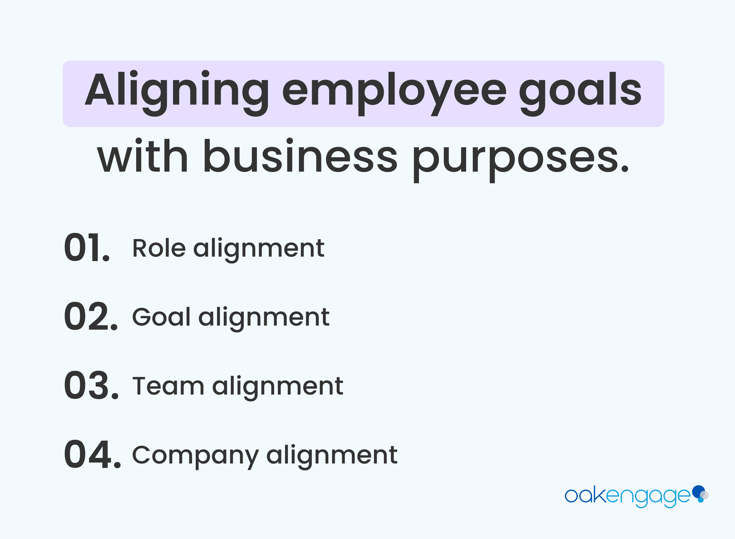 10. Take Advantage of Social Media
Social media is a powerful tool to enhance HR communication and internal collaboration in the workplace. Companies should encourage their employees to like, comment and share interesting content or posts about their organisation. This will almost certainly spark conversations, educate employees and boost morale between the team.
As an HR communicator, the types of internal content could vary from:
Employee focussed content which will appeal to them in a way which will make them want to share it.
Educational content which highlights and makes you employees look professional and shoes that they are experts in their fields.
Uplifting content which could include sharing feel-good posts and showing the company's human side.
---
HR Communication Software
HR communication software plays a vital role in modern organisational management, serving as a powerful tool for enhancing internal communication and streamlining human resources processes. As companies grow in size and complexity, effectively communicating with employees becomes increasingly challenging. This is where HR communication software comes into play, offering a centralised platform to disseminate critical information, align HR policies, and foster employee engagement. Big companies, in particular, rely on this software to address the unique communication needs of their extensive workforces, promote collaboration, and ensure a cohesive organisational culture. Read on to discover why and how some of the world's biggest brands incorporate HR communication software into their every day operations.
Procter & Gamble:
P&G, a multinational consumer goods company, leverages HR communication software to optimise internal communication channels and foster collaboration among its employees worldwide. By utilising this software, P&G ensures efficient dissemination of policies, benefits, and company news, leading to enhanced employee engagement and a more cohesive work environment.
Coca-Cola:
As a multinational beverage company, Coca-Cola relies on HR communication software to facilitate seamless communication with its global workforce. By leveraging this technology, Coca-Cola effectively shares company updates, communicates HR policies, and nurtures employee engagement, fostering a sense of unity and alignment across the organisation.
Netflix:
With a focus on maintaining effective communication within its organisation, Netflix, a global streaming service provider, employs HR communication software. This software enables Netflix to keep its employees well-informed about company news, HR-related information, and updates, ensuring that employees, including those working remotely or in distributed teams, remain connected and engaged.
IBM:
IBM, a prominent technology company, recognises the value of employee engagement and communication. To achieve this, IBM utilises HR communication software, empowering the company to effortlessly distribute HR-related information, conduct surveys, and foster collaboration among its diverse global workforce, resulting in improved employee engagement and organisational synergy.
---
Improve HR Communication with UK's #1 HR Communication Software
Do you need to improve HR communication? Oak Engage improves HR communication by providing a centralised platform for real-time updates, two-way communication, targeted messaging, self-service features, mobile accessibility, and valuable analytics. Our leading HR communication software streamlines communication, ensures consistent information, encourages employee engagement, and allows HR to deliver personalised messages while empowering employees to access information on their own. 
1. Centralised Communication
Oak Engage provides a centralised platform where HR can communicate with employees. It eliminates the need for multiple communication channels, such as emails, intranets, or bulletin boards, and brings all communication under one roof. This ensures that employees receive consistent and up-to-date information from HR.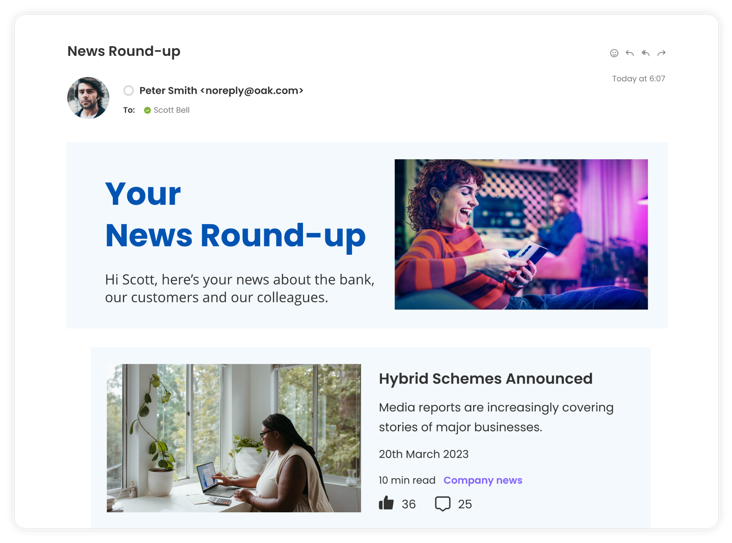 2. Real-time Updates
Oak Engage allows HR to send real-time updates to employees. Whether it's policy changes, new benefits, or important announcements, HR can instantly reach out to employees through notifications or messages. This ensures that employees are always well-informed and reduces the chances of miscommunication or outdated information.
3. Two-way Communication
Oak Engage facilitates two-way communication between HR and employees. Employees can provide feedback, ask questions, or seek clarification directly through the platform. This promotes transparency and encourages open dialogue, fostering a culture of engagement and collaboration.
4. Targeted Communication
Our HR communication software enables HR to segment employees based on various criteria such as location, department, or job role. This allows HR to send targeted communications to specific employee groups, ensuring that messages are relevant and personalised. Targeted communication increases the effectiveness of HR initiatives and avoids bombarding employees with irrelevant information.
5. Employee Self-Service
Oak Engage provides self-service features that empower employees to access information and resources on their own. For example, employees can access HR policies, view their benefits, or submit requests through the platform. By enabling self-service, HR can reduce the volume of routine inquiries and focus on more strategic initiatives.
6. Mobile Accessibility
Oak Engage is accessible through mobile applications, making it convenient for employees to stay connected and engaged on the go. HR communication software should be dynamic and accessibility should be a main priority. Mobile access ensures that employees can receive HR communications anytime, anywhere, increasing their engagement and reducing the chances of missing important updates.
7. Analytics and Insights
Oak Engage offers analytics and insights into employee engagement and communication effectiveness. HR can track metrics such as open rates, engagement levels, or feedback sentiment to assess the impact of their communications. These insights help HR refine their communication strategies and ensure continuous improvement.