The Importance of Employee Satisfaction
Employee satisfaction surveys should be at the heart of every workplace. It's widely known that when employees are satisfied with their jobs, they are much more likely to be happy, engaged and productive in their role.

Since many successful companies are built on the backs of satisfied and motivated employees, it would seem like a no-brainer for organizations to care deeply about employee satisfaction or employee engagement surveys and the valuable insights that they provide. This however, is not the case.

Not only do many companies neglect to use employee satisfaction surveys but less than two thirds (64%) of employees are actually satisfied with their jobs. Only 6 in 10 of employees feel a strong sense of commitment to their company or organisation.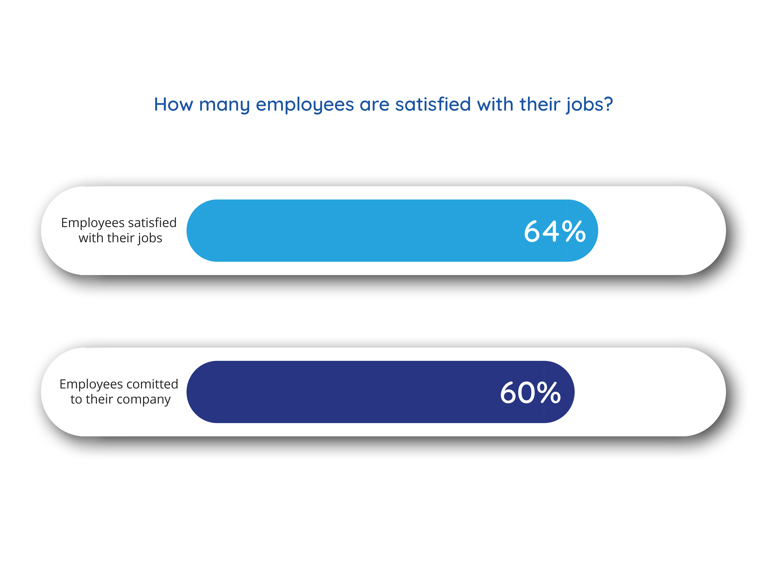 Here at Oak, we work with some of the world's biggest brands to help them achieve record levels of employee engagement and business connectivity, which ultimately helps create higher levels of employee satisfaction. So, if you're needing tips on how to maximise your workforce satisfaction, keep reading.


What Is Employee Satisfaction?
Let's start with the basics, an employee satisfaction survey is simply made to see how happy an employee is with their job. It covers a wide range of factors that may push employees to disconnect and become less engaged. Some of these factors might include:


1. Working environment 
Is it up to the highest standard it can be? An employee's everyday working environment can have huge implications when it comes to their overall level of satisfaction.  Although many of us are currently working from home encouraging employees to maintain, a pleasant, clean and comfortable environment will help reduce stress and anxiety - wherever they are. 


2. Resources
Do employees have the correct equipment? This has become an important factor within the last year, since many companies are remotely working, it's important that employees are given the right equipment to do the job to the best of their ability.


3. Workload
Is it manageable and distributed fairly between the team? As an employee, if there's a minimum requirement from an employer, it's that they're treated fairly. If they're not, feelings of frustration and distrust will likely start to set in. And having a frustrated employee could lead to them looking to move elsewhere. 


4. Work/life balance
Are employees able to feel like they can manage the balance between their work and personal life? A healthy work/life balance has a direct correlation with an improved level of satisfaction within employees. Nobody wants to feel like they're spending too much time at their desk. Therefore, if they're working long unreasonable hours and not getting much chance to do their own thing, they're not going to be satisfied in the job that they're in. 


5. Working Relationships
Do employees have a good and trusting relationship with both their team and management? You should always aim to create the best working relationships within your company, they're vital for success. It's not only important that they get on, but employees need to feel like their opinion can be heard and are able to give and receive constructive feedback.


6. Job Security 
Are employees reassured that their jobs are secure and is the business honest with them about their future in the company? Employees will feel more comfortable and satisfied with their job if they know there is a future for progression in the company. Employee satisfaction surveys can help track these factors and give management room to improve on their employee engagement.


4 Reasons Why Employee Satisfaction is so Important
Employee satisfaction is so important for employees to stay motivated and challenged in the workplace. There is little doubt that great employees are an organisation's number one resource and keeping workers happy helps strengthen a company in many ways.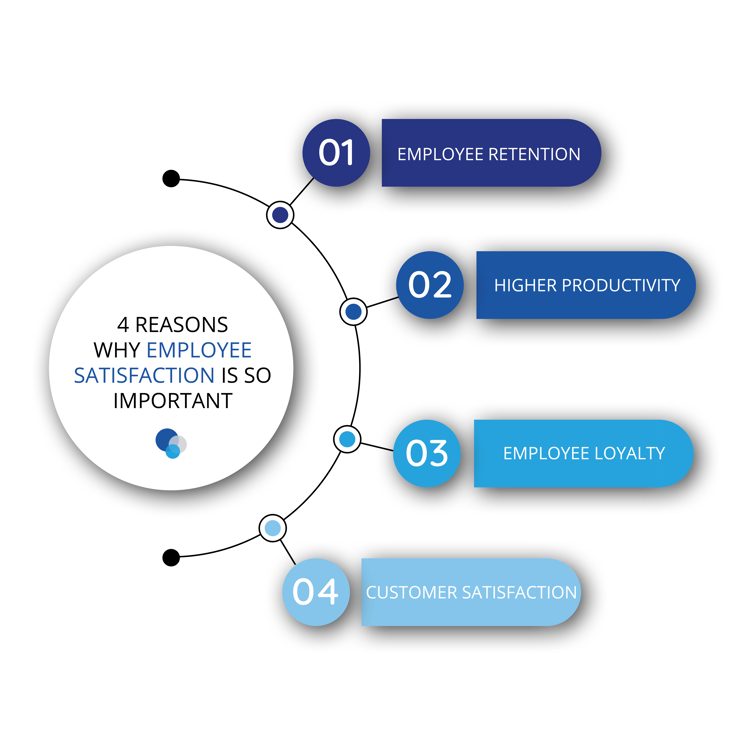 1. Employee Retention
Retaining workers helps create a better working environment and makes it easier to recruit quality talent. Ultimately, satisfied employees are much less likely to leave.
2. Higher Productivity
Employees who have a higher job satisfaction, tend to achieve higher productivity.
3. Employee Loyalty
When employees feel the company has their best interests at heart and feel appreciated, they usually support its mission and work hard to help achieve its objectives.
4. Customer Satisfaction
Customer retention and loyalty to a company is based on the services an employee provides. If an employee has high satisfaction, this will increase customer satisfaction.
Why Staff Satisfaction and Employee Experience Surveys Matter
Do you know whether your employees are satisfied with their jobs? If not, figuring it out is quite simple, you can do this by asking them directly in an anonymous employee satisfaction survey.
Finding out whether your employees are happy is the first, crucial step towards creating a valuable and engaged workforce. To improve employee engagement and become a stronger company, it would also be wise to issue employee satisfaction surveys at regular intervals.

Whether that means once every quarter or once a month depends on your organization. These surveys can be sent out electronically and anonymously to ensure employees are able to share their thoughts in confidence.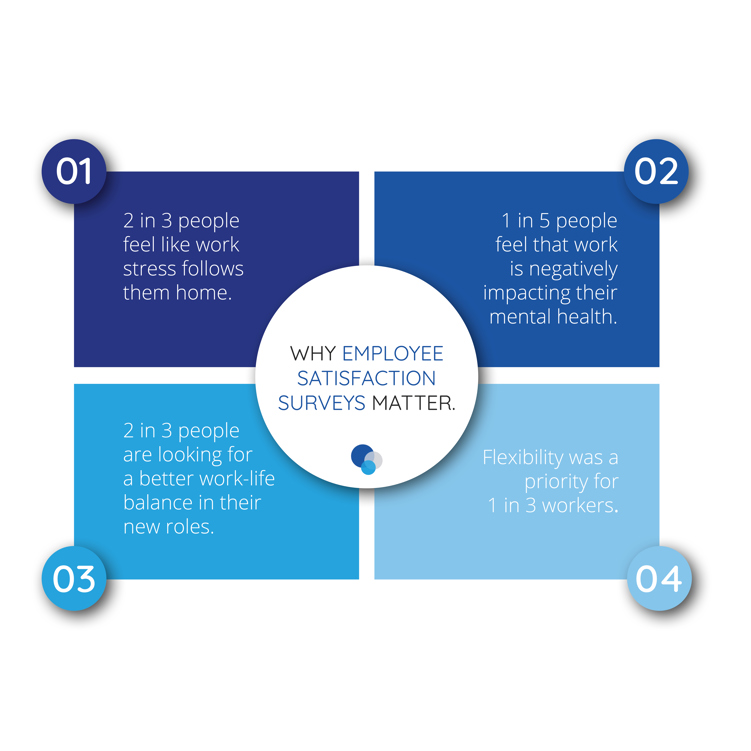 Employee Satisfaction Survey Questions
Of course, you can customize your employee satisfaction surveys to what's relevant to your business, but generally the questions fall into three main categories.
How satisfied or dissatisfied are you with…
The job itself
Job as a whole
Workload
Responsibilities
Career development
Resources
How satisfied or dissatisfied are you with…
Company culture
Employee feedback
Culture of the company as a whole
Getting employee opinion across
Connection with the team
Company willingness to embrace change
How satisfied or dissatisfied are you with…
Workplace relationships
Communication
Workload distribution
How employee contributions are valued
Honesty
The staff satisfaction survey response data will give insights into the morale and motivation of employees and you will be able to extract scores from employee satisfaction in the company.


Keeping Employees Happy
To sum up, it doesn't take much effort to keep employees happy by using employee satisfaction surveys. They will want to feel respected and appreciated, while working in a safe environment and having opportunities to advance in their role.

When a company delivers these important factors, it will satisfy employees, helping to build a stronger future for both the employee and company.