Maintaining great company culture is something that is essential to all businesses. Without it, your employees will feel disengaged and less motivated at work.
In this guide we'll cover:
What is Company Culture?
Company culture refers to the attitudes and behaviours of a company and its employees. It encompasses a variety of elements, including working environment, company mission, leadership style, values and goals. 
Great company culture sets the foundations for real, tangible business growth. It's based on honest, productive conversations and helps companies to identify issues and collectively form solutions to any problem.
Common Types of Company Culture
There are 4 common types of company culture. Which one sounds most like your business? Watch our video on Types of Company Culture to find out. 
Clan Culture
Clan culture is also known as "family culture". A clan culture is friendly, upbeat and made up of employees who have a lot in common with each other. 
Leaders of clan cultures are massively respected and are often perceived as mentors. These leaders and management drive team building, employee involvement and empowerment. Company goals and values are also commonly shared by employees across the organisation, resulting in a more streamlined vision and a workforce who are invested in their company's vision.
Adhocracy Culture
Adhocracy culture revolves around innovation, success and flexibility. This type of culture is often found within modern industries such as technology. Companies with adhocracy cultures are always thinking ahead and developing new strategies and ideas.
Leaders of this culture are constantly encouraging their employees to take risks and pushing them to be the best version of themselves.
Market Culture
Market culture is strongly results driven and performance oriented. Employees are encouraged to set difficult goals for themselves and work hard to achieve them. The leaders are usually tough and demanding. 
This culture is something that is often deliberately integrated within the company to ensure that business objectives are the number one priority. There is less of a focus on teamwork and community.
Hierarchy Culture
Hierarchy culture is the most traditional type, revolving around structure, control and 'doing things right'. There are strict rules and leaders of this culture are likely to be keeping a close eye on what employees are doing.
There are of course some drawbacks to this culture. With power sitting at the top level of the business, a leader may find that they are too absorbed in everyday decision-making to invest any time in their people.
Why is Company Culture Important?
The importance of company culture goes beyond the environment of your office. From onboarding, to retention and performance, company culture impacts every aspect of your business. Let's look at some stats...
66% of job seekers consider a company's culture and values the most important factor when considering career opportunities. If you're looking to recruit top talent, your company culture should be at the top of your priority.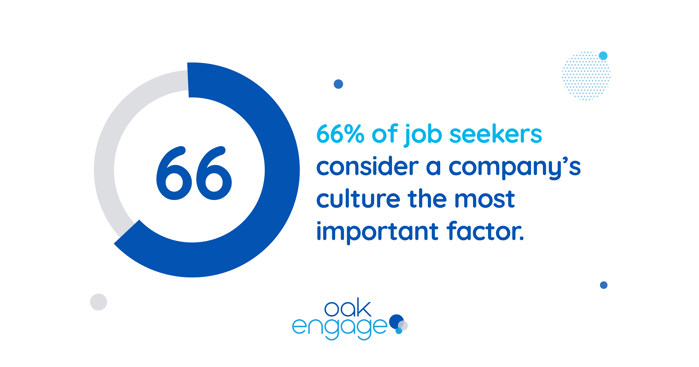 Organisations with strong cultures have 72% higher employee engagement rates than those with weak cultures. The culture of a company really influences employee engagement, which will have a direct impact on your workforce performance. 
Only 22% of executives say they understand their organisation's culture. Employees care about culture, that's why you should have a great company culture already implemented into your business.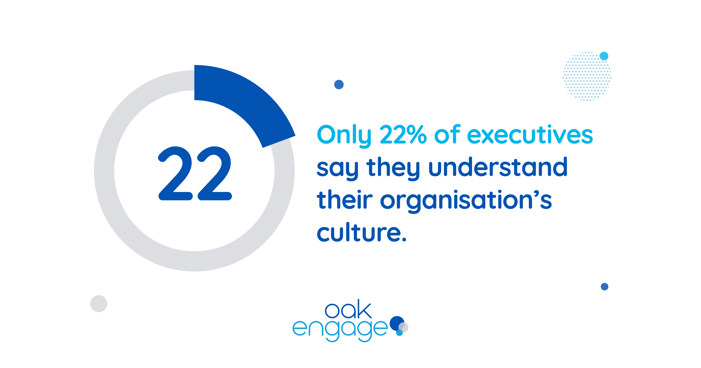 These statistics show the relationship between culture and employee performance, demonstrating just how important company culture is.
We recently conducted a poll on LinkedIn. We asked "When job searching, what aspect of the role is most important to you?" 55% of respondents said great company culture is the most important aspect.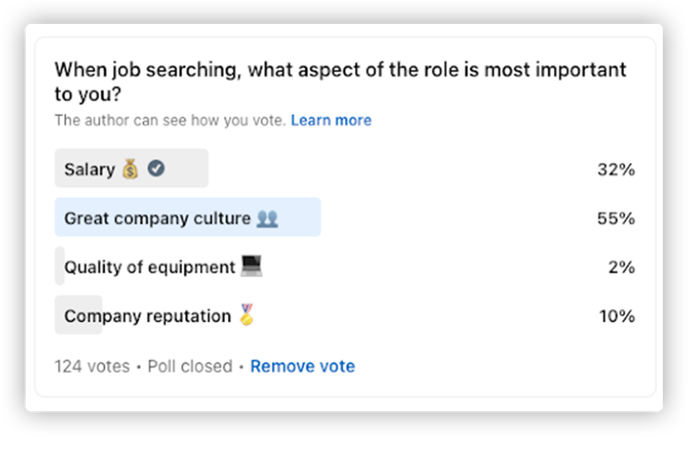 Benefits of a Positive Company Culture
There are clear benefits to having a strong, unified company culture. Watch our 5 top benefits of company culture video: 
1. Increased Employee Retention
A strong and positive company culture attracts better talent and more importantly, retains that talent. When people feel like they belong to a single organisation, they're more likely to want to stay in the job for the long term. This means lower turnover for your company, therefore the cost of recruitment will go down.
2. Improves Brand Reputation
The way people view your business has the power to gain more top talent or increase sales. A strong culture creates a buzz about your company in the community, and if this buzz is positive it makes the business look exceptional.
If you treat your employees well and have a positive working atmosphere your customers will see you as a fun-loving generous company.
3. Increased Productivity
A strong company culture increases productivity within your organisation in so many ways. When employees are happier, they show up to work consistently and have fewer sick days. Happy employees want to go to work and give 100% effort as they care about the company's success.
4. Better Decision Making
A positive company culture includes a well-defined mission, vision and values which makes decision making in the company a lot easier. When a question comes up, either an employee or manager can find the answer because the vision of the company is clear and transparent.
As a result, decisions will be better aligned with company goals and increase your chances of achieving success.
5. Recruit Top Talent
Creating a strong culture that cares about employee opinions makes other talent want to be part of your organisation. When the time comes when you do need to hire, it is easier to recruit top talent with a good company culture.
How to Maintain Company Culture
A great company culture is made up of many elements, but there are 3 main factors:
Communication
Collaboration and teamwork
Positive leadership team
A good corporate culture always matters, but during the current climate, it's arguable that it's now more important than ever. Taking things like diversity, inclusion and more into account is imperative to a more holistically positive work environment. 
It's understandable why many people may think it's difficult to maintain a strong company culture when you're not physically interacting with your teammates and all conversations are reduced down to video calls.
To make it easier, we're going to outline the key main points of a great company culture that we think are the most important ones to consider.
Communication
Maintaining good levels of communication is crucial in the workplace. At Oak Engage, our intranet software has a range of features that allows you to communicate with your workforce instantly and maintain a great workplace culture.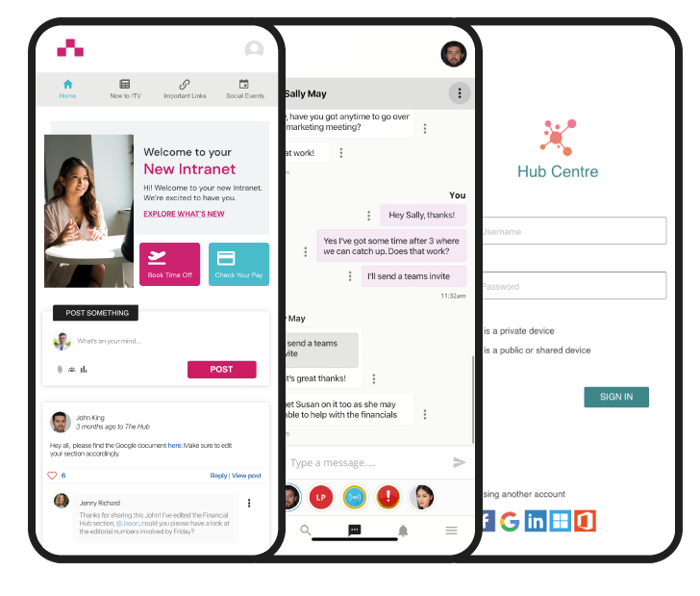 Social Timeline
This is your first port of call if you need to announce anything to the whole of your company. Timeline allows you to share content of all kinds, from simple messages to images and videos. Users can also interact with content through comments, emojis and likes.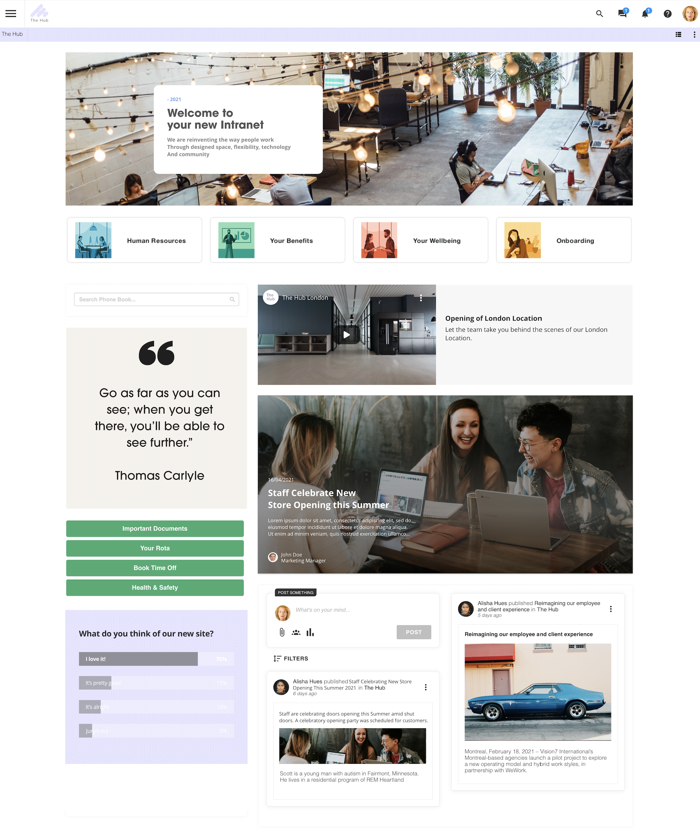 Instant Messenger
Perfect if you need to send a message to a specific person or a certain group. Messages can be sent instantly, and users will receive a notification once the message has been sent.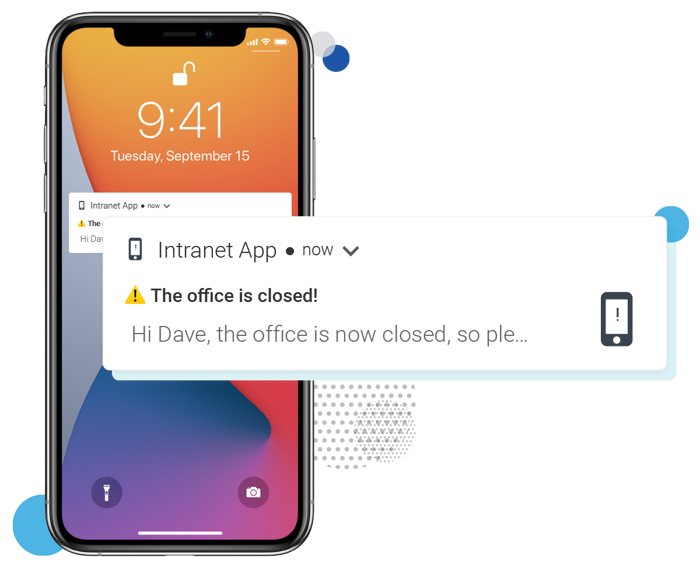 Mandatory Reads
You can use this feature to get out urgent company updates to all staff. Once a user logs into the platform, the mandatory read will appear and ask them to accept and understand what they have read. If they decline, they won't be allowed back onto the platform until they accept. You can also keep track of who has read and who hasn't.
Collaboration and Teamwork
Having a team that works well together and socialises outside of work can make a world of difference to your company culture.
Although it may seem like a challenge trying to get your team to interact with each other when they're all working remotely, it's vital to maintain a great company culture. You can do this by promoting social activities and team bonding sessions. Studies have found that socialising with co-workers leads to higher morale in the workplace and an overall healthier working environment.
Oak can also help you bring your team together through 'Hubs'. You can set up a hub for anything. Whether you want a place to chat about the latest series you've been binge-watching or you want to create a book club, Hubs are a place to share ideas and collaborate with your teammates.
Leadership
Host regular 1-1 sessions with your team to check-in on them, this gives you a chance to catch up on work they are doing, allows your team to ask questions and lets them know that you are there for them when they need support.
It's also vital that your employees have trust in their leadership team. Trustworthy leaders will drive success, put employees' worries at ease and have their employees' best interests at heart. To maintain trust within your leadership team, make sure updates and important information are communicated clearly to your employees. Keeping secrets and leaving them in the dark will leave your employees feeling a lack of trust and confidence in their leadership team.
How to Improve Company Culture
Creating a positive working culture can always be a challenge at first, but it's something that any organisation can accomplish.
First, let's take another look at our definition of company culture:
"Company culture refers to the attitudes and behaviours of a company and its employees. It encompasses a variety of elements, including working environment, company mission, leadership style, values and goals"
It's important to address that company culture is naturally occurring; your team will most likely develop a culture whether intentionally or not.
However, you can start figuring out which of the four types of culture follows in your business. From there, you can start to implement steps to improve your company culture. Watch our video on How to Improve Company Culture to find out how:
Credit: Music by BenSound
Establish Core Values
Your employees will do plenty of research on your company before applying, this will include your core values. It's important that they stand out and represent your organisation well. 
When practiced, core values become more than words. They become key to a healthy company culture.
Be Transparent
You should reward your employees for actions that best represent the company culture that you want. A recognition-rich culture will also reduce turnover, with 90% of HR managers agreeing that having an effective recognition and reward program helps drive business results.
In fact, 50% of employees say bosses sharing information and data has a significantly positive impact on productivity and motivation. Furthermore, studies shared by Forbes show employees consider transparency to be the number one factor in determining workplace happiness.
Reward Your Employees
You should reward your employees for actions that best represent the company culture that you want. A recognition-rich culture will also reduce turnover, with 90% of HR managers agreeing that having an effective recognition and reward program helps drive business results.
Protect Employee Wellbeing
Happy employees are the trademark of what makes a fantastic company culture. By having a work environment centered on employee wellbeing, you can create an atmosphere of trust and support. When employees feel cared for they become more engaged and committed to your company's values.
An increased sense of wellbeing raises productivity by 31% and inspires 59% more loyalty among employees.
---
Recommended Reading 📖: Employee Wellbeing: A Beginners Guide
---
Company Culture Examples
Success doesn't only mean making a profit. It means delighting customers and trusting workers to make good choices on their own. Take a look at these companies who already have an amazing company culture.
Bain & Company

Glassdoor named Bain & Company the best place to work in 2017, and the worker-centric culture makes it easy to see why. Bain offers flexible working models in which workers are offered extended breaks, sabbaticals and job-sharing options. The company also encourages employees to work from home or from a coffee shop, or pop out of the office to go for a run or a yoga class. It's all about where they feel most productive.
Airbnb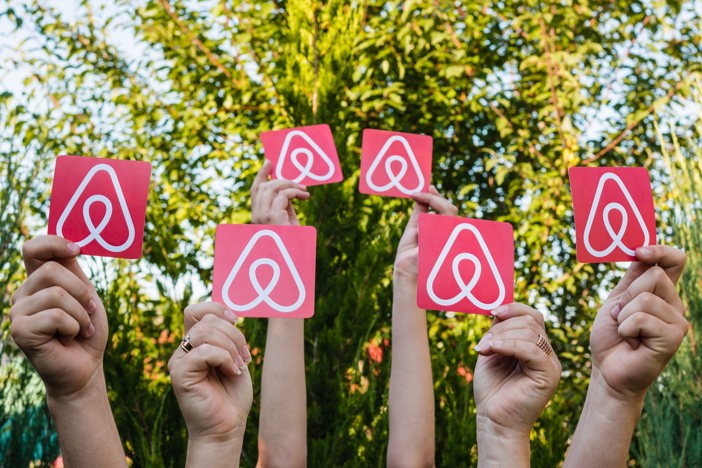 Airbnb's 'Ground Control' team brings its culture to life by hosting pop-up birthday and anniversary celebrations, recognising employee contributions, and managing internal communications. Airbnb fosters a communication philosophy that values honest, open dialogue. 
Facebook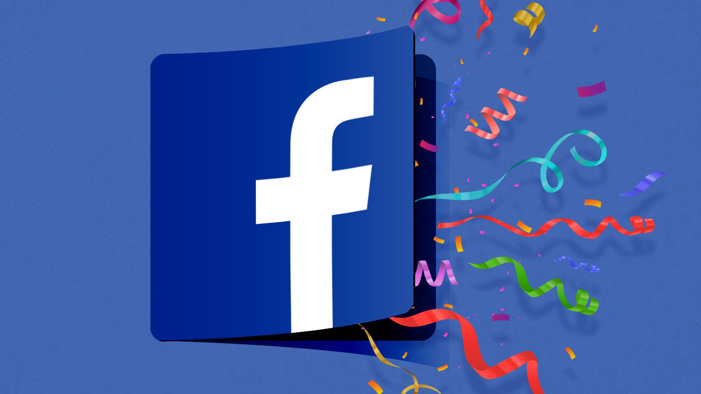 The social media giant has become synonymous with Silicon Valley's freewheeling corporate culture. Think open floor plans, access to the CEO, plenty of employee benefits like free food and dry cleaning, four months of paid leave for new parents, and unlimited sick days. Facebook knows that culture and all those perks are the deciding factors for talented candidates in the competitive tech industry.
Oak Engage
We believe that employees everywhere deserve to feel connected, engaged and inspired. At Oak Engage we endeavour to deliver innovative workplace solutions that help your business thrive.
With a well defined vision and clear company purpose, we are dedicated to providing a modern enterprise better employee engagement, stronger collaboration capabilities and an intranet platform that caters to everyone - wherever they are. We truly believe that our software can complement and support the core values of any business whilst demonstrating the key value of employee wellbeing and engagement.
As well as keeping our customers happy and engaged, our executive team at Oak provides us with flexible working, recognition, work perks and more. We've just introduced Oak Bank Holidays to make sure employees get the rest they deserve. Just like an actual bank holiday, we shut down the office for the day and relax. 
Having that extra time off really boosts productivity among teams, enabling employees to do the best work they can do and ultimately creating further success for your company.

---
Boost your company culture today
---