Every business wants a highly engaged workforce. 
However, employee engagement is an ongoing strategy, requiring actions to be taken throughout the year.
According to a study by Qualtrics, only 50% of workers in the UK are engaged in their day to day work. 
Fortunately, there is plenty of employee engagement software that can help you create the success you are looking for.
In this blog we'll cover:
---
Recommended Reading 📖: What is Employee Engagement 
---
What Exactly Is Employee Engagement Software?
Put simply, employee engagement software helps businesses boost employee engagement while improving the employee and customer experience.
Employee engagement solutions are often software-as-a-service (SaaS) platforms that are chosen by HR departments and implemented for their workforce.
So what is the best employee engagement software? Let's take a look.
---
The Best Employee Engagement Software 2023 
Choosing the right employee engagement software all depends on your business size and what you're planning on using it for, amongst many other factors. Employee engagement is a metric that will be different across every business and organisation. This is why it's important to take every 
That's why we've put together our suggestions for the best software for small businesses, mid-market businesses and enterprises below. 
---
The Difference Between Employee Engagement App & Employee Engagement Software 
Employee engagement software encompasses a wide range of features and functionalities for enhancing overall employee engagement, including tools for surveys, performance management, recognition, feedback, and analytics. It offers a comprehensive approach to managing and improving engagement across the organisation. This software is typically accessible through web-based platforms and integrates with various HR systems, providing a centralised hub for engagement activities.
In contrast, employee engagement apps are more focused tools, often designed for mobile access and specific engagement tasks, such as recognition or communication. These apps offer a more streamlined and user-friendly experience but may lack the comprehensive features and integration capabilities of software. The choice between the two depends on an organisation's specific engagement needs and objectives.
---
For Small Businesses 
Lattice works with People teams to turn employees into high performers, managers into leaders and companies into the best places to work.
Their goal is to develop engaged and high-performing teams and make the hours that people spend at work better.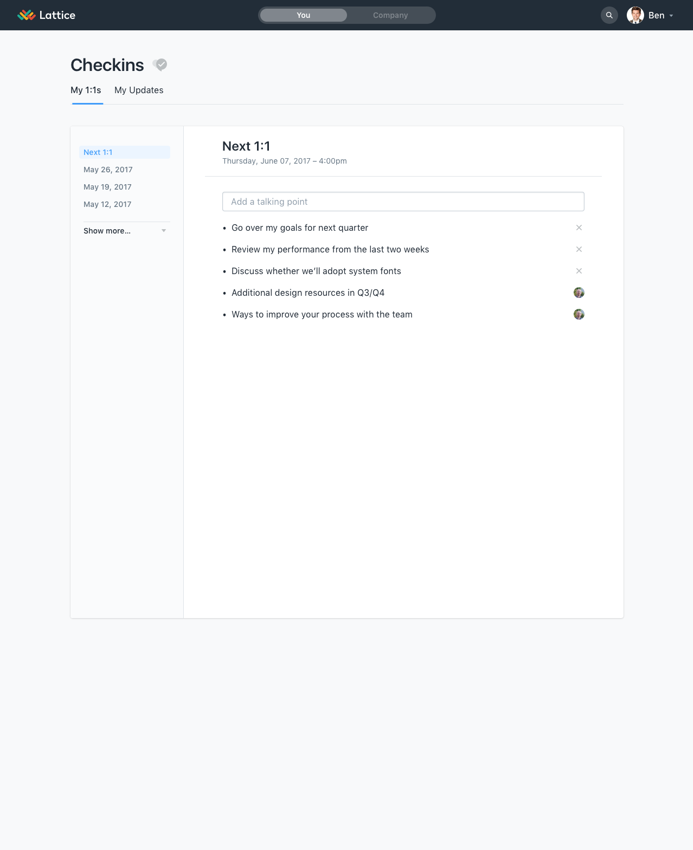 Core Features
User, Role and Access Management
Mobility
Dashboards
Feedback
Performance Benchmarking
Popular Mentions
"The best aspect of Lattice is the ease in scheduling 1:1 meetings with topics to be covered in the meeting."
"I can keep track of all my one-on-one points with my manager and my skip-level manager all in one place so nothing gets lost."
"We love that Lattice houses our Goals, 1:1 meetings, 360 degree reviews and feedback all in a single place connected together."
Unpopular Mentions
"The tool can be complicated for new users, which makes it hard to get the teams to buy in to use the tool. I would like to see better integration into MS Teams."
"The UI can be a little confusing."
"The UI specifically around goals has been a bit trickier to navigate."
Conclusion
Being a people management platform, Lattice does have many benefits around performance reviews, 1:1 meeting scheduling and feedback. However, it can fall short on other aspects such as integration, connectivity and collaboration.
Fond is a Saas platform that consolidates employee rewards and recognition processes into one solution.
Employees and managers can recognise each other, redeem rewards and measure success.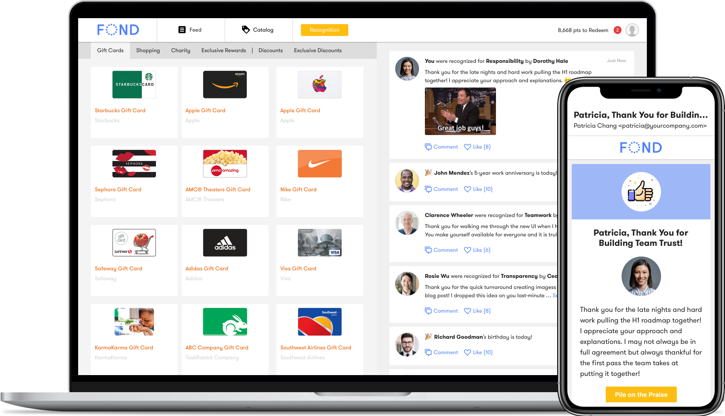 Core Features
Peer Recognition
Rewards
Employee Engagement
Mobility
Social Feedback Portal
Popular Mentions
"It's easy to navigate, and you're able to see details on what the recognition is for very easily, and you're able to respond as well."
"This program is so user-friendly. The ease of being able to reward an employee and then let them pick their gift is terrific!"
"Fond allows colleagues to give/receive monetary value rewards."
Unpopular Mentions
"There could be more items at cheaper prices which would improve the user experience a lot and make it feel more fun and rewarding to earn points."
"Wish you could earn points more easily and could use cash to buy things that you don't have enough points for."
"I liked this app, but there is always room for improvement, so the UI can be better."
Conclusion
Fond is great for employees being able to send points to each other as a recognition system, which they can then redeem for rewards. However, it's important to recognise that there are downsides to solely just having an employee recognition program. It fails to include other important features of an intranet.
15Five is a performance management platform that supports effective managers and engaged employees. They provide surveys, 1-on-1 tools and performance reviews and it combines software, education and community to develop successful managers.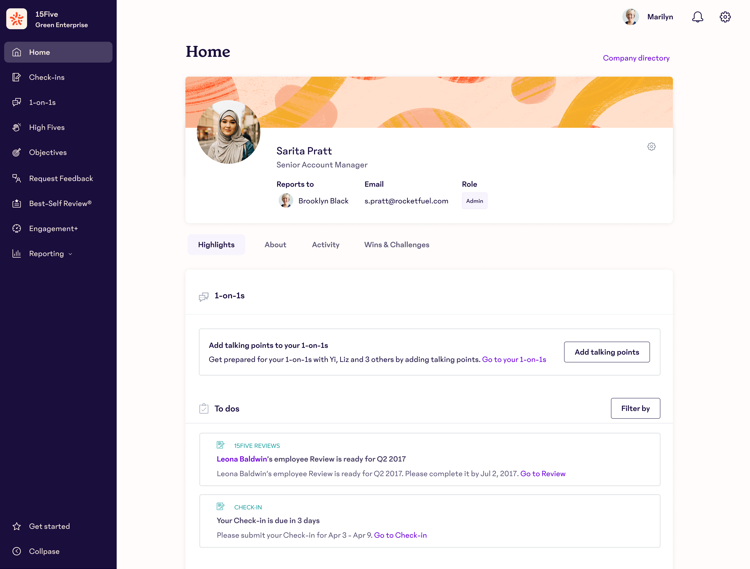 Core Features
Customisation
Performance
Mobility
Goal and Challenge Creation
Peer Recognition 
Popular Mentions
"I like that I can report, once a week, how well my week went and what I got done."
"I can easily share my reflections with my boss and am notified when he reviews them each week."
"Every week, I'm able to submit a report that lets my supervisor know how that week went (the good, the bad, and everything else)"
Unpopular Mentions
"I cannot customise how I view my data. It would be great if I had more control over the dashboard experience, in order to make it more useful in my day-to-day planning."
"I find that action items from 1-on-1s can get lost too easily."
"Sometimes it might not save the current weekly report that you are working on. It may be a glitch or perhaps even user error, but there are times (especially when I first started using it) when it doesn't save my current review."
Conclusion
The benefits of 15Five include being able to report and share reflections with managers. The platform is also very analytical and data based which is a good thing but does miss out on things like social features which employees love.
Motivosity intends to make people happier at work.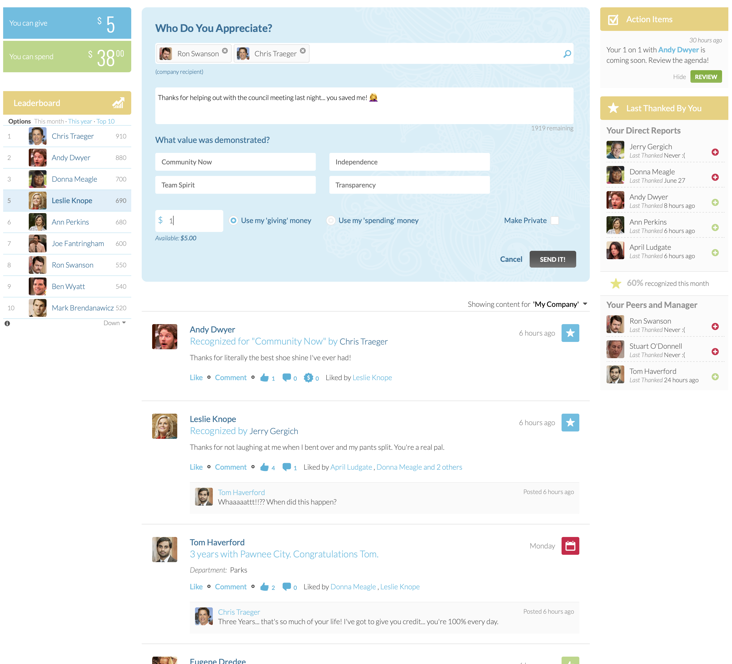 An employee engagement ad recognition software which drives results by making visible all the great work of team members Motivosity place an emphasis on 3 key drivers:
Being recognised and appreciated
Feeling connected to your manager
Having a strong sense of community in the workplace
Core Features
Employee Segmentation
Performance Benchmarking
Employee Engagement
Automation
Dashboard
Popular Mentions
"It prompts people to recognize others for the good things that they do."
"Just easy ways to appreciate the people I work with!"
"The flexibility and ease of use are so much fun! We love shouting each other out, giving out awards, and sharing highlights!"
Unpopular Mentions
"Sometimes I get a little frustrated with the user friendliness of the app and website."
"It would be helpful if you could see a summary on your home page of the recognition you've provided through your entire organization rather than just your direct reports."
"The leaderboard is a fun feature, but it is not as helpful since it only shows 10 people at a time; in our large company, this sometimes requires a lot of scrolling if you're looking through the board."
Conclusion
Motivosity is great at valuing employees, especially those within smaller businesses. It allows people to give peer-to-peer recognition that helps your employees feel appreciated. However, as your company grows, the software can become limited.
Kudos in an employee recognition software. It empowers employees to recognise teammates and achievements that make their companies great places to work.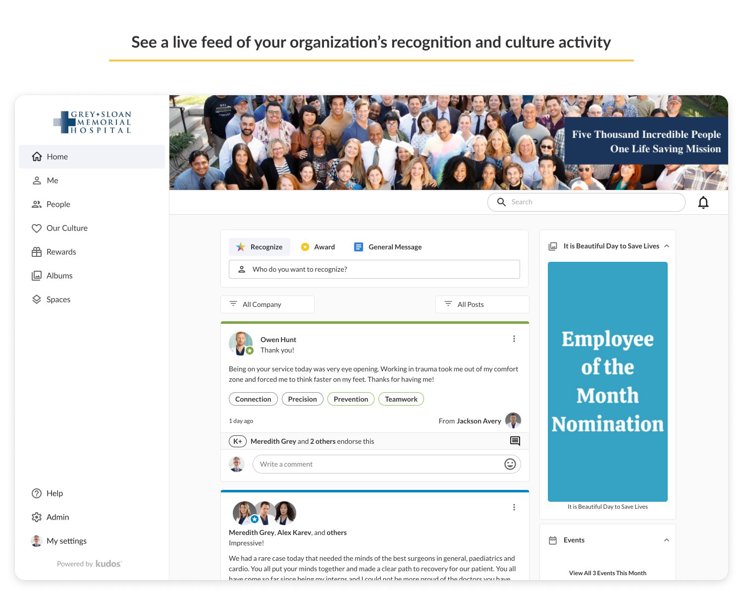 Core Features
Customisation
Integrations
Performance
Employee Pulse Surveys
Peer Recognition
Popular Mentions
"The best thing about Kudos is their effect on the work environment and team morale. It helps reinforce the sense of belonging and improves everyone's mood by seeing someone being publicly recognized and rewarded for their work."
"It's an excellent way to acknowledge when the staff is performing well."
"Kudos is a great way to appreciate your support roles and teams in projects they have helped you with. It helps recognize those leaders and improve morale."
Unpopular Mentions
"I do not get enough Kudos to give out each month, and I wish they would roll over from previous months, so when we have extra, we would like to give we can."
" I don't like not being able to set your amount of Kudos to give out."
"I wish that there was more detail when someone posts Kudos rewards."
Conclusion
Like other platforms, Kudos focusses their features on employee recognition and rewards, this is great but can miss out on other features that are vital for keeping your workforce engaged.
---
Recommended Reading 📖: Choosing the Best Employee Engagement Software  
---
For Mid-Market Businesses 
Culture Amp is a people and culture platform that helps companies to improve employee engagement, retention and performance.
It provides feedback and development tools to deliver insights needed to make decisions and prioritise resources.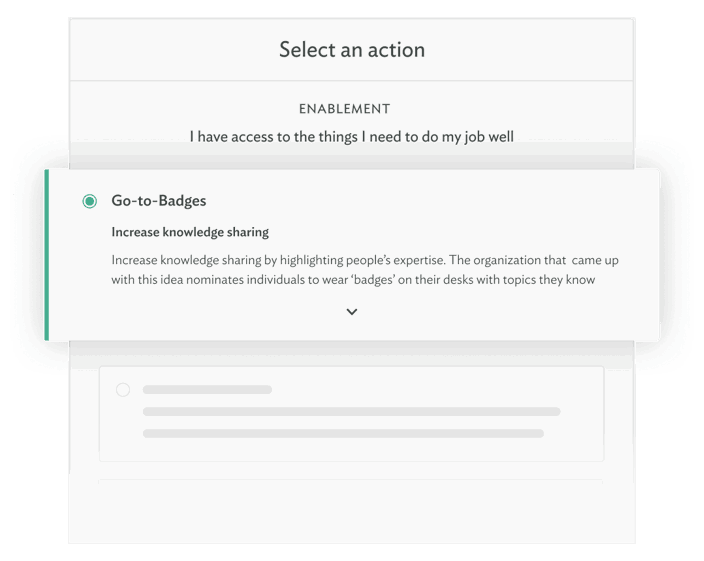 Core Features
Reporting and Dashboards
Mobility
Employee Pulse Surveys
Goal and Challenge Creation
Employee Segmentation
Popular Mentions
"I love being able to set up surveys, demographics and reporting then use them over multiple years to gain longitudinal insight into how business is doing in the eyes of our people."
"We have seen progress and improvement in our Engagement and commitment from the Team Members with regards to our surveys and other company-wide activities that involve the voice and participation of our Team Members."
"It has a very detailed reporting feature for your reviews/surveys that gives you a breakdown of your most important areas and areas of focus. The end-user can see a very detailed analysis of the organisation-wide survey."
Unpopular Mentions
"They could integrate with more platforms for interoperability."
"Better & wider integration with other tools and enable automation processes with third-party apps."
"We can not customise the tool, and we don't have the flexibility to adapt the platform to our needs."
Conclusion
With a lot of focus on feedback and performance, Culture Amp is good for turnover prediction and reports. Again, it lacks certain features that employees need for productivity, collaboration and engagement.
The Kazoo Employee Experience Platform brings together tools you need to create a high-performing, connected culture regardless of where your employees work or what device they use. 
They combine Goals & OKRs, Recognition, Feedback, Conversations, and Incentives within one platform.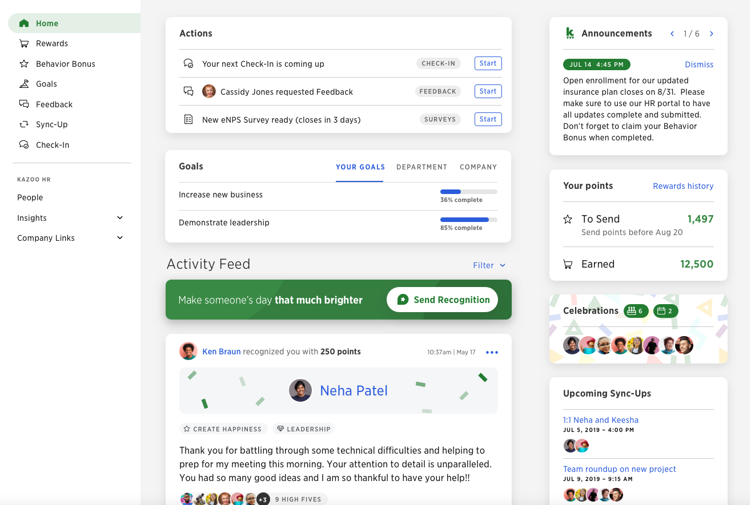 Core Features
Performance
Mobility
Integrations
Reporting
Feedback
Popular Mentions
"I like the concept and how user friendly Kazoo is."
"Kazoo is very easy to use."
"By far, my favourite thing about Kazoo is its flexibility. You can truly make it a unique experience for your employees, as well as offer rewards to fit all needs."
Unpopular Mentions
"I wish some reports had more customisation capability."
"If you could customise the website appearance a little more, that would be the only thing I would like to see change."
"The reporting is very lacking! Unable to reconcile escrow account unless requested reports each month from Kazoo Support."
Workvivo is an employee communication platform designed to build natural, meaningful bonds between teams, allowing companies to reach and engage their employees.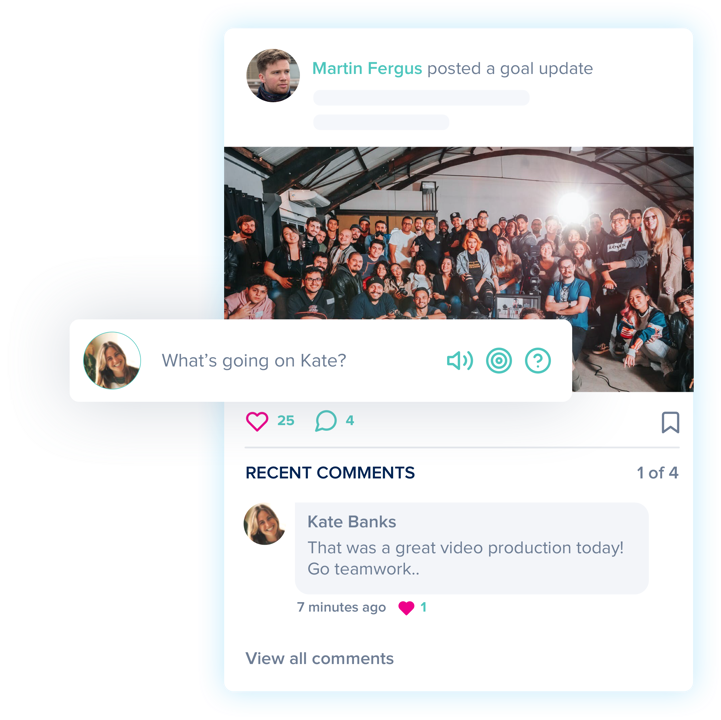 Core Features
News Feed
Notifications
Multi-channel Sharing
Employee Generated Content
Surveys
Popular Mentions
"Workvivo is such an easy and good app to use."
"The UI is very user-friendly, and it has many valuable tools."
"It's been remarkable, super user-friendly."
Unpopular Mentions
"There is no way to chat with people through Workvivo."
"For communication purposes, it would be great to push posts back to the top of the feed."
"Including URLs in some of the posts can be a bit frustrating."
Conclusion
Workvivo combines its intranet into a social experience for its customers. It includes an array of different tools and features that massively improve employee engagement. According to reviews, their app is easy to use and super user friendly.
However, the downside to this platform is that employees are not able to chat with each other. Messenger is vital for team-to-team communication.
HCL Connections delivers a collaborative platform that keeps employees connected and engaged in the workplace. They help create a personalised and well designed digital workplace, with role-based content and tools to help keep teams focused on achieving their business goals.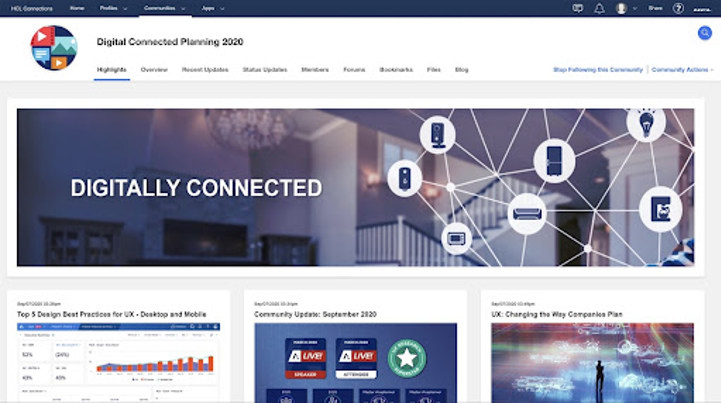 Core Features
Orient Me 
Touchpoint
Expertise Discovery 
Huddo Activities Plus
Communities 
Popular Mentions
"It is great for collaborating and communicating with other colleagues. It is very user-friendly for the end-users."
"HCL Connections' mobile consumption is very good and is improving rapidly over time."
"The tool provides a secure channel for quick sharing of different important documents, ensuring that all the documents are very well updated."
Unpopular Mentions
"The actual formatting and editing of documents in this application is a bit more difficult, so in this particular application, I found it difficult to edit my documents.
"Everything is somewhat disoriented and jumbled. You don't get to make the most of the tools because they're not properly laid out."
"One of the fundamental blemishes that this application can have is the expense of the paid adaptation."
Conclusion 
HCL Connections provides a central hub for employee engagement and networking. It seems well suited for communicating with other employees and is very user-friendly.
However, one of the downsides seems that the platform can be a little disjointed and jumbled. This is something to take into consideration when choosing your intranet platform.
Samepage facilitates communication and all things engagement in a single cloud-based collaborative workspace.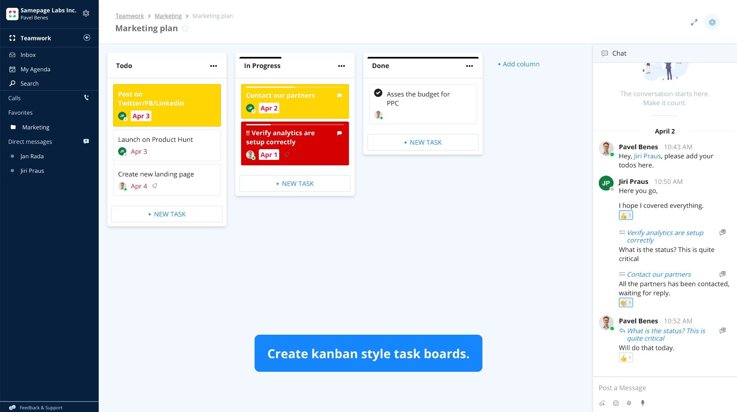 Core Features
Device Syncing 
Policies and Controls 
Device Management Performance and Reliability
File Sharing 
Popular Mentions
"Ease of use and ability to set permissions for optimum safety and security of data from particular individuals."
"It is excellent, how can it be configured rapidly and then adjust as it is thought to develop."
"It satisfies my requirements. I used this programme, so it was possible to communicate, set up and delegate work, upload shared documents and event calendars."
Unpopular Mentions
"My least favorite aspect is the inability to customise your workspace folders."
"It has certain downsides, such as attempting to individualise each project you wish to run in order to provide better control and tracking of the circumstances that can occur by means of a quick update."
"It can be difficult to function through certain integrations."
Conclusion
Being a cloud-based platform, Samepage has many benefits including online collaboration and video conferencing. Many users say that it is easy to use and share projects and calendars with their employees. 
However, many found problems with customising their own workspace and being difficult to use through certain integrations. 
Recommended Reading 
---
For Enterprise, Small & Mid Tier Businesses
We unite businesses and transform workplace culture. Oak Engage is the modern all-in-one intranet that enables businesses to engage and connect with their people. 
Unlike traditional intranets that fail due to complexity and poor user experience, Oak makes it easy to collaborate and share content, improving productivity. With our easy to maintain, fully personalised and intuitive platform, spend less time worrying about employee needs and  focus more on your wider business goals.
Core Features
Mobile App - Our mobile app gives employees an enjoyable experience and can access their company intranet wherever they are. This is ideal for organisations with deskless or remote workers - Oak mobile app gives companies the power to access their intranet solution at any time, from anywhere.
Social Intranet - With social features integrated throughout, you can give your workforce an intranet they love and remove traditional workplace barriers with Oak.
Hubs & Communities - Create communities and improve your culture. Hubs bring like minded people together through virtual groups where they can collaborate, strengthen bonds and grow together.
Content Management - With a content and document management system with 3rd party app integration, your workforce can access content and complete tasks anywhere, any time.
Pulse Surveys & Polls - Gather real, actionable insights that your business can use to improve employee engagement, communication, wellbeing and more.
Popular Mentions
"Oak makes it easy to understand all the features and settings, and they are there to help you with any issues."
"Oak is easy to use and continuously upgraded. It suits our workforce and all technical abilities. I LOVE the customer support - they are all so lovely and helpful! Bending over backwards so you get the experience you want and need."
"Simple and intuitive to use. Relatively easy to set up areas relating to a specific subject and to communicate to teams throughout the business."
Unpopular Mentions
"There isn't much! A lot of the niggles I have can be fixed at our business end with extra training and knowledge not with Oak."
"There are very few negatives about oak, and the help platform and idea sharing is brilliant."
"I think any pain points we have uncovered so far are related to how our site was structured years ago, not issues with Oak."
Conclusion
Oak Engage is an all-in-one intranet software for the workforce of today. Designed to keep workforces engaged and productive, we've developed useful tools to help organisations from across the world.
Jive provides a gateway to everything employees need to get their jobs done. It's a platform that provides company communication, team collaboration, employee engagement and more.
Jive provides an array of features in one secure and ready-to-launch package, available in the cloud and on-premises.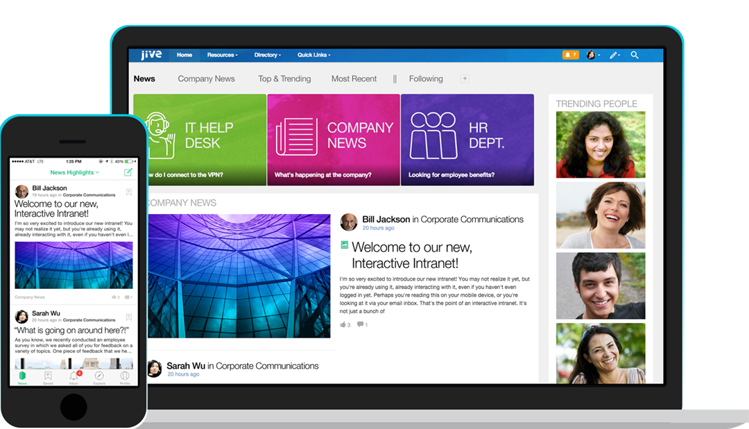 Core Features
Customisation 
Internationalisation 
Mobility 
Reporting and Dashboards 
Peer Recognition 
Popular Mentions
"I like the way the interface helps you easily navigate to anything related to your workplace and connect with people very easily."
"It's great that I can communicate from any device or phone."
"The fact that you can use it anywhere: a physical phone (purchasing the right LAN adapter) on an iPad or iPhone, and on the web in your computer."
Unpopular Mentions
"I think there should be more options for integration and availability of java stored on jive."
"We attempted to integrate Jive with Deltek Vision and OpenAsset and encountered some difficulty. Smoother integration would be great."
"Not extremely user friendly. Can be difficult maneuvering the program without basic training on how to use the program."
Conclusion
Jive certainly has capabilities you'd expect from an intranet. There is room for customization by administrators and offers many collaborative tools.
However, based on reviews, integrations of other platforms is limited and the platform requires a lot of training. Compared to other platforms, the mobile app could be more user friendly and the search feature could be more updated.
Simpplr is a modern intranet software. They make it possible for businesses to connect and engage their entire workforce across the enterprise.
Core Features
Mobile Application
News Feed
Employee Generated Content 
Notifications 
Integrations 
Popular Mentions
"Simpplr is exceptionally visually appealing. It makes it very easy for users to see and find what they are looking for."
"I love the streamlined, clean aesthetic of the brand that allows for simple customization and intranet management. I also really love how easy it is to "get in there" and figure it out yourself."
"Using Simpplr is a breeze. As a result, our worldwide team was able to implement it quickly and without incident."
Unpopular Mentions
"Unfortunately, users were not provided with any recognition items. This would make our staff feel appreciated and connected."
"The application is quite difficult to customize. Oftentimes thumbnails don't look correct and cannot be easily adjusted."
"The thumbnail feature would love to have a few more options, either to add an additional photo that properly fits the header and the thumbnail, or some additional cropping/formatting abilities."
Conclusion
Simpplr certainly has a clean and visually appealing aesthetic, as seen by many reviews. They also make it easy for their customers to use and make their site their own.
However, no recognition or reward features are provided with Simpplr, unlike so many other platforms that provide employee recognition. This is something that is missing and quite significant to what organisations are looking for.
Unily is an employee experience platform that connects, informs and engages employees.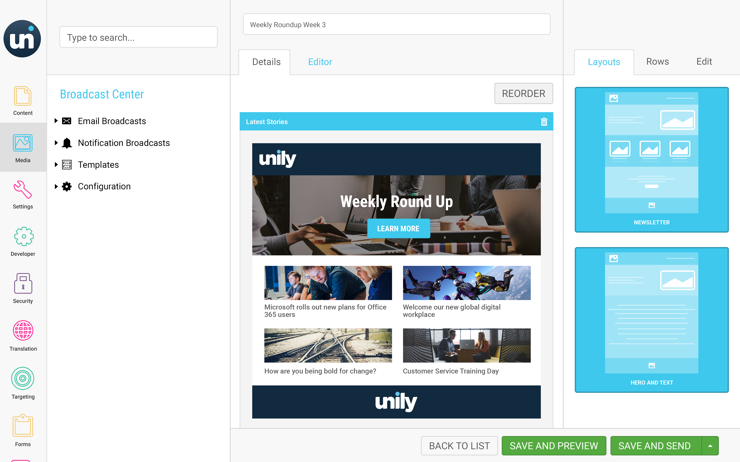 Core Features
Social
Communications
Analytics 
Mobile App 
Reward and Recognition 
Popular Mentions
"The only software on which we can rely for instant messaging professionally."
"When it comes to maintaining effective communication with the entire work team, Unily is the best option."
"Unily is really an easy-to-use tool and gives us very good tools that facilitate communication between all team members."
Unpopular Mentions
"The operation has been very good, however the notifications may have delays, some configuration is missing, the rest works perfectly."
"The system is prone to bugs and has many glitches that can slow down employees' productivity."
"There are a lot of glitches and bugs while using it."
Conclusion
Based on reviews, messaging and communication seem to be the most effective feature that Unily provides. They provide their customers with instant messaging in real time with very fast notifications and facilitate collaboration across teams.
The downside to Unily is that there are a lot of glitches and bugs which can slow down productivity, disrupt processes and provide unnecessary frustration within an organisation.
Staffbase is a platform centred around engaging employee communications. They provide internal communications tools and give employees a place to create and publish content, all from one single platform.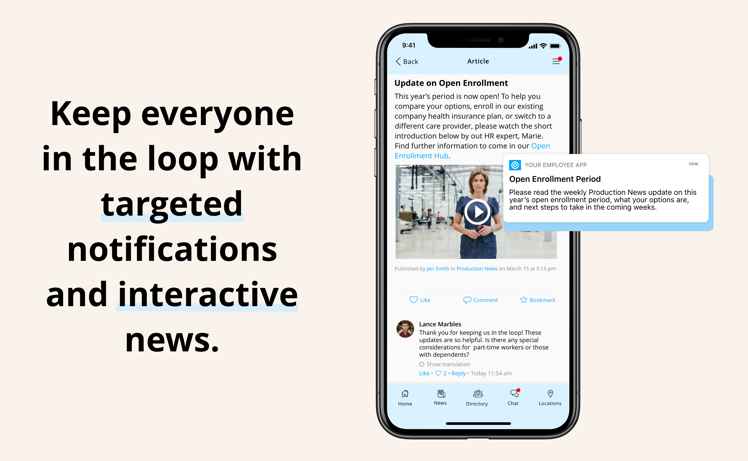 Core Features
News Feed
Notifications
Employee Generated Content 
Comments 
Administrative Access 
Popular Mentions
"For an IC person, the platform is an exceptional product and user-friendly!!"
"The platform is a real asset for quick and uncomplicated exchange with our employees."
"Staffbase allows us to bridge our communication gap in our company."
Unpopular Mentions
"Long waiting time for development of much needed and frequently suggested improvements"
"Long waiting time for the development of urgently needed and frequently suggested improvements (idea portal), e.g. file manager."
"Just one little thing: more flexibility by technical recommendations for further improvement."
Conclusion
As an all-in-one intranet platform, Staffbase provides an array of features for organisations to use all in one place. However, many customer reviews have said that the time for development is long. This is something that needs to be considered when you're choosing employee engagement software.
First up is a platform built for employee experience. Their goal is to power the workforce of the future.
SocialChorus and Dynamic Signal have joined forces to become Firstup,  empowering companies to put employees first by reaching, connecting, and engaging every worker, everywhere.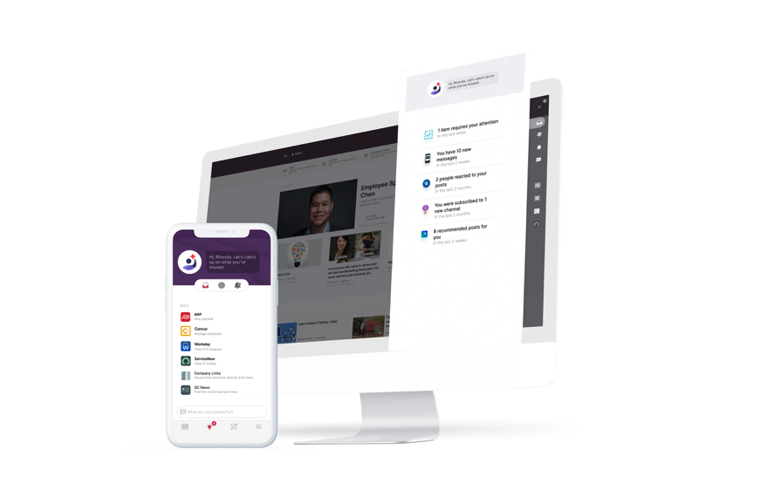 Core Features
Publishing 
Digital Employee Experience 
Analytics 
Integrations 
Security and Infrastructure 
Conclusion
First Up certainly seems to have a wide range of features, however, an employee rewards or recognition system is missing from their tools set.
---
Best Employee Engagement Software For Surveys
SurveySparrow is an end-to-end omnichannel experience management platform that bundles Customer Experience and Employee Experience tools such as NPS, Offline, Chat, Classic, and 360° Surveys which are mobile-first and user-friendly.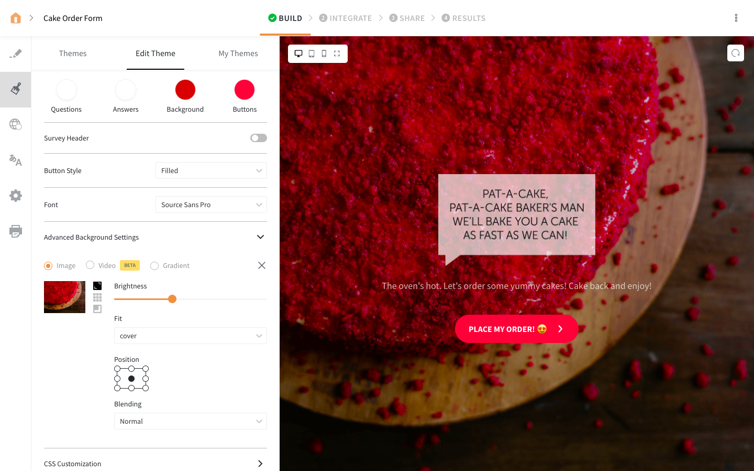 Core Features
Chat-like surveys
Classic Surveys
Offline Surveys
Survey App
NPS Surveys
SurveyMonkey gives millions of people around the world a way to turn feedback into action that drives growth and innovation.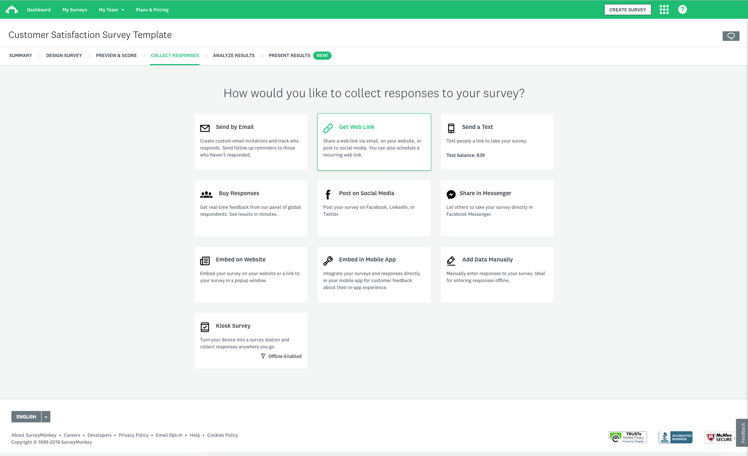 Core Features
Survey Builder
Survey Customisation
Survey Insights
Reporting and Analytics
Templates
Quantum Workplace offers a full suite of employee engagement and performance solutions that help organizations drive employee, team, and business success. Quantum Workplace helps leaders connect the dots between engagement and performance with intuitive and user-friendly tools.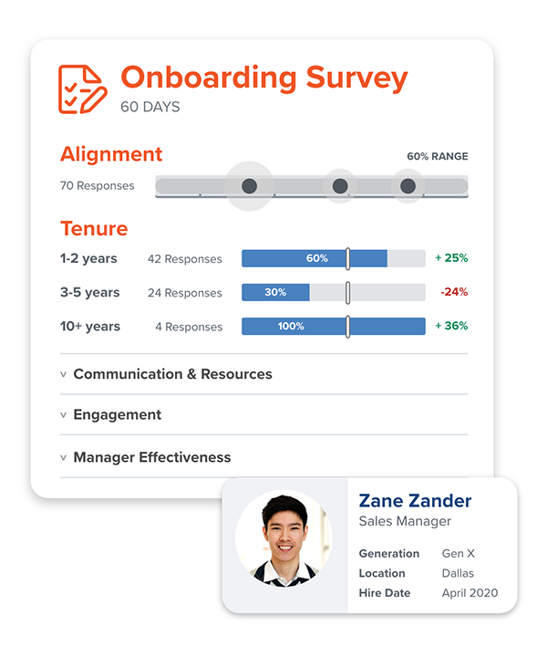 Core Features
Tracking
Peer-to-peer Recognition
Real-time Feedback
Analytics
Employee Surveys
GetFeedback is a customer experience solution that companies use to capture feedback across all channels, analyse it for trends, and act on it quickly to improve the customer experience.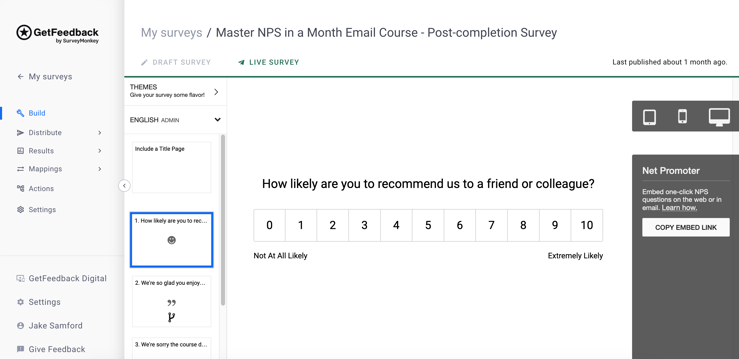 Core Features
Employee Pulse Surveys
Survey Customisation
MPS Scoring
Reporting & Dashboards
Performance
TINYpulse invented real-time publishing for employee feedback. It is a single platform for engagement, social recognition and flexible surveys.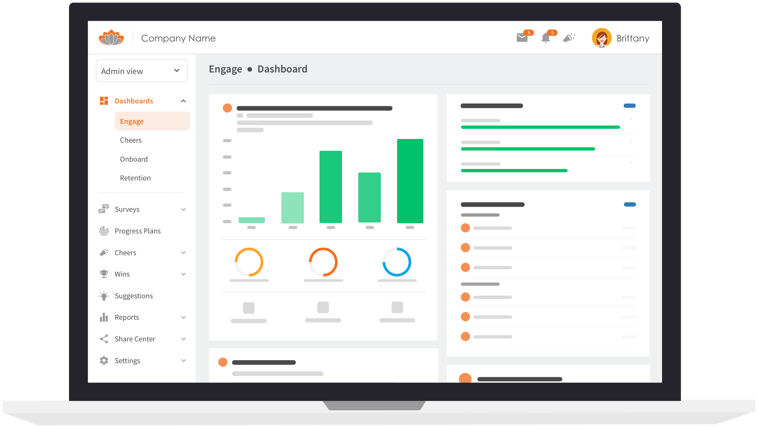 Core Features
Social Feedback Portal
Customisation
Pulse Surveys
Goal & Challenge Creation
Peer Recognition
---
Best Employee Engagement Software For Project Management
Monday.com is a resource management software for executing and planning projects. What's great about this software is the visibility into workflows and analytics for key projects.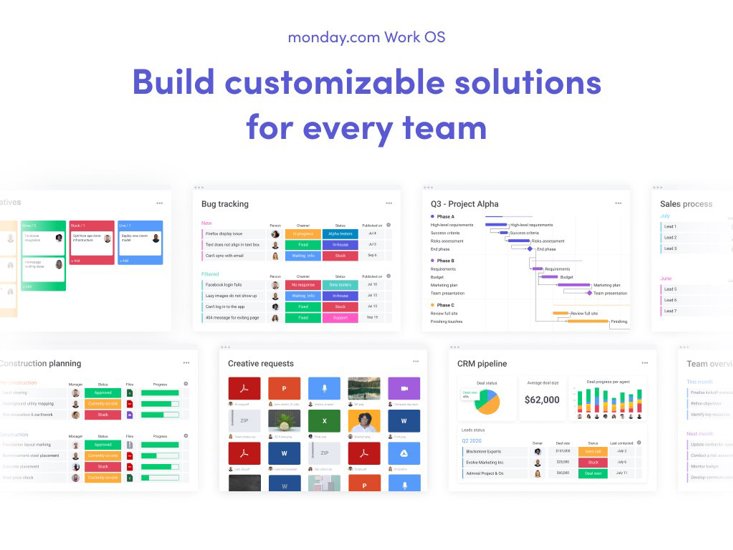 Core Features
Timeline Views
Integrations
Time Tracking
Automated Notifications
Creation & Assignment
Proofhub is a web-based project management software that helps to manage, discuss and communicate work with team members and clients in one place.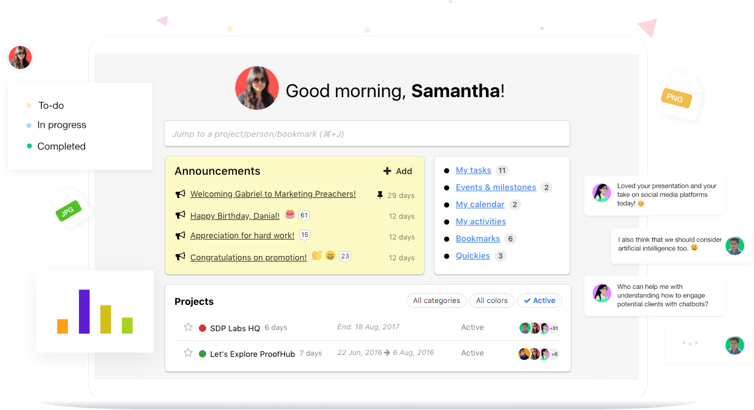 Core Features
To-Do Lists
Drag & Drop
Task Prioritization
Planning
Mass Updates
Teamwork is a project management platform made specifically for teams that need to manage multiple clients and projects all in one place.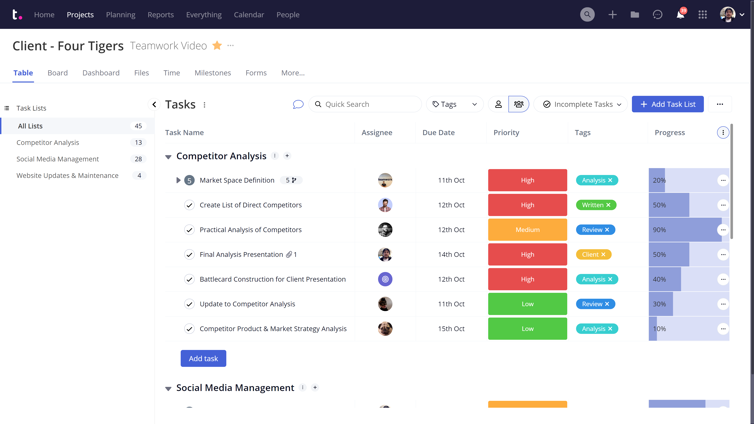 Core Features
Scheduling
Dashboards
Due Dates
To-Do Lists
Project Map
Trello is a flexible work management tool where teams can ideate plans, collaborate on projects, organise workflows and track progress.
From brainstorm to planning and execution, Trello manages big milestones and the day-to-day tasks of working together as a team.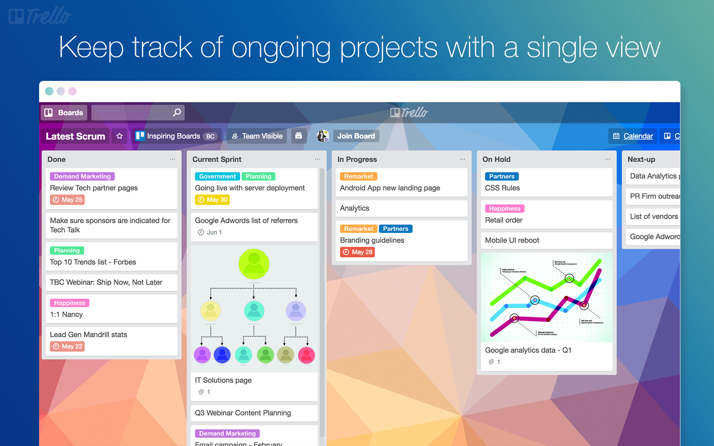 Core Features
Creation & Assignment
To-Do Lists
Recurring Tasks
Task Prioritization 
Planning
Weekdone is a tool for managers and leaders who want to get more insights into their teams and organisations and improve team collaboration and focus.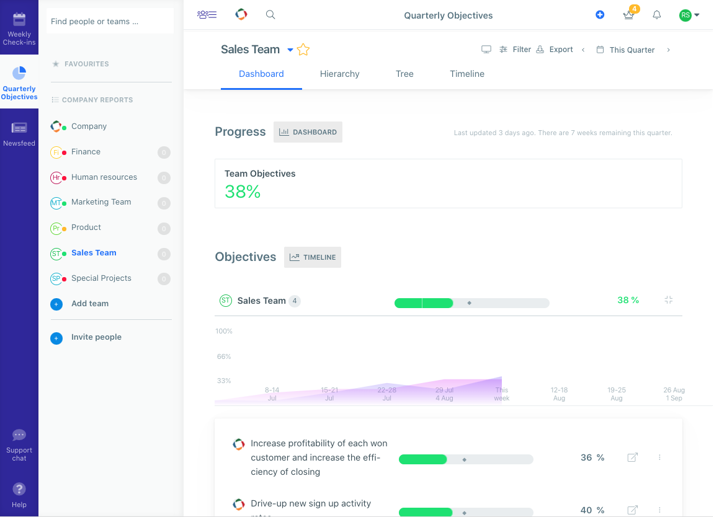 Core Features
Analytics
Dashboards
Planning
OKR Coaching
---
Best Employee Engagement Software For Recognition
Nectar is an employee engagement and recognition platform that helps drive connections across a team. Streamlined rewards include digital gift cards and more.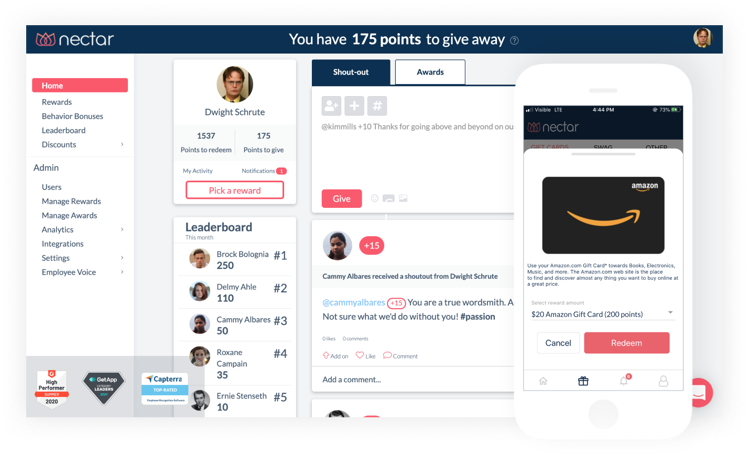 Core Features
Rewards
Employee Engagement
Mobility
Dashboard
Performance
Bonusly is a fun way to keep employees on their toes and improve retention and productivity throughout your company. This peer-to-peer recognition platform allows everyone in the company to reward each other. Over time, the small bonuses on this reward gateway add up into meaningful, connection-forming rewards, actionable insights, and employee communication.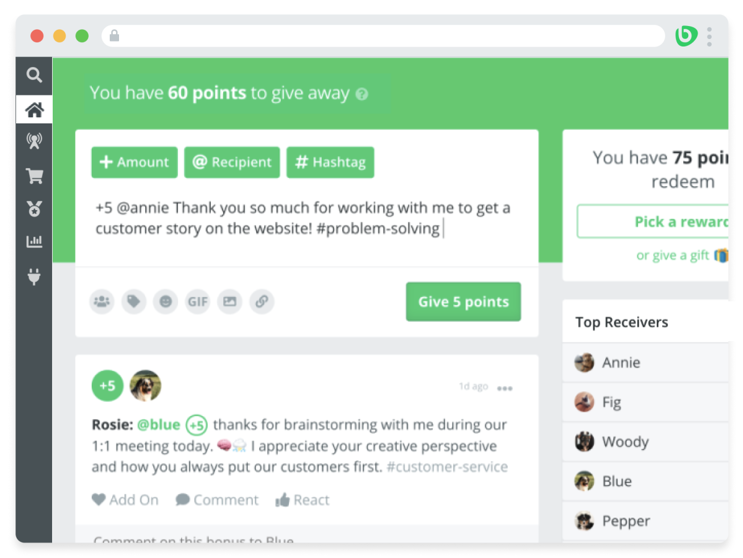 Core Features
Data & Analytics
Rewards Catalogue
Hashtags
Assembly provides companies a virtual community in which they can offer perks and social recognition to enhance and improve their company culture.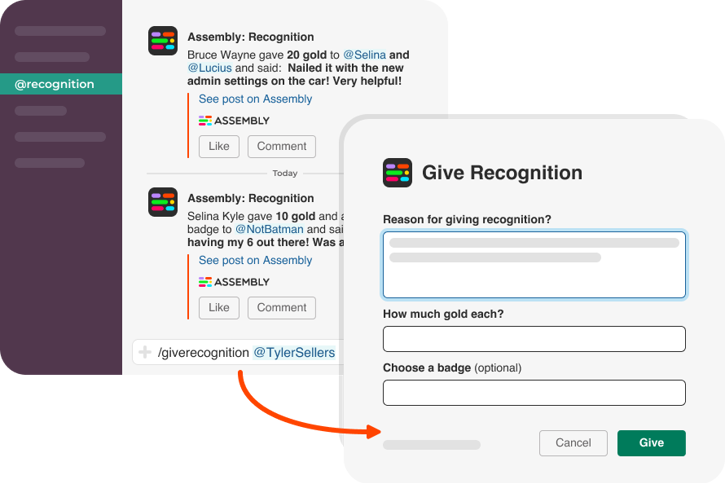 Core Features
Appreciation
Employee Engagement
Rewards & Recognition
---
Oak Engage: Your All In One Employee Engagement Software 
Did you know that we were voted the best intranet by the Institute of Internal Communications? Our software was recently recognised for its ability to streamline employee communications and improve employee engagement for the world's best and biggest brands including Natwest, Aldi, Five Guys and  more. Our mission is to simplify communication for your organisation. With our platform, we empower internal communicators to effortlessly deliver the right message to the right employee at the right time via intelligent AI. 

How We Can Help You?
With Oak Engage, your employees can connect on any device, from any location. Our intuitive employee engagement app helps our customers consistently achieve employee engagement rates of up to 95% and have reported huge increases in staff productivity, collaboration and efficiency.
Boasting a selection of tools to help your team stay focused, productive and engaged, Oak's all-in-one employee engagement software is the ultimate solution in modern workplace technology.
Let's take a look at some of the most common workplace problems that we can solve:
1.  Improve Employee Engagement
Oak provides solutions that help sustain and encourage interaction from a highly engaged workforce. From social intranet capabilities to collaborative hubs and integrated analytics, our platform has been designed with employee engagement in mind. With our suite of features we provide every business the ability to support, recognise and listen to their employees.
Notable Features: Pulse Survey, Recognition Software, Auto Translations, Curated Content
Read more: Employee Engagement App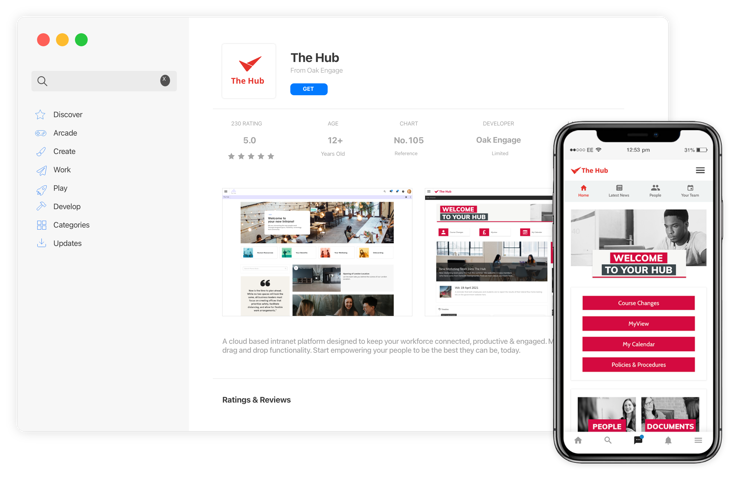 2. Employee Feedback
Gathering feedback is a great way to understand how people in your organisation really think and feel about certain subjects. With quality data behind you, you can always be confident in making decisions that are driven by data.  
Oak's Pulse surveys are a brilliant tool for gathering useful feedback from your employees. Sent out on a consistent basis - either monthly, quarterly or even weekly - Pulse Surveys act as a check in and can range on topics from employee satisfaction, communication, the work environment and more. 
The results from pulse surveys are measurable and provide you with data so you can analyse which areas of the business need improvements to take action. 
Notable Features: Pulse Surveys, Sentiment Analysis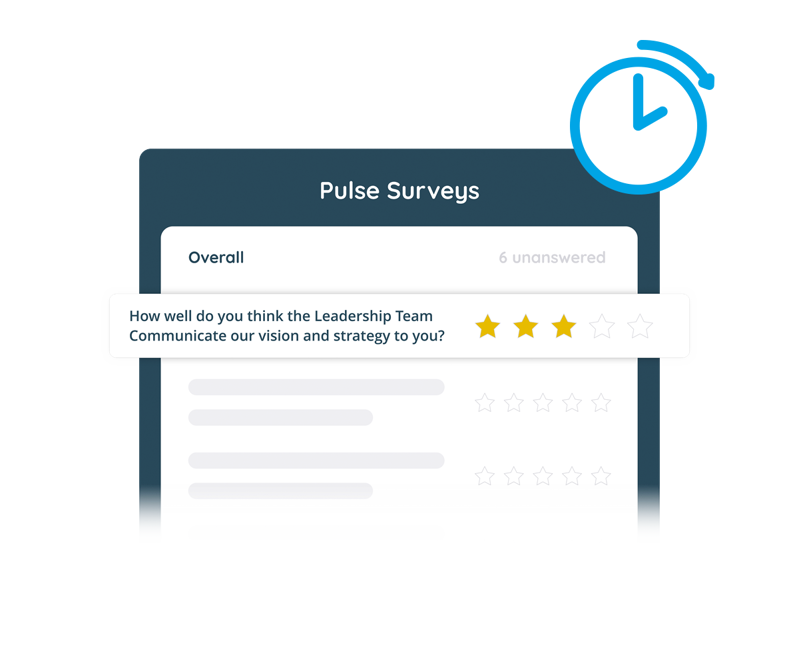 3.  Personalisation
Oak Engage utilises intuitive AI to make every employee experience completely bespoke and individual. Your intranet is tailored to your employee's content preferences. Employees see exactly what they want and need to see. The content they digest is relevant to them and designed to maximise engagement. Whether employees have a language preference or only want to see content that's relevant to them and their department you can tailor your intranet to suit their requirements. 
Notable Features: Auto translate, Newsletter
4. Employee Recognition
The importance of employee recognition cannot be overstated. Recognising employees is pivotal to a business' success. It is directly linked to engagement, retention, productivity and pretty much everything else.
That's why we've created an employee recognition feature.
Having the intent to reward employees is all well and good but it can be difficult to implement an effective recognition process without the right tools. Without them it can become an irregular and confusing process. 
Not only this, but a lack of tools makes appreciation for remote and deskless teams difficult to conduct.
Notable Features: Employee Recognition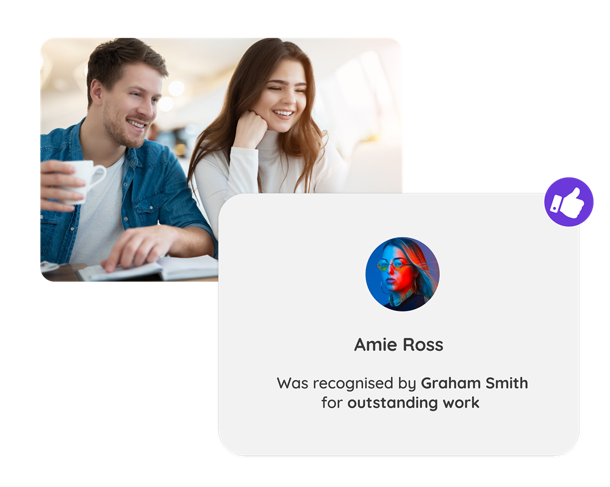 5. Employee Pulse Survey
Our employee survey app plays a pivotal role in amplifying employee engagement efforts. This app empowers organisations to gather valuable insights from their workforce, drive positive changes, and nurture a thriving workplace culture.
Say goodbye to paper surveys and data entry hassles. Oak Engage's employee survey app simplifies feedback gathering with a user-friendly digital platform. Employees can easily, and anonymously, share their thoughts and suggestions, encouraging higher participation rates and more accurate insights.
Waiting for survey results is a thing of the past. Oak Engage's survey app provides real-time analytics, enabling HR professionals and managers to identify areas of concern, track improvements, and respond promptly to employee feedback, fostering agility and responsiveness. Collecting feedback is just the start; the survey app transforms data into actionable insights. With advanced analytics and reporting, Oak Engage helps identify trends and areas that need attention, empowering informed decisions to enhance employee engagement. Oak Engage's survey app goes beyond data collection. It facilitates a feedback loop, allowing organisations to communicate actions taken in response to feedback. This demonstrates the organisation's commitment to valuing employee input.
If you would like to find out more about how Oak could work for you, book a demo today.