We all know how important productivity is in the workplace. But do you know the factors that are slowing productivity levels?
Employee engagement is vital, especially when it comes to productivity. 
However, since 85% of the global workforce are not engaged at work, this has a direct effect on productivity.
Creating a productive workforce may be easier said than done, but if you're not aware of the factors that are ultimately slowing down productivity, you may be adding to the damage.
In this blog, we'll address the 4 key factors that may be slowing down productivity in your workplace. 
Once you've identified and addressed them, you may just find that your productivity soars to new heights.
Sounds great right?
Well, let's get straight into it.
Too Many Channels
Communication channels and tools are central to effective business operations and always have been.
Their purpose is to keep employees informed and engaged.
However, an issue too many businesses face is having lots of communication channels that serve a few too many purposes. 
Ultimately, this leads to confusion, inefficiency and disengagement. 
In fact, almost 74% of employees feel they are missing out on company news.
In order to improve productivity, you need to focus on strengthening your communication channels.
Not sure where to start?
Don't worry we've got you covered.
Oak's Curated Content systems manage the delivery of your messages across all channels.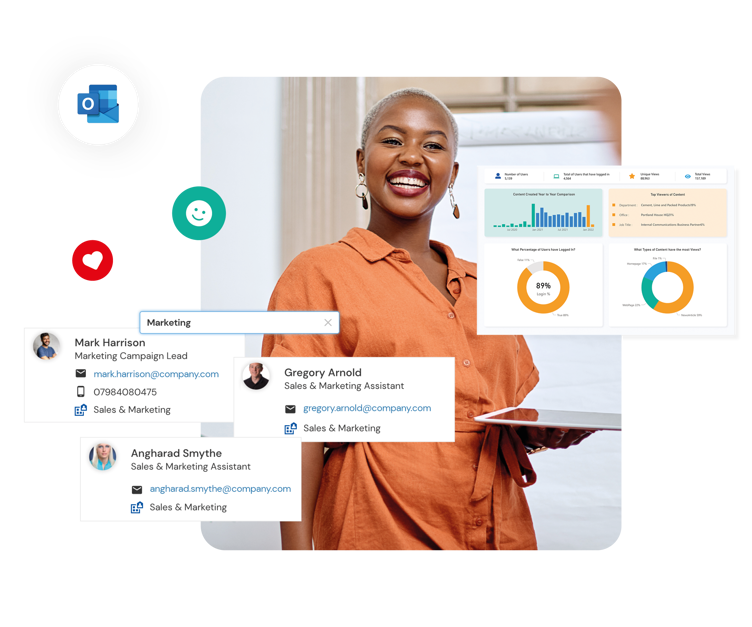 Whether a deskless worker needs a shift update through a push notification, or a remote employee needs to agree to a new IT policy, the message will be sent loud and clear.
And we don't just stop there. 
You can personalise your comms and tailor your content for specific individuals and needs. With Smart Delivery, you can target your important messages in a way that reaches and engages with the individual user.
Outdated Systems
Are you working with outdated technology and inefficient practices?
Chances are the quality of your work and staff is going to be affected. 
Recent surveys have identified that inefficient processes waste up to 26% of an employee's working day. 
That's over a quarter of the day wasted! Crazy, right?
The big question is how can we improve this?
It's not as hard as you think...
Companies that utilise modern technology generally tend to be more profitable and have a more productive workforce.
In fact, if employees are provided with a way to communicate and connect, productivity in an organisation increases by 20 to 25%. 
So implementing the right technology seems like a no-brainer right?
Unfortunately, many companies are using outdated systems and technology which produces the risk of employee burnout, retention and engagement. All factors largely affect an employee's productivity.
If this sounds like you, consider implementing an adaptive intranet like Oak that connects your people. 
Having an all-in-one platform means that your employees can connect in from anywhere, at any time.
With Oak's desktop and mobile app:
Processes will be faster
Security will increase
Costs will reduce
Storage will increase
Bugs will decrease
Making sure your employees have the right tools will have a direct positive impact on productivity. 
So what are you waiting for? Start your journey to increased productivity today.
Loss of Information
When considering the notion of how to improve employee productivity, communication is one of the most important factors to bear in mind. 
After all, communication is integral to our everyday lives, especially in the workplace! 
It determines how effectively we fulfil our daily tasks and how we engage with colleagues.
Maybe you're seeing increased miscommunication between your employees. 
In fact, 28% of employees point at poor communication as the reason for missed or extended deadlines.
This is probably due to inefficient processes to exchange information, causing important information to be lost.
Of course, with fewer staff relying on desktop-based devices than ever before, facilitating communication for office-based and deskless employees is vital! 
Improving your workforce communication methods should be one of the first things to look at.
I bet you're thinking, 'this sounds fantastic but where do I start?'
Curated Content helps to drive relevant and engaging content. Allowing you to get your content trending and increase read rates by reducing the noise of irrelevant posts and increasing participation on your intranet.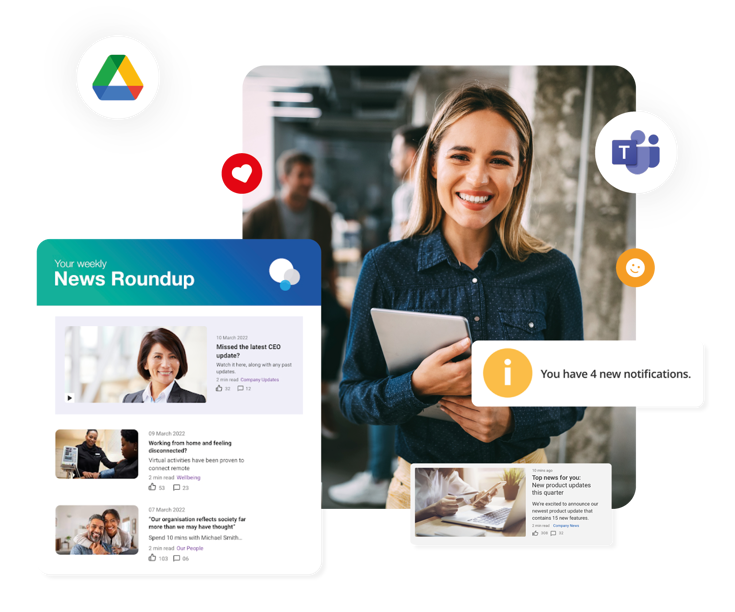 Measuring Success
Measuring employee engagement and productivity the right way is often something a lot of companies struggle with.
Without an efficient way to measure success, how do you know if your employees are engaging, understanding or communicating effectively?
That answer is that you don't. That's why it's so important to avoid missing out on this step.
So where do you start?
Well, not every method that claims to measure employee engagement and productivity actually works.
With Oak, you are able to measure its performance in real-time. With reporting and analytics, your business can measure engagement, reach and user behaviour.
With the data you can collect and visualise from engagement metrics on your content to feedback surveys, you can present the return on investment to board members. 
Allowing you to not just enjoy the benefits of your intranet, but prove its value.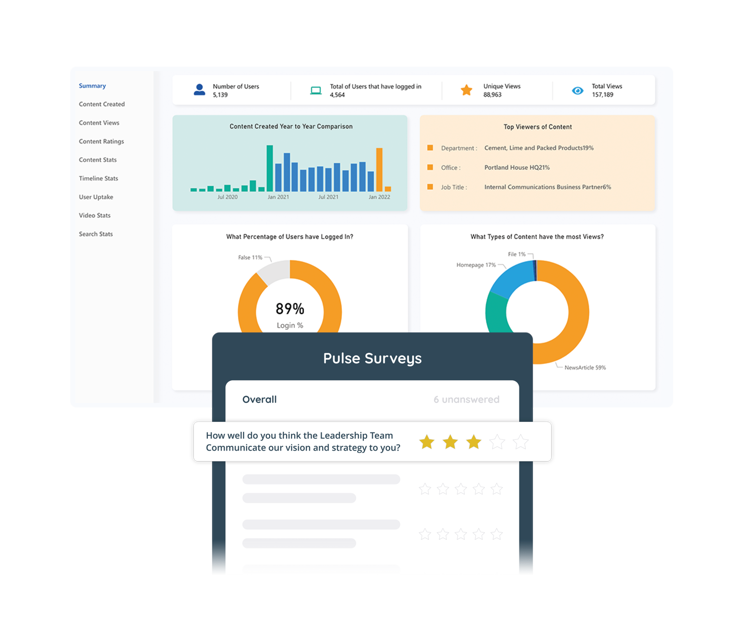 Conclusion
Increasing employee productivity is key to your company's success. 
Even the most well known and successful companies won't get far without a solid, productive and engaged workforce behind them.
That's why it makes sense to invest time and money into ensuring that your employees' productivity is at the highest it can be.
Looking for a platform to help increase engagement and productivity? Look no further.
Get in touch for more information about Oak Engage.
You might also be interested in the following resources:
---
FAQs
What is Adaptive Intelligence? 
Adaptive Intelligence manages the delivery to employees using adaptive intelligence algorithms. From desktop to mobile users make sure that the right content hits the right channels at the right time.
What is Smart Delivery?
Smart delivery helps to drive relevant and engaging content. It helps to get your content trending and increase read rates by reducing the noise of irrelevant posts and increasing participation on your intranet.