How to Increase Employee Retention with an Intranet

Employee retention is one of the biggest problems that a company has to deal with. Organisations are battling with each other to secure the best skills and talent, and while it may cost a business to offer attractive benefits, it can cost a lot more to lose your employees to another competitor. In fact, it costs companies about one-third of a professional's salary to find a suitable replacement, that's not including indirect productivity lost during training and onboarding.
While it's impossible to bring your employee retention to zero, it's certainly possible to create a loyal workforce where your people stay with your organisation for a prolonged time period. So, what's the secret to creating a great employee retention strategy?
Top Drivers of Employee Retention
It is clear that the intranet is a primary driver and enabler for fulfilling the top two drivers for employees - exciting work & challenge, and career growth & learning. Your intranet platform is an incredible learning tool and there's no question that if executed properly, that leading edge technology can massively improve employee retention in the workplace.
In this blog we'll explore how an intranet system can help your company stay on top of employee communication, boost productivity and collaboration in the workplace whilst also taking into account the top drivers for employee retention. We'll also explore how you can use an intranet to create a positive company culture and boost your employee retention strategy.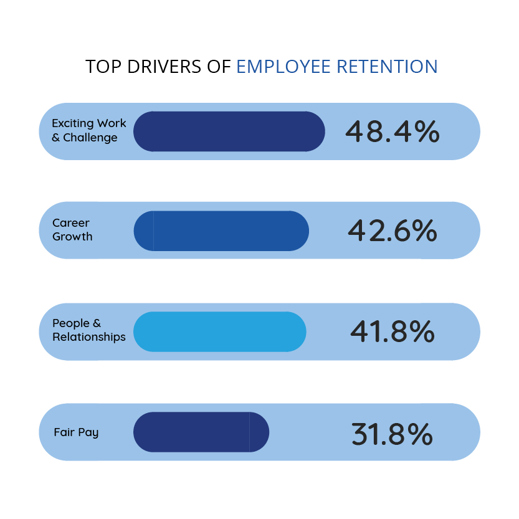 How an Intranet can Improve Employee Retention
The intranet is a key driver of employee retention. Studies show that employees who are highly satisfied with their company intranet also have a high level of job satisfaction. When employees are satisfied, their productivity increases, engagement rises and training costs fall. Your intranet acts as a digital workplace in which workers can connect, stay informed and take part in discussions. Ultimately, a well thought out company intranet can provide incredible value to a business that is struggling with high employee turnover.
It's estimated that millennials will make up 75% of the global workforce by 2025, therefore it's pertinent for employers to bear in mind that these generations will have different expectations from the ones before them. A greater emphasis on things like empathy, purposefulness, personal development and flexibility mean that companies must now have a more supportive and all encompassing workplace culture. Having grown up in tandem with a smartphone and social media boom, they have been weaned on technology. As a result, they carry certain technological expectations when selecting and staying at a workplace. According to Zapier 16% of Gen Z and Millennial employees have quit their job because they felt the technology provided by their employer was inadequate.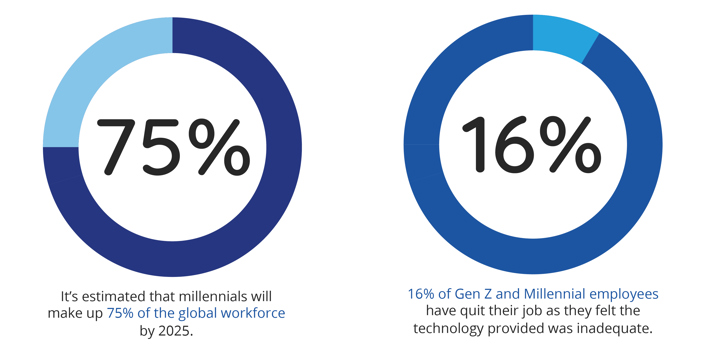 It's not necessarily the case that employees are worried about their jobs, but their confidence and job satisfaction is declining. So, why aren't more companies doing more to retain workers? Let's look at the four main ways in which an intranet plays a significant role in an employee retention strategy.
4 key ways an intranet plays a significant role in improving employee retention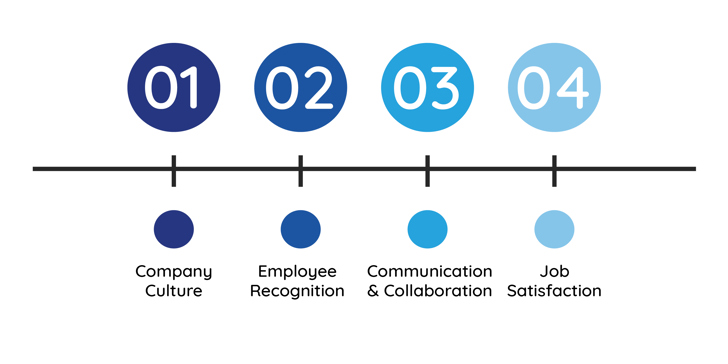 Company Culture
Building a better company culture doesn't mean providing employee perks, it means recruiting workers who fit your organisation's vision and values. By trusting your employees, you promote better engagement and push them into situations where they can go the extra mile and reap the rewards. Providing responsibility, and aligning business practices with core values can push your business towards a better work culture and improve employee retention. A Gallup study found that employees who are more engaged and productive at work are 59% less likely to look for a different job in the next 12 months.
An intranet can act as a platform for building a happy workplace culture by providing tools that support employees through their professional journey. Intranets make it easy for companies to efficiently source feedback and turn it into an action. Surveys can be distributed to employees, with responses that are measured in real-time. This tool is a key part of creating an employee retention strategy as leaders can act on employee feedback quickly, giving their workforce the solutions they need to be more engaged and productive in their role.
Improving company culture with key intranet features
Furthermore, having centralised resources within your company intranet means that you can utilize the software for onboarding, distributing the latest news & important policies, essential training and welcome messages from teams. Having a social digital workplace also allows employees to build lasting relationships with their colleagues whilst strengthening workplace culture.
With Oak's latest news or mandatory read feature, it dramatically helps to improve compliance and the flow of business-critical information and helps to save on email traffic.
Employee Recognition
Recognising and appreciating your workforce is citicial to employee retention. However, some companies fail to recognise their employees as they think recognition equals a financial incentive - this is not the case. A recent National Employee Research Survey stated 62% of employees said that they hardly ever or were never appreciated by their boss. Furthermore, 68% of employees were also not happy with their benefits package. 
An intranet can host a recognition system which can be used by all users to highlight achievements, great work and acts of kindness happening within the company. This has a significant influence on productivity, motivation, well being and satisfaction between employees. In all workplaces today, employee recognition programs are no longer just nice to have, they're vital to improve your company's employee engagement and satisfaction levels, and all of this can be done efficiently in one place; your own company intranet.
With their vast array of customization features and maximised visibility, a modern intranet has some of the most useful tools when implementing employee recognition initiatives to improve employee retention. Here are some of the ways to take advantage of your digital workplace in order to spotlight worthy employees:
Give shout-outs on social media.
Spotlight employees on the blog.
Post appreciations on your intranet timeline.
Create group messages within your social intranet, highlighting an employee's achievements.
Intranet feature guaranteed to improve employee retention
Oak's employee recognition software helps companies boost morale and lets their workforce know that they care by celebrating milestones like birthdays and work anniversaries. The employee recognition feature has an inbuilt timeline, meaning users can comment on achievements at any time. This creates a positive working environment, which will in turn, boost morale, improve employee wellbeing and increase collaboration and productivity.
Communication and Collaboration
When organisations are not able to communicate and collaborate with their employees properly, problems can quickly arise. Enabling useful communicative channels within your workforce is so important when it comes to an employee retention strategy. The State of Employee Communication and Engagement Report stated that 52% of senior level executives say ineffective communication and workforce misalignment had negative financial and employee retention implications for their business. With a further 56% of communicators saying they struggle to keep employees engaged and informed with important information.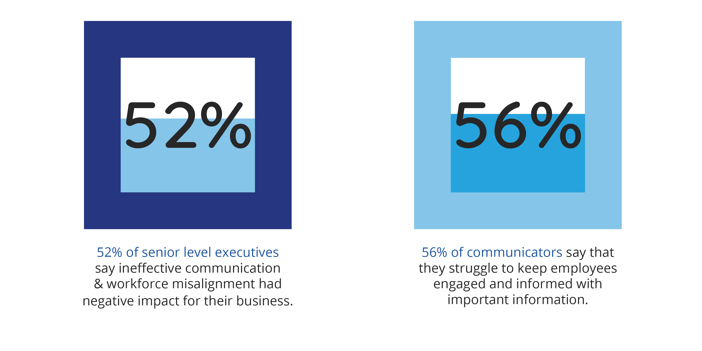 A user-friendly intranet is an excellent way to encourage communication and increase employee engagement. It will also improve company culture by allowing your people to access the information they need, when they need it, in a format that best suits their needs. Modern intranets offer a universe of possibilities for communication, increasing productivity and decreasing employee turnover.
Communication and collaboration features of an intranet
Oak's search functionality enables users to locate all content, past or present, quickly and there's no more wasting valuable time searching for important documents. Search is designed for employees to find whatever you need instantly, helping employees save time and be more productive and ultimately improving collaboration. 
Oak messenger integrated within the intranet, is also designed to improve communication and workplace productivity, users can send instant messages to one specific person or a whole group. Perfect for department communication, remote workers and general social interaction between employees. 
Job Satisfaction
For management, it can be challenging to find out how happy your employees are at work and finding out the actual thoughts and feelings of the workers. Many businesses struggle to get into the mindset of their employees and this can cause problems with employee retention. The link between employee engagement and retention is well established and employees who are highly engaged are 87% less likely to leave an employer. Furthermore, employees who are satisfied in their job experience 59% less employee turnover.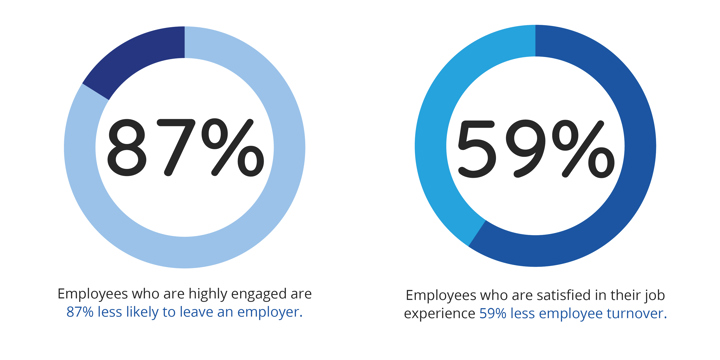 Build feedback opportunities for two-way communication. Responding to a complaint and solving the problem while making the employee feel heard can turn an unhappy employee to a company loyalist. This is a time to give your employees the opportunity to provide feedback so that you can act on their suggestions and reduce employee retention. 
Oak intranet features to improve job satisfaction
Pulse Surveys are used to gather real, actionable insights that businesses can use to improve employee engagement, productivity and collaboration and enhance employee experience. Pulse Surveys also allow businesses to gauge interest, understand an employees opinion, gather feedback and more. Oak surveys are a versatile tool which gives businesses everything they need to get valuable data from employees, all within the company intranet.
Oak intranet also provides polls as a feature. A poll is designed as a collaborative tool to increase employee engagement, productivity and efficiency. Companies no longer have to gather information by email, but can start a poll on their intranet, it may be used to get an understanding of what your people want, involve more employees in conversations or leverage a poll to generate content. By targeting specific employees, polls can generate data or content that could be reused to increase employee engagement. After all, people are more likely to invest in content that they helped create.
Why Oak?
It's time for a solution that brings your workforce together as one, boosts team collaboration, connectivity, productivity and most of all improved employee retention.
We work with some of the most successful businesses from around the world to help them lower their employee turnover, and our team of experts draw upon years of experience within the internal communications and intranet software industries to help customers overcome obstacles and achieve their business goals. At Oak, our pioneering intranet solutions have been designed to help businesses like yours be the best that they can be.
Contact us to find out how Oak could work for you.