Companies are recognising the importance of internal communications. They're adapting to the digital landscape and focusing on the wellbeing of their employees. The statistics don't lie, McKinsey & Company found that employee productivity increases by 20-25% in organisations where employees are connected
Internal communications and a strong company culture are crucial elements of a winning workplace. But what happens when you neglect internal communications? It can have a negative impact on your business.
What you can expect from this blog post:
We'll be sharing 21 scary internal communications stats from a range of sources that could be affecting your employees and your business…
---
Recommended Reading 📖  Business Communication: The Complete Guide for 2021
---
21 Scary Internal Communication Statistics You Need to Know
1. 74% of employees have the feeling they're missing out on company news because the internal communication department is non-existent or doing a poor job. 
We live in a world where in most situations we have access to all the information we need, whenever we need it. Not having access to information you require can cause confusion and stress. Gallup found that almost three quarters of employees feel as though they're missing out on company information and news. This can lead to employees feeling disconnected from their work and organisation. 
(Source: Gallup)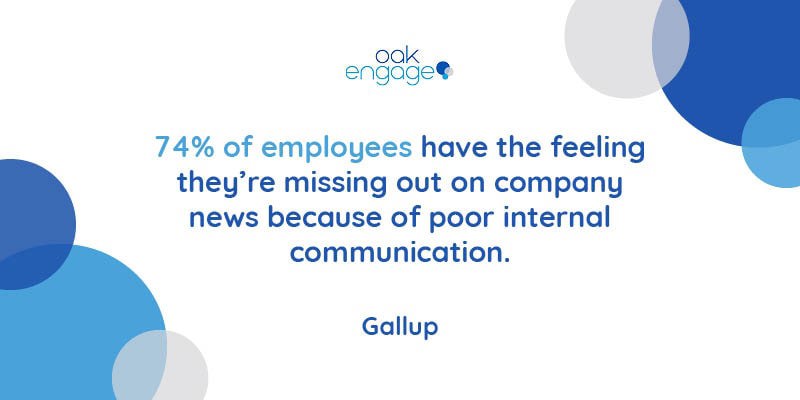 2. 77% of executives say that their companies don't focus on aligning employees' goals with corporate purposes. 
As many organisations make moves to improve employee experience, data suggests that it's not the easiest task. According to Deloitte's research 77% of executives think that companies are not focused on aligning employees and their personal goals with corporate purposes. That's only 23% of executives do believe that companies are paving the way in considering employees' personal goals. Your employees are the beating heart of your business and it's important to consider their priorities. 
(Source: Deloitte)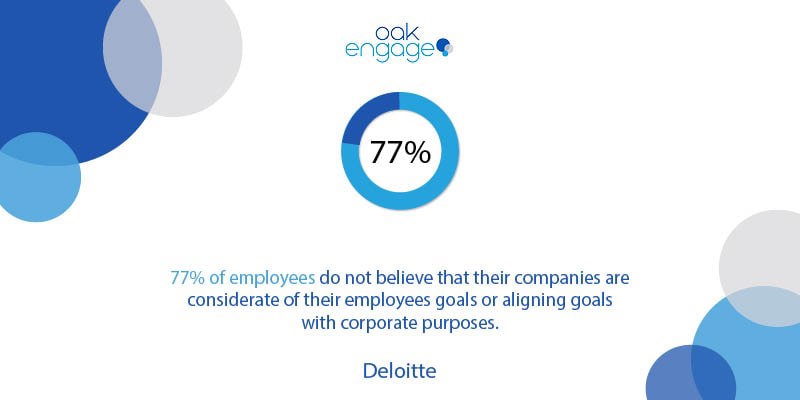 3. 39% of surveyed employees believe that people in their organization don't collaborate enough. 
Strategic communication is vital for businesses. Research conducted by Queens University shows ¾ of employers rate teamwork and collaboration as "very important" but 39% of employees worldwide say people in their organisation don't collaborate enough. Ensure your business has collaboration tools such as an intranet so you have an organised team that works fast and is productive. Plus, it will make your employees feel more connected. 
(Source: Queens University)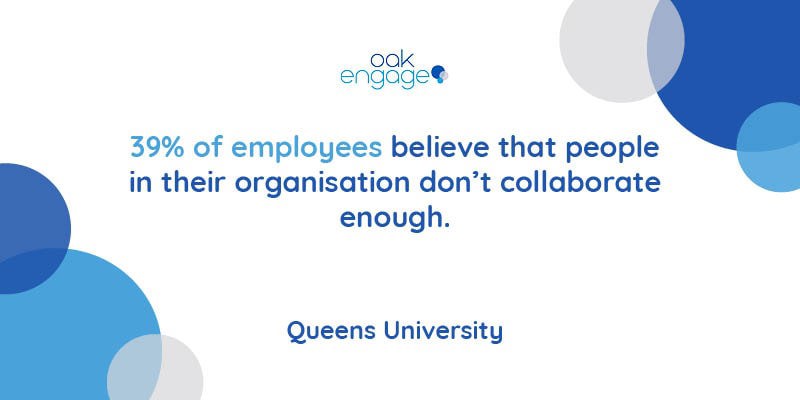 4. 60% of companies have no long term strategy in place for their internal communications. 
Real engagement doesn't happen unless you communicate effectively. Internal communications should be a key priority for businesses, however, Arthur J. Gallagher & Co. found that 60% of companies don't have a long-term internal comms strategy and of those that do, 12% don't measure the effectiveness of these communications.
Check out our blog post on improving internal communication in the workplace if you're struggling with your strategy!
(Source: Arthur J. Gallagher & Co.)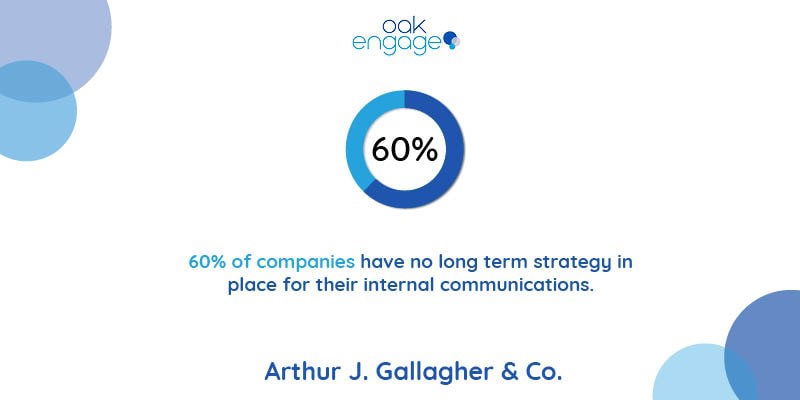 5. 33% of employees said a lack of open honest communication has the most negative impact on employee morale. 
Accountemps research shows the number one cause for low morale is poor communication. Max Messmer, Chairman of Accountemps said "improving workplace communication is one of the most effective - and least costly - ways to combat the problem of a disengaged workforce." Sharing important updates with employees, recognising their achievements and ensuring people collaborate is essential for successful internal communication. 
(Source: Accountemps)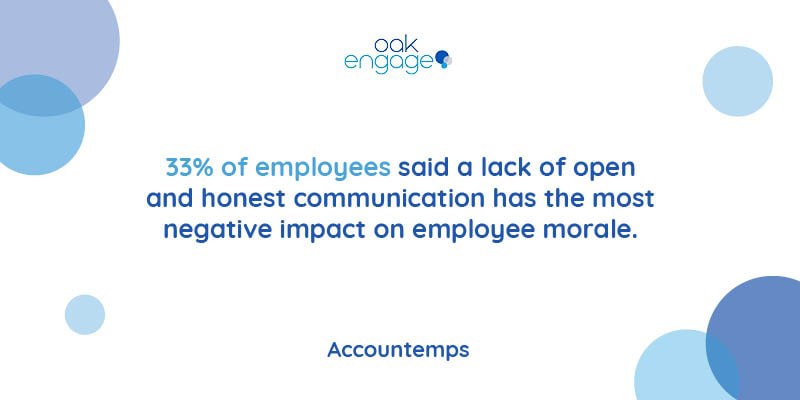 6. Disengagement costs the UK £52-£70 billion per year in lost productivity.
Gallup has found that 83% of UK employees are either disengaged or have doubts about their employer. These are amongst the most shocking figures for Western Europe. It's costing the UK up to £70 billion per year in lost productivity. A disengaged workforce is one of the biggest challenges that businesses face. Disengaged employees lack productivity and they're more likely to take 2.3x more sick days than engaged employees. They're also more likely to leave your company. 
(Source: Gallup)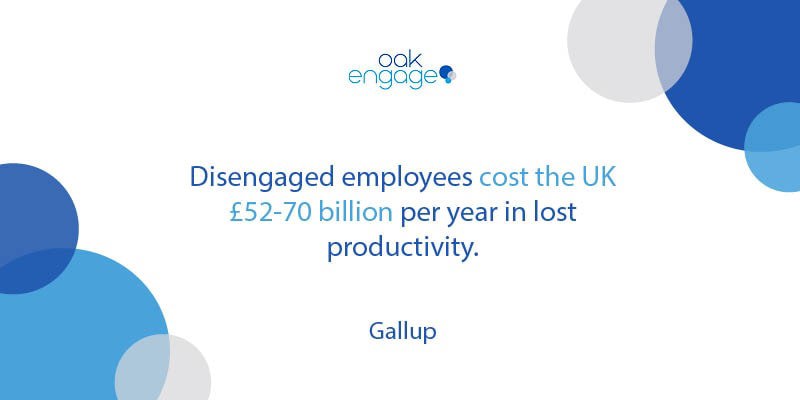 7. The number one reason employees leave is a lack of recognition according to a recent Harvard Business Review study. 
Recognising achievements brings out the best in employees and shows that you value them. Employees want to be recognised for their hard work and efforts. Appreciation goes a long way, short term and long term. Lack of recognition has a negative impact on productivity, morale and the profitability of your company.
(Source: Harvard business Review)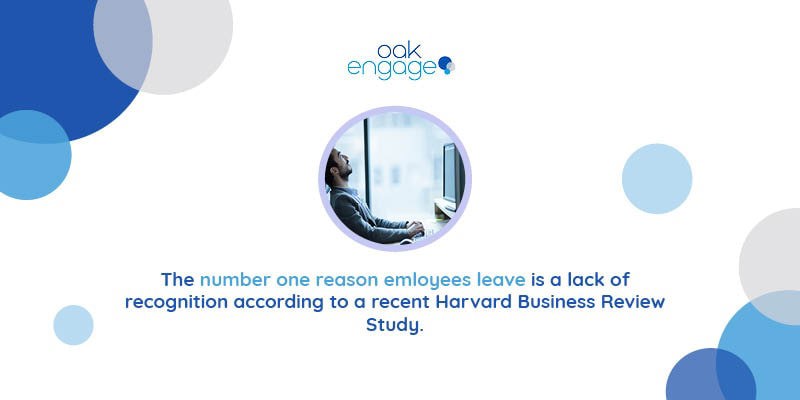 8. Only 12% of employees strongly agree that their organization does a great job of onboarding.
88% of employees don't believe organisations do a great job of onboarding, despite the fact that a strong onboarding process breeds high retention and productivity. Onboarding is vital. It allows employees to settle into their role, understand the company's philosophy and the direction it's headed in. It creates engaged, committed employees and makes people feel like one of the team. 
(Source: Gallup)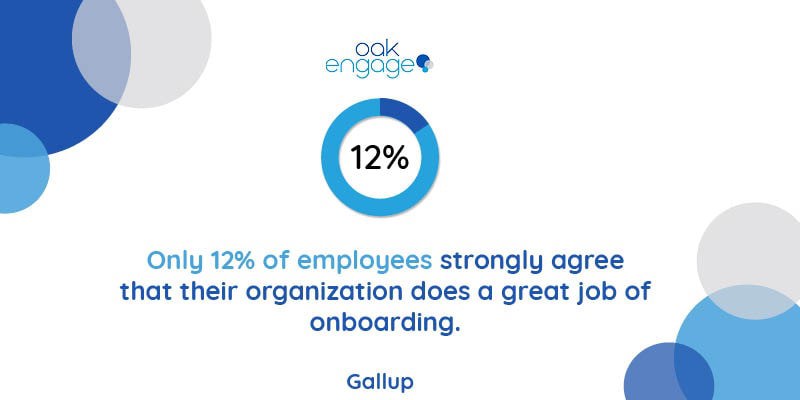 9. 84% of employees would consider leaving their current jobs if offered another role with a company that had an excellent reputation.
84% of employees stating they would leave their role to work with another company is a high majority. Businesses and brands are realising the value of being employee-centric. If your employees aren't recognised, valued and cared for it's unlikely that they'll be brand ambassadors. They'll be more than likely to take up an offer with a company who fosters a culture of motivation, productivity and wellbeing. Your employees are your strongest asset, and it's important to make them feel like that.  
(Source: Corporate Responsibility Magazine & Allegis Group Services)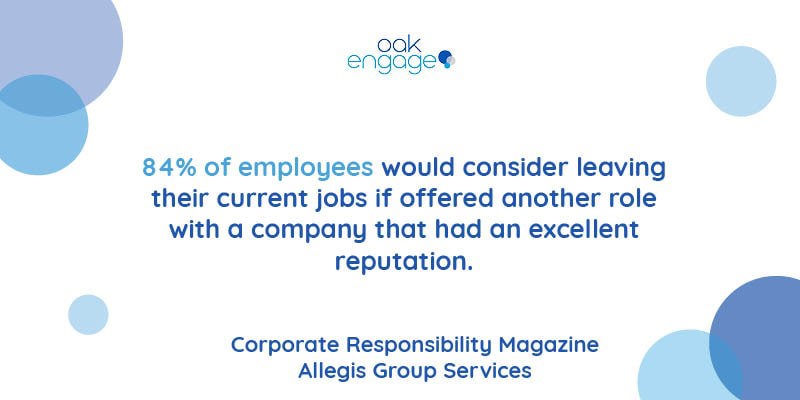 10. More than half of all workers say their last work anniversary was not even acknowledged.
51% of workers say their last work anniversary was not acknowledged. The future of the workforce is going to be human centred. It's important to appeal to the emotional connection that employees desire. Consistent recognition links to low stress and high gratitude levels, so it's important to acknowledge and celebrate milestones. 
(Source: Workhuman)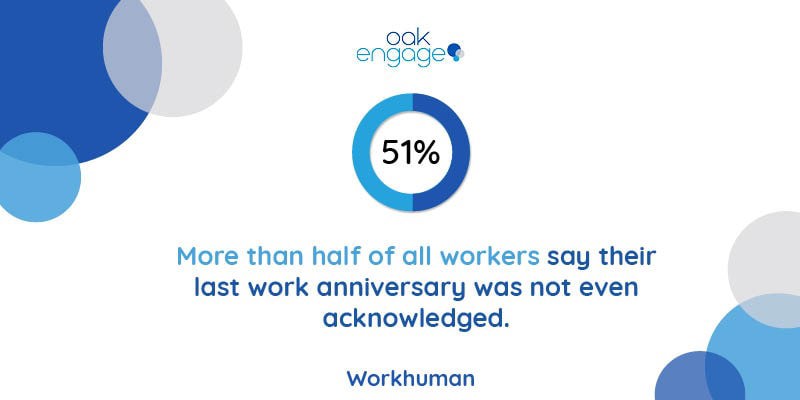 11. 44 percent of employees want a wider adoption of internal communication tools
Flexible hours and remote working are motivational drivers but employees need something else. Better communication tools. Having a robust Intranet gives employees freedom and flexibility to work from anywhere. It also helps them feel connected and allows people to work seamlessly together. 
Want to discover more about the benefits of an Intranet like Oak? Take a peek at our list of intranet benefits… 
(Source: Ring Central)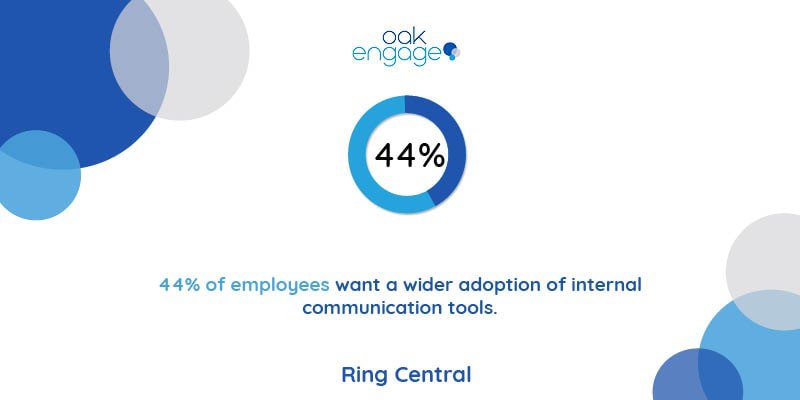 12. 69% of employees said that they'd work harder if they were better appreciated
When employees receive feedback it shows them their efforts are being recognised. It can inspire them to work harder and become more engaged. Those who receive little to no feedback disengage from work.  This isn't only beneficial for employees but for your whole team.  Fostering a culture of employee recognition increases engagement and boosts morale. 
(Source: Officevibe)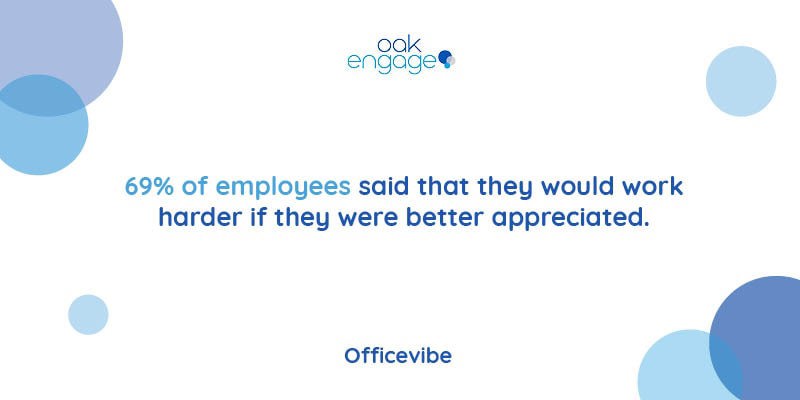 13. 85% of employees are not engaged in the workplace 
Only 15% of workforces actually engaged with their organisation. The other half are going through each day with a negative view of their workplace and a fraction of emotional attachment. This 15% is reflective of Western Europe. The situation is worse for the U.K where the singular figure for employee engagement comes in at an alarming 8%. 
(Source: Gallup. State of the Global Workplace) 
14. Good company culture increases revenue by 4x 
A good company culture can make or break a workplace. Effective internal communication contributes to a good company culture. It  shows that leaders recognise and are open to the value that employees bring. Forbes found that the companies with the best corporate cultures encouraged leadership initiatives and employee recognition grew 682% in revenue. 
(Source: Forbes)
15. 1 in 3 professionals cite boredom as their main reason to leave their jobs
Employees want work that is meaningful and is going to excite and engage them. 5,000 professionals surveyed by Korn Ferry said that wanting new challenges is the single most important reason for seeking a new job. Encourage your employees individually and ask them what they want from their role. 
(Source: Korn Ferry Survey)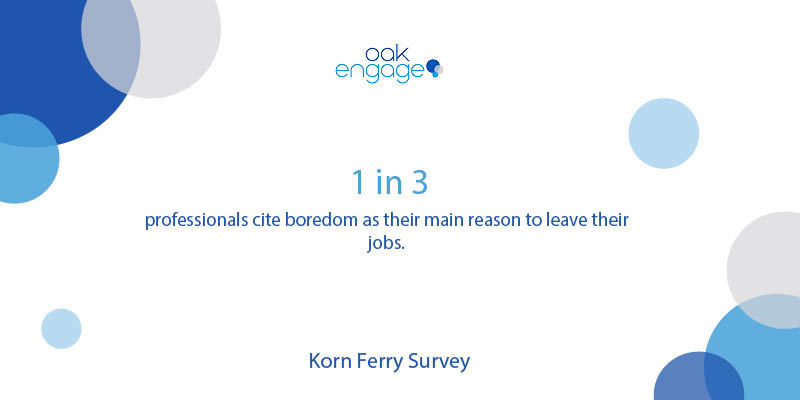 16. 35% of Lead­ers Say Focus­ing on Employ­ee Engage­ment Is a Dis­trac­tion from Get­ting ​"Real Work" Done
Whilst some organisations are making leaps and bounds in terms of the engagement and wellbeing of their employees, some leaders shockingly see employee engagement as a meaningless concept that distracts employees from 'real work'. 
(Source: Dale Carniege)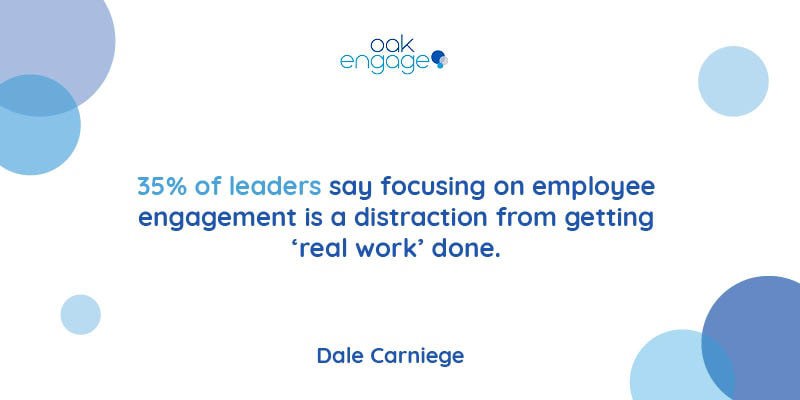 17.  Since the outbreak of the pandemic 75% of employees say they feel more socially isolated, 57% feel greater anxiety and 53% are emotionally exhausted 
It's no secret the COVID-19 pandemic has had a huge impact on our mental health and our way of life in general. Harvard Business Review found that employees are feeling isolated, anxious and emotionally exhausted. So what can you and your organisation do to counteract this? Invest in internal communication tools like an intranet. You can create a private space where employees can speak about issues and work to resolve them.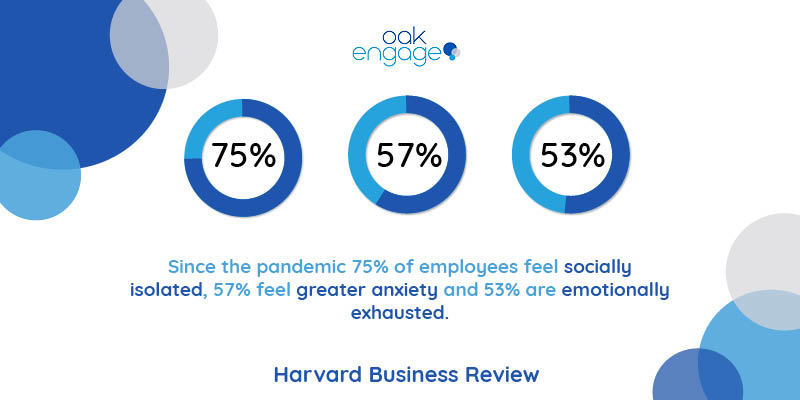 18.  When it comes to the pandemic more than 90% of employees said they wanted weekly communication from their company.
Checking in on your employees isn't a one time thing. Consistency in how you communicate is key, so that your employees feel supported. Harvard Business Review found that over 90% of people said they wanted weekly communication from their company with 29% wanting daily communication. Make sure you identify how your employees want to communicate, and how often. 
(Source: Harvard Business Review)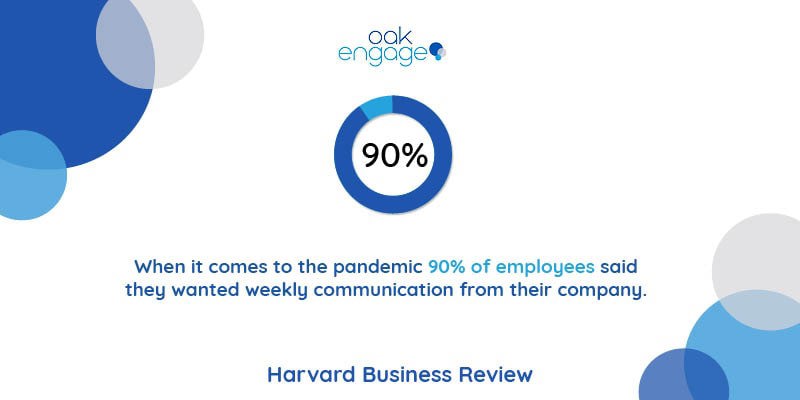 19. Organ­i­sa­tions with High Employ­ee Engage­ment Out­per­form Those with Low Lev­els of Engage­ment by 202%
There's no crazy logic or formula behind it, engaged employees just work better. They care about achievement and their role within the company. In his 'Are Your Employees Motivated?' eBook Dale Carniege discusses how engaged employees outperform companies with disengaged employees by up to 202%. Investing in employee engagement means you'll reap the rewards in the form of enthusiastic employees. 
(Source: Gallup) 
20. Companies with engaged employees have a 98% greater customer satisfaction and 50% higher customer loyalty than ones with disengaged employees
Customer loyalty is a key goal that brands strive for, but have you ever thought about how your employee engagement impacts the customer journey? Engaged employees are productive, invested in their work and produce better results. They're more passionate about creating a great customer experience. It's a win-win for all sides. 
(Source: Korn Ferry Hay Group)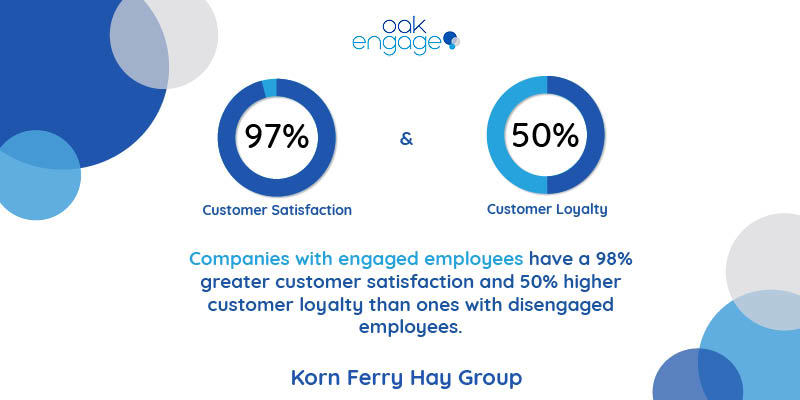 21. 85% of Lead­ers Say Employ­ee Engage­ment Is a Pri­or­i­ty, but Only One-Third Make It One
You can't talk the talk, but not walk the walk. Less than 31% of leaders strongly agreed that their companies make engagement a priority. Consider employee engagement like any other strategic priority. It's proven that engaged employees outperform companies with disengaged employees by 202%. Engagement also creates a happy and productive workforce. 
(Source: Dale Carnegie) 
Can you remember how you felt the last time you received praise or recognition, or you successfully completed a team project or felt inspired and motivated by your organisation? Chances are you felt valued and motivated and excited to achieve more. These statistics, whilst they might be scary, show that placing value and importance on internal communications and making sure employees are engaged with the organisation and their work shows that you value them highly as individuals. In return you'll reap the rewards of happy and productive employees, and the subsequent benefits for the business. 
---
Want to find out how you can get your teams and employees engaged within your organisation? Have a chat with one of our experts and explore what wonders Oak can do for you. 
---