Why is Good Internal Communication Important?
Having good internal communication is one of the most important elements for a successful business. Your business is a reflection of how engaged and motivated your employees are. Good internal communications support your business' objectives, goals and values. 
Proper communication ensures all staff are on the same page. Good internal communications are informative, engaging and motivating. You might not realise how neglecting internal comms can negatively affect your business.
In fact, 74% of employees feel that they're missing out on company news. This is either because the internal comms department is non-existent or doing a poor job. If your employees don't have access to the information they need it can cause major confusion and stress. You want your employees to feel motivated and clear about what they're doing, not adding to their stress.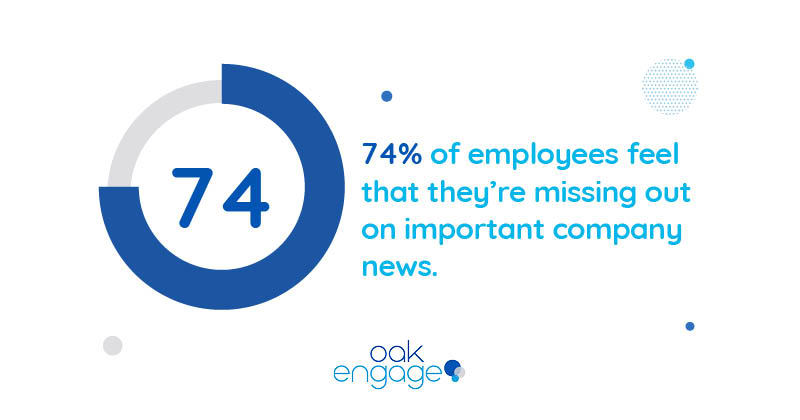 Improve employee experience by incorporating these best practises into your internal communication strategy. Make sure you're using the correct internal comms tools alongside your internal communication strategy.
11 Internal Communication Best Practices
Use the right tools
Using the right tools makes communication easy and everyone can access company information. The importance of internal communication is gaining traction. Make sure that you have a system in place that's easy to use, intuitive and allows employees to access everything they need.
Having a social intranet can help you transform communication in your workplace through various features. You can: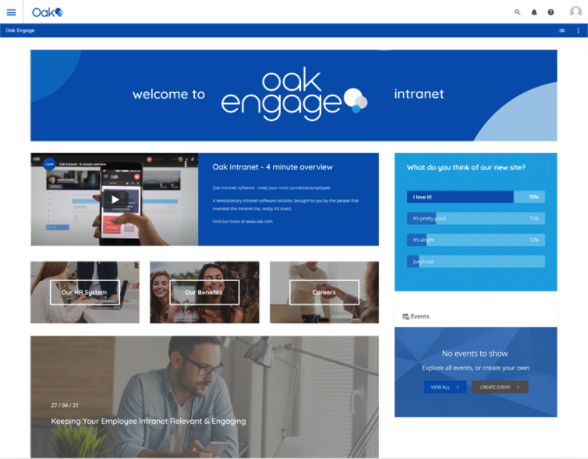 Keep your workforce connected through instant messenger
Boost productivity and collaboration through document sharing and management 
Use communication hubs to bring like minded people together to socialise and connect. You can create hubs for anything, here at Oak we have hubs for music, pets and wellbeing.
Create work related hubs for specific projects to share ideas and resources
Use polls and surveys to get a snapshot overview of your employees thoughts and ideas
Use visuals
If you want your employees to engage with your content, visuals are the way forward. Views don't guarantee engagement. Just because someone has viewed content it doesn't mean they understand the information.
You want as many people to engage with your message as possible. That's why video and visual content is the way forward. 80% of people remember what they see as opposed to only 20% of people remembering what they read. Visuals are also processed 60,000 times faster than text.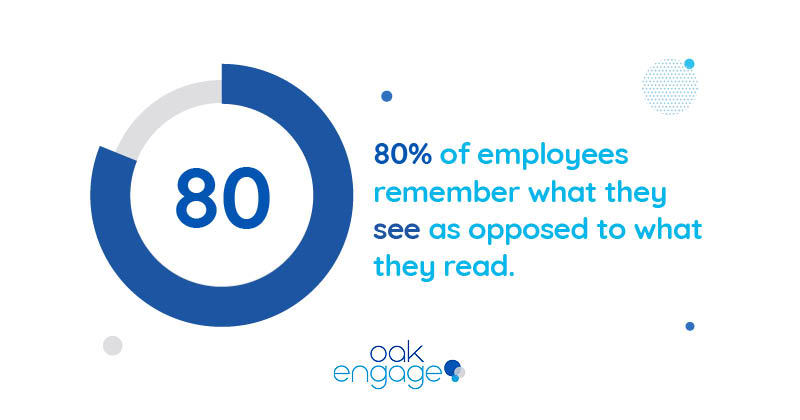 So how can you use video across your intranet and internal comms strategy? Get your leaders to update teams frequently with video. This can help create a better connection across different levels of the business. It also shows personality, removing the formality that sometimes comes with corporate comms.
Why not try welcome videos, employee Q&As and celebrating team achievements? These content types foster a culture of celebration and connect your workforce.
Show personality
Would you rather read something dry, standard and just plain monotone? Or something with a bit of wit, humour and personality? It's an easy question to answer.
Make internal comms fun. People are much more likely to engage with your content if you approach it creatively. Take your brand and personify it. If your brand was a person having a conversation with someone, what would it sound like? What personality would they have? What would they speak about? Find your brand's tone of voice and utilise that tone to your advantage.
Remember that you're communicating to humans. When creating content, tell stories and use emotion to make it engaging and relatable. Go one step further and get creative by trying out videos like we mentioned previously.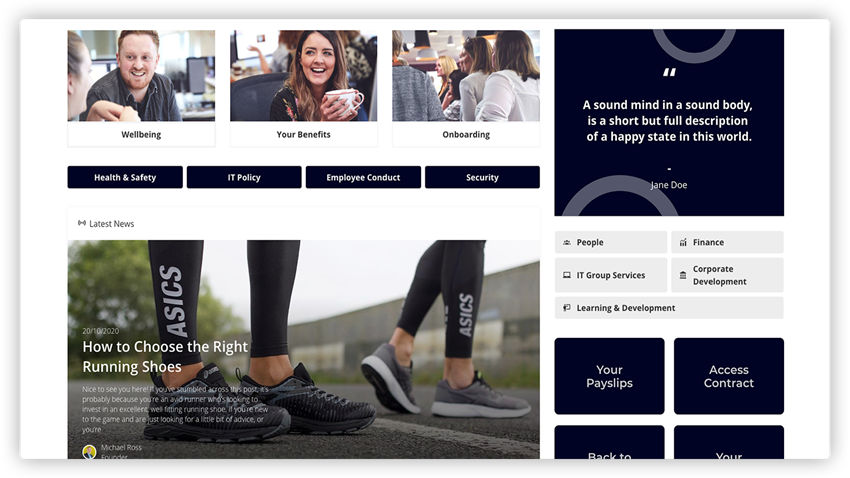 Use feedback channels
Two way communication is essential for a strong internal communications strategy. Gathering feedback helps your business evolve and develop. It can also ensure that a business you're remaining aligned with your values and mission. What tools can you utilise within your intranet and create a two way dialogue with your employees:
Pulse surveys: Pulse surveys are a consistent way of analysing feedback. They're useful in identifying elements of your workplace that need improvement.
Engagement surveys: Engagement surveys and pulse surveys go hand in hand.You'll gain an overall understanding of your workforce. By continuously assessing how your employees feel you're creating a workplace where people feel valued and heard. 
Create a space where they can be open and honest about how they're feeling. Engagement surveys, pulse surveys and polls are all tried and tested methods of getting honest feedback.  Anonymity means employees can freely express their views on various topics. You might even gain some insight that you might not gain from regular conversations or meetings.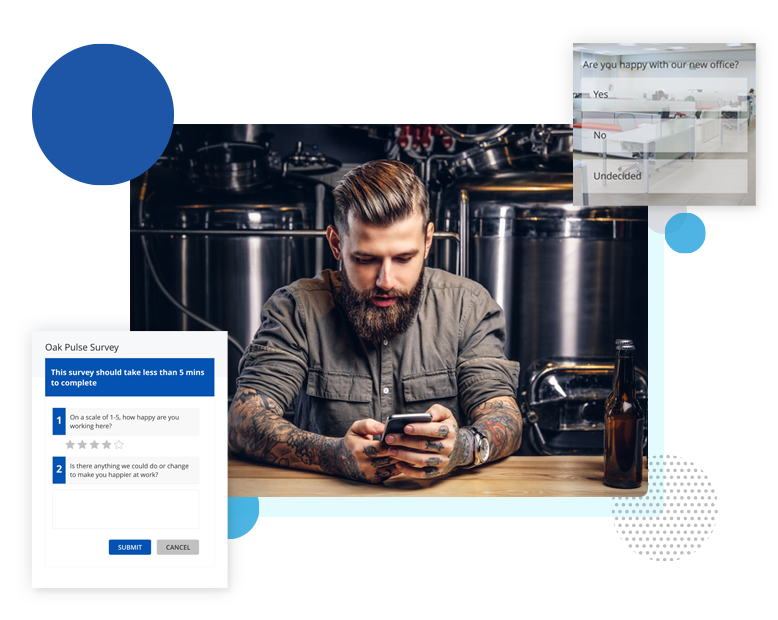 Use metrics to understand your workforce
Data is the key to success with your digital workspace. Metrics in your internal comms strategy, just like other areas of your business, should be measurable. What channels does your company use for communication? First identify your operational and internal communication channels. 
What are operational channels? These are channels and platforms used to perform work tasks:
Email 
Instant messenger 
Organisational tools like monday or trello
What are Internal channels?  These are methods used to deliver work related information: 
Email
Newsletters
Company intranet 
Company Apps 
Assess whether your channels reach everyone and facilitate a two way flow of communication and interaction. Intranets are especially useful for this as they combine many communication elements and they're all in one easy to reach location. 
Once you've identified your channels, decide on what core metrics you want to measure? You might want to measure participation and social metrics on your intranet to measure employee engagement. Or you might want to note down read receipts to assess if employees are engaging with your updates.
Consider what you want to assess and what will show you if your strategy is working or not. You can review your data and decide what areas need improvement. This might inform a rethink of your strategy. It might be that certain types of content are popular and people want to see more of that. This is why metrics are really important and you can use it to enhance your employee experience.
Cross department communication and collaboration
Everyone likes to feel involved and in the know. The more your teams and departments communicate, the better everyone can work towards the same goals. Not only does it just impact workflow, it also impacts your company culture. When everyone is working together as a team and aware of their own job role in achieving goals, it creates a strong and healthy organisation.
Building good relationships is an important part of any workplace. It makes work more enjoyable and teams who have good relationships are more productive. Employees will feel a stronger sense of loyalty to their job and to each other and view their work as more valuable.
Why not hold regular inter-department meetings or knowledge transfer sessions. This gives employees an insight into how everyone plays a part in the role of the business.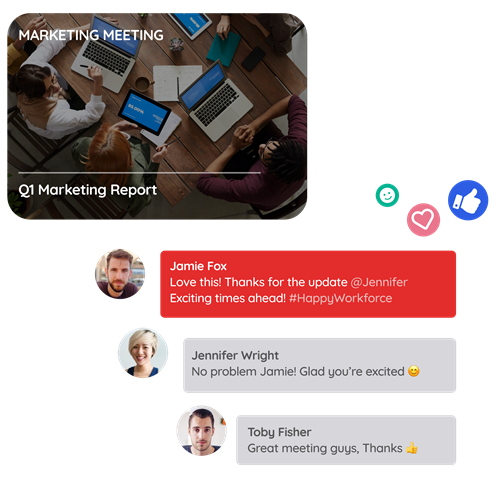 Encourage company related use of social media
Did you know that content shared by employees on LinkedIn has a 30% increase in reach? When your employees are advocates and pioneers of your business it amplifies your brand message and purpose tenfold.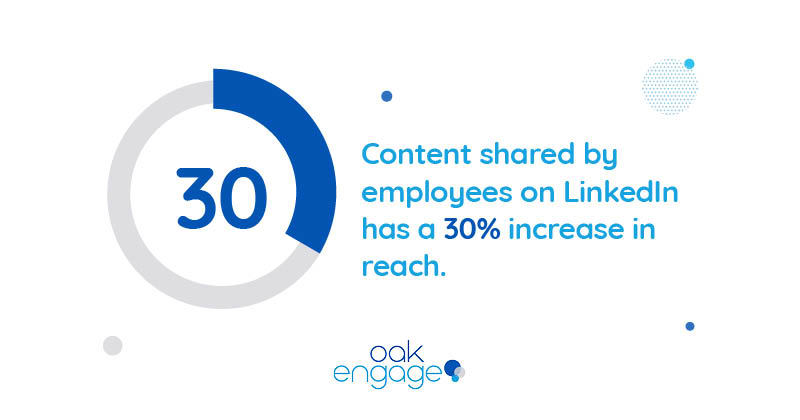 Employee voice is hugely important.  What your employees say about your business is one of the most important. When positive things are said about your business you'll get better leads, better hires and better results.
This is why it's important to hire the right people. Hire those who understand what your business is trying to achieve. When employees share your values they'll be passionate about sharing your message. Encourage employees to blog posts and articles from your brand that they have a genuine interest in. Identify the right teams and individuals who will be your best employee advocates.
Share industry news, trends and insights
Don't forget that whilst employees are working for your business, they're also part of a much larger industry. It's important that staff have some sort of access and exposure to industry news and trends. It's also great for varying content within your internal communications strategy.
Share the latest industry news, trends and insights with staff. Helping employees become more clued up contributes to their personal development and knowledge.  Employees will see how their efforts contribute to something larger. It can be a huge personal motivator for their career.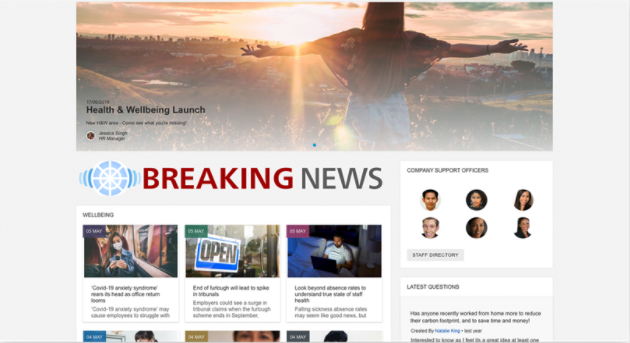 Get your employees to share the latest industry findings, especially if they're sharing brand content? This can help them establish a voice in the industry and boost their personal profiles.
Recognise and praise success
Sometimes a little goes a long way and this is especially the case with employee recognition. In fact, Gallup found that one of the top reasons people leave their jobs is a lack of recognition. As humans, we desire praise and recognition and to have our efforts seen and congratulated.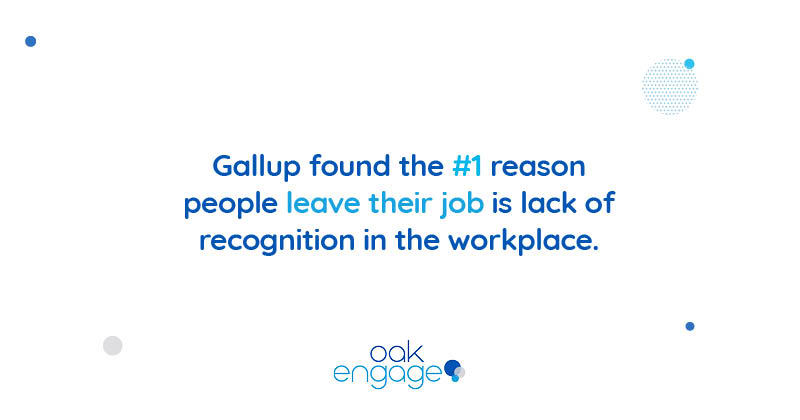 Showing your appreciation to individual employees can be a huge motivational booster. Thank staff for any achievements, going above or beyond or reaching certain milestones. By incorporating recognition into your internal communications strategy you'll notice the benefits. You'll retain top talent, see an increase in engagement and encourage good performance.
Oak even has its own inbuilt recognition systems that employees can use to highlight and praise individuals.
Promote employee resources and training
Are your employees clear on how they can access any resources, benefits and training available to them? Your employees should always be aware of what's available to them. Regular reminders of this never go amiss either.
Do they know how to access content? Do they know how to utilise healthcare benefits? Are there things available to them that they might not know of like resources or training? Utilise features like blogs and hubs to promote resources. Find spaces offline to reiterate these things to employees like in meetings or 1:1s.
This helps employees invest in their own development. Personally and professionally.
Ensure your messages reach every employee
You want as many employees as possible to read your communications. So you've got to make sure that your communications are engaging and interesting. Make sure you convey each message's meaning but in a simple way - focus on the why rather than the what. Make your messages more interesting through the use of video and storytelling.
Intranets offer a range of useful tools to aid communication within your business. One of Oaks useful features is mandatory reads. When employees need to read a certain piece of content, they'll be notified instantly. If you're still using email, then it's time to switch it up.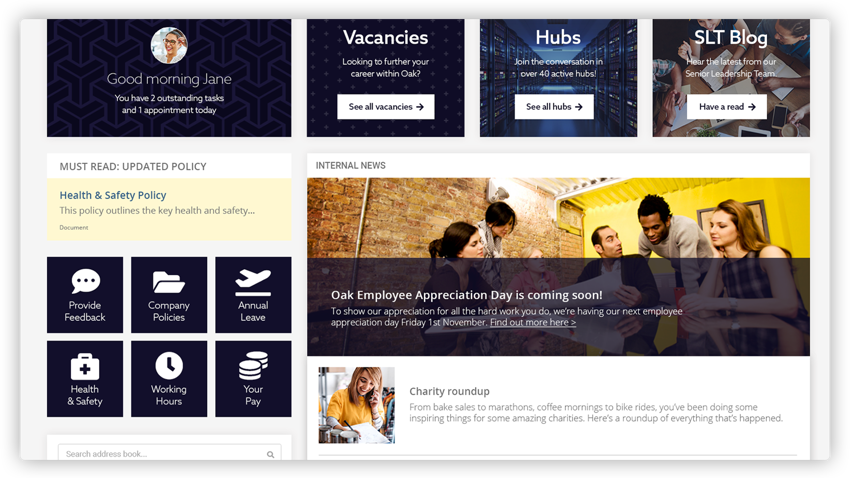 As we head into the new year and look towards 2022 it's important to think about how you can continuously improve your internal communications. Utilise up to date technology, bring your comms to life with meaning and personality and use tools to gain meaningful data that you can use to improve your strategy. 
By utilising these best practices you can keep your employees connected and informed. Want to get started on your Internal Comms Strategy and implement these tips and tricks? 
We have useful step by step guide and templates available for download right here.