Halloween is just around the corner but that doesn't mean that your internal communications need to be scary. That's why we want to share our best practices for your internal comms strategy, made all the more exciting with a Halloween twist. In this blog, we unravel the mysteries of effective internal comms. Plus, we'll shed some light on how Oak Engage can be your secret weapon in creating communication strategies that are more of a treat than a trick for your organisation. 
Best practices for clear internal communication
Treat: Consistent messaging 
Imagine Halloween without pumpkins, it just wouldn't be the same. Similarly, consistent messaging should be a priority. It's important to remain consistent in your messaging when communicating so that your people feel at ease. 
This means there's no room for ambiguity or misunderstanding. Whether you're posting on timeline or sending out a newsletter, the message should remain consistent across platforms. The same goes for timing. If you have a dedicated space for information and you publish weekly, make sure you are consistent in that. 
Trick to Avoid: Sending mixed signals 
Confusing, unaligned and inconsistent messaging is a recipe for disaster. We're creatures of habit and when this is taken away we can tend to feel stressed. Even if there is nothing to say, still communicate that to your people. If there is too much ambiguity, employees will start to question things. 
Treat: Two-way communication
Encourage feedback and open the floor for questions. Employees should feel like they have a voice and that their opinions and queries matter.
You need to be able to reach employees on a human level which can be difficult in a hybrid or completely remote working environment. Regular consultations with staff will encourage participation and make them feel like their opinions are valued. Try methods like face-to-face meetings and listening/Q&A sessions. We've created a communications guide for all companies to help support a healthy working environment and improve the employee experience. 
Trick to Avoid: Don't just disseminate information
Make sure you're also listening. A one-way street can lead to feelings of disconnect and disengagement. Oak Engage supports a social and collaborative environment with a host of social tools such as timeline, hubs and communities and employee recognition to make it easier for your employees to provide feedback and celebrate achievements. 
Treat: Clear communication channels 
Selecting the right communication channels is crucial. Each organisation is unique, so choose the platforms that align with your culture and goals. Email, instant messaging, collaboration tools and intranet solutions are all at your disposal. The treat here is the ability to reach your audience effectively. 
Different audiences may need different channels. Planning and creating a strategy will allow you to think about each audience and their needs. What do you want each audience to know, feel and do as a result of your internal communications? 
Trick to Avoid: Overwhelming your audience
However, the trick to avoid is overwhelming your audience with too many channels. Overload can lead to confusion and decreased engagement. Focus on the channels that work best for your organisation and ensure they are well-maintained.
If you have too many channels that are unsuitable for your audiences, your people will feel overwhelmed and may miss out on important news. 
Treat: Tailored messaging
Tailoring your messages to resonate with your audience is essential. Consider their interests, roles and preferred communication styles. Personalisation can create a sense of connection and relevance. 
Trick to avoid: Generic communication 
The trick to avoid is generic communication that doesn't speak directly to your audience. One size does not fit all when it comes to internal communication. 
Oak's AI personalised content system uses Artificial Intelligence to personalise content for every single employee to get the right message to the right people at the right time. This cuts out noise for employees. Oak also allows employees to personalise their news experience. This means they can specify what types of messages they want to see and opt out of things that aren't relevant. 
Treat: Regular assessment 
Regularly assess the effectiveness of your internal communication efforts. Collect feedback, analyse metrics and be prepared to adapt your strategy accordingly. The treat here is continuous improvement, which keeps your communication relevant and impactful. 
Trick to Avoid: Stagnation
Failing to evolve your strategy can lead to outdated practices that no longer resonate with your employees. 
Oak Engage allows you to conduct Pulse Surveys and Polls which enables you to capture real-time feedback from employees. This allows employees to have their say, provide feedback and raise any issues they may have. 
Treat: Celebrate successes 
Recognition is a key motivator for people and provides them with a sense of accomplishment and makes them feel valued for their hard work and efforts. Not only does appreciation make employees feel more confident in themselves, but it also improves productivity in the workplace. A team quiz, sending a gift, investing in development or training or just a simple thank you are all ways you can show your appreciation to your employees - even remotely! 
Trick to avoid: Neglecting recognition
Employee achievements and milestones should not go unnoticed. Recognition is a powerful tool for building a positive workplace culture. 
Oak Engage's recognition tool allows you to empower your employees and foster a sense of appreciation. It's used widely by our customers including Five Guys and Aldi. A key driver of engagement for Aldi has been the Employee Recognition applet. Named 'All Stars', it regularly sees upwards of 5,000 employees being recognised per month. This has helped Aldi consistently achieve engagement rates of over 95%.
Successful internal communication doesn't have to be scary. By following these six best practices, you can turn your internal comms into a genuine treat for your business. For more key insight into optimising your internal comms strategy, check out our handy guide. 
---
📖 Recommended reading: Top 10 comms books that will help nail your internal communications strategy
---
Ways to use your intranet to celebrate Halloween 👻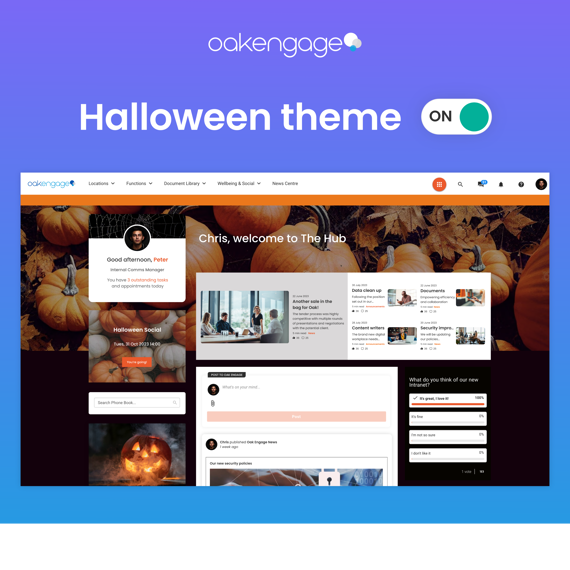 Celebrating Halloween is a great way to boost morale, increase motivation and just have some fun. Below are some ways you can incorporate Halloween into your digital workplace. 
Polls and surveys: Engage your employees by running Halloween-themed polls and surveys. Ask questions like, "Which costume category should we have this year?" or "What's your favourite Halloween treat?" Encourage participation and gather valuable insights into your team's preferences.
Employee recognition: Halloween is a time to celebrate creativity and teamwork. Use Oak Engage's recognition tools to acknowledge employees who put in extra effort for Halloween-themed office decor or costumes. Highlight their contributions on the intranet to boost morale.
Content sharing: Share Halloween-related content on your timeline such as DIY costume tutorials, spooky stories, or safety tips using Oak Engage's content sharing feature. Keep your employees informed and engaged with the latest Halloween updates.
Hubs: Create dedicated forums and communities where employees can share their Halloween experiences, costume ideas, and plans. Encourage lively conversations and allow employees to connect over their shared love for the holiday.
Employee profiles: Encourage your team to update their profiles with Halloween-themed avatars, cover photos, or bio sections. This personal touch adds a layer of fun to your intranet and helps employees express their creativity.
Themes and branding: Take advantage of our branding and seasonal themes to give your homepage that spooky twist. Incorporate Halloween-themed graphics, banners and colour  schemes to create a festive atmosphere that gets everyone in the spirit. You can even customise your company logo with a Halloween-themed version.
Employee directory: The directory feature can help employees find colleagues with similar Halloween interests, whether it's a love for horror movies, a passion for pumpkin carving, or a knack for spooky storytelling. This can foster connections between team members.
Analytics and reporting: Use Oak Engage's analytics tools to measure the success of your Halloween initiatives. Discover what activities and content engage your employees the most and refine your approach for next year.
Don't forget to promote these activities and features on your intranet so that employees have time to prepare and get excited. By utilising your intranet for Halloween celebrations, you can foster a sense of connection, creativity, and fun among your remote or in-office workforce. Happy Halloween! 🎃👻🦇
Want to find out how Oak can help solve your internal communication challenges? Speak to an expert!