Intranet design in need of a refresh? Are information-overloaded and text-heavy homepages decreasing your employee engagement? Looking for intranet design examples that showcase how you can get the most out of your intranet? 
Design possesses the power to capture users' attention and spark engagement. However, it can be one of the biggest challenges to overcome when it comes to developing your company's intranet.
A well executed intranet design can mean the difference between a successful, business-critical tool that employees want to use on a daily basis or a confusing and non functional intranet that's doomed from the start.
So, where do you start? Thankfully, we know what a good intranet looks like. After all, some of the worlds biggest brands use Oak's intranets every day to engage their employees. Through our intuitive drop and drag design functionality to expert advice from our in- house teams, our customers are able to make intranets that make their intranets good looking and completely immersive. 
We know that perfecting the look and feel of your intranet plays a huge role in your internal communication strategy. And, we also know that not everyone has the gift of a technical design expert at their disposal. That's why we've put together a robust plan of action for everyone from pros to absolute beginners.
In this blog we'll cover:
The Role of Your Intranet
Before looking at your intranet's design, it's important to consider what purpose your company intranet will serve and what its role within your organisation will be.
---
Suggested Reading 📖: What is an Intranet? The Ultimate Intranet Guide for 2023
---
Intranets are designed to connect employees and provide them with all the relevant information they need through an engagement platform.
Intranet software itself has changed beyond recognition in the past 20 years. And that's because:
The workplace has modernised
Employees are demanding more information, transparency, and better communication mechanisms
Technology has advanced
These changes mean that the role of the intranet in day-to-day business has shifted dramatically. This means there is more of a need for excellent intranet design. When employees want to use their intranet, they're more likely to be engaged, more productive and collaborate better.
The Impact of a Poor Intranet Design
Your intranet design can make or break how your employees engage with your company, focusing on improving it is more than worth your time.
Poor intranet design can cause:
Poor visual layout - causing employees to disengage
Illegible text - meaning employees struggle to get the information they need
Poor Navigation- hinders productivity levels among employees
Poor search results - employees can't search for relevant content easily (Results from a study by Origami suggest; by watching the interaction of 322 recorded user sessions, only about 15% of employees used the search box on their intranet to find things)
From a recent survey, 22% of respondents said the reasons why their intranet has failed is due to outdated content. It's vital to not let your homepages become dumping grounds for all types of content. The challenge for intranet owners is to consistently keep the information curated and relevant, with high level UX to keep your workforce engaged and using your platform.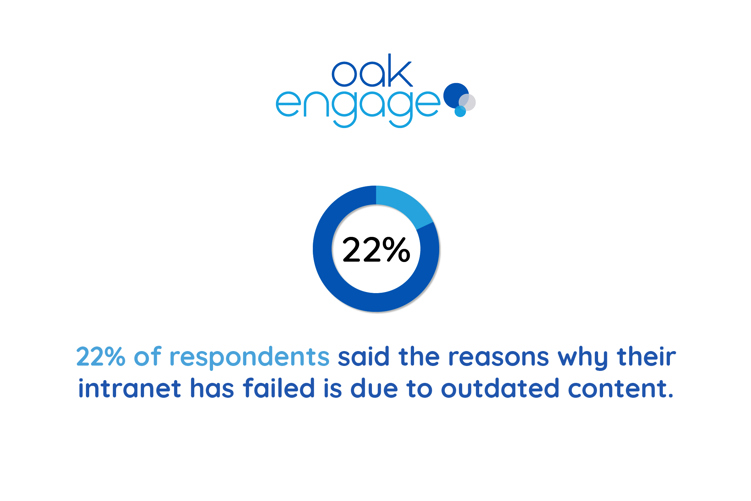 Intranet Design Features to Consider
Design is all about creating the best possible experience for your employees. If your intranet looks cluttered, out of date or uninviting, the success of your company intranet will decline. Here are our 5 design features that we think are essential to incorporate in your intranet design:
1. Strong Company Branding
Create an internal brand that aligns with your mission and can create a sense of ownership and connection to your company. Have a read of our Five Guys Customer Story to hear how they transformed their Oak intranet to fit with their brand.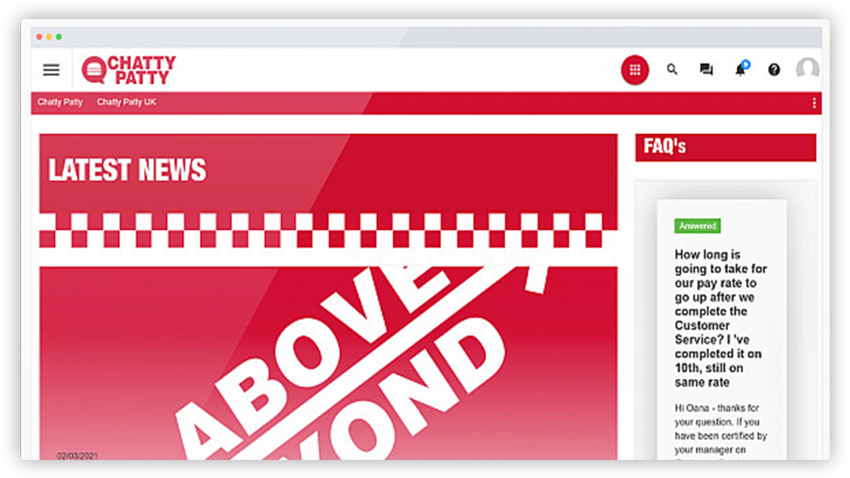 2. Signposting Design
Design your intranet to serve as a Hub or gateway into the wider digital workplace, incorporating useful widgets to push users to other pages.
3. Mixed Media
Don't just stick to text, you should include all media such as video, images and HTML Widgets to engage your workforce.
4. Full-Width Hero Banner
Create a hero banner that uses the entire space above the fold to grab employee's attention.
5. A Mixture of Content
Include blogs, news, timeline, video or quick links to present information without the intranet becoming text heavy.
Importance of your Intranet Homepage
The purpose of the intranet homepage is to provide quick access to what employees need the most. This includes: apps and tools employees access most frequently, critical company communication, stats and performance at a glance, and easy navigation to get to more resources.
It's important to consider the role of your intranet homepage and its importance to your employees. An intranet homepage is not just used for a singular function, but understanding how it can be used can be a huge step to your company's success.
Once you learn how to use your homepage to its full potential, there are unlimited possibilities in what you can do to boost engagement across your organisation. However, here are the most common roles that an intranet homepage can serve, all of which should be considered or implemented into your intranet for a high-quality digital workplace.
A Social and Collaboration Hub 
Your intranet homepage is a good opportunity to take advantage of social features such as your company timeline. Having a clear timeline designed to run down your homepage will improve collaboration and communication between workers.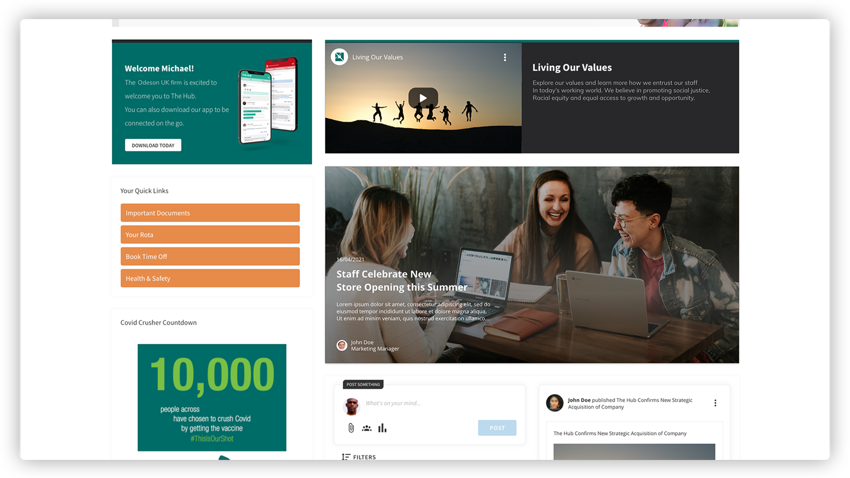 News Centre 
After logging into your company intranet, the homepage is the first place your workforce will find themselves. Therefore, this is the perfect place to communicate relevant company news and mandatory reads.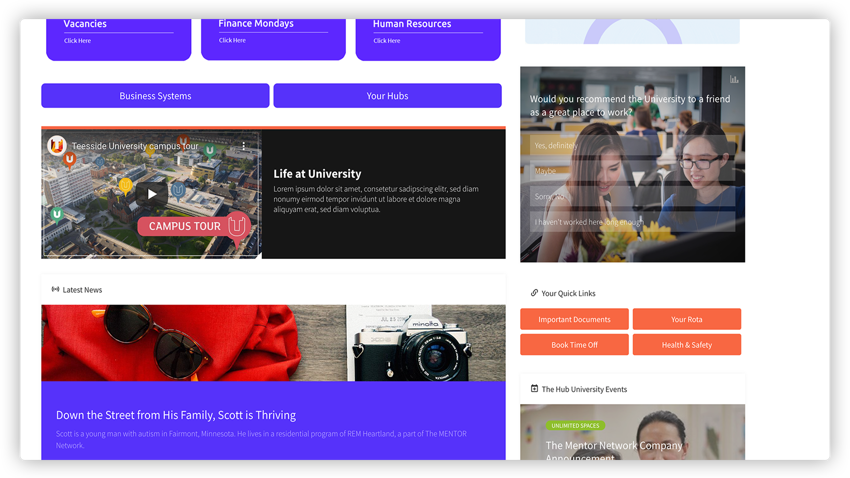 Navigation Tool 
Intranet navigation can become challenging, especially as your workforce and community starts to absorb more information. If the navigation is difficult, your workforce productivity and engagement will decline. That's why it's important to make it as easy as possible for employees to access the information they need without restrictions.
Widget Launch Pad 
"Widgets" (Pulse Surveys, employee recognition etc)  can be extremely helpful and beneficial, and your intranet homepage is an excellent place to have them. However, too many widgets can be overwhelming. Stick to the basics, and place widgets where they will get used without distraction and cluttering up the page.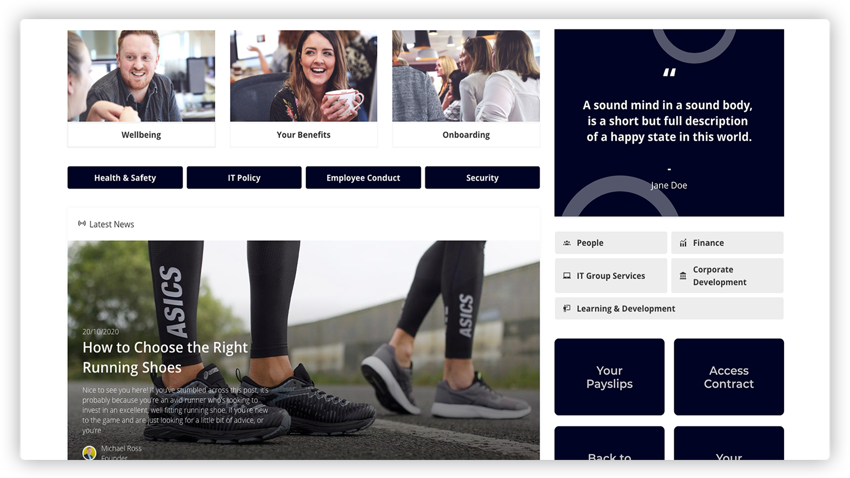 What Should Your Homepage Include?
Every company is unique and different, so there is no such thing as a one-size-fits-all approach when it comes to designing the best homepages. However, there are common elements that every company can benefit from which will really boost productivity, engagement and most importantly, the design of your intranet. Here are 10 elements that you should consider to include when designing your company homepage.
1. Simplicity 
"Simplicity is the ultimate sophistication" - Leonardo Da Vinci
A simplistic intranet homepage allows everything to be in one place, without it looking too cluttered. Your navigation buttons should be straightforward, eliminating anything that might be confusing for employees. This will allow your workforce to access everything easily, yet efficiently. 
Creating a simple homepage design may seem challenging at first, but our design team is on hand to give you expert advice, giving you the highest quality homepages to skyrocket your engagement.
2. Prioritise Key Information
Prioritisation of information gives your employees the relevant information they need in one single place. Your homepage shouldn't be overloaded with irrelevant content which never gets used. Instead, you should keep key information that your workforce needs at the top of the page to tie in with the simplistic design.
3. Applets/Widgets
Part of keeping your company homepage clear and readable is ensuring that content overload doesn't occur. At Oak, our toolbox of applets help you to group different types of news, notifications, employee recognition and more in one part of the homepage, saving valuable space for something else.
This can be done easily by our drag and drop homepage builder. We simplify your intranet homepage design, creating responsive column based layouts that adapt to any device. There are no limitations in the way you can customise your own company homepage.
4. Various Content Forms
Your intranet homepage should give access to various forms of content such as images, videos, blog posts, articles or links. If your intranet becomes too text heavy, it will be sure cause disengagement and apathy amongst your employees.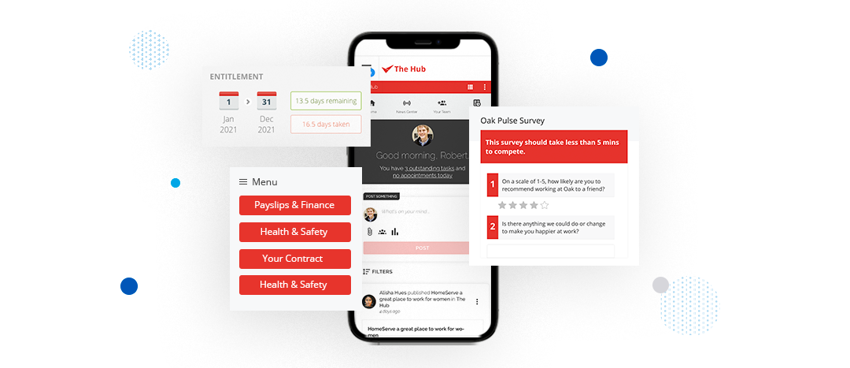 5. Advanced Search Engine
Dealing with a large number of documents within your intranet can be challenging. That's why you should have an advanced search engine on your homepage. 
A search function enables users to locate all content, past or present. There's no more wasting valuable time searching for important documents. Search is designed to find whatever you need instantly, improving employee productivity. 
6. Collaboration Tools
Collaboration should be one of the key focuses in any organisation, as it leads to better solutions and increased productivity across the workforce.
There are many ways to facilitate collaboration on your intranet, but you should ensure that collaboration tools are present on the homepage.  This could include employee surveys, polls, collaborating on articles or tasks.
7. Feedback Forms/Surveys
Naturally, employees will want to feed back to you on their company intranet. So this is your chance to use it to the best of its ability by placing a feedback form or survey on the homepage to enable employees to bring their concerns to the forefront.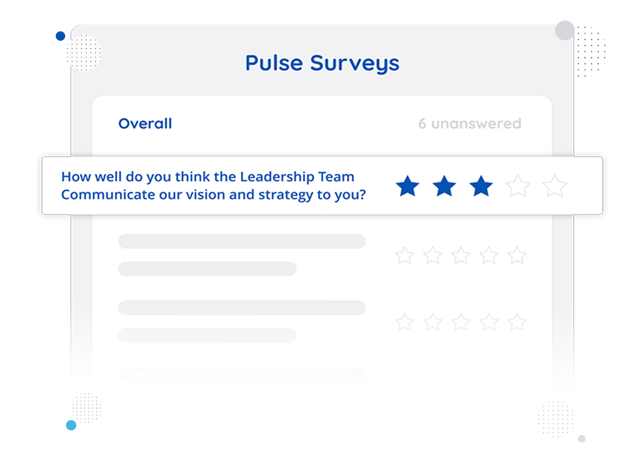 8. Quick Links
There will be areas on your intranet that will be visited more than others by your employees every day. To save time and increase efficiency, you can provide your workforce with quick links on the homepage to navigate them to their most used pages or content.
9. Training Materials
Onboarding new employees can be challenging. However, you can use your company homepage to make training materials easy to find, improving engagement and efficiency within the first few weeks of your new employee starting. 
10. Constant Improvements
No matter how well-managed your intranet, there are bound to be necessary improvements throughout its lifespan. Making constant improvements will actually benefit your organisation in addition to streamlining the performance of your social intranet.
What is An Intranet? The Ultimate Intranet Guide
Building An Intranet: The Ultimate Beginners Guide
Intranet Design Examples
These intranet design examples each represent a unique business sector, challenge, or need: and translate that into impactful intranet homepage designs that combine functionality, content, and aesthetics.
Our design team has expert knowledge who will do the heavy lifting for you to create an engaging site that is suited to your brand. Here are just a few of our examples of engaging intranet homepages created by our wonderful design team. Each one has its own set of unique features.
Whether you're looking to upgrade, touch-up or you're on the market for a new intranet partner who can complement your vision, these intranet examples will get you inspired.
Example 1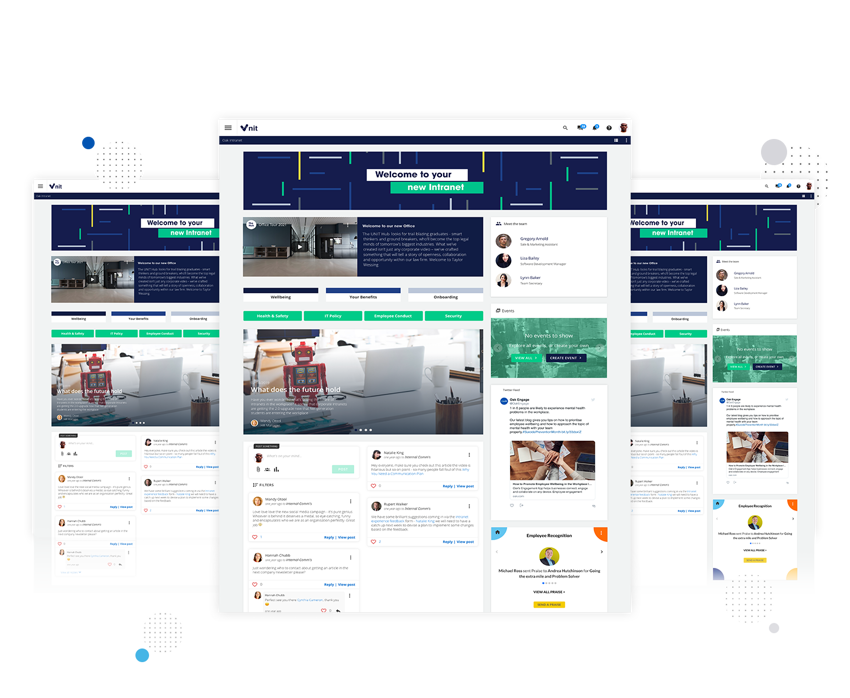 Features included:
Banner
Area Welcome
Meet the Team
Quicklinks
Event Management
Social Timeline
Employee Recognition
Company Twitter Feed
Examples 2 & 3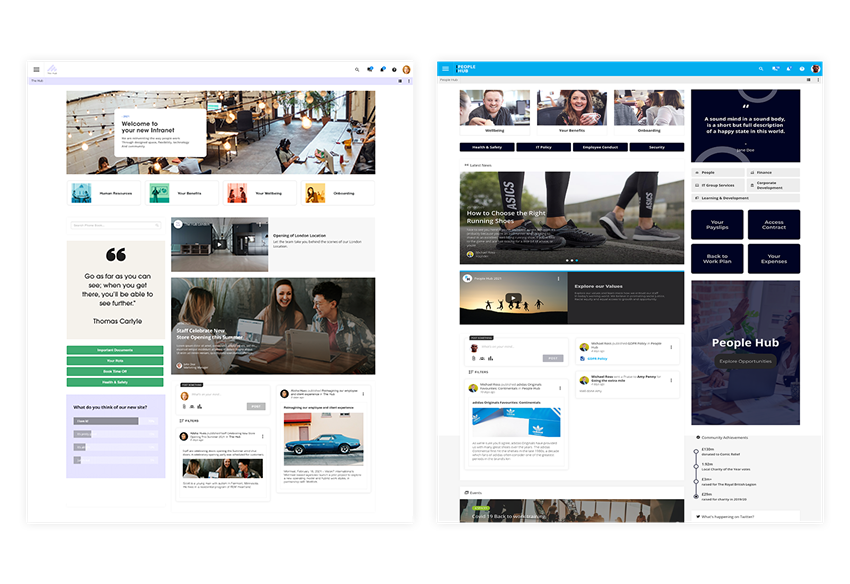 Features included:
Banner
Hubs
Quicklinks
Media Gallery
Quick Poll
Social Timeline
Video
My Payslip
Quotes
Example 4
Features included:
Welcome banner
Integrations
Quick Poll
Quote
Latest News
Quick Links
Social Timeline
Hubs
Company Twitter Feed
Examples 5 & 6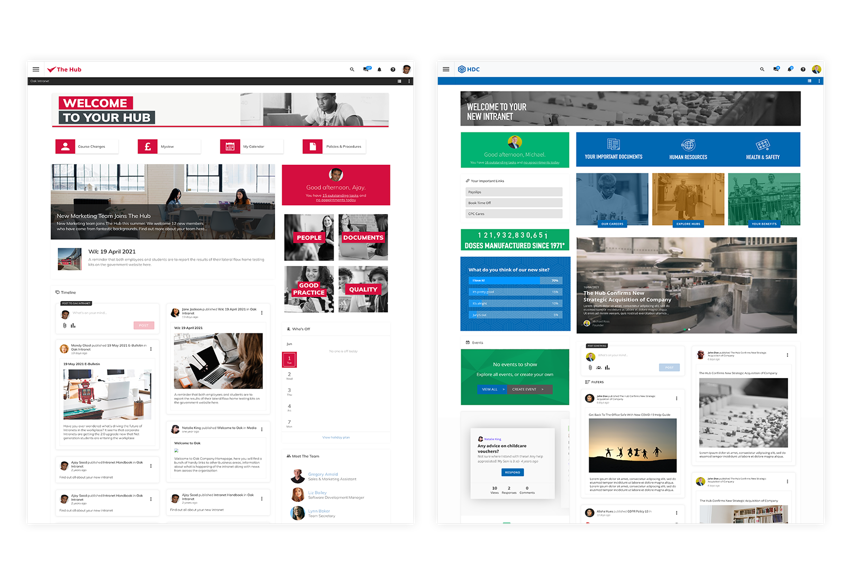 Features Included:
Social Timeline
Mandatory Read
Meet the Team
Calendar (Who's Off)
Quick Poll
Event Management
Area Welcome
Quicklinks
Example 7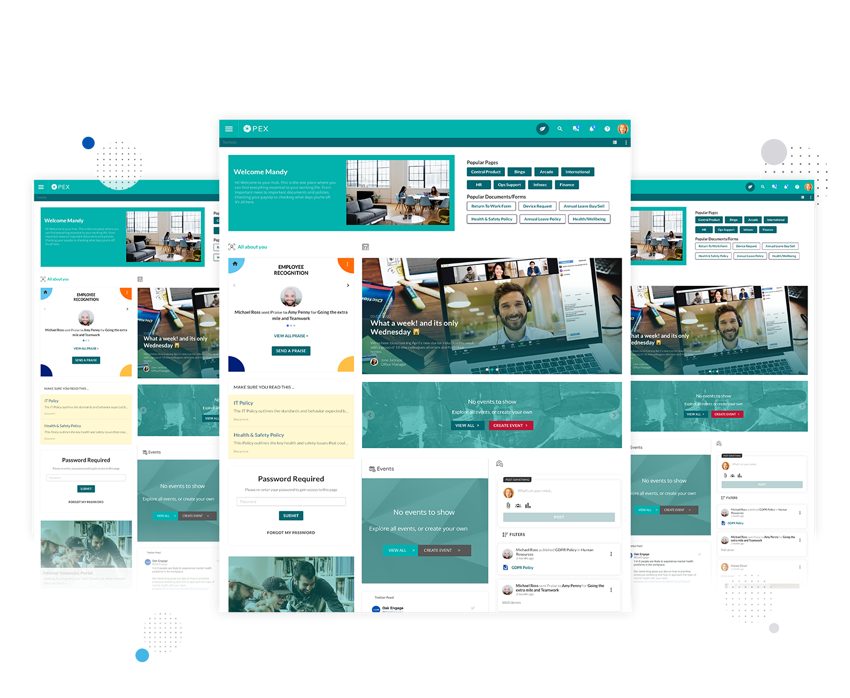 Features included:
Area Welcome
Employee Recognition
Social Timeline
Quicklinks
Meet the Team
Events Management
As these diverse intranet design examples show, the potential of your company design is unlimited. Design includes a multitude of elements, it can be anything from fonts and colours to features, applets, layout, content and more. When these come together and unite in a strategic way, your company intranet will become unique and remarkable. 
If you would like to find out how Oak Engage can create a customisable intranet for your company, book a demo today.