By now we will have all heard of 'The Great Resignation'. Hearing those words is enough to send shivers down the spine of an HR, internal comms or any business leader. 
We're all aware that retention and people turnover has become more of an issue in the past 18 months, but why? It has to be wider than just the promise of more remote working, doesn't it? 
People are no longer prepared to stay in jobs that don't satisfy them, but to what extent has this impacted the job market? 
In this blog, we're going to look at some key trends around the issue of employee retention. But why not take our quiz first?
Here are 18 employee retention stats, some of which you may find pretty surprising!
18 Employee Retention Stats 
1. 25.3% Of Business Leaders Say They Have Been Able to Find Better Suited Candidates From Across the Country in the Past 18 Months 
Clearly, companies who have embraced remote working have been able to cast their net further and have a bigger pool of candidates to choose from. Oak's Future of Working report (published April 5th) found that over a quarter of business leaders was reaping the benefits of being able to recruit people from across the country.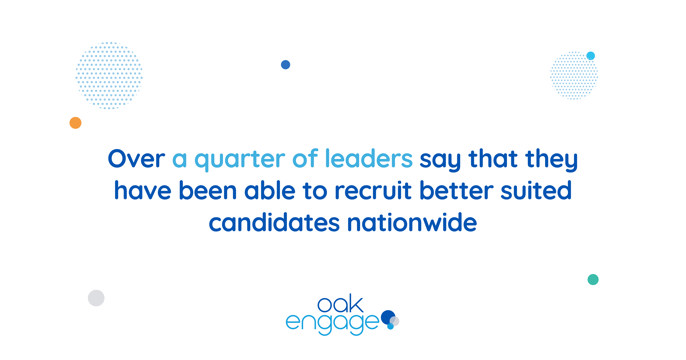 (Source: Oak Engage's 2022 Future of Working Report) 
2. Employees Are 21% Less Likely to Leave Their Role if Their Company Offers Positive Learning Opportunities
Offering personal and professional development is key to employee retention. As the saying goes you either move forward or backwards, there's no standing still. Clearly, this is the case with employees who will be in a hurry to leave if they feel like they're stagnating. Degreed's How Workers Learn report found that employees are 21% less likely to leave if they feel they're offered positive learning opportunities.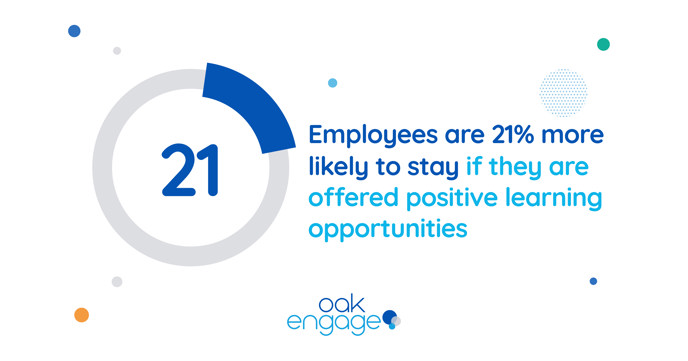 (Source: Degreed)
3. According to the Future of Working Report, Mental Health Has Been the Top Factor in People Leaving Jobs Over the Past 18 Months. 33.2% Of Leaders Say It Has Been a Factor in People Leaving Their Business
Mental health has rightly become a topic that people are more willing to speak about. It has also been a significant factor in people leaving their jobs. During the pandemic, employees reported stress, isolation and burnout, but it would be naive to think that these weren't an issue before 2020. It is so important to check in with your employees regularly to see how they're feeling.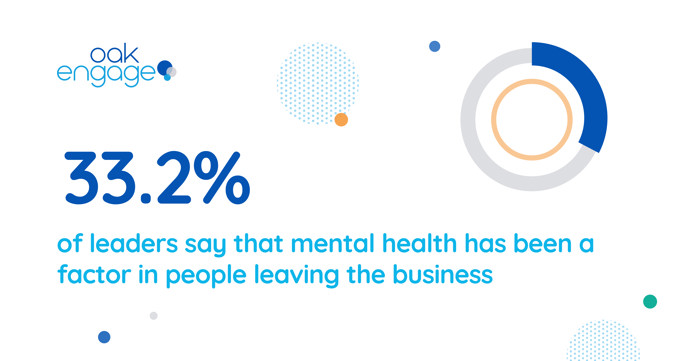 (Source: Oak Engage's 2022 Future of Working Report)
4. In 2021 Employees Were 23% Less Likely to Leave Overpay Than in 2018
It would seem pay has become less important when it comes to employees leaving their roles. Of course, salary is the reason we work in the first place. But, the Workplace Institute's stat that employees are 23% less likely to leave because of it, shows that it has become less significant when choosing where to work.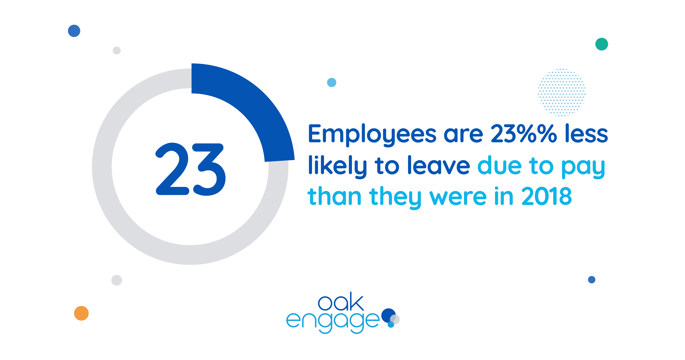 (Source: Workplace Institute)
5. Replacing an Employee Costs an Average of 33% Of Their Salary 
Any investment into employee retention will likely see cost savings and a decent ROI. The Workplace Institute found that replacing an employee costs 33% of their salary. Given the cost of recruitment and productivity, it's a significant cost to replace even just one member of staff, never mind several!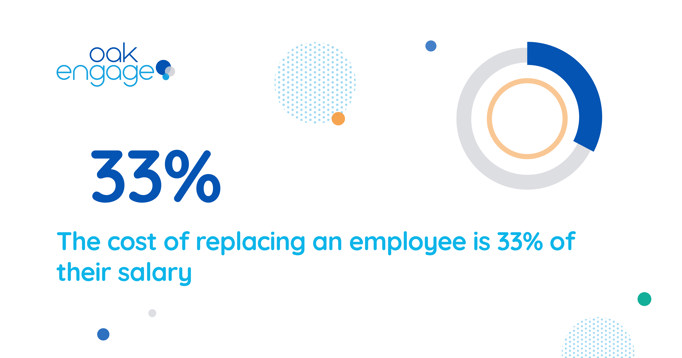 (Source: Workplace Institute)  
6. 16% Of Gen Z and Millennial Employees Have Left a Job Because of Inadequate Technology
16% of Gen Z and Millennial employees have left a job because of inadequate technology! That is a significant amount considering some will be close to the start of their careers. It proves that investing in appropriate technology is key to engaging the groups that will soon make up the vast majority of your workforce. Old or unfit technology is stifling the progress of younger employees and they don't like it one bit!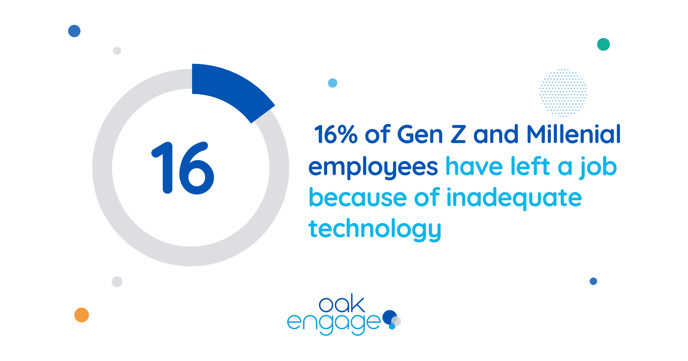 (Source: Zapier)
7. On Average Businesses Can Expect to Lose 6% Of Their Workforce to 'Involuntary Turnover'
Sometimes leaving a business isn't the worker's choice. It is reported that on average companies lose 6% of their employees through involuntary turnover per year. Things like redundancy and termination due to poor performance or conduct fall into this category.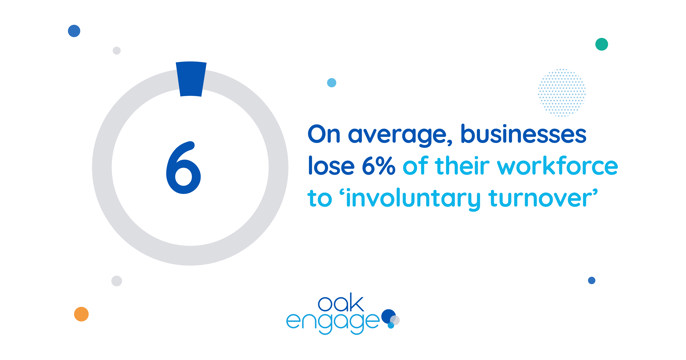 (Source: Society for Human Resource Management)
8. 31% Of Workers Have Left a Job Within the First Six Months 
Getting employees engaged in their roles early on is very important, so onboarding is vital to retention. It's reported that 31% of employees have left a job before half a year has passed. Increased remote working does make this slightly more challenging. But the technology that helps them connect with colleagues and gives them access to everything they need can ease that pressure.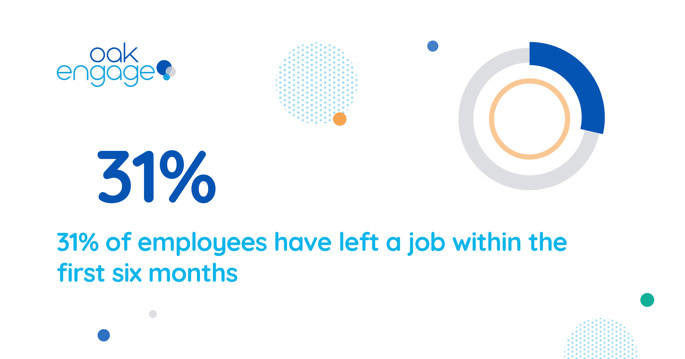 (Source: Bamboo HR) 
9. 60% Of Companies Don't Have Set Goals or Milestones for New Employees. 
This explains the previous stat then.. It's likely that a lot of people leave early on because after the initial buzz of starting a new job, they don't have objectives communicated to them. It's reported that a huge 60% of companies don't have set goals or milestones for their new recruits. Talk about first impressions..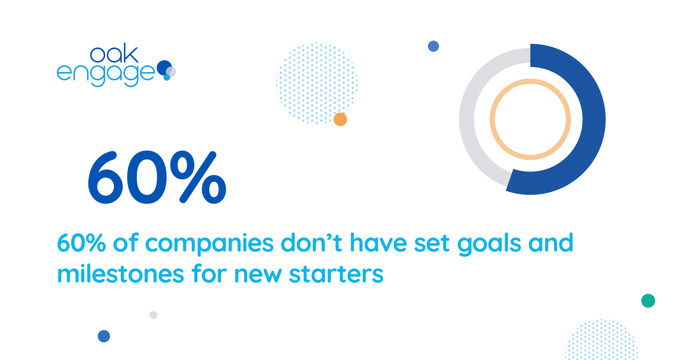 (Source: Octanner)
10. 21.3% Of Leaders Say Disengagement/Boredom Led to Employees Leaving Their Business in the Past 18 Months 
Oak Engage's Future of Working report found that 21.3% of leaders think disengagement was a factor in employees leaving their business. Workers want to enjoy what they do and above all know their purpose in the bigger picture. Find out from them what can make their role more enjoyable.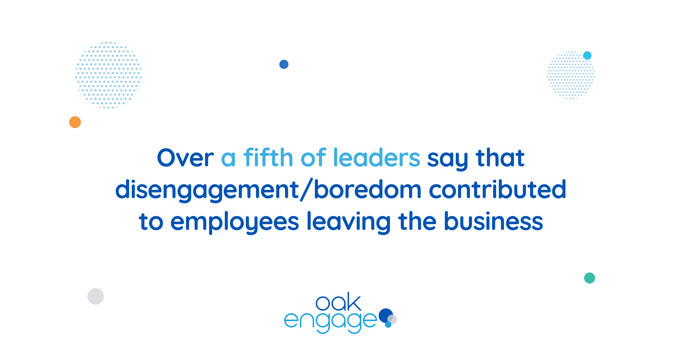 (Source: Oak Engage, 2022 Future of Working report)
11. Organisations With Strong Culture Have 72% Less Attrition on Average 
Businesses with a strong culture have 72% less employee attrition on average. By focusing on creating a culture your employees want to be a part of, you're standing yourself in good stead to keep hold of them. Companies have to be able to convey their message through every level of the business in order to create a positive culture.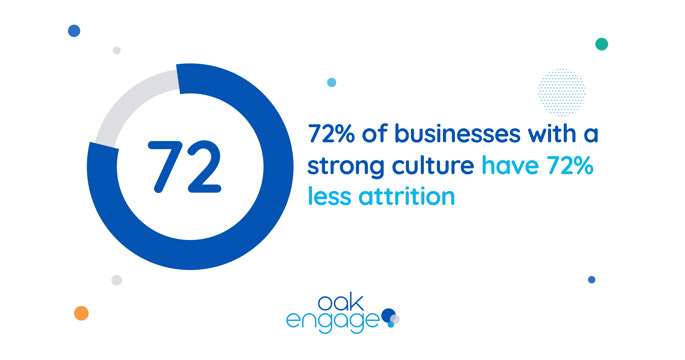 (Source: Gallup) 
---
Recommended Reading 📖 : Company Culture: The Ultimate Guide
---
12. Almost Half of Those Who Let Jobs Said It Was Because of a Toxic Culture 
On the subject of culture, a CareerBuilder survey found that over half of respondents who had left jobs did so because of a toxic workplace culture. Nobody wants to work in a place they don't feel they belong or are even uncomfortable, so it's no surprise that it plays a big role in employee turnover.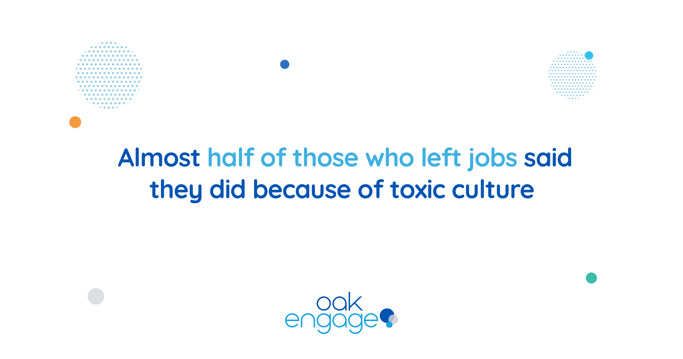 (Source: CareerBuilder)
13. 91% Of HR Leaders Are Concerned About Employee Turnover in the Near Future 
Research of HR leaders by Gartner, Inc. showed that 91% of HR leaders are concerned about employee turnover in the near future. Clearly, this is a widespread issue and not just specific to a few organisations. HR leaders understand (or should) people in the business, so if they're concerned about people leaving the business then you should be too!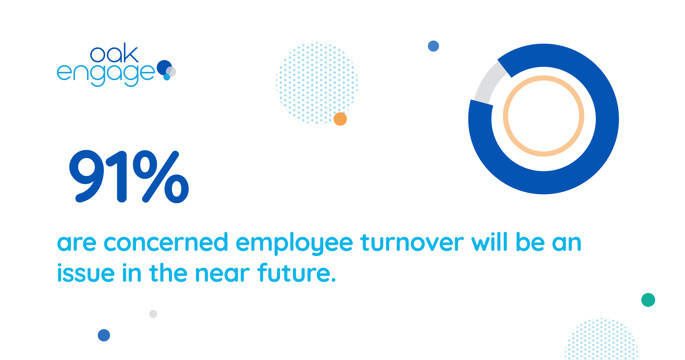 (Source: Gartner, Inc.)
14. Nearly Half of Job Applicants Are Considering at Least Two Job Offers Simultaneously.
Gartner also found that over half of job applicants are considering multiple job offers. This would align with the widely held belief that the job market favours candidates now as a result of more opportunities. For employers, this means that their overall package (benefits, quality of work, etc.) must be better than the competition. One small thing could be the deciding factor, so everything has to be on point!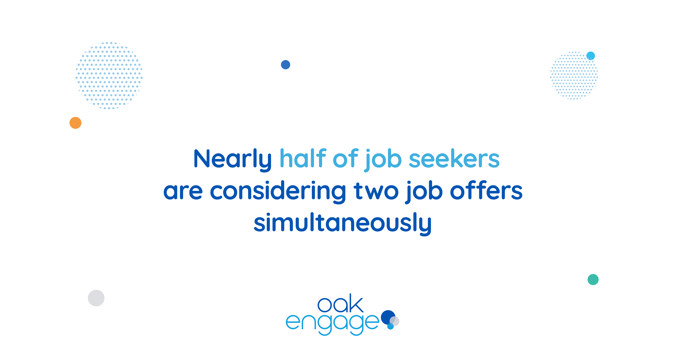 (Source: Gartner, Inc.)
---
Recommended Reading 📖 : Gartner Reports
---
15. 63.3% Of Employee Departures Are Preventable 
Workforce Institute's 2021 Retention Report found that nearly two-thirds of departures are preventable. Often there will be signs that leaders have either ignored or not taken action quickly enough. You must be aware of the issues early, so you know of any reasons why they might be disengaged and try to fix them (and prevent them altogether in the future). They can be fixed through open and honest communication.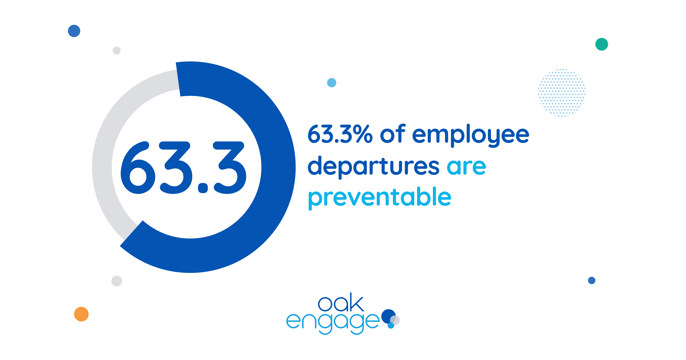 (Source: Workforce Institute) 
16. 93% Of Young Professionals Said They Left Their Employers Last Time They Changed Roles Rather Than Progress in Previous Company 
A Gallup poll showed that 93% of young professionals left their employer the last time they changed jobs. This would suggest that opportunities for progression aren't well communicated by leadership. It's important to set out a clear roadmap for progression, especially with young employees who are hungry to develop.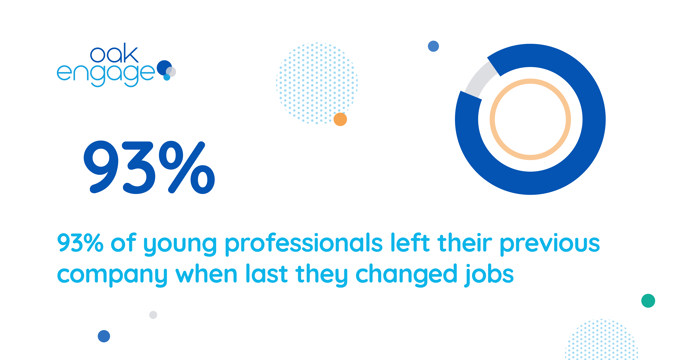 (Source: Gallup) 
17. 28.7% Of Business Leaders Said That Employees Had Left in the Past 18 Months Because of Flexible Working Hours
Oak's Future of Working report also found that flexible working was a contributor to employees leaving businesses in the past 18 months, with 28.7% of leaders agreeing. 
People want a balanced life, so working hours that suit both parties is key to retention. If flexible hours or even a 4 day week won't hinder productivity, why not consider it?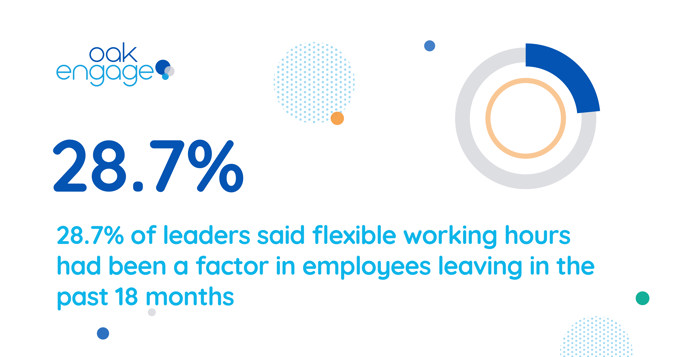 (Source: Oak Engage, 2022 Future of Working report)
18. Almost Half of Employees Say They Would Leave if Their Company Didn't Praise or Thank Them for the Work They Did 
Everyone wants to feel appreciated in any walk of life. It's something that's not difficult to do. A simple post to your company's social feed or message of thanks would suffice. As easy as it is to do, it's big for employees, with almost half saying they would leave if they didn't receive praise or thanks for their work.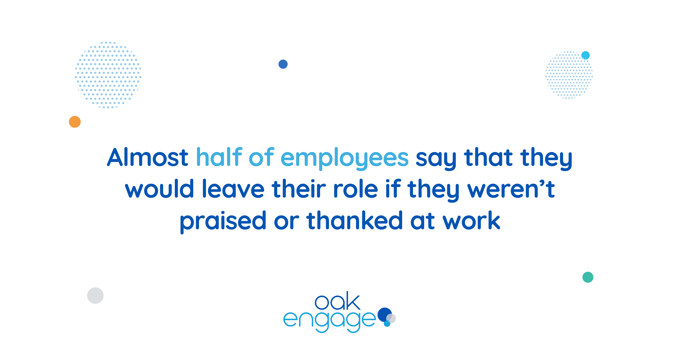 (Source: Reward Gateway)
Every business has worried about keeping their best staff, but 'The Great Resignation' has made employee retention something we talk about more. Some may be delighted that they have their pick of talent, but for others, these stats will make grim reading. 
It doesn't have to be this way, though. Read up on Employee Retention Strategies to help keep your staff. 
For more stats on employee retention, employee engagement, mental health and other workplace topics, keep a lookout for our 2022 Future of Working report, launching Tuesday April 5th!
---
Recommended Reading 📖 : Employee Retention Strategies [How to Keep Your Staff]
---