According to new data from LinkedIn, UK recruitment is on the rise, meaning that in the current circumstances many businesses are now having to onboard employees remotely. And although some businesses are starting to get back to a new normal by settling back into offices and workplaces, there are still many organisations working remotely. In this blog, we'll outline how to help employees get onboarded remotely and discuss how your business can learn how to onboard remote workers more efficiently than ever before.
Starting a new job is always daunting but imagine how it feels to start a new job while working from home. There's no tour around the office, help is limited, and there's all the virtual introductions. But a bad onboarding experience can lead to employees being twice as likely to look for another job. So, when onboarding remote employees how can we make sure our new employees have the best onboarding experience remotely and that businesses are best prepared to onboard employees remotely?  
Remain contact prior 
You've found the perfect fit for the role, they've accepted the job offer, now what? The period in between an employee accepting a job offer and starting their new role can leave them feeling in limbo. However, it's probably not a wise idea to leave everything in radio silence. During this unsettling and challenging time, it's a good idea to keep in contact with any new starters to ask how they're getting on preparing for their new role and how they're feeling about starting a new job remotely. Onboarding remote employees should be a very communicative process.
Make sure they have access to key documents they might need before starting their new role such as employee handbooks and any HR paperwork.
Introductions first 
As well as supplying new starters with relevant information prior to starting their new role, why not do introductions prior too?
The first day of any new job is always an information overload and having to get used to new systems, so getting all the introductions out the way prior might be what new starters need to feel more settled once they start working.
Set up a virtual meeting with your new starter and the team they're going to be working with. This way, the new starter can get to know who they're going to be working with every day and find out more about the work they'll be doing. It will also be nice for them to have people they can talk to on their first day and ask any questions if necessary.
Remember, job anxiety is real and this will really benefit a new starter to feel less anxious about their first day. When you have to onboard employees remotely, empathy and understanding can go a long way.
Utilise your digital workplace 
If you want to make a good impression on new employees, your digital workplace should be the first port of call. It's the beating heart of your organisation. Here, new employees should be able to get a feel of your company culture and core values, interact with teammates and get all the latest company news and information. For those that are trying to understand how to onboard remote workers, it's essential that the digital workplace is incorporated into your ongoing strategy.
A perfect way to engage your new employees through your digital workplace is setting up a new starter hub. Ensure all documentation and information such as company policies and uniform information is stored here for ease of access.
It's also a good idea to introduce all new starters through this hub. This way new employees can get to know one another and create bonds from the off. It also means they can discuss their new job and the onboarding process with someone who is going through the same thing.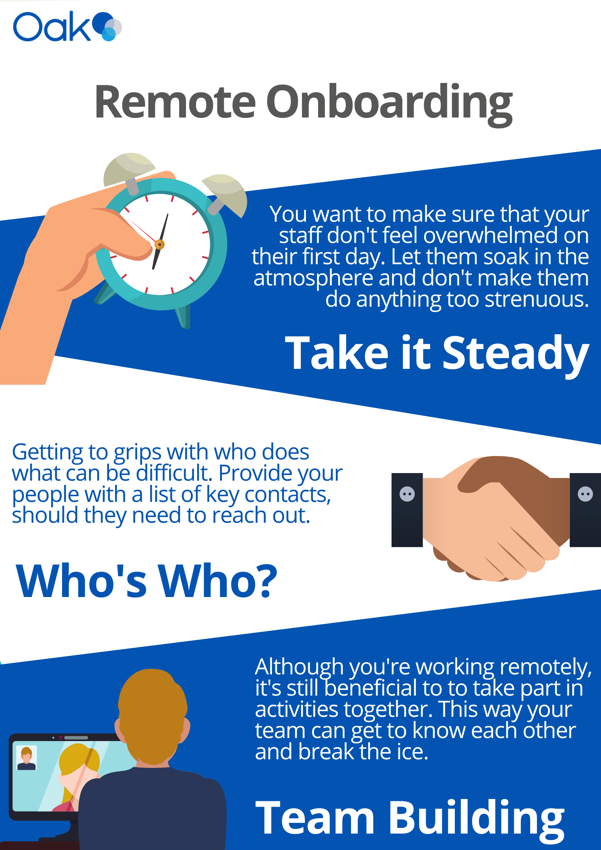 The Big Day 
1. Don't throw them in at the deep end 
The day has arrived and it's your new starters first day. Although first days usually consist of drowning in boring paperwork and company policies, try to avoid this with the remote onboarding process.  
When you onboard employees, you should try to make it as informative and as engaging as possible. Start their day off by scheduling in meetings with their team members. This gives the team a chance to give their new recruit a warm welcome and enables your new employee to ask any questions or raise any concerns they may have.
2. Virtual Induction 
A huge part of the onboarding process is centred around the induction session. An induction is all about getting new employees acquainted with your business, helping them settle in and supplying them with all the information they need.
Set up a virtual induction with either the CEO, managing director or HR manager of your business to give your new starter an insight into how your organisation works, your company values and what you're looking for from them as a new employee. This an onboarding 101 for those wondering how best to onboard remote workers.
3. Regular Check-ins
Remember to always check-up on your new starter to see how they're getting on. If possible, try and give your new starter a mentor so they always know who they can turn to if they have a problem.
These check-ins will also be a chance for your new starter to give you feedback on how the remote onboarding process is going. Try having these meetings at the end of the week for the first couple of months. From these meetings, you can establish what aspects of their role your new starter is enjoying and what challenges they may be facing. It's also a good chance to get to know them on a personal level.
Summary
During the recruitment process, it can be hard to find the person perfect for the job. So, when you have found that person, it's crucial your onboarding process makes a good impression from the off and make them feel welcomed into the team.
With employee turnover being a huge problem for many businesses, studies have found 87% of workers are less likely to leave a job when they are engaged. So, if you are hiring and onboarding employees remotely or even just trying to discover the best way how to onboard remote workers, bear these tips in mind for an engaged and happy employee from the start.