The workplace has evolved. No longer is there a standard definition of what a workplace is. Instead there are many intertwining and quite often, interchangeable definitions.
Digital technology has reshaped the way in which we work and how we interact with one another.  People are no longer restricted to solely office-based work as they would be in the past.
The workplace, in the physical sense, has radically transformed. Technology now means work can happen anywhere. Whether accelerated by the pandemic or not, there is more of an appetite for remote working.
This increases the need for businesses to facilitate technology. 98% of workers say they want a level of remote working for the rest of their career, so this will not be a passing trend. 
Digital workplaces possess the ability to help businesses improve efficiency, connectivity and flexibility.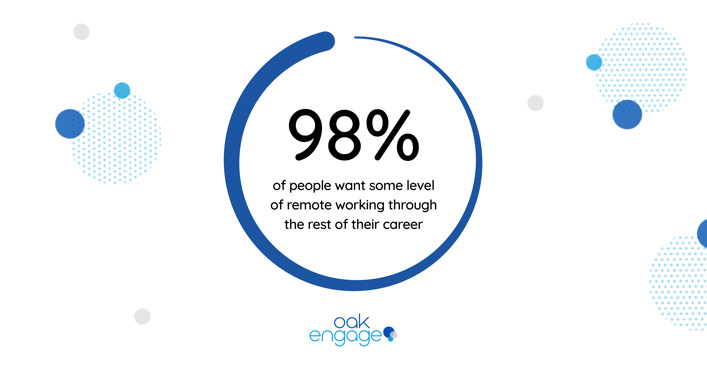 In this guide we will explore: 
What is a Digital Workplace
Digital Workplace Tools & Examples
The Evolution of the Digital Workplace
Digital Workplace Myths
Intranet vs Digital Workplace
Benefits of a Digital Workplace
Why you Need to Start Thinking About a Digital Workplace 
Creating your Digital Workplace 
What is a Digital Workplace ?
A digital workplace is the suite of technology that allows employees to work in a virtual space. This is particularly important when supporting employees in a hybrid or remote working model.
It can be generally described as an online SaaS platform that utilises various tools. SaaS platforms can achieve maximum efficiency and engagement across a business. Digital workplaces encompass all the technology that facilitates the roles of your employees.  
Digital Workplace Tools and Examples
We know that digital workplaces can incorporate many tools to achieve business aims. But exactly are these tools within the overarching tech estate? 
Here are some of the most common digital workplace tools and examples. 
Communication and messaging apps (Zoom, Microsoft Teams)
Content sharing (Slack, Gaggle)
Social tools (social feeds, community hubs)
Document management (Sharepoint, Google Drive)
Cloud storage (Azure, AWS)
Mobile connectivity (mobile intranet app, push notifications)
The Evolution of the Digital Workplace
Over the last few decades technology has grown increasingly pervasive. In day-to-day life it you simply can't avoid it . In the world of work, it's no different.
Digital technology now forms the basis of the vast majority of our work processes. It grants us more power and flexibility than we've ever had before. 
The prevalence of remote working has further increased businesses' reliance on technology. Now, tech is often the be all and end all for internal communication. Without digital workspaces, many businesses would not have been able to navigate the pandemic.

Today's modern deskless workers can feel connected to their business and teams like never before. Those employees who spend a considerable amount of time away from their desk can depend on accessible and inter-connected technology. 
But it's not only deskless workers that are benefiting from technological advancements. Traditional 'onsite' workers also reap the rewards of improved connectivity between their teams.
Digital Workplace Myths 
They reduce collaboration and communication 
A common misconception of digital workplaces is that reliance on technology reduces collaboration. Digital workplaces are an asset for connectivity and not a hindrance. A digital hub can replicate many aspects of a physical workspace.  
Cloud-based solutions integrate your current tools, providing dedicated collaboration spaces for teams. A suitable intranet solution will connect your workforce wherever they are. 
Offering a space for employees to collaborate remotely is now essential. With department hubs and chats, employees have what they need to fulfil their duties. 
A digital workplace is not relevant to my team, industry or business
Many think deskless workers can't reap the benefits of a digital workplace, but you would be mistaken. In fact, it's even more important to provide a space for deskless workers to feel connected.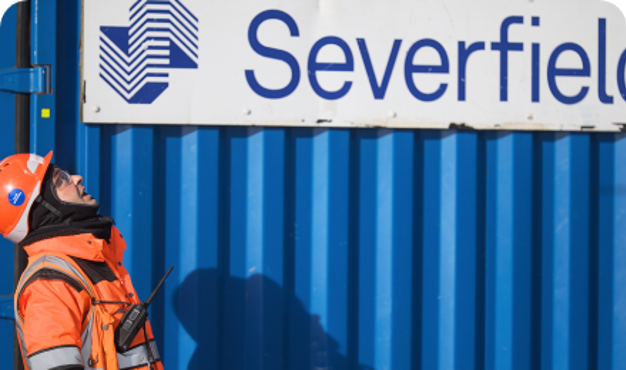 A branded workplace helps to connect disengaged workers by building continuity and recognition. Branded assets are part of the digital workplace that keep employees connected, wherever they are. 
---
Recommended Reading 📖: Oak Customer Stories
---
Cloud solutions can compromise data security 
​​According to the 2020 Cloud Security Report, cloud security is a key concern for 3 out of 4 enterprises. This is particularly true for public clouds hosted by a third party. Despite the enhanced connectivity, these worries cause some to stay with on-premise servers.
Although concerning for many, Oak's solution with Azure data storage can put those worries to bed. Azure has more security credentials than any other cloud facility, so data storage is one less thing to worry about.
Once implemented, that's it 
​​One misconception around technology is that no more work is required once implemented. The workplace dynamic is always evolving and thus you must consistently evaluate yours.
Post-implementation is important and you must be mindful of how the tech is used. Assess if it's actually helping to achieve business objectives. Luckily, Oak's solution has Pulse surveys integrated, so employee feedback can be informative.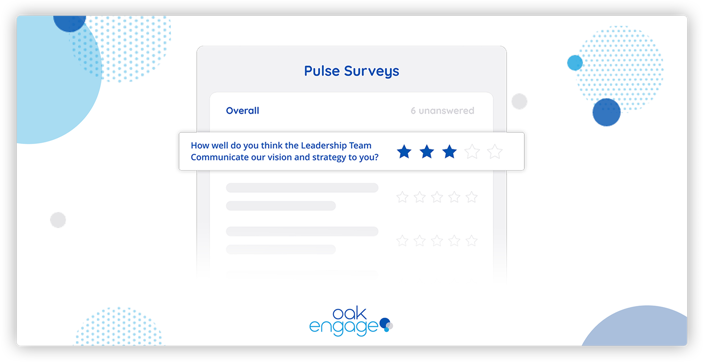 New workplace technologies are too expensive to implement 
One thing preventing many from investing in new technology is the perceived cost. However, a lack of collaboration software could cost your business far more in the long run. Furthermore, when used properly it provides a significant ROI. 
The Institute for Corporate Productivity, found that companies promoting collaborative working were five times as likely to be high performing. Better output will invariably result in higher revenues. This demonstrates the importance of enabling collaboration in all facets of the workforce. 
Not only this, but digital workplaces improve compliance, centralise information and create internal brand awareness. These also help to save money often lost by inefficiency. 
Intranet vs Digital Workplace
Many people see an intranet and digital workplace as pretty much the same thing. However, this could not be further from the truth. Digital workplaces are far more expansive. 
Traditionally, intranets serve a limited number of core functionalities. Usually these are things like holiday bookings, registering absences and storing marketing collateral. Other apps are needed to fulfil the necessary requirements of a modern-day office.
A digital workplace is the suite of technology that compiles the tools. Apps are often integrated or installed as 3rd party plugins to work in conjunction with software. Digital workplaces are the estate in which all of your technology sits. 
An intranet can be part of your digital workplace but a digital workplace cannot be part of your intranet.
Benefits of a Digital Workplace 
Increased Connectivity & Collaboration
Gensler's 2020 Workplace Survey found that collaboration had dropped 37% during the pandemic. Given the link between productivity and collaboration, this is an alarming statistic, demonstrating that many businesses were perhaps unprepared for remote working. A connected workforce is absolutely critical to the success of your business. By giving all workers the best tools to connect you're heightening your chances of success.
Digital workplaces provide spaces for your teams to collaborate on projects. Directories will also easily connect with the people you need to.
It is not only internal collaboration that is helped by a digital workplace. A dedicated extranet provides a space to collaborate with contractors and third parties.
Increase in Productivity & Revenue
The Experience of Work study found that employees spend up to 25% of their time searching for information. That's generally more than one day a week ! 
Digital workplaces save your team time and improve efficiency in any business. Centralised knowledge and information bases streamline the process of searching for documents. 
They save hours of unnecessary administration and help your team be more productive. More productivity will almost always result in more revenue. This demonstrates the tangible ROI of a digital workplace.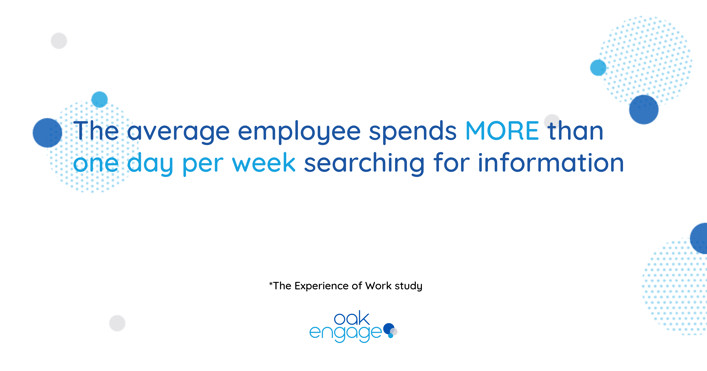 Improved Employee Engagement
Businesses with higher engagement enjoy 59% lower turnover  , so keeping workers engaged is essential to talent retention. You must therefore provide the tools to engage them in their work and with the company.
In a user-friendly workplace self-guided content encourages employees to engage and interact. Such engagement can lead to a stronger alignment towards a collective vision. This proves extremely valuable for companies looking to inspire loyalty and advocacy.
A user-centric design creates a more immersive experience that makes a workplace employee-orientated. Providing a feedback funnel, will also help to make informed changes based on their opinions. This type of employee focused solution will help boost engagement.
Increased Employee Wellbeing 
Digital workspaces can assist employee wellbeing by helping them feel appreciated and comfortable. Arguably, even more so than in a physical work environment.
40% of workers said a lack of recognition was the main reason for demotivation. Oak's employee recognition functionality allows leadership to showcase appreciation through social feeds.
Digital workplaces can also be an accommodating environment for employees to air grievances. By granting anonymity through a suggestion box or a safe space to chat, issues can be brought to light without stress. A digital workplace can provide a solace.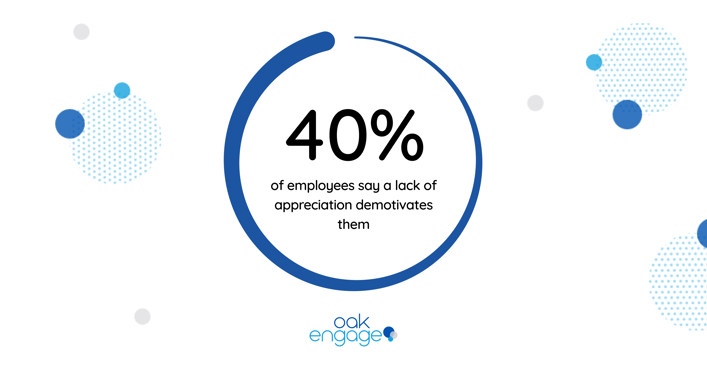 How the Workforce is Changing
Technological advancements alongside the COVID pandemic, have accelerated the rise of digital workplaces. If you haven't already, your business must start thinking about implementing one.
As a result of accelerated change, where, when and how we work is no longer a straightforward concept. This makes the process of catering to an entire workforce more complex. 
But what other factors have resulted in changes to the way we work? 
Emergence of cloud technology - Cloud technology has been embraced more in recent years. Companies who do so are enabling their employees to access applications and information from a uniform location. 
Mobile device connectivity - The vast majority of workers now have a smartphone or device. They can access company information and apps wherever there is a connection. 
Proven success of remote working - Enforced remote working doesn't seem to have affected productivity .94% of remote workers say it doesn't hinder theirs. As a result, remote working is likely a permanent fixture for many businesses. 
Importance of work/life balance - Employees being able to spend more time doing the things they enjoy has created an appetite for more remote working. 98% of people now want a level of remote work, mostly down to experiencing a more balanced lifestyle. 
Demographics of the workforce - Gen Z's (born between 1997-2012) make up 20% of the UK workforce, Millennials (1980-1996) 50% of the workforce and Baby Boomers 30%. The workforce demographic is now so diverse that businesses have to adapt to suit them all. 
Creating Your Digital Workplace
Now you are aware of the benefits it can bring, it is important to understand the roadmap for creating an immersive virtual environment . Here are the steps you must take in order to create your digital workplace. 
You must: 
Evaluate your current technology estate
Assess the strengths, weaknesses and everything in between
Assess if your current tools complement one another 
Gage employee feedback to make decisions
Find out what they currently feel about the employee experience
What do they want/need from their digital workplace
Work with leadership to establish a unified and coherent vision
Establish what the business wants to achieve and what you need to get there
Make sure you get everyone aligned- create clear SMART aims & objectives
Be transparent with your employees
Inform employees and make them feel part of the process from planning to post-implementation 
Use your digital workplace's content tools to share company updates to employees
Provide the necessary training to use the technology
Set a clear dates for when employees will be using the technology in their roles
Pick the right format of training for your employees, a specialised trainer, tutorial, etc 
Constantly evaluate your digital workplace
Assess your initial aims & objectives- are they being met within the timeframe?
Employee feedback- how do they feel about the changes?
With the right strategy, people and technology you can create an effective virtual workplace. By following this guide you now have the knowhow to create and reap the benefits of a digital workplace. 
Want to know more? Check out our detailed guide on how to build the best digital workplace strategy