Employee relations has replaced industrial relations as the term for the relationship between employers and employees. Today, employee relations is seen as focussing on both individual and collective relationships in the workplace. This places an increasing emphasis on direct forms of representation and helping line managers establish trust-based relationships with employees.
Are you looking to improve your employee relations?
A positive climate of employee relations - with high levels of employee involvement, commitment and engagement - can improve business outcomes as well as contribute to employees' wellbeing.
If you're not sure where to start, don't worry. We've got you covered.
This blog will cover:
What Is Employee Relations?
Employee relations, very simply, can include everything involved in maintaining your colleagues' well-being.
---
Recommended Reading 📖:  Employee Wellbeing: A Beginners Guide
---
In every organisation, keeping your team happy offers its fair share of challenges and pain points.
And that's especially true in a world where a lot of teams are now working remotely. Many employees struggle with social isolation, communication, and a sense of belonging.
Employee relations exist to help with all of these challenges.
The term also refers to making sure employees have the vital support to grow their careers as much as they can in their role.
What Is the Role of Employee Relations?
Employee relations is all about creating and maintaining a positive working relationship between an organisation and its people.
It is also responsible for helping to improve performance. Employee relations extend beyond the office. Teams must also monitor and react to well-being trends, especially with many companies still working from home.
So why is it so important?
Why Is Employee Relations Important?
Good employee relations are vital to increasing employee retention.
If your employees don't feel appreciated or worry that what they do at work isn't meaningful or valuable, they will look for a change.
A huge number of people in the US don't look forward to going to work. According to data, only 42% of employees say they are passionate about going to work.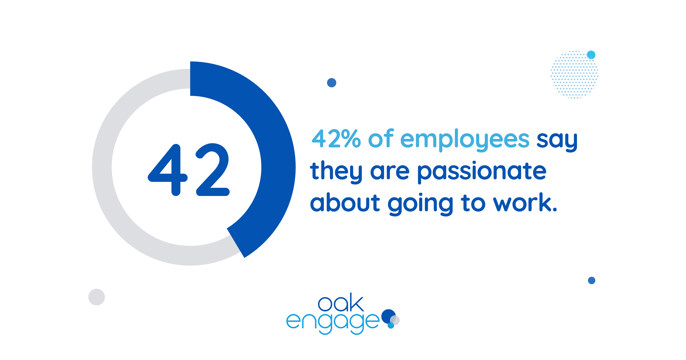 Now, let's delve into the top reasons why it's crucial to maintain good employee relations.
Less Employee Turnover
It's no secret that employees value a good relationship with their employer.
In fact, 92% of workers believe that having an empathetic leader is key to strong retention. It's pretty obvious that if you don't value good employee relations and don't take the time to invest in your employees, they're going to look elsewhere.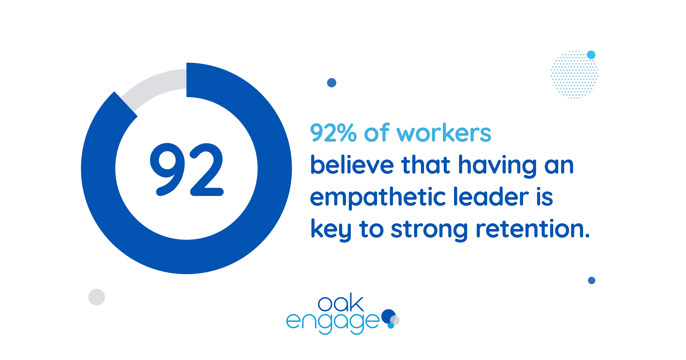 Remember your employees want to feel a part of every aspect of the business, if you're not putting in the time and effort to communicate with them, they'll feel neglected.
Better Employee Experience 
Employee experience plays a key part in the employee journey. It determines how the employee feels about their job, the enjoyment and satisfaction they get out of it and of course what they learn from their role. 
When putting together your employee relations strategy, you should ensure that you take employee experience into consideration. 
If you don't have a good relationship with your employees, their experience with the leadership team is going to be stifled at best. 
Having good employee relations will improve the employee experience. This will in turn lead to greater job satisfaction from your employees and a better working environment.
Enhances Motivation & Productivity
Maintaining good employee relations can enhance employee motivation and increase productivity. 
We all know about the risks of disengaged employees and how damaging that can be to a business, therefore staying connected with your employees and taking an interest in their work will make them feel wanted in the business leading to enhanced motivation and greater productivity.
Less Workplace Conflict 
If there's one thing you want to avoid in the workplace, it's conflict. 
Conflict can be very damaging to not just your business, but your employees and their health. Having bad employee relations can lead to conflict in many ways; employees may feel like they're not being listened to and valued within the business which can lead to workplace gossip and a lack of faith in leadership. 
It doesn't just happen between employees and the leadership team either, if you don't practice good communication in the workplace it can lead to departmental frustration and employees turning against each other.
Greater Employee Loyalty 
If you want anything from your employees, you want them to be loyal to your business. When employees are loyal to their business, they're more likely to invest in their work, bring new ideas to the table and go the extra mile. 
Having loyalty for your business makes your employees feel attached to your company and proud to be part of the culture and values that the company stands for. 
If your employees are loyal and engaged with your business, they'll be more likely to speak highly of your organisation and represent your business when the time is necessary.
---
Recommended Reading 📖: How Poor Company Culture Ruins Employee Engagement
---

Is Employee Relations the Same as HR?
Although employee relations and human resources may seem similar, they are both there to perform different roles.
Employee relations is one part of HR's function in an organisation. Employee relations tasks might be completed by the HR team or have dedicated staff.
Employee relations specialists usually focus on improving the employee experience. They do this by listening to feedback and applying it in tangible ways, providing professional and emotional support to employees and liaising between employees and management.
Human resources are typically responsible for these tasks and more: recruiting new employees, handling workplace safety, managing payroll and enforcing company policies.
What Are Examples of Employee Relations?
Now that we've covered that maintaining healthy employee relations is essential to organisation performance, it is equally as important to be aware of what 'employee relations management went wrong' looks like. 
Here are 20 examples of the different issues that may arise in the workplace with your employees:
Lack of communication to managers
Working from home but don't seem reachable
Having excessive/unplanned absences from work
Frequently using the phone or internet during working hours
Receiving poor customer feedback
Is frequently late to work
Comes and goes as they please
Violates a safety rule
Office gossiping
Has poor time management skills
Covering up for a coworker
Struggles during probationary period
Has a hard time completing tasks
Uses company credit card for personal uses
Displays lack of commitment to their job
Cannot accept constructive criticism 
Shows a lack of respect to managers
Is being placed on a performance plan or warning
An office bully
Makes discriminatory comments
Proper and timely documentation of these employee relations issues protects your organisation and proves clear expectations to your employees. 
Of course, these examples don't cover the wide variety of issues companies have to handle, but they are starting points to look out for.
How to Improve Employee Relations
So, we've covered all the reasons why it's crucial to maintain good employee relations; now it's time to explore the steps you need to take to nail down a successful employee relations strategy and improve your employee relations.
Improve Communication Between the Employer & Employees
Gallup found that almost three quarters of employees feel as though they're missing out on company information and news. This can lead to employees feeling disconnected from their work and organisation.
Maintaining regular communication with your employees will be the first step to perfecting your employee relations strategy.
But first, you should work out the best method to stay in contact with your workforce. 
Take into consideration the number of employees you have, the age of your employees and the type of business.
For example, if you have a majority of employees who work on the road or in a customer-facing role, they won't have easy access to a desktop - leaving them unable to check emails. This then, is where a mobile-based solution fits neatly into your strategy. If you have a large majority of desk-based employees, you may want to incorporate a desktop solution.
Conduct Regular Employee Surveys
Employee engagement surveys are a good start to see how your employees feel. Surveys are a tried and tested method for understanding how engaged employees feel. 
Engagement surveys provide a yearly overview of engagement within your workplace. They're usually sent out annually or bi-annualy. Surveys help you identify and solve problems within your business. They're a great tool to regularly discover areas of the business that need improving.
A well designed employee engagement survey will reveal measurable information about your workforce. The findings can be used to improve employee engagement. Staff engagement surveys mean you can analyse how engaged employees are. With the data you can analyse the why, and make improvements.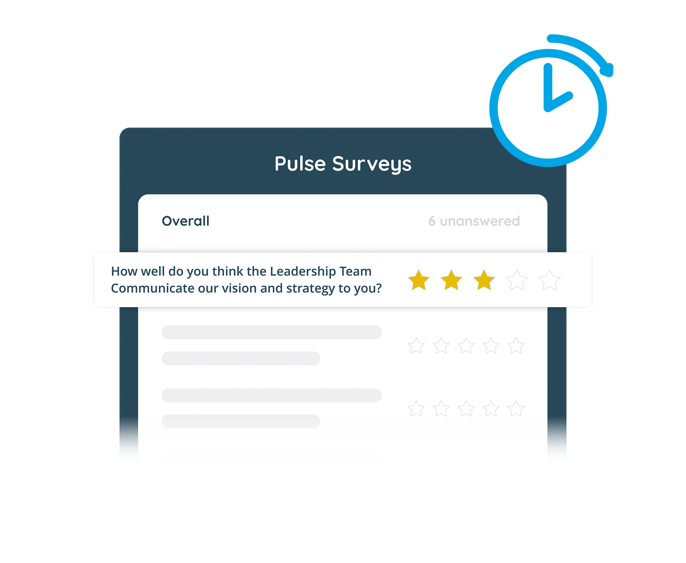 Re-Think Your Company Culture
If employee relations were not at the forefront of your company culture before, maybe it's worth re-evaluating your core values altogether.
Your employees make up the majority of your business, so making sure they're part of your culture and values is essential. 
Remember, you can't improve your employee relations strategy without it being an inherent part of your culture and values first.
---
Recommended Reading 📖: Company Culture: The Ultimate Guide
---
Give Appreciation & Recognition
Recognition in the workplace is a vital contributor to employee engagement and happiness. 
Although traditional recognition practices seem simple, they become more complex as workplaces modernise. However, feeling appreciated is integral to the employee experience.
Not sure where to start?
Here are some of the employee recognition tools your business can use:
Instant messaging
Social news feeds
Staff directories 
Employee recognition applets 
Video chat- Teams, Zoom, etc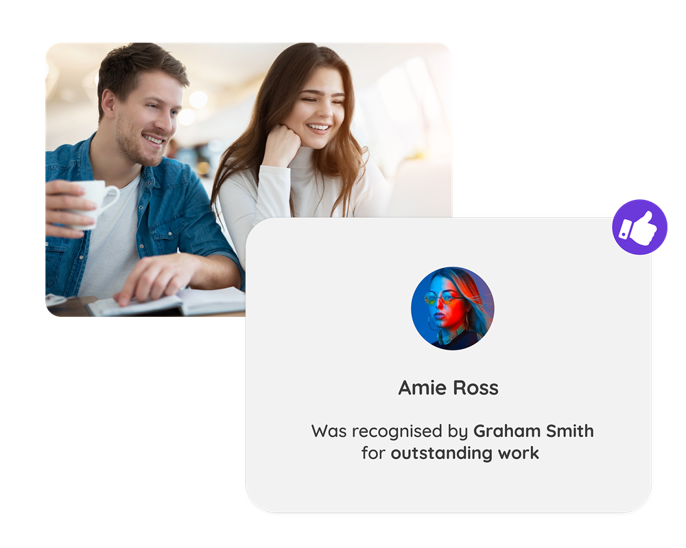 Value Communication & Social Interaction
It's important to bear in mind that the workplace doesn't always have to be about work. 
The social interaction part is just as important. 
Remember, taking time out of your day to communicate and socialise with your employees is extremely valuable in terms of productivity and creating lasting bonds in the workplace. 
So, take the time to plan regular social events for your team, whether this is a team-bonding activity or an after-work drink on a Friday night to celebrate the week; strong social connections make a happier and healthier working environment.
Summary
The relationship between a leader and their employee is something that should never be overlooked. 
Planning and setting out a proper employee relations strategy can work wonders for your organisation and your employees. Whether you take more time out of your day to talk and listen to your employees or you empower them with an internal communication system, employee relations is a topic that should always be valued.
See how Oak can help improve your employee relations today👇