Your employees' experiences at work ultimately impacts the success of your business.
Employees who feel positive about their employer and their workplace are more engaged, productive and likely to stay at the company longer.
Mapping employee journeys can help organisations to better understand the different stages that employees go through during their employment lifecycle.
Employee journey mapping is a way to measure the employee experience at every stage of an employee's tenure at the company.
In this blog we'll cover:
Before we begin, it's important to know how to build better internal communications within your business. 
---
We recommend that you take a look at our guide 📖: Internal Communications: The Ultimate Guide
---
What Is the Employee Journey?
The employee journey is the time that an employee spends at a company, starting when the employee applies to the organisation and ending when the employee quits the organisation.
All the time in between these two moments and the experiences that the employee has is the employee journey.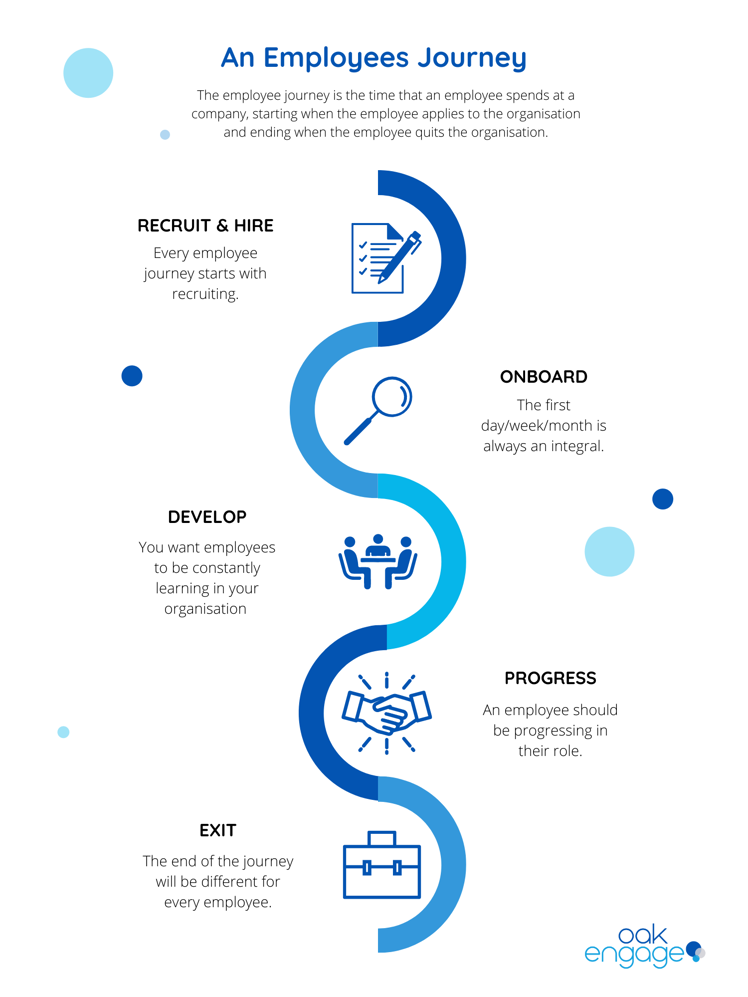 Along the employee journey, there are key moments and memorable experiences that can have a lasting impact on employees' opinions of their workplace.
An employee can likely remember the excitement of their first day at work - but they may not remember the second or third day. Pinpointing these important moments helps you build a strong foundation for a positive employee experience.
What Is Employee Journey Mapping?
An employee journey map is a visualisation of the timeline of the entire employee experience.
Similar to a customer journey map, an employee journey map is essentially plotting out the end to end experience of your employees. In many cases an employee journey map has been successful in improving employee experience, helping identify areas for improvement and setting out clear expectations of your employees.
The employee mapping process rakes the perspective of employees, emphasizing the moments that matter most to them. These moments range from day one on the job, to attending a company wide meeting and pursuing new training opportunities.
Additionally, it's important to remember not one size fits all.
Just like a customer journey varies across the company, so can the employee journey. Journey maps should be there to assess the needs and goals of different types of employees.
You may want to consider creating employee personas, just as you would for your customers.
For example, a baby boomer who's been at an organisation for decades and plans to retire soon will have a very different map compared to a millennial, or a recent graduate starting their professional career. 
It's important to keep in mind that journey maps should also exist for employees who will resign.
Top Tip! 
Your employee journey map should include every stage of the lifecycle and should provide quick, visual starting points for evaluating the success of these touchpoints.
What Are the Steps of an Employee Journey?
Employee engagement had a 25.3% year over year change with an employee journey map compared to 10.8% of organisations who didn't use journey maps.
Want to achieve this within your company?
We've made it easy for you, just follow these 10 simple steps!
For each part of the journey, you should ask the following questions: 
What is the employee trying to do?
What is the employee feeling?
What are the barriers?
1. Sourcing & Recruiting
Every employee journey starts with recruiting.
You should think about what your potential employees' first touchpoint with your organisation is. It could be from seeing your organisation at a career fair, have they found a friend that works there? Did they see an opening on Linkedin?
Then comes the application stage. Are you making sure the process of applying to a role is super convenient for the applicant?
Today's employees are more empowered than ever before, and the current war for talent means organisations must invest more than ever before in online and offline recruitment.
2. Pre-Onboarding
So they've accepted the job offer. Now what? Do you just send them an email of when to come in and leave it as that? Or do you do more?
Once an employee has accepted an offer, before they step in the door, there are many ways to start engaging new hires.
Get them involved and acquainted with your culture by inviting them to join company social networks and pursue the latest company news.
Pre-boarding is valuable in easing anxieties that we all face when starting a new role.
3. Onboarding
The first day/week/month is always an integral part of the employee journey and is vital to have on your employee journey map.
According to Glassdoor, organisations with a strong onboarding process improve new hire retention by 82% and productivity by over 70%.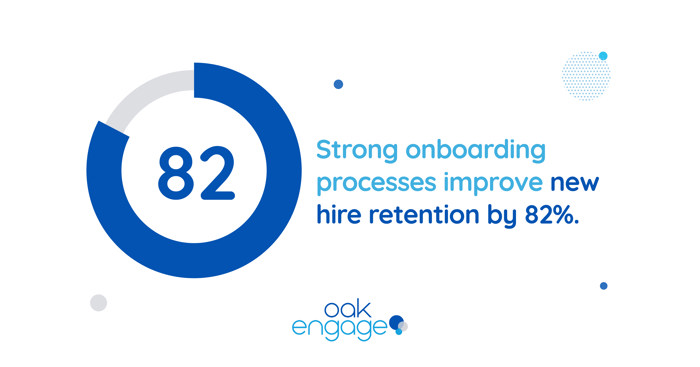 If they're starting remotely (which is now commonplace), are they clear with what they should be doing to begin with? Have you organised a video call for them to introduce themselves to the rest of the team?
There are all essential things you need to be thinking about.
4. Compensation & Benefits
Enquiries about payroll and benefits policies can waste time for employees and HR. 
In fact 70% of HR time is spent on administration. Having a company intranet in place where employees can find everything they need all in one place helps the process easier and immediately drives engagement with new employees.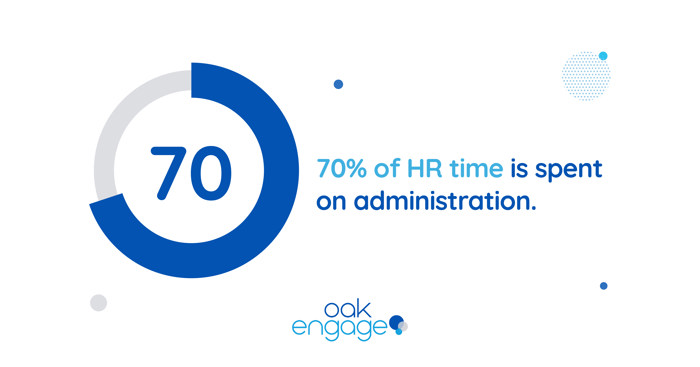 5. Ongoing Learning & Development
You want employees to be constantly learning in your organisation, but many companies struggle with providing ongoing learning and development.
One of the most common pieces of feedback on Glassdoor is the lack of career advancement and development. If you're lacking in ongoing learning and development, employees will start to look elsewhere.
6. Ongoing Engagement
Now that an employee is settled into your organisation, you don't want engagement to slide.
You want to keep employees engaged, connected and productive. A dedicated space for company news, policies and news makes it easy to access business-critical information and makes employees feel in the loop.
7. Rewards & Recognition
Employees want to see something come out of their hard work. They want to feel appreciated at work.
Get creative with your recognition ideas. After all, appreciated employees equals less turnover and higher engagement.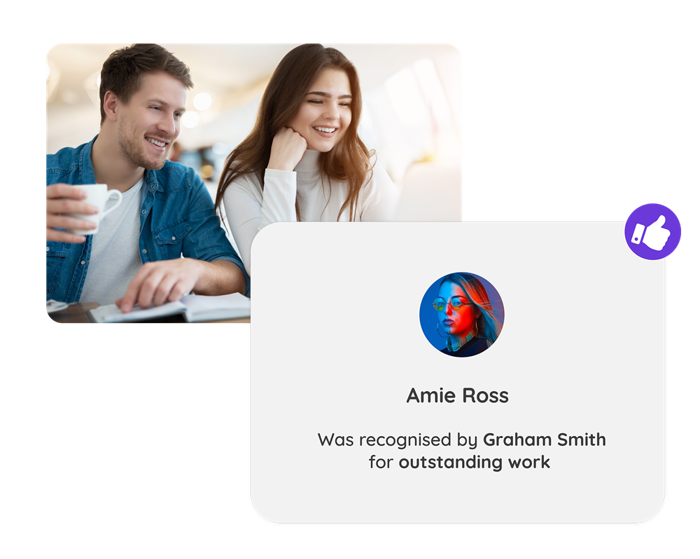 8. Performance Planning, Feedback & Review
Are you doing performance reviews yearly? Every few months? What about employee surveys? And most importantly, are you doing anything with your feedback?
The employee journey mapping process should include detailed information about when and how people will receive feedback on their performance.
---
Recommended Reading 📖: Employee Engagement Survey Questions
---
9. Advancement
To stay motivated and engaged over a long period of time, employees need to understand the KPIs and benchmarks that will determine when they move up the ladder during their journey.
10. Retire, Terminate, Resign
The end of the journey will be different for every employee. Perhaps an individual has spent decades at an organisation and is now planning to retire. Or someone might be leaving for another role.
At this stage in the journey, you need to consider those impacted around them. If someone leaves, retires or gets fired, how do you ensure their knowledge gets passed on? Consider how you break the news to other employees.
An important thing to remember is that just because they're not at your organisation anymore, it doesn't necessarily mean their journey is over. Perhaps in the future, they could end up returning. Keeping in touch is great and it doesn't burn bridges. 
Employee Journey Mapping Examples
So, where should you start when creating an employee journey map?
And how do you make sure it fits everyone in your diverse workforce? 
Before we get into the specifics, here are some important guidelines for mapping an employee journey to make sure you create detailed employee journey maps and give your employees a great experience from the beginning to the end of their journey at your company. 
Segment your workforce
Create multiple employee journey maps
Survey your employees
Revide according to feedback
Measure your success every step of the way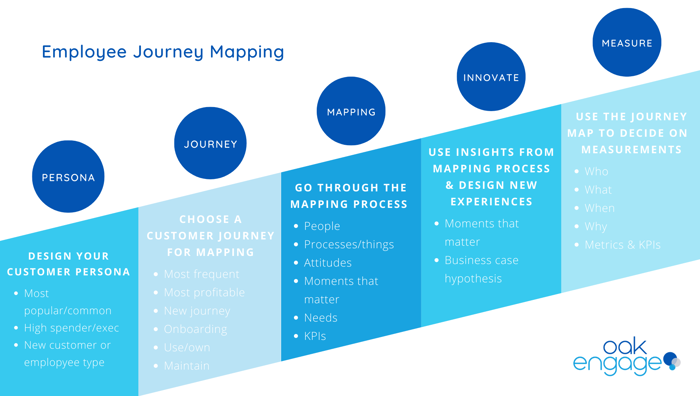 How Do I Make an Employee Journey Map
Mapping employee journeys takes time. The most important step in every employee journey is mapping the process of engaging your own employees in order to better understand their needs.
Here are 4 must-follow steps for creating an employee journey map:
Build Employee Personas
Start off by taking a look around your organisation. Go talk with your employees and listen to them.
The key is to talk to as many people as you can, at various levels of seniority, with various teams and departments in your organisation. You should dig into the pain points, what they're looking to achieve and behaviours.
Again, you can use the questions from earlier: 
What is the employee trying to do?
What is the employee feeling?
What are the barriers?
Define Moments That Matter
In the previous section, we talked about building employee personas. Once you've talked to your employees you will start to identify moments that matter.
The best way to identify these moments is to ask employees for their own feedback. You can use regular employee pulse surveys, which are the quickest and easiest way to gather and analyse responses from your employees.
Research suggests that these are some of the moments employees see the most important.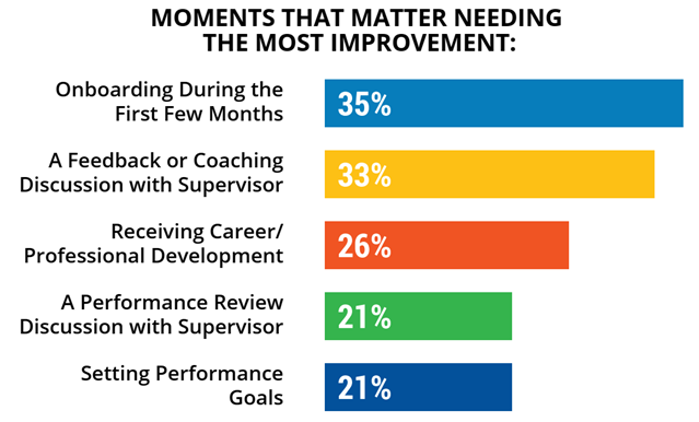 Set Measurements for Each of the Journey Components
After defining the moments that matter, it's important to define measurement for each of the journey stages. This is a way to scale the entire process and keep improving it continually.
Each of the defined stages should have a set of KPIs or initiatives. Here are some examples of the goals you can set:
Improve your onboarding experience
Implement a solution for employees to give feedback
Create and launch learning and development programs
Implement regular pulse surveys to understand the state of employees' experiences
Measure and Keep Improving
Your employee journey map should be an ongoing journey.
By starting with a solid foundation, talking to current employees, identifying your values and the steps of your organisation's employee journeys, you can begin to map out what yours will look like.
Looking for help in regards to building your employee journey map?
We've created a simple template for you to download to get you started!
Employee Journey Mapping Template
Are you ready to take the next step? Download our employee journey mapping template. Simple and easy to follow, the template will get your planning off to the best possible start.

---
FAQs
What is the employee journey?
The employee journey is the time that an employee spends at a company, starting when the employee applies to the organisation and ending when the employee quits the organisation.
What is employee journey mapping?
An employee journey map is a visualisation of the timeline of the entire employee experience.
How do I make an employee journey map?
Build employee personas
Define moments that matter
Set measurements for each of the journey components
Measure and keep improving
---