An effective onboarding process is essential to the success of any organisation, especially as more and more people are less likely to stay at a long-term job. That's why it's so important to get it right. But just how much of an impact can an onboarding process make? We've put together 24 employee onboarding statistics that may shock you into changing up your onboarding strategy.
But just how much of an impact can the onboarding process make?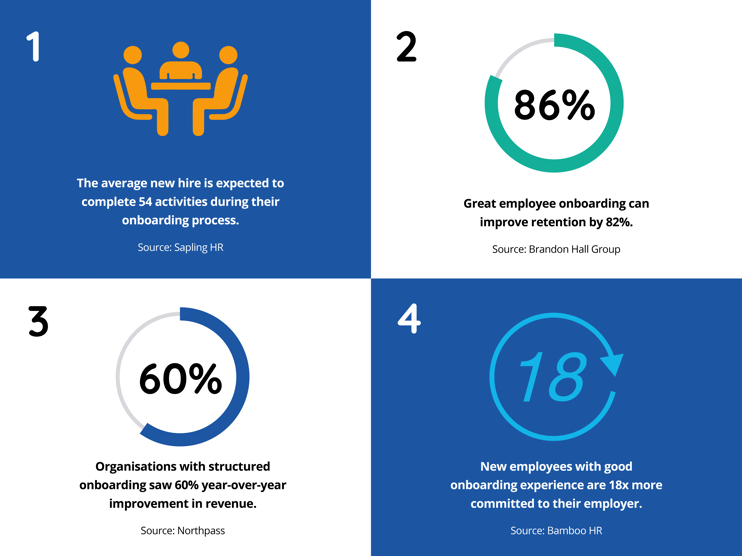 ---
1. The Average New Hire Is Expected to Complete 54 Activities During Their Onboarding Process - Sapling HR
These activities help to ensure that a new employee is fully integrated and understands the culture of the organisation. They are mostly paperwork, learning goals, and a lot of administrative tasks.
---
2. Great Employee Onboarding Can Improve Employee Retention by 82% - Brandon Hall Group
Research by Brandon Hall Group found that organisations with a strong onboarding process improve new hire retention by 82 percent and productivity by over 70 percent. 
Talent scarcity and high turnover are among the biggest challenges organisations will face in 2022, so it's important to engage and retain employees from day 1. A strong employee onboarding process can help you accomplish that.
---
3. Organisations With Structured Onboarding Saw a 60% Year-Over-Year Improvement in Revenue - Northpass
They also witnessed a 63% improvement in year-over-year customer satisfaction.
An excellent onboarding experience breeds employees that are not only productive in their given task but also committed to the growth of an organisation. According to customer onboarding statistics, if there are events that can help a company grow, then employees with the best onboarding experiences are best placed to identify and implement them.
Recommended Reading   📖
---
4. New Employees With Good Onboarding Experience Are 18x More Committed to Their Employer - Bamboo HR
Onboarding programs are designed to not only educate, but also to embed the company culture into a new hire, whilst also keeping them engaged. 
That way, they understand their role in the organisation better, which also gives them a sense of belonging and directly impacts their loyalty. Considering that disengaged employees in the US cost their employers $450 to $500 billion each year, it's no wonder onboarding programs are so important. 
---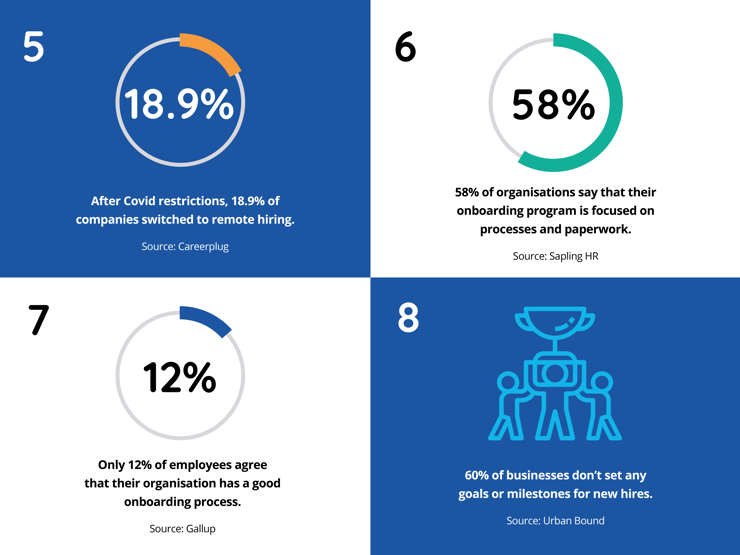 ---
5. After COVID Restrictions, 18.9% Of Companies Switched to Remote Hiring - Careerplug
Before governments started issuing stay-at-home orders due to the pandemic, only 3.1% of businesses were hiring remotely. However, according to new employee onboarding statistics, that rose by 15% after March 2020.
That's not all.
Before 2020, 44% of organisations were in-person hiring, but that shrunk to 20% since the start of the pandemic.
61% of companies that made changes to their hiring process plan to continue with them throughout 2022 and beyond.
---
6. According to Company Onboarding Statistics, 58% Of Organisations Say That Their Onboarding Program Is Focused on Processes and Paperwork. - Sapling HR
Paperworks, administrative tasks, and physical training are all part of onboarding programs, even though most organisations prefer to carry out their onboarding processes as paperwork.
However, over time, experts have come to realise that the best employee onboarding programs are both structured and strategic, rather than administrative. Also, they should have a focus on people and physical training, not paperwork. And since there are tools like document management software and company intranets, it's surprising why companies still focus mostly on paperwork. 
---
7. Only 12% Of Employees Agree That Their Organisation Has a Good Onboarding Process. (Gallup)
This is a staggering statistic that should make organisations rethink their onboarding strategy. After all, when employees aren't engaged or appreciated from the get-go, you'll see that retention levels will drop.
---
8. 60% Of Businesses Don't Set Any Goals or Milestones for New Hires. (Urban Bound)
In the majority of cases, money is just a small part of an employee's motivation. Most people want to have clear career objectives in place to feel that there is a progression for them within their organisation. 
Career visioning can be a useful process in setting clear, long-term goals for an employee so that they can proactively work towards projected outcomes.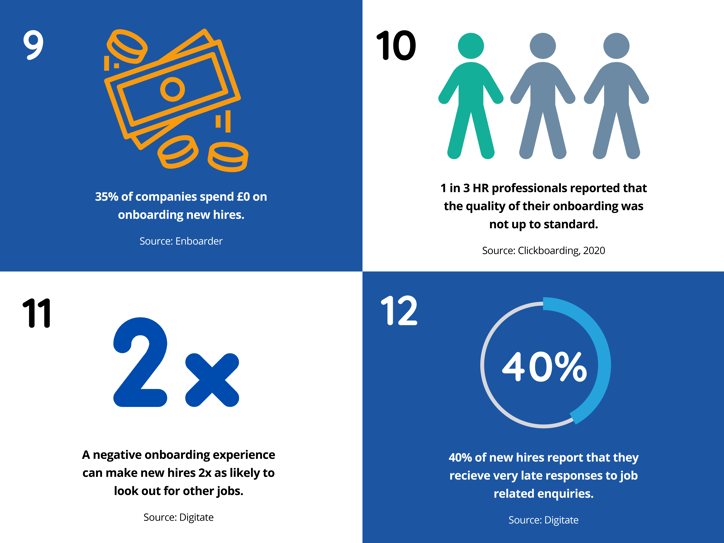 ---
9. 35% Of Companies Spend $0 on Onboarding New Hires. (Enboarder)
If companies are not spending any money on their onboarding strategy, it's likely that new hires will have a negative experience.
---
10. 1 in 3 HR Professionals Reported That the Quality of Their Onboarding Was Not up to the Standard. (Clickboarding, 2020)
When you're putting together an onboarding programme, leadership needs to make sure that it is up to the highest standard possible. This will not only benefit the new hires, but it will bring positive feedback to the company too.
---
11. A Negative Onboarding Experience Can Make New Hires 2x as Likely to Look Out for Other Jobs in the Future. (Digitate)
It's proven that a negative onboarding experience produces a higher employee turnover. Don't let this happen to your company.
---
Get Your FREE HR Onboarding Checklist Download! 
A great onboarding experience reduces the rate of employee turnover. Eliminating the onboarding process in your organisation can result in an increased cost of running your business, and also a decreased revenue, as shown by the onboarding statistics.
Have you established an essential onboarding program for your organisation's new hires?
If you're struggling with where to start, we've put together an HR Onboarding Checklist with everything you need to get your planning off to the best possible start.

---
12. 40% Of New Hires Report That They Receive Very Late Responses to Job-Related Queries. This Can Lead To Disengaged Employees (Digitate, 2018)
Before a new hire's first day, HR should make sure everything is ready and that includes replying to any queries or questions the new employee might have. If they feel like they're being swept under the rug before they've started the role, they will likely already have negative connotations of your business.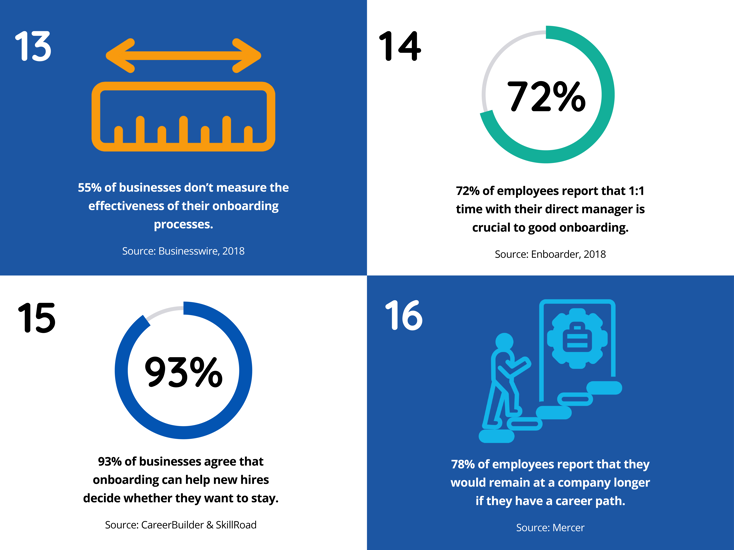 ---
13. 55% Of Businesses Don't Measure the Effectiveness of Their Onboarding Processes. (Businesswire, 2018)
Without measuring the effectiveness of your onboarding strategy, how do you know if it's working well?
Try implementing employee surveys to gather feedback and start making changes to improve your strategy.
---
14. 72% Of Employees Report That 1:1 Time With Their Direct Manager Is Crucial to Good Onboarding. (Enboarder, 2018)
Putting some time aside with a new hire is essential. It gives the chance for the employee to ask any questions they might have and it gives managers a chance to discuss their goals.
---
15. 93% Of Businesses Agree That Onboarding Can Help New Hires Decide Whether They Want to Stay or Leave. (Careerbuilder & Silkroad, 2019)
Employee retention is so important to make a business successful. That's why it's vital that leadership ensure that the employee onboarding experience is the best that it can be.
---
16. 78% Of Employees Report That They Would Remain With a Company Longer if They Have a Clear Career Path Within the Current Organisation. (Mercer, 2018)
Employees who have a clear understanding of their career path and development from the start are more likely to stay at the company longer.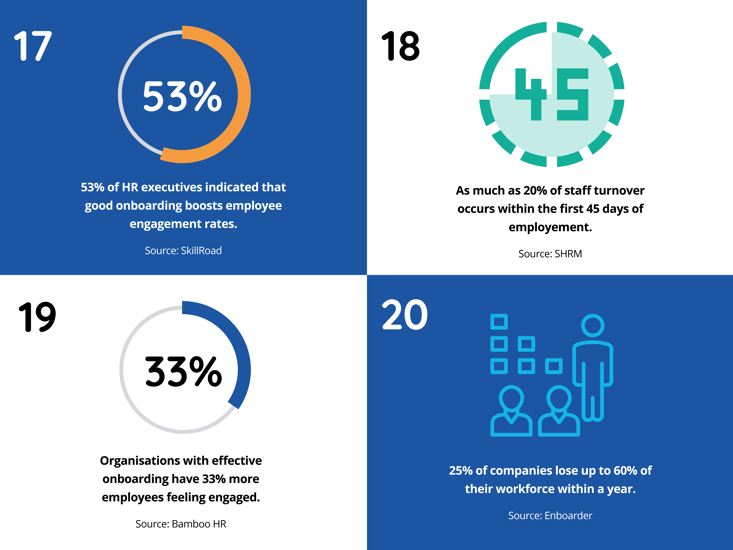 ---
17. 53% Of HR Executives Indicated That Good Onboarding Boosts Employee Engagement Rates. (Silkroad)
A great employee onboarding experience will ultimately increase engagement rates from the start. Another reason to make sure your onboarding strategy is just right.
---
18. According to Onboarding Experience Statistics, as Much as 20% Of Staff Turnover Occurs Within the First 45 Days of Employment. - Shrm
Do you see how important it is for organisations to nurture their new employees for a more extended period? A good onboarding experience eases the doubts, fears, concerns, and uncertainties of new employees. 
---
19. Organisations With Effective Onboarding Have 33% More Employees Feeling Engaged Compared to Those With Ineffective Onboarding. (Bamboohr, 2018)
Having an engaged workforce is important for the success of the business, the happiness of the employees and overall well being.
It all starts with the onboarding experience.
---
20. 25% Of Companies Lose Up to 60% Of Their Entire Workforce Within a Year. - Enboarder
Generally, we have more disengaged workers than engaged ones. 
This can be due to a lack of implementation of onboarding training for new hires. Employees thrive where they are comfortable, appreciated, and have a good relationship with their colleagues. 
A quality onboarding experience can bring about most of the factors mentioned above. A poor onboarding experience, however, can cause a dramatic staff turnover for some companies.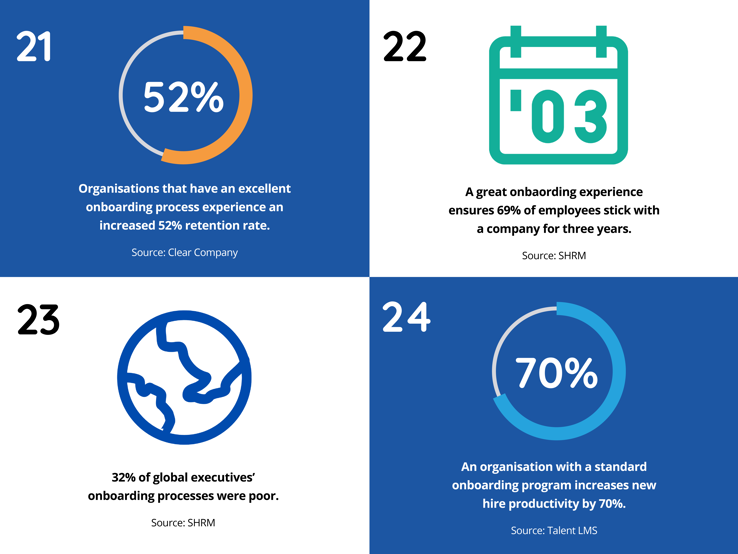 ---
21. According to Onboarding and Retention Statistics, Organisations That Have an Excellent Onboarding Process Experience an Increased 52% Retention Rate of New Hires. - Clear Company
When there is standard onboarding training to enhance the experiences of new hires, an organisation can improve its retention rate of new hires by more than half. 
---
22. According to Employee Onboarding Statistics, a Great Onboarding Experience Ensures 69% Of Employees Stick With a Company for Three Years. - Shrm
A proper onboarding experience takes close to a year, and new hires who stay that long are more loyal and committed to an organisation.
Research has shown over time that a higher percentage of these new employees remain at least three years with their organisations before thinking about changing jobs.
---
23. Onboarding Solutions Statistics Reveal That 32% Of Global Executives' Onboarding Processes Were Poor. - SHRM
For organisations that are using one form of onboarding or the other, reports show that almost ⅓ of them are reportedly poor,  leading to bad onboarding experiences.
---
24. Onboarding Solutions Statistics Show That an Organisation With a Standard Onboarding Program Increases New Hire Productivity by 70%. - Talent LMS
Effective onboarding programs can massively boost the individual productivity of new hires as they have enough time to learn the ropes. The extended time spent on onboarding new hires allows them to settle and operate more efficiently.
---
Oak Engage -  Your Definitive Onboarding Solution
We know how difficult onboarding can be. We work with some of the world's biggest companies, delivering  effective onboarding solutions designed to help your employees get to grips with their new positions as soon as possible. We offer a range of specialist features, created to streamline the onboarding experience for companies like you. Want to find out more? Get in touch today.