Did you know that 74% of employees feel they are missing out on company news and information?
However, if employees are provided with a way to communicate and connect, productivity in an organisation increases by 20 to 25%.
This is where a company intranet comes in. 
Intranet software is an essential tool to break down communication barriers, improve collaboration and drive productivity. The first stage of any intranet project is to find the ways that an intranet can benefit your business. 
In this blog we'll cover:
What Is an Intranet?
Intranet Definition: An intranet is a private enterprise network designed to empower employees to communicate, collaborate and perform to the best of their ability. It serves a broad range of purposes and uses, but generally speaking, an intranet is to engage and support employees.
Employees can typically use this internal network to:
Connect to one another
Collaborate on projects
Send messages
Share documents
Access policies
Request time off and more
---
Recommended Reading 📖: What is an Intranet? The Ultimate Company Intranet Guide
---
Why Would a Company Use an Intranet?
A company would generally use an intranet to connect employees to perform different tasks. This of course is a very wide definition of an intranet's purpose.
So let's dive deeper.
Some other benefits of an intranet include:
To Improve Employee Engagement
A company intranet can be used for things like contests, events, polls, and photo galleries. 
In fact, this can be a great appeal to get employees to come back to their intranet every day. You can create a dedicated space for these activities - like a social timeline or even a dedicated page. 
Gallup found that sales increase by 20% when employees are actively engaged. At the same time, profitability increases by 21%.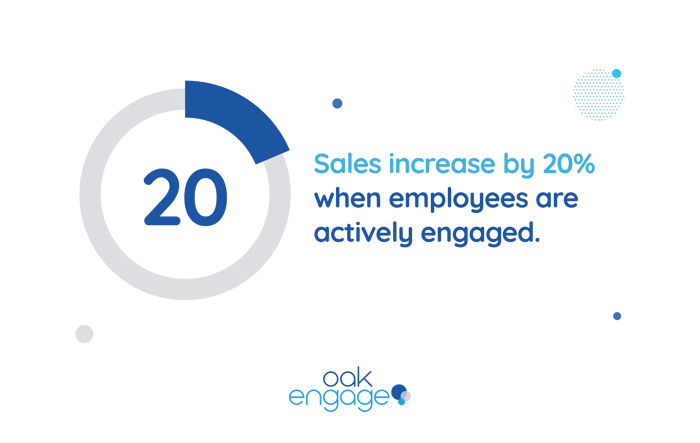 To Develop Team Collaboration
With the rise of remote work and virtual, dispersed teams, being able to leverage your intranet as a team collaboration tool is critical. 
Managing team projects using email and shared drives can be complicated and unnecessarily time-consuming. 
To Improve Internal Communications
Since an intranet is an organisation's digital hub, HR management can broadcast important information seamlessly throughout an organisation. 
Want to know more? Read more here
Aren't Intranets Outdated? 
You might be asking, but aren't intranets old and outdated?
The answer is no.
It's right that traditional intranets did not allow the level of communication employees needed to get the most out of their digital workplace. 
In fact, they were very clunky and very difficult to use.
However, intranet solutions today have shifted away from the one-way communication model, and more towards a social hybrid. Enabling users to create and share content easily. 
This allows for better employee engagement and collaboration. The modern intranet allows organisations to choose between a cloud intranet option or an on-premise. 
To add to this, social intranets are becoming increasingly popular. A social intranet encourages information sharing, interactions between colleagues and working together on common goals.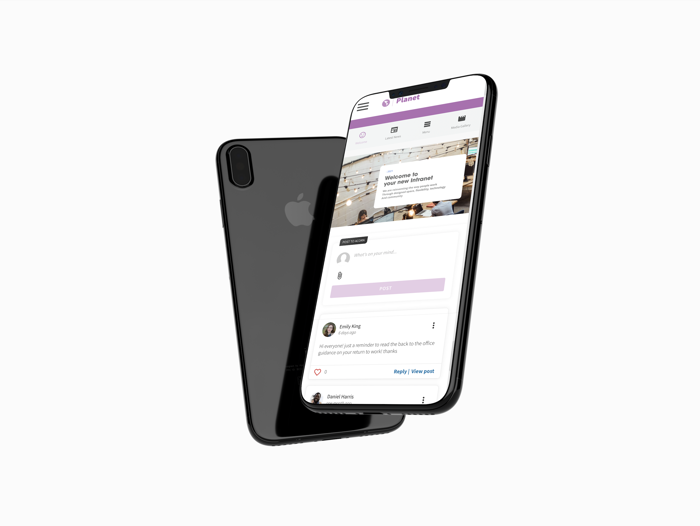 7 Use Cases of a Modern Intranet
Here are 7 potential uses for a modern intranet software in the workplace:
Internal Communication
Effective communication should be an essential part of any organisation.
However, 60% of companies don't have a long-term strategy for their internal communications.
With a dedicated company intranet, organisations can distribute the latest news and information easily due to instant mobile access.
From remote workers to office workers. Oak's intranet mobile app gives you the power to access important company announcements and documents at any time, from anywhere. Whether you want to reach all employees, specific departments or send push notifications. We ensure your employees never miss a beat.
Without an intranet, organisations spend more time finding information, whether it be finding the latest company document or an email address of an employee. 
Gartner says that professionals spend 50% of their time searching for information, and on average, taking 18 minutes to locate each document.
With Oak, searches are made easy. You can access content and complete tasks quickly from anywhere, at any time. And we don't just stop there. We've made it easy for your workforce to know what to search for based on what's trending amongst their colleagues. A bespoke experience, tailored to your people and their needs.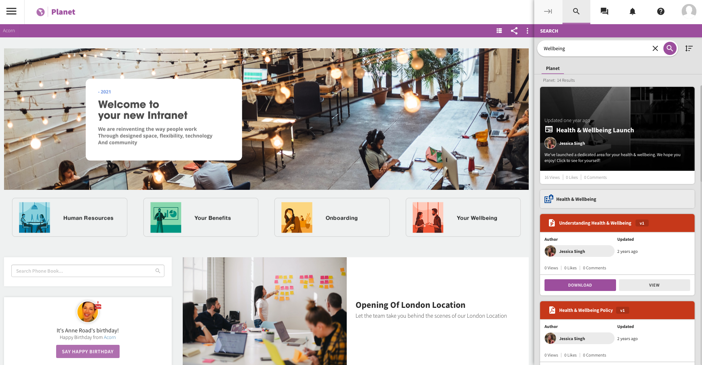 In addition to this, intranets allow you to customise your communications. 
Oak allows your employees to catch up on the latest news. All via customisable content feeds. Add media to your timeline in seconds and target content to make sure it lands with the right people. Designed to increase the flow of business-critical information. 
Employee Engagement
Research shows that disengaged employees are less likely to work hard, feel motivated, or meet expectations for their role. In fact they cause 60% more errors and defects in work performance.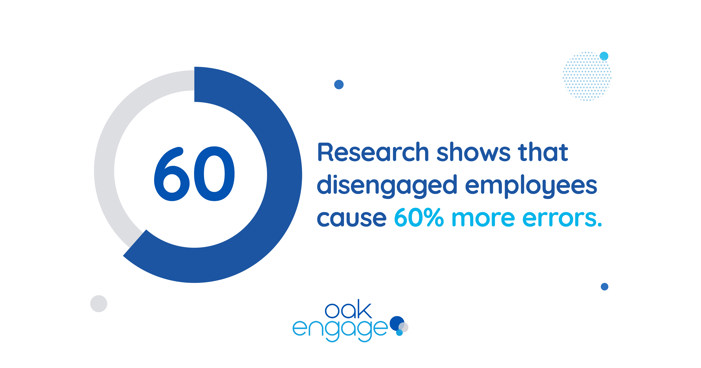 An intranet provides solutions that help generate a highly engaged workforce. 
Since engagement starts with fuelling culture and connection, a well executed company intranet helps you to align your workforce. It enables you to recognise and connect your people, giving them a platform to share, grow and collaborate.
Companies can retain, attract and value top talent with Oak's digital solution. Empowering your people from offices to front line workers. You can transform the way your workforce connects and works.
Social features also allow your workforce to stay connected, engaged and aligned with the wider company vision. 
Customisable news feeds encourage employees to connect while instant messenger is perfect for department communication, remote workers and general social interaction between employees. 
You can start uniting your teams and bringing communities to life.
Oak's customisable news and social feeds encourage employees to like, comment, upload media in a variety of formats and much more.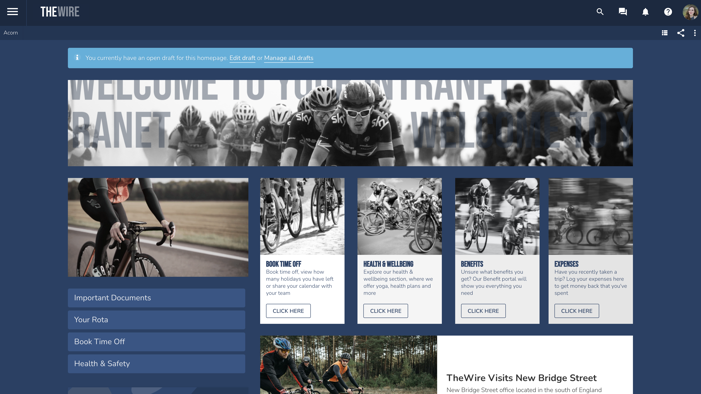 See your engagement rates skyrocket with your own company intranet.
Culture & Wellbeing
A recent Gallup report showed that 76% of employees have admitted experiencing symptoms of stress and burnout for reasons ranging from poor management to high workload, and unfair treatment at work. 
Luckily, an intranet can help you build an employee wellbeing strategy. 
Poor communication in the workplace will inevitably lead to unmotivated staff that may begin to question their own confidence in their abilities and organisation.
However, utilising pulse surveys and quick polls will allow you to gauge how your employees feel.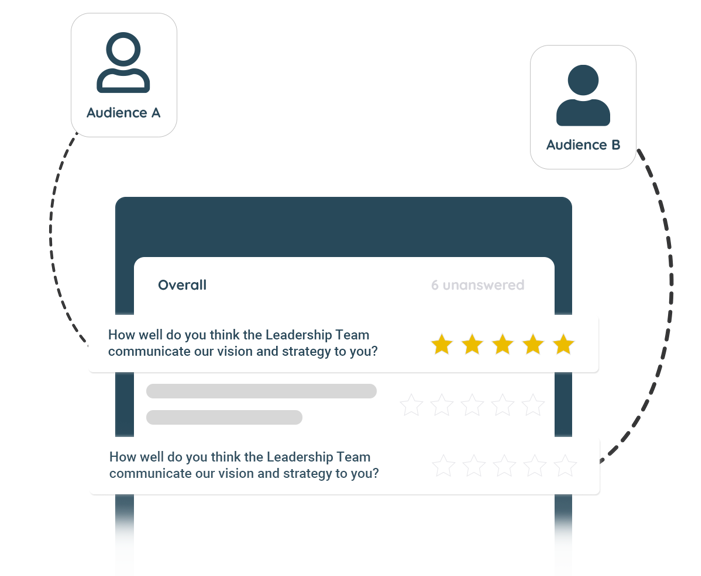 Gather real, actionable insights that your business can use to improve employee engagement, communication, wellbeing and more.
Company culture starts with connection and uniting your workforce. 
Oak understands the importance of having workplace interaction. Oak offers endless benefits to ensure you're connected to your employees. Whether that be front line workers, office or remote employees.
And remember, appreciation is key!
Integrate appreciation and recognition into your culture by empowering your people through peer-to-peer rewards. Receiving a thank you message on a day off, or on the way home can go a long way. Make employees feel valued and set a standard for excellence with a company intranet.
Employee Productivity
Promoting productivity in the workplace can be challenging. But having a software that drives motivation within your team is essential. It inspires your employees to put 100% into everything they do. 
Why not start empowering your workforce to work more efficiently and effectively?
Having a social intranet with an inbuilt messenger allows users to send messages instantly. Either to one specific person or a whole group. Perfect for remote workers and department communication. Companies are able to get the answers to their employees' questions quickly, whilst boosting workplace interaction.
Searching for valuable information also eats into an employees' productivity. Make it easy for your employees to learn as much about their colleagues and company as possible. 
Employee productivity is essential to ensure the success of any business.
In fact, it's useless to have the best professionals working for your company if you're not able to manage them correctly and maximise their working performance.
A content and document management system with 3rd party app integration allows your workforce to access content and complete tasks anywhere, at any time.
Team Collaboration
Did you know that 39% of employees report a lack of collaboration.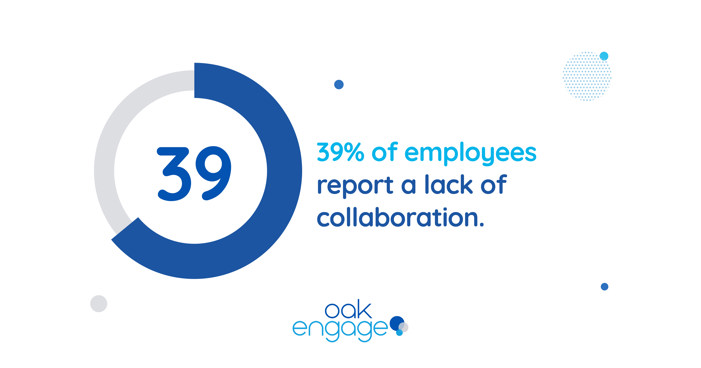 Employee collaboration is essential to the workplace and the majority of employees agree. Teamwork facts show that three-quarters of employers see collaboration as an important factor that significantly impacts the company's success. 
Ironically, almost four in ten employees claim insufficient collaboration within their organisation. 
So how can we improve this with an intranet? 
An intranet serves as a single platform that fits the needs of every type of organisation or employee. Whether you have teams in the office, at home, on the go or on the front lines. We help you collaborate more efficiently. 
A perfect way to find new and innovative solutions to your problems.
With Oak's intranet solution, the possibilities of promoting team collaboration within an organisation are endless; instant messenger, main timeline feeds and hubs are just a few features that can help collaboration grow within your business.
Why not also personalise your digital experience?
Transform your employee onboarding experience with personalised employee profiles. Allowing your workforce to collaborate with one another in a quick and easy manner. 
Build team relationships with like-minded people by encouraging your employees to connect, utilising hubs and social timelines.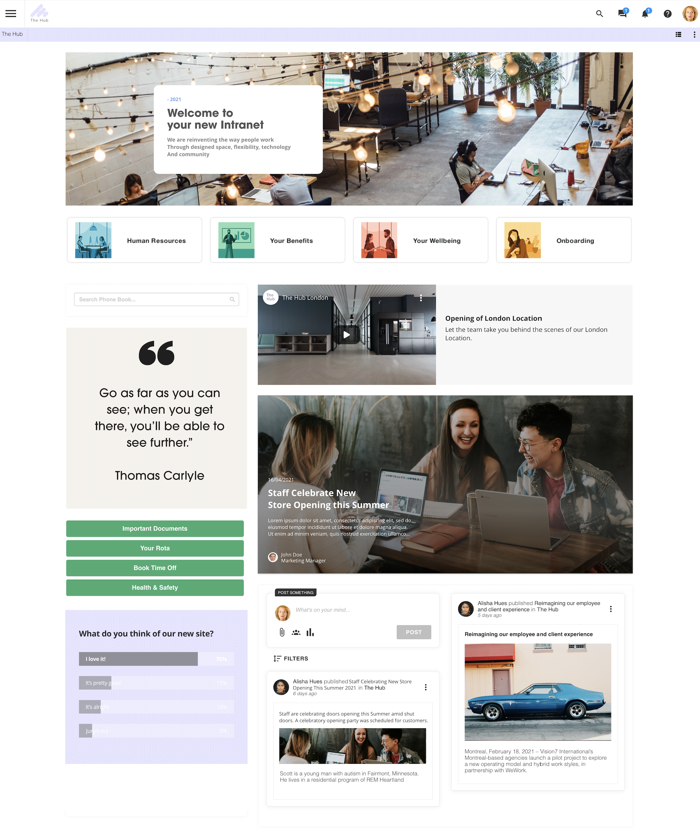 Knowledge Management
As the amount of information in the workplace continues to increase, managing your knowledge is vital. 
Knowledge management helps organise information and processes across your company. Leading to increased productivity and better employee engagement.
With an intranet there's no more wasting time and sifting through information with knowledge management features. 
Oak ensures that the right information reaches the right people. Allowing your employees to easily access content and complete tasks quickly. You can also streamline internal communication and improve productivity. 
Cultivate a positive corporate culture, with a knowledge base.
From FAQs, holidays and calendar functionalities. Knowledge Base is ideal for new starters and remote workers. Oak's broad range of  intuitive features immediately give staff the independence. Solve issues and find information - reducing training time. 
Onboard your employees in the right way.
Frontline & Deskless Workers
Despite making up 80% of the global workforce, deskless workers have been largely forgotten. Over time, the 'deskless' worker has been overlooked and pushed to the bottom of the communication pile.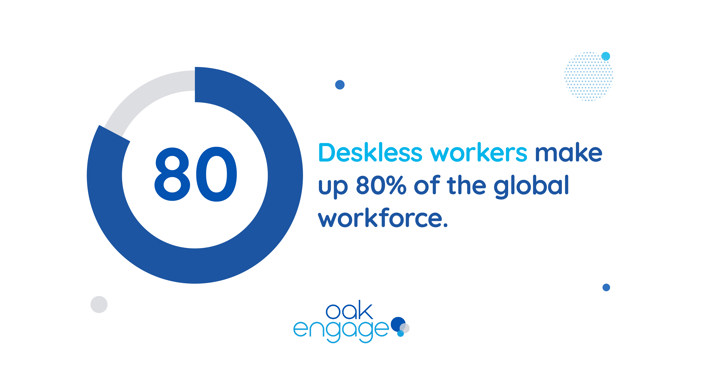 So what do organisations do to keep these employees motivated?
It is crucial that employers realise the challenges that come with non-wired employees' nature of work. 
Without company emails or laptops, however, eliminating these challenges can be tough for employers. 
Most of these workers are in industries such as retail and hospitality that suffer from extremely high turnover rates. Therefore, ensuring deskless workers fast and seamless access to their managers, company policies, relevant information, and their company's brand story is essential. 
A mobile-first intranet solution gives employees everything they need. They feel connected, engaged and collaborative. Oak's mobile app gives your workforce the power to allow employees to access information at any time.
For many, the process of compiling a business case to implement a company intranet can seem like a daunting task.
Follow the link to find out more.
We'll outline the key steps you'll need to help you build an efficient business case.
---
Want to learn more?
Intranet Business Case [Step by Step Guide] >
---