Effective and clear communications from your manager are absolutely essential to employee performance, regardless of their position in the business. This is the same for anyone who has a direct report and even C-level who need communication from investors.
Poor communication skills impact everything from productivity to creating disconnected workers. 
As a manager, communication can be more challenging in the modern workplace, where there are an abundance of deskless, hybrid and remote workers. Out of sight, out of mind as the saying goes.
As a result, many employees are left disengaged and feel out of the loop. Oak's Future of Working Report found that 38.7% of leaders admitted that leadership communication had been an issue during remote working, demonstrating that managers themselves are finding it tough.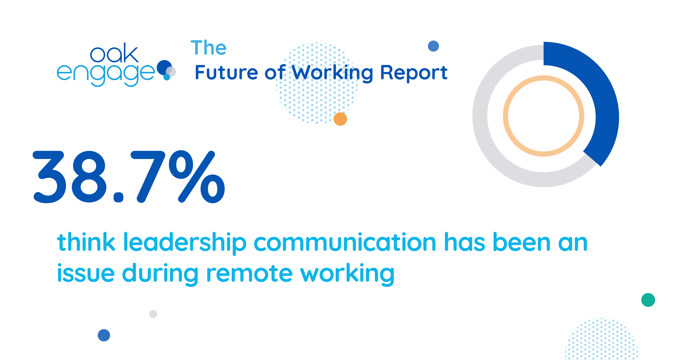 For those who have adapted their communication styles to suit modern working, 1-to-1 meetings between employee and manager have become a key component. With the lack of visibility in some cases with a dispersed, deskless or remote workforce, regular check-ins are vital to getting to the core of issues and understanding employees better.
To consider these good practices we must also look at the bad ones and understand what type of managerial styles to be avoided. 
In this blog, we will look at types of bad managerial communications and how to overcome them. 
This includes: 
8 Types of Bad Managerial Communications
The New Manager 
The Introverted Manager
The Waffler Manager
The Too Busy Manager 
The Information Overload Manager 
The Idler Manager 
The Instigator Manager 
The Non-Communicator Manager 
6 Ways to Overcome Bad Managerial Communications 
Set Weekly Team Meetings
Conduct Regular 1:1s
Keep Your Employees in the Loop 
Use Communications Tools 
Set Performance & Feedback Meetings 
Make Sure to be Consistent & Constant 
8 Types of Bad Managerial Communications 
Most of us will have experienced poor communication styles from managers. We have managed to pin these down to different types of managerial communications. You'll be able to recognise at least a few of these: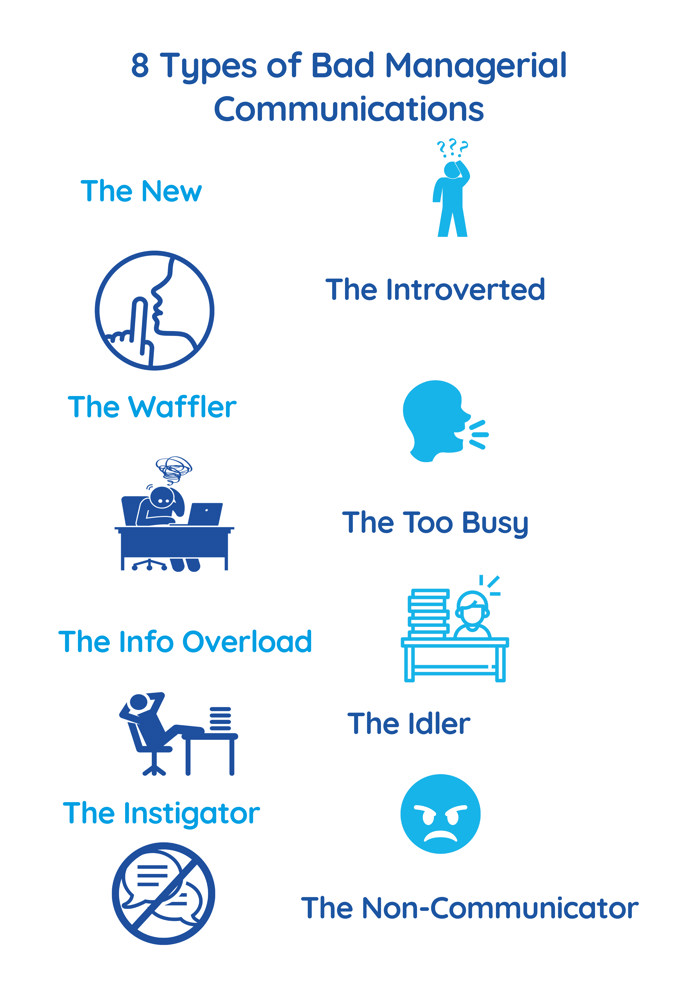 1. The New Manager
Any new job is a daunting prospect, no more so than managing people for the first time. If you haven't held this position before it is understandably difficult to adjust. 
With those who have been promoted or are starting their first ever managerial role, they may be unsure of themselves, lacking in confidence and are trying to learn their own managerial style on the job. All of these can have a negative impact on communications. 
It's important that any new manager has support from their own leader or peers. They must also be equipped with the channels to communicate more easily and take some of the pressure off. 
2. The Introverted Manager 
A stereotypical leader is an excellent speaker and charismatic, the same qualities as an extrovert. But, this doesn't necessarily make a good leader. Introverted managers can often be good listeners and act as a sounding board for their teams, useful attributes for a manager to have. 
Nevertheless, some introverted managers may lack the knowhow to communicate effectively in certain situations. On some occasions they may not face up to difficult conversations, leading to a lack of transparency. 
An introverted manager may not enjoy that aspect of their role and naturally, that will make it more difficult for everyone involved. It's reported that 69% of managers dislike communicating with their staff, so it's more common than you may think.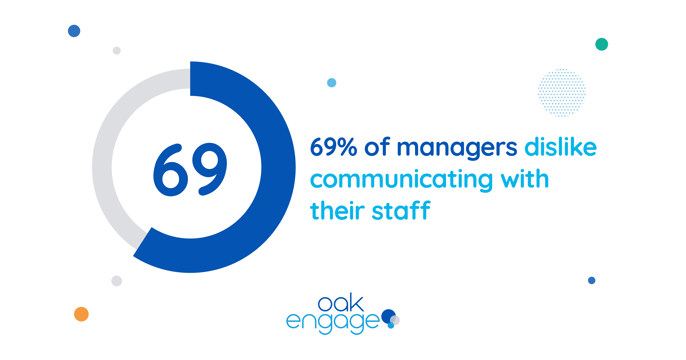 3. The Waffler Manager 
As a manager, it is important to communicate your message concisely so that it is easy to understand. The exact opposite of this is the reason why a waffling manager is invariably a poor communicator.
Not only do wafflers communicate instructions and important information to employees in a way that could be misinterpreted, but their communication style as a whole does also little to fill people with confidence. It often suggests stalling, indecision or lack of confidence in what they're saying. 
Good leaders keep things simple. 
4. The Too Busy Manager 
It is reported that 59% of managers are working more hours than they did before the COVID pandemic, demonstrating the increased strain that managers are under. Stress and overworking can affect managerial communications.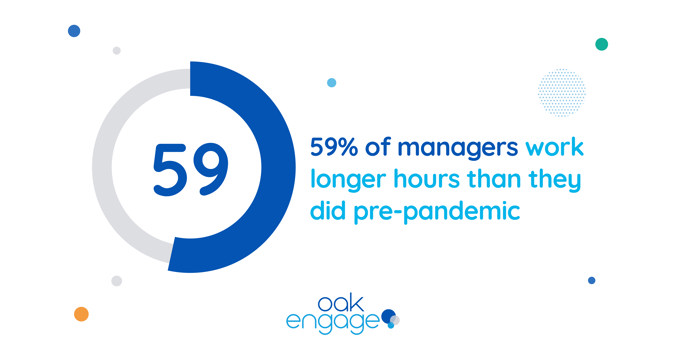 When managers are 'too busy', they're likely to not consider 1-to-1 meetings or catch ups as a priority in the face of mounting pressure and deadlines. But, this will only increase their workload in the longer term, with a disengaged workforce and an inability to delegate tasks. This is why communication between leaders and employees should be a common occurrence even in periods of stress. 
5. The Information Overload Manager 
In the same vein as the 'Waffler Manager', information overload will only lead to confusion. Information needs to be digestible and easy to understand. 
Only half of employees understand what their manager expects from them and the root cause of that can be bombarding them with different information in the same sitting. Leaders need to be able to delegate properly, prioritise tasks but also provide resources where information is easy to access. 
Integrated content management on your intranet is a great way to do this, as employees will be able to find the information they need easily and digest it in their own way. This will take some of the pressure off the manager.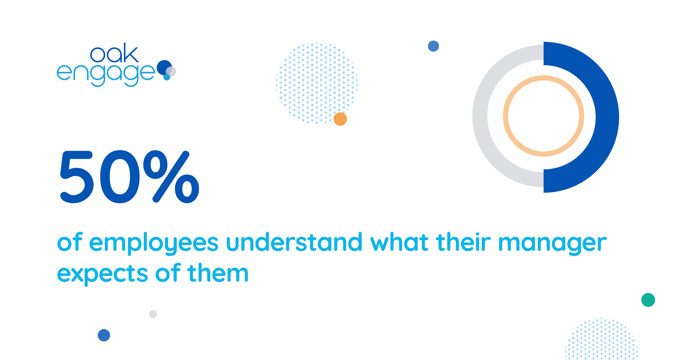 6. The Idler Manager
The Idler Manager is someone who frees themselves of the hard work and does not initiate communication with employees. They need to be actively sought out for chats or to give feedback, which might be daunting for some employees. 
With an idler in charge, there is very little in the way of regular communication or feedback. They don't exactly set the best example for the teams, making collaboration and communication across the board suffer as a result. 
Even if it doesn't take much effort to schedule a regular call with the team, they will likely delegate it to someone else.
7. The Instigator Manager 
Instigators are often quite aggressive in their approach, so if this is present in leadership it can cause a culture of fear in an organisation. When things aren't going to plan or mistakes have been made, an Instigator Manager may communicate their frustration very outwardly.
Employees will react negatively to this and it rarely impacts productivity and engagement in a positive way. In fact, workers may not inform their boss of an error or issue in fear of the backlash. This will only hinder the manager in the long run who themselves will have to answer to their manager or an investor.
Always make sure that communication is constructive, whether it is on a positive or a negative note.
8. The Non-Communicator Manager 
Businesses often make the error of appointing managers based on technical skills or experience rather than their communication skills. This leads to all sorts of issues, not least disconnected and disengaged teams. 
If a manager barely communicates, how are you going to understand what's expected or how you're performing? The lack of reinforcement can make employees anxious and unsure of themselves. 
Not everyone places comms at the top of the list of enjoyable things at work, but this is why formalised communication such as scheduled meetings and 1-to-1 can provide some much needed structure.
---
Recommended Reading 📖: Developing an Internal Communications Strategy for your Organisation [Your Practical Guide]
---
6 Ways to Overcome Bad Managerial Communications 
1. Set Weekly Team Meetings 
Collaboration is essential to a productive work environment. To truly understand your contribution to the business and keep engaged in your work, you need to understand how that fits with the rest of your team. In a world of remote, hybrid and multi-location workers, it is the responsibility of a manager to facilitate weekly team meetings.
These can also be an opportunity to share ideas and encourage innovation, as well as a platform to build good working relationships. To make sure you stay on track, keep it structured and book a recurring meeting into your team's diaries.
Department hubs are also a good way to foster collaboration and strong bonds within the team, offering space to collaborate in a virtual setting.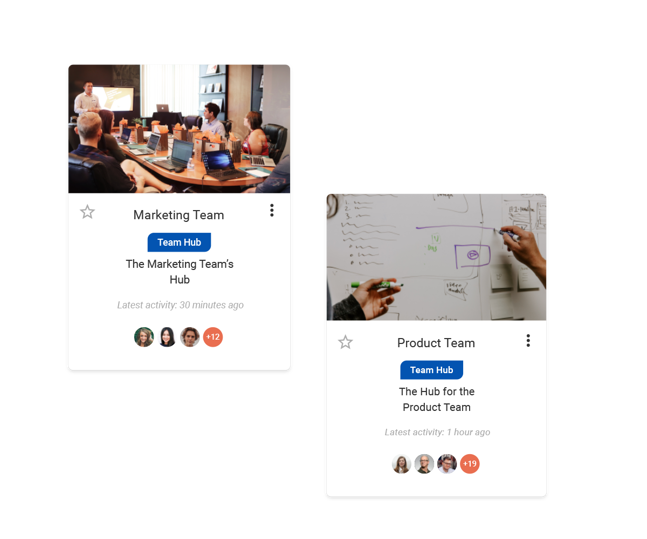 2. Conduct Regular 1:1s  
We've established that structure is important when it comes to communication. It is just as important on an individual basis as it is for teams and departments. 
The aforementioned Future of Working Report found that well over a third of leaders themselves said that leadership communication has been an issue during remote working periods. Managers and leaders must be visible, which means regular 1:1s are vital to keeping these lines of communication open. 
When you have regular meetings with your manager you can establish development/progression plans, get feedback and air any concerns before they become a bigger issue. It can be difficult to do all these things in a team environment, so 1:1s are the ideal environment for this. 
3. Keep Your Employees In The Loop
Almost three quarters of employees feel like they are missing out on important company news and updates, so it's extremely common for employees to feel out of the loop. This should always be timely and come straight from the top. Otherwise, you risk workers feeling a disconnect and for the rumour mill to distort information.
It is reported that employees received 121 emails per day, so you should look to be more targeted and engaging. They may not notice or read the information that gets lost in a sea of emails. 
Oak's Curated Content Systems help employees cut through the noise. The smart solution delivers content that will be engaging to the individual through to the right channels, based on behaviour, relevance and priority.
4. Use Communications Tools
Oak Engage's Future of Working Report also found that 42.8% of leaders think that team culture has been an issue during remote working periods and 24% of workers say that isolation had been an issue.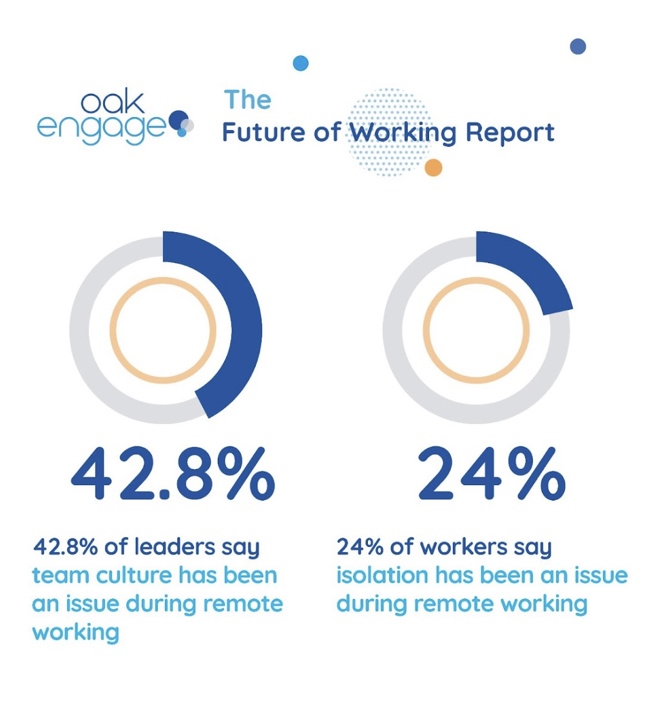 To combat these you need to have communication tools that help adapt individuals to new ways of working. Through social features on Oak, you can build good relationships and culture, by helping connect workers in intuitive ways. Instant messaging, social timelines and hubs help connect the modern workforce.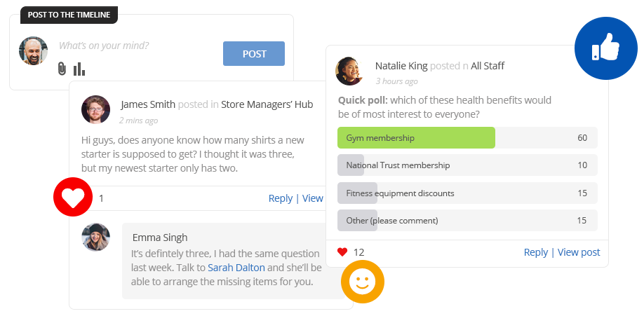 5. Set Performance & Feedback Meetings 
72% of employees feel like their work would improve if given honest, corrective feedback. It is vital to give employees constructive evaluation of their work and to set objectives for them to achieve. 
This helps employees to stay on track and to make changes to help improve areas of their work. You will see more aligned and productive teams when you have regular evaluations with your team and individuals. On the flipside, employees can also give feedback on their role so that the business can make changes. 
Through Oak's Pulse Surveys you can also get feedback and data to help shape these sessions and some of their content. Use your surveys, polls and analytics to find out the what, your feedback meetings to find out the why.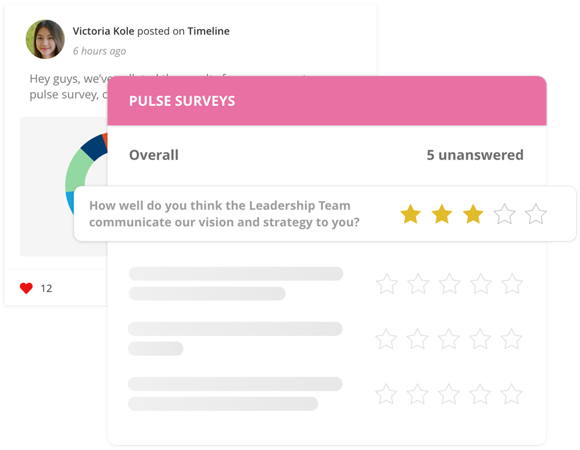 6. Make Sure to Be Consistent & Constant 
Comms need to be straightforward, consistent and regular for employees to digest, understand and act on the information they're given. With a proper structure and centralisation of communication, you not only help foster better manager-employee dynamics but also between employees themselves. 
Having an all-in-one platform like Oak Engage, which integrates with several third party systems and apps, streamlines comms. Not only is information simple to access, but it also keeps comms channels and information accessible from one place! No more unused comms channels gathering dust and wasting money. 
---
Recommended Reading 📖:  Oak Features
---
Conclusion
In this blog, we have shown you the different styles of poor communication and the tell-tale signs. If you fall into any of these categories, or any manager in your organisation does, fear not!
By taking on the advice in this blog you can rebuild the relationship between manager and employees, making for a more engaged and happier workforce. 
As a manager, how do you ensure you communicate effectively with staff? Join the conversation on Linkedin and Twitter.