How to Choose the Best Intranet Software for your Company

Looking for the best intranet software for you and your workforce? You're in the right place.
Your company intranet is the most trusted source of information for your employees and with internal communications being at the centre of digital transformations, companies are adopting more and more tools to communicate and engage with their employees. If your goal is to improve employee engagement, collaboration and communication, you need to carefully choose the right features and structure of your company's intranet.
Recommended reading: What Is An Intranet? The Last & Only Guide You'll EVER Need
Intranet Tip!
We recommend companies starting out on their intranet search to make a list of their company needs, rather than a list of features. Once we know what your goals are, we can provide you with expert advice on what features to include in your intranet solution.
No two intranets are the same. When it comes to software there are many functionalities and choices out there. So, how do you choose the best intranet solution for you and your company?
Know your company needs
Firstly, your company and it's requirements are unique so you need to approach the marketplace with a secure idea of what you want and need. You need to think about what your main intranet focuses and goals are, as it's impossible to find the right intranet if you don't have at least an idea of what you're looking for. 
It may also be a good idea to briefly familiarise yourself with the basic functionalities of an intranet to understand what you could achieve with different business collaboration tools, to assist you with your current goals and strategies: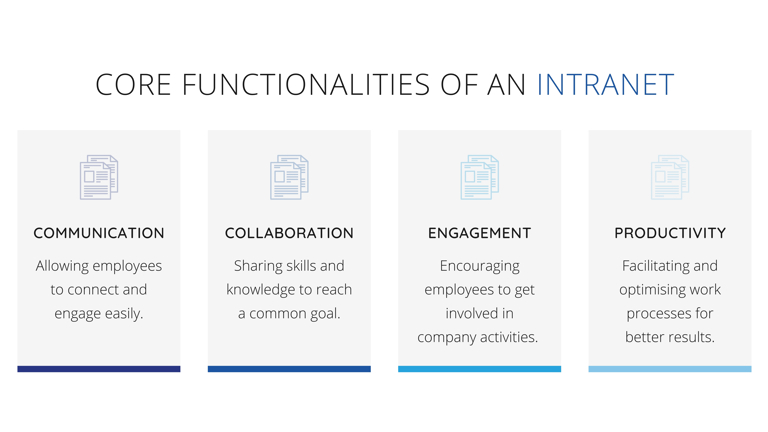 Make sure your intranet solution aligns with your business's goals
Before deciding on a new intranet software, it's important to identify key business goals that will benefit your organisation in terms of productivity. Your main goal should be to increase employee engagement and communication throughout your company but you may also want to consider other important productivity goals that will come with the creation of your intranet with tailored requirements: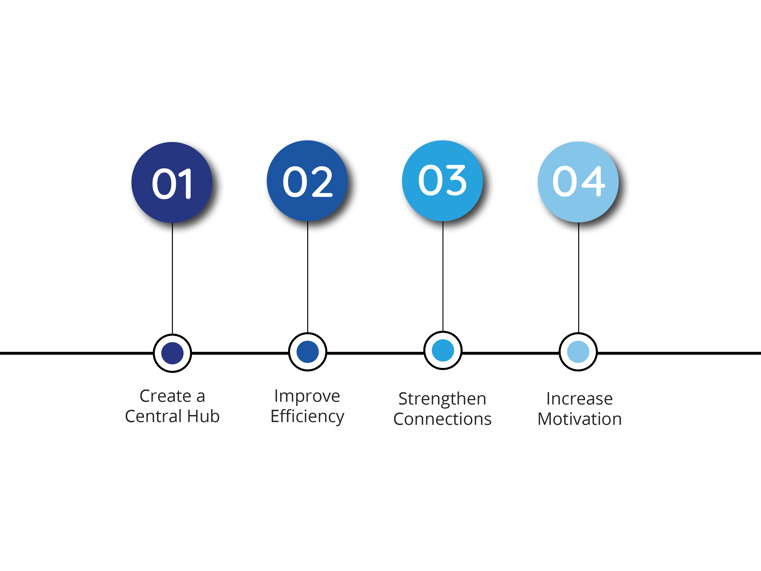 Creating a central hub - You will need a central place where you can dispatch information, internal news, tools and sharing documents.
Improve efficiency - You will need your intranet to enable your employees to access information and interact with other employees to improve the efficiency of their work.
Strengthen employee connections - An intranet will need to increase your workforce collaboration, which in turn will increase employee and business connectivity.
Increase motivation - To get the most out of your intranet, you will want to encourage your employees by sending achievements to increase moral and promote positive employee wellbeing.
Think about the end user
It can be easy to get caught up in endless options and possibilities of an intranet but if your software is going to be successful you have to keep the end user in mind. You will need to ask yourself if the features are what your employees need, will they be easy to understand and will they integrate well with your business style?
A recent survey has shown that 68% of employees use their company intranet, but not to its full advantage. 93% of comms professionals value creativity. With these stats in mind your intranet should be an easy and creative platform designed to increase employee engagement and employee relations.
Every company has their own unique work styles and preferences, so a profitable intranet needs to accommodate and increase those behaviors. With this in mind, let's move on to features of an intranet that we know are most useful for employees. 
Intranet Features that Employees Love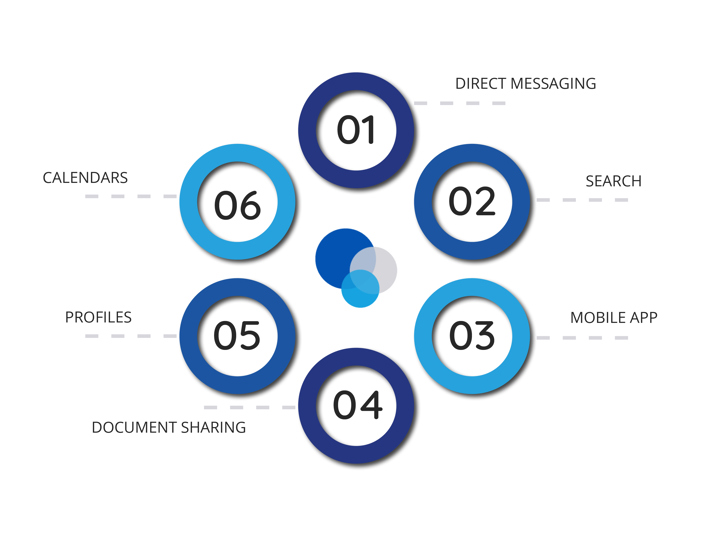 A strong internal communication system will greatly improve one of the most important elements in a successful team: collaboration. Directly messaging is simply the most efficient way for employees to discuss projects, workload, ideas or any information they need to get directly. A chat feature in your company intranet will save time waiting for emails and provide a central space for users to reach anyone they may want to talk to in the company.
Your company intranet will eventually start to grow in size and will become more difficult to find and navigate, given the large amounts of content. Employees will need to discover information in their company intranet, which means your organisation will be wasting time if your intranet doesn't have a powerful search system. Information discovery should be made as simple as possible. Otherwise, frustration will start to occur within the company, affecting employee productivity.
Most people check their phones 58 times a day. Thirty of those times are during work hours. Therefore, the ability to access the company's intranet from a mobile device is one of the most loved and essential intranet features. Building a mobile app for your intranet is not something every software company is willing to do, which is why it's important to know your company needs before choosing your solution.
A platform that allows employees to share documents easily is always preferred over trying to send certain documents to your workforce through email which may be too large to send. A company intranet should let employees upload documents or share them directly with an employee of their choice.
It's important for your company intranet to make it quick and easy for employees to learn as much about their colleagues as possible. This feature will help onboarding new employees and support them in getting to know the company better by accessing everyone from different departments in an efficient manner. Employee profiles also help your people get to know each other on a more personal level and makes it easier for management to get answers to questions they may have about an employee's activities in the virtual workspace.
An intranet calendar is important for employees to stay organized to track meetings, appointments, events, birthdays or who's out of office on a certain day. Connectivity and accessibility is the heart of any great intranet, so you will want calendars that can be shared among team members and departments.
Summary
So, those are our tips on how to choose the best intranet for your company and top features that you will want to look out for to increase your employee engagement. Remember, your company and it's requirements are unique so make sure to find an intranet that works with your company culture. 
Here at Oak, we combine all the intranet features that employees love, and more, to create an innovative workspace solution to suit your company needs. Choosing the best company intranet can be a daunting process so at Oak, we support you every step of the way, you'll receive help and guidance from our experts right from the beginning. If you decide we're for you, you'll have access to regular, free online webinars and strategy days to maximise your knowledge and help you get what you need from us.
If you've got any questions, please feel free to get in touch or if you're ready to see more, you can arrange a demo with one of our engagement experts.