Running a small business is a challenging feat, fraught with obstacles at every turn. Limited resources, fierce competition, and time constraints can make it an uphill battle. That's why small businesses need an intranet tool to level the playing field. When you're operating in an environment in which the smallest decisions can have massive implications for your business, it's imperative that you're able to make the right decisions when it comes to buying the best intranet for small business.
An intranet is the secret ingredient to streamlined communication, collaboration, and knowledge management within your organisation. It connects employees, facilitates seamless teamwork, and ensures everyone has access to critical resources. With the right intranet, any small businesses can conquer the chaos, streamline operations, and unleash their full potential.
At Oak we work with businesses of all sizes to help them realise their objectives. From better communication to better alignment, we empower our customers to mobilise, motivate and engage their people. We know the makings of an amazing small business intranet and we know exactly what you need to make your business objectives come to life. That's why we've created this blog. By the time you've read this blog you can expect to understand: 
Why you need the right intranet for your small business
What to look out for when picking an intranet 
Examples of small business intranet providers
How Oak Engage can help you 
Important Steps For Choosing Best Small Business Intranet
Define Requirements: Every business has unique needs. Defining requirements helps to understand what your business needs from an intranet solution. If you don't identify what you need before you start your journey, you open yourself up to a plethora of issues.
---
Recommended Reading 📖: How to Create an Intranet Business Case
---
Budget: Small businesses often operate on limited budgets and resources. Specialised intranet solutions for small businesses offer affordable options that are designed to meet their specific needs without unnecessary features or complexities. This allows small businesses to benefit from the advantages of an intranet without breaking the bank.
Scalability and Flexibility: Small businesses are dynamic. They're constantly changing, growing and expanding. Their growth can be rapid and they require systems that can keep them up to scratch. They need something that can grow with them. Specialised intranets for small businesses offer scalability, allowing businesses to start small and expand the features and capabilities as they grow. Intranets that allow flexibility and customization are integral to sustainability. 
Implementation & Support: Small businesses more than likely don't have dedicated IT departments or the necessary technical expertise. A specialised intranet for small businesses typically offers user-friendly interfaces and straightforward implementation processes. They are designed to be easily managed by non-technical users, reducing the burden on small business owners and enabling them to focus on their core operations.
Feature Evaluation: Intranets specialised for small businesses understand the specific needs of these organisations. They often include features tailored to small business operations, such as document management, communication channels and more.
Security and Compliance Checks: Safeguarding sensitive data is an absolute must for small businesses. Specialised intranets recognise the unique security and compliance requirements of small businesses, providing formidable defences like user access controls, encryption, and data backup. With these robust measures in place, confidential information remains shielded and in accordance with necessary regulations.
Best Small Business Intranet Vendors (According to G2)
There's plenty of options out there when it comes to choosing a small business intranet. That's why we've compiled a list of the top suppliers, helping you shortlist the best options for you and your business. 
| | | |
| --- | --- | --- |
|   |   |   |
| Provider | G2 Rating | Overview (sourced from G2 reviews) |
| Igloo | 4.2/5 | Ready to use off the shelf with a readily available support team.  Can be clunky and lack customisation or flexibility. |
| Mango Apps | 4.2/5 | Comprehensive suite of tools and options for employees. Prone to crashing and long loading times. |
| Noodle | 4.3/5 | Jack of all trades, offering many tools and options. Lack of flexibility  |
| Axero | 4.2/5 | Very customisable with great customer support. Interface can be challenging and some tools lack the robust capability of other systems. |
| Oak Engage | 4.4/5 | Easy usability, scalability with excellent customer support. Intuitive and highly customisable.  |
Oak Engage - Best Small Business Intranet 
We work with businesses all over the world, across a variety of industries. We specialise in providing businesses of all sizes the tools they need to drive their business to the next level. When it comes to small business intranets, however, our platform is second to none. Here are just a few reasons you should choose Oak Engage.
Cost Effective Business Solution
Oak Engage offers cost-effective pricing plans tailored to the needs of small businesses. With flexible pricing options, small businesses can choose a plan that aligns with their budget and requirements. This means that you can leverage all of the benefits of Oak Engage without straining your financial resources.
Better Communication & Engagement
We facilitate highly improved communication and employee engagement rates in small businesses - period. We offer a suite of features including AI curated content feeds, Auto Translations, social recognition tools, Analytics and much more. We empower communicators to create a collaborative environment, encouraging employees to engage, share ideas, and contribute.
Simple & Intuitive Set-up
Oak Engage is designed with a user-friendly interface, ensuring a simple and intuitive set-up process. Small businesses can quickly implement Oak Engage without the need for extensive technical expertise or lengthy onboarding procedures. The intuitive design allows for easy navigation and seamless adoption by employees, minimising the learning curve
Extensive Feature Suite
Outside of our employee engagement feature set-up, we also offer an extensive selection of Modern Intranet functionalities that cater to the needs of small businesses. This includes employee directories, document management, extranet functionality, collaborative spaces and much more.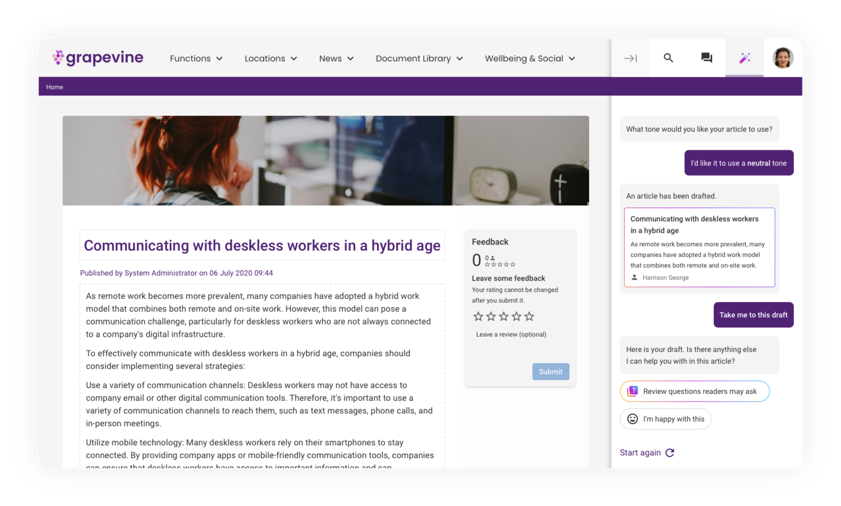 Testimonials - Havebury Housing
In 2022, Havebury Housing Partnership, a not-for-profit housing association, formed a partnership with Oak Engage to revamp their internal communications strategy. Their goal was to enhance communication both internally and externally, and they achieved remarkable results within just six months of implementing their new intranet platform,'The Hive'.
Hayley Lambert, Communications Manager, and Kathryn Rowland, Internal Communications Advisor, shared their journey with Oak and how it transformed their organisation. Havebury Housing Partnership operates in the non-profit sector, serving the UK with 500 users benefiting from Oak Engage's innovative intranet solution. 
---
Recommended Watch 👀: Havebury Housing Testimonial
---
"The big thing is that it's not just a new intranet, it's a big culture change having a platform that can create that two-way conversation."
Kathryn Rowland, Internal Communications Advisor
If you would like to discover how Oak Engage can help you and your small business, please don't hesitate to get in touch today. 

Overall, intranets provide small businesses with a powerful tool to improve internal communication, streamline processes, enhance knowledge sharing, and foster collaboration among employees. They enable efficient access to information, leading to increased productivity and organisational effectiveness.