The Workplace Reimagined: Introducing the Deskless Worker
If you think of the 'workplace', an office-like, desk-based environment is probably what springs to mind. There's nothing wrong with that, it's something that's been drilled into us for all of time. In fact, if you type 'workplace' into Google Images, a load of pictures appear with smart-looking professionals all huddled around a meeting table, engrossed in an in-depth discussion about facts and figures on a screen.
Although this may be true in some instances, the workplace can take on many different forms. Deskless workers, i.e, shop assistants, catering staff, mechanics, hospital staff make up a huge majority of the working world.
They're the unsung heroes of the workplace if they didn't exist the world would be a very different place. Despite making up 80% of the global workforce, these workers (and deskless work in general) has been largely forgotten. Over time, the 'deskless' worker has been overlooked and pushed to the bottom of the communication pile. They've wrongly been excluded in favour of employees in central HQs or other desk-based locations. Whilst it may be universally recognised that a business cannot operate without feet on the ground outside of an office environment, it's long been taken for granted just how valuable their input, ideas and general wellbeing is to the overall longevity and success of the company.
There is a clear disconnect between the top level, managerial force and deskless employees. Just because most of your staff don't have access to a desktop, it doesn't mean that they should miss out on company information and important internal communications.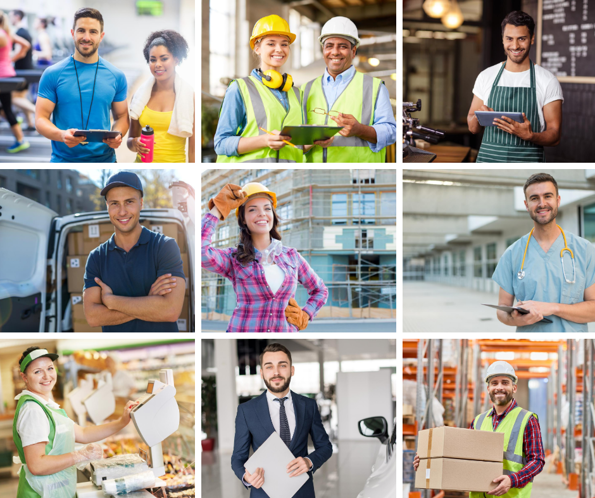 The Rise of the Deskless Worker
With more people choosing to go down the deskless employee career path, it's time for employers with remote staff to put a solid plan in place to keep their workforce engaged. It's no secret that a disconnected workforce will end up costing your business more money in the long run:
Lack of engagement and productivity
Miscommunication and costly errors
Misalignment 
Inability to access important often time-sensitive information
Luckily, there's a solution to the 'deskless disconnect'. Mobile.


Connecting with Mobile
Let's face it, the mobile phone has come a long way since the days of the Nokia 3310. Since being invented in 1973, the mobile phone has evolved into a device that's integral to our everyday lives, allowing us to connect with people from around the world in an instant.
Since then, how we can connect with others through a mobile device have developed rapidly: social media, chat apps, video call, text messaging, you name it. These features have to a large extent made our lives just that little bit easier.
Coming from a retail background myself, I could sense a clear, lack of communication between the staff that served on the shop floor and the managerial staff. The internal communications were poor and it was like living in the dark ages having your rotas written down on a piece of paper and your payslips delivered by post.
It's a known fact that deskless workers have been overlooked by their IT teams for not having easy access to a desktop, but in the 21st century, why should it be difficult to connect with your deskless workforce?
At Oak, we are aware of the disconnect that deskless workers experience due to not having access to a desktop. Which is why we created our handy Oak app, that gives workers access to their digital workplace 24/7, from wherever they are.



Stay in the Loop
Make your remote workers feel part of the team in seconds. Your deskless employees can contribute ideas, share news and information, access rotas or holiday forms and stay connected with their co-workers.
If your workforce is distributed across the country, the mobile app is a great way to encourage interaction between like-minded employees and create bonds between different departments. 

Even when based in traditional office settings, it could often be difficult to get in touch with the right department, the right person or even get the right information. Now, with a digital workplace at your fingertips you not only have access to an entire directory of your company's contacts but you are provided with a depository of important resources that you can access and distribute at any time.
Keep the Conversation Going
The messenger application allows your employees to create multiple chats where they can keep up to date with company announcements, share images, videos and GIFS.
Oak's messenger feature for example, is a great way to promote socialising activities within your team and build relationships with teammates who you wouldn't normally speak to. Not only is communicating with your colleagues made fun, but it's also made more accessible than ever before. Employee engagement apps are ideal for creating bonds and promoting internal communication within any business.


Notifications on the go
A dedicated employee engagement app will make sure that you never miss a beat with instant notifications. Employees can receive messenger, timeline and hub notifications at lightning speed. These days it's not essential for workers to be situated within an office to benefit from efficient collaboration with their colleagues.

No excuses
The number of deskless workers is on the rise, and as such need to stop being ignored and have their voices heard. Neglected employees will only ever feel disaffected and be more prone to disengagement further down the line. This, in turn, will result in a higher turnover of staff. If you invest in your people, you invest in your company. Fact.
With the extensive development of technology in recent years, it's never been easier to connect and collaborate with others. So, no excuses, reach out to your remote workers or lose them. The ball is in your court.
Connect your teams. Engage your people. Work better as one.
---
Want to see more?
Get a demo with one of our digital workplace experts and see how Oak could work for you.
---