The IoIC Profession Map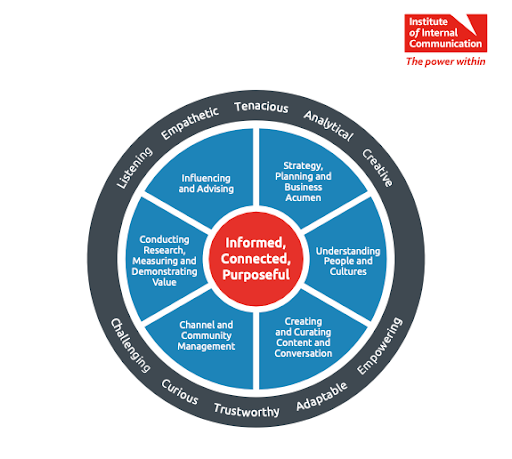 The Institute of Internal Communication have recently updated their profession map due to rapid changes in organisational environments. You can explore the full map here.
You can use the framework to build your very own personal development plan and demonstrate your learnings back to your business. 
The IoIC map explained 
The map has three sections and is designed to show the vital role that internal communicators play in an organisation. It also tells us the knowledge and skills required to work in internal communications. 
The section in red at the core of the map is the purpose that sits at the heart of the IC profession - 'to enable people at work to feel informed, connected and purposeful in order to drive organisational performance.' 
Sections in blue are the things that IC professionals need to know and the skills they need to have. The sections in grey on the outer edge of the map are the behaviours that are needed to do the job effectively. 
What of the 8 behaviours do you exhibit most in your role? Take this short quiz to find out....
The six professional areas
It's harder than ever to engage with employees and focus on their wellbeing. From navigating new ways of working such as hybrid working to addressing burnout and preparing for the Great Resignation and Quiet Quitting, it makes communicating with your business a huge challenge. 
Oak Engage and industry experts will go through each of the professional areas that make up the framework and share their top tips on how you can achieve success in your career and reach internal comms greatness. 
1. Strategy, Planning and Business Acumen
Using Oak's technology will enable you to get the right message to the right people at the right time. This means you don't have to worry about the boring stuff and focus your already limited resources on what matters - creating and implementing an internal comms strategy. 
Internal Comms Expert, Jos Harrison has created a practical guide to create an internal comms strategy which will give you tips and support you in the planning stages. 
2. Understanding People and Cultures 
To understand your organisation's culture, you need to ask questions to make sure any cultural issues are considered before any new internal communication initiatives are introduced. Some questions could include: 
Are employees' opinions valued? 
Does it create a safe space for employees? 
Do the communication methods used match the needs of the employees?
What are the values of the business?
Lisa Seagroatt, Workplace Culture Expert, Lecturer and Author told Oak: "It's important for employers to create a culture where employees feel able to seek support when they need to. Business leaders and people managers play a key role here in ensuring they create working environments where employees feel 'safe' to raise any issues linked to mental health.
"A healthy workplace culture of openness, transparency and good communication from the top down helps to create safe working environments."
Lisa Seagroatt, MD of HR Fit for Purpose
Oak's platform is built with employees' needs in mind. We encourage true participation and allow you to form two-way communication with your employees. Inspire your employees to share their opinion so they can have their say, ask questions and provide feedback. This will give you valuable and detailed insight that you can take action on so your employees feel heard and understood. 
We also practise what we preach. Our Glassdoor rating speaks for itself!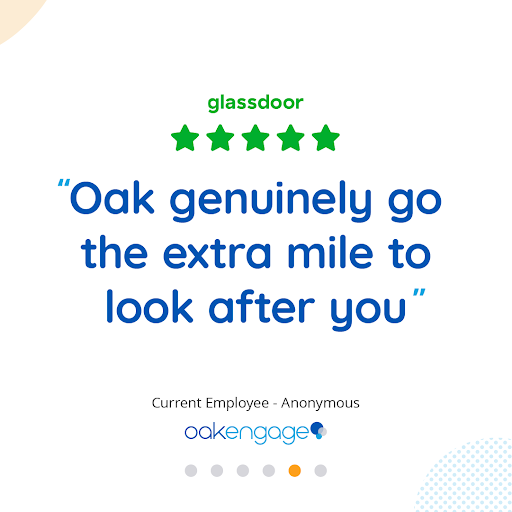 3. Creating and Curating Content and Conversation
Your role as a storyteller means you have the ability to take what's currently going on in the company and tell the story through the lens of what matters most, making that narrative more meaningful as a result. We've created a guide on internal storytelling so you can apply it within your organisation.  
The proliferation of communication methods means that employees are inundated with irrelevant messages. This results in noisy internal communications, causing confusion and frustration. Oak's omnichannel curated content system reduces noise by personalising and prioritising feeds for every employee across channels and audiences. 
"Oak has also given our colleagues more control. They can now personalise their news experience, adapt based on their interactions, follow topics of interest and opt out of communications that are less relevant - this is adding real value."
Alan Harris, Director of Internal Communications at NatWest Group
4. Channel and Community Management
Different audiences will need different channels. But as mentioned above, the first thing you need to do is plan and create your strategy which will allow you to think about each audience and their needs. What do you want each audience to know, feel and do as a result of your internal communications?   
If you have too many channels or channels that are unsuitable for your audiences, your people will feel overwhelmed and miss out on company news. 
Oak Engage takes care of delivering messaging across your channels. A smarter way to deliver news, our technology will allow you to cut through the noise and deliver the right message to the right people when it's most needed.  
5. Conducting Research, Measuring and Demonstrating Value
A common problem throughout the internal comms industry is measurement. What does success look like to you? Link this back to your objectives. It's so important to measure success and demonstrate the value back to the organisation.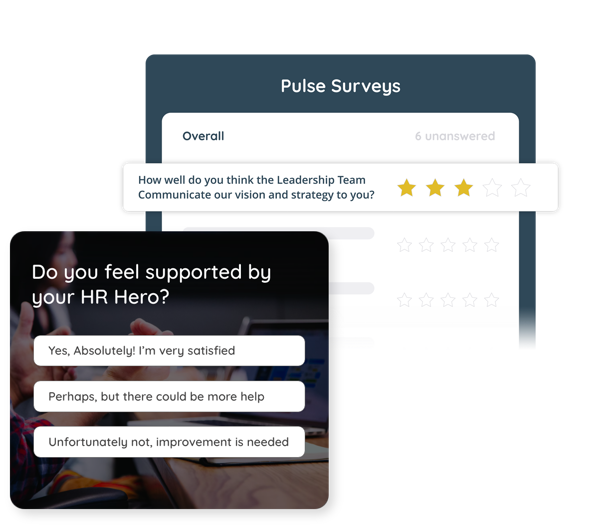 Internal Communication Strategist, Mike Klein states: "Your company is measured on the basis of business performance, so look at how IC directly or measurable - even if indirectly - affects business performance. I recommend including these two questions in your survey: What are the top three priorities facing the organisation? What are the three things you're working on? Think about what you want people to do - and find out how often that shows up in what people are saying."
Oak's best-in-class analytics provide insights on how audiences are reached so you can collectively measure the success and reach of communications so that a meaningful story can be crafted from the results. 
Want to measure internal comms success? Read our guide. 
6. Influencing and Advising 
In order to get buy-in from senior stakeholders, you need to have the confidence to influence others. 
Oak Engage will give you the tools which will allow you to be more strategic in your approach and give you the confidence to demonstrate your experience and build trust as a strategic advisor. 
Will Murray, CEO at Oak Engage said: "The current tools that businesses are using to connect with their staff just aren't cutting it. That's why organisations are looking for new solutions to engage their employees."
"We want to empower businesses by giving them the best tools to communicate more efficiently with their people, wherever they are, 24/7. We want to support communication professionals every step of the way and we think intranets should be working a whole lot harder for them.
"We want to transform the digital experience for employees by providing curated feeds of content that are personalised to them in order to cut out the noise. This is our biggest priority." 
Will Murray, CEO of Oak Engage