In today's digital-driven landscape, where data breaches are unfortunately common, ensuring robust data protection isn't just a necessity - it's a responsibility. At the core of Oak Engage's unyielding commitment to safeguarding client data is our Compliance Manager, Kara Chester. We delved deeper with Kara to discuss our commitment to our customers' data safety and the continuous safety measures we've put in place. 
Meet Kara, Compliance Manager at Oak Engage 
Kara is an accomplished Compliance Manager with a strong background in regulatory compliance and risk management. In her current role at Oak Engage, she has successfully transformed our conduct and culture through the implementation of a comprehensive compliance framework. Kara's expertise in compliance management and her ability to develop robust policies and procedures have led to the attainment of ISO 27001 accreditations and ensured compliance with legal and regulatory obligations. Kara can successfully navigate complex regulatory landscapes and provide valuable guidance. With a keen focus on integrity and ethical practices, Kara consistently fosters a culture of compliance and risk mitigation.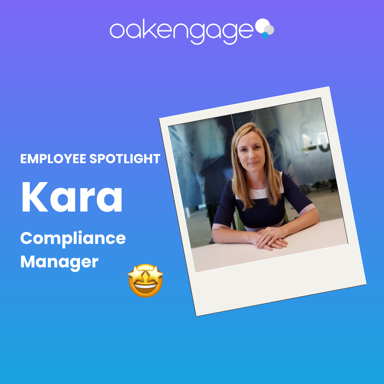 The importance of data security 
Kara, with her vast expertise, highlighted the importance of proactive measures, continuous learning and a culture of security awareness within the organisation. "It's not just about setting up firewalls or having certifications," she began, "It's about fostering an environment where every team member is an active participant in our data protection efforts. Our clients entrust us with invaluable information and we take that trust seriously. From regular training sessions to meticulous audits, we leave no stone unturned."
"Certifications are just one of the many steps that we're taking in our continuous journey to enhance information security and data privacy. By committing to regular comprehensive audits, we've demonstrated that we prioritise both data privacy and information security - key concerns in today's digital landscape."
What sets us apart is our understanding that the foundation of robust data security isn't only in superior tech, but in our people. "We aim to foster an environment of awareness," Kara highlighted. "Every member of our team is instilled with the ethos of data protection. We aren't just relying on algorithms and systems, we are ensuring that human oversight is our strongest tool so that we are always vigilant and always aware."
From hosting regular training sessions to ensure that the team is aware of the latest threats and solutions to comprehensive audits that help identify and rectify any weak links, Oak Engage transforms data protection from a departmental responsibility to a company-wide culture.
Creating a robust security framework
A robust security framework is not just an amalgamation of the best tools and tech. It's about integrating these tools effectively, understanding potential vulnerabilities and always staying a step ahead of potential threats.
This proactive approach, powered by the latest technology and strengthened by the team's unwavering dedication, is what ensures that Oak Engage's security framework isn't just reactive but also predictive.
Kara comments: "Information Security is paramount to us at Oak Engage. Our ISO 27001 and Cyber Essentials Plus certifications demonstrate our ongoing commitment to implementing the highest standards of information security. We understand the need for strict security measures in today's digital world and the importance of a robust security management framework to meet the specific needs of our customers."
Looking ahead: The future of data security with Oak Engage
In the realm of data security, complacency is the first step towards vulnerability. So, what's next for Oak Engage?
"We will continue to evolve," Kara added. "As the digital landscape shifts and as new challenges emerge, our commitment remains the same. We will continue to invest in training, tech and most importantly, in fostering a culture where data security remains an unwavering priority."
A trusted partner in your digital journey
As a trusted provider of award-winning intranet solutions, we help some of the world's biggest brands engage with their people, including Aldi, Five Guys and NatWest. Our dedicated approach further solidifies our position as a trusted partner, assuring customers of our robust security framework and compliance with international standards. 
Curious to know more? Book a demo to delve deeper into our security measures, the technology we offer and how Oak Engage can transform your employee engagement.