Internal marketing is just as important as external marketing when it comes to motivating and engaging employees into your company and their work. 
When done right, internal marketing ensures that your employees are providing a high quality service to your customers and helping the company grow. 
In this guide we'll cover how to utilise internal marketing within your business and provide you with a free template for you to easily create your own plan.
Topics we'll cover:
What Is Internal Marketing?
Internal marketing is a type of strategy that focuses on building loyalty, skill and engagement with your employees by selling your company vision and culture to them.
Internal marketing is based on the ideas that customers' attitudes towards a company are not just based on the product or services, but the overall experience they have with the company.
According to an American Express survey, 78% of consumers have bailed on sales transactions because they received poor customer service.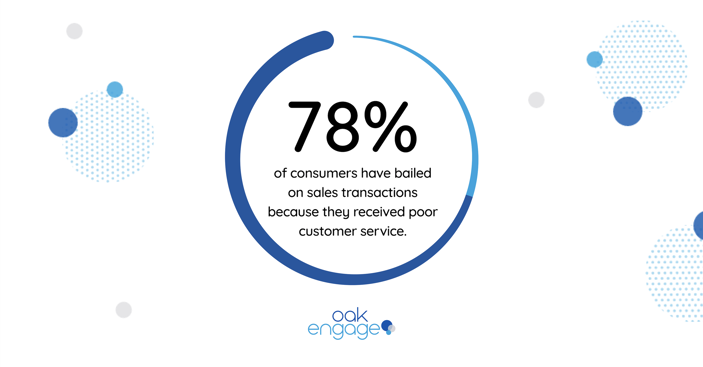 Usually, internal marketing will be led by HR, but to take internal marketing that one step further, initiatives from the marketing leaders will be essential for success and growing your brand.
Who Is Internal Marketing Aimed At?
Internal marketing is aimed at your employees.
Essentially, it's your company marketing its products and brand to its own employees. 
You want them to truly understand why you're selling those products so they can communicate that with external people-including your customers.
The idea behind internal marketing is to earn employees enthusiasm by creating an emotional connection to the brand or company.
Why Is Internal Marketing Important?
As a marketer it's likely that you spend hours every day looking for a new campaign that will make you stand out. However, you're probably spending all of that time focussing on a strategy that only deals with your customers. After all, they are the people bringing the money in. 
But, you can't forget about the people who actually make that happen. Your employees.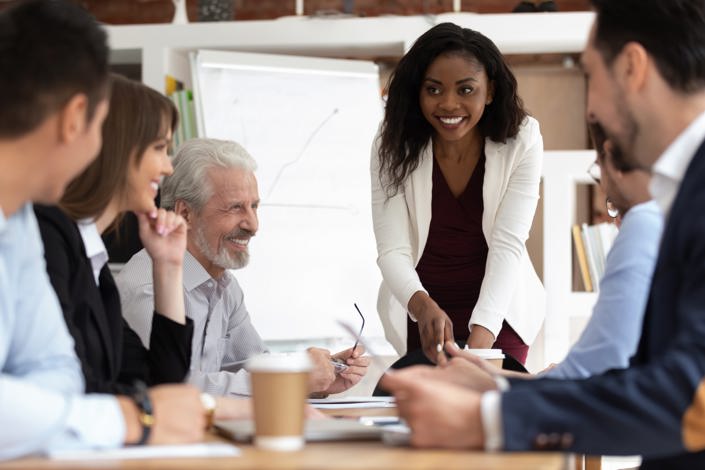 Let's look at some of the benefits of internal marketing:
Improves employee development and customer retention
Encourages employees in every department to perform better
Creates a common understanding of company goals and strategies
Information flows effectively between departments
Empowers sales staff to be authentic and increase customer engagement
Happy workers are easier to retain and provide a strong cultural foundation
Less turnover and reduced hiring and recruitment costs
Now let's look at 3 ways that internal marketing can specifically boost employee engagement:
1. It Aligns Your Employees With the Companies Values and Goals
When employees are informed and engaged with the brand guidelines and overall goals, they will also support branding on every level. 
This can take place in the form of providing access to relevant content or facilitating other ways of knowledge sharing in the company.
According to Smarp, the average employee spends 2.5 hours a day looking for information they need to complete a task.
2. It Builds a Connection Between the People and What They Sell
Internal marketing is a way to build an emotional connection with the product or service employees sell. This matters a great deal in terms of how engaged employees are in their work.
If everyone within the company is motivated to sell, markt and develop the product they work with, businesses will be positively impacted.
3. It Builds Trust Amongst Your Employees
Marketing a shared vision and reducing silos will make employees feel trusted and more confident in their work.
You will want to boost knowledge sharing and avoid information silos, which are harmful to prioritising work, motivation and the ability to see the bigger picture.
Common Internal Marketing Tactics
As we've already mentioned, a lot of internal marketing is to do with informing and educating employees on your company. 
Some common examples of internal marketing tactics include:
Educating employees on the company goals and values
Encouraging communication and collaboration between employees
Ensuring employees know that their contributions matter and are essential to the success of the company
Encouraging employees to have an input on company policies and leadership
Now more than ever, getting employees involved in the marketing and sales process will greatly benefit the results of your overall business.
Internal Marketing Strategies
The same as traditional marketing, you can execute internal marketing through a variety of tactics. 
Internal marketing has one goal in mind and that's to earn your employees' support. This support will in turn be communicated externally by the employees themselves.
Let's go through some strategies that show up often in successful internal marketing.
Consistent Communications of Company's Vision & Values
It's not enough to have your vision and values ticked away in a shared drive. You must refer to them often and have a leadership that truly believes in them.
In fact, 73% of employees who believe they work for a 'purpose driven' company are engaged, compared to only 23% of those who don't.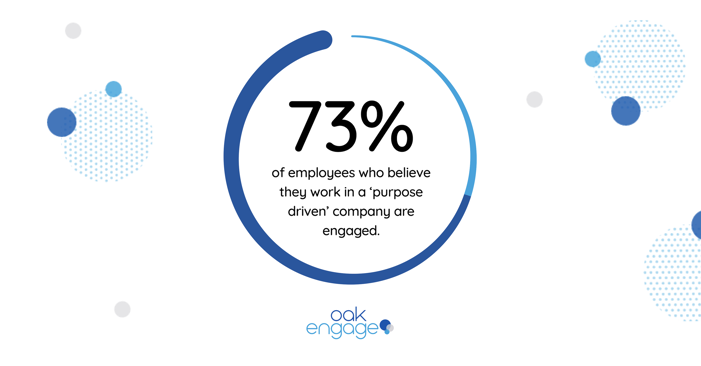 As a company, you most likely already have a mission or values set out. The key is to identify opportunities to communicate them regularly as part of your internal marketing. These could be in weekly meetings or performance reviews. 
Seeking & Acting on Employee Feedback
Employee feedback is a critical element of internal marketing. It sends the message to employees that their voice is heard and all feedback is being acknowledged.
Pulse surveys are a great way to collect feedback from your workforce. They gather real, actionable insights that businesses can use to improve employee engagement, productivity and collaboration and enhance employee experience.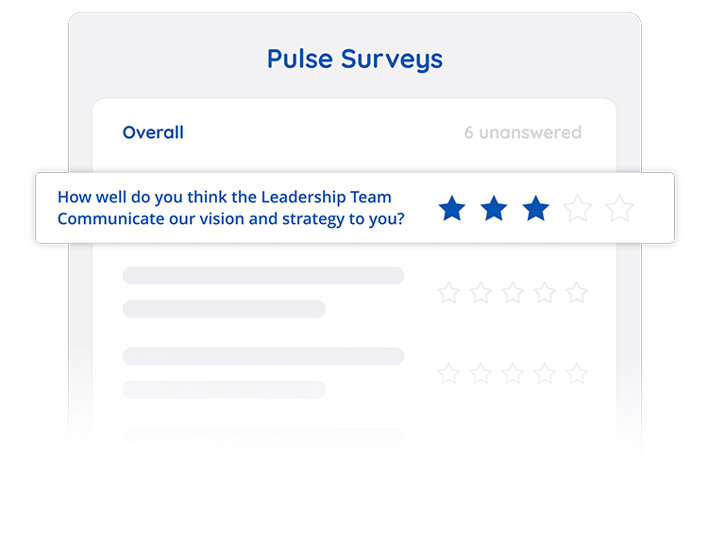 Pulse Surveys allow businesses to gauge interest, understand an employee's opinion, gather feedback and more. Oak surveys are a versatile tool which give businesses everything they need to get valuable data from employees, all within the company intranet.
Clear & Centralised Internal Communication
Communication is critical to any great working relationship. The key with internal marketing is to ensure your messages don't get lost among email, chat, social media and more.
You should limit the use of traditional communication channels for internal marketing. Tools such as instant messenger on your company intranet are designed for ultimate productivity. Focus on one dedicated and centralised digital platform like Oak Engage.
Better Learning & Development
94% of employees would stay with a company longer if that company invested in learning. However, 40% of employees who receive poor training leave their positions in the first year with the company.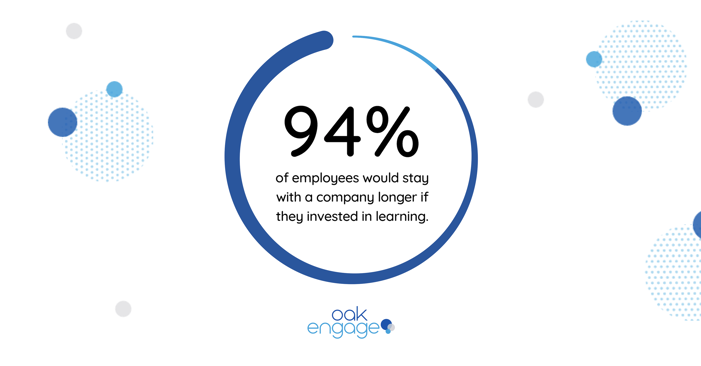 Learning and development is an essential part of your internal marketing strategy. You should start small. Begin by identifying the gaps in your employees' skills.
The key is to always be one step ahead!
Continue to provide training or meetings for open discussions. Re-evaluate as often as you need. And remember, your work should never feel too comfortable because thats when mistakes or obvious improvements are missed.
Internal Marketing Tools
The way that you communicate with internal employees is very different to the channels you may use for traditional external marketing campaigns. That's why it's so important to choose the right marketing tools for your employees.
At Oak, we provide a variety of different tools that companies (from any industry) can utilise to improve internal marketing and engagement between employees:
1. Company News & Announcements
This feature provides a single location where employees can discover the latest company news and announcements. 
A range of content can be communicated in this section, such as major corporate updates, messages from the CEO, policy changes and even changes on the intranet itself. 
2. Instant Messenger
Oak messenger, designed to improve employee engagement and workplace productivity, users can send instant messages to one specific person or a whole group.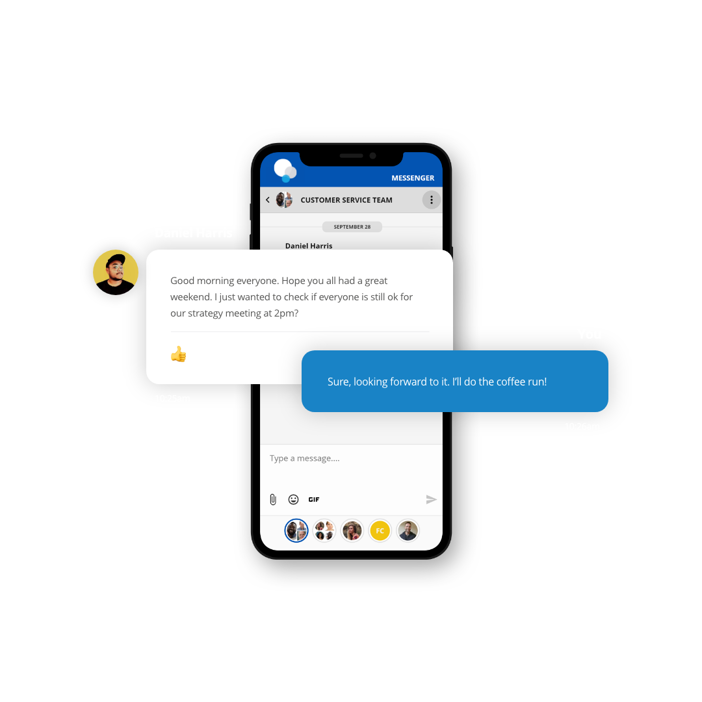 Perfect for department communication, remote workers and general social interaction between employees. 
3. Social Timelines
News and social feeds are designed to unite teams and promote solidarity with your company's own social feed. 
With the social intranet software, employees have a space to create bonds and relationships with other colleagues, increasing productivity, collaboration and connectivity.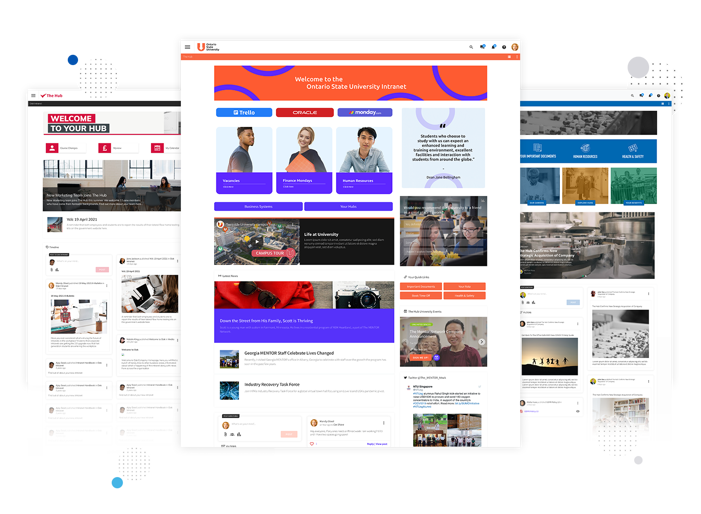 4. Mandatory Reads
Mandatory reading could be a specific article or document that's been uploaded by leadership. This feature dramatically helps to improve compliance and the flow of business-critical information. It also helps to save on email traffic.
5. Knowledge Base
This allows users to get the help they need instantly. Knowledge Base provides employees with a wealth of information and support.
From FAQ's to How-To Guides and walk-through videos, Knowledge Base is ideal for new starters and remote workers who are just starting out on getting to know their company.
6. Content Management
Oak's content management system helps employees easily access content to complete tasks quickly anywhere, anytime and stay connected with other employees and the organisation. 
Streamlining internal communication, improving productivity and cultivating a positive corporate culture.
What Is an Internal Marketing Plan?
An internal marketing plan is similar to an external marketing strategy as it must tell a story that persuades the audience to take action.
How to Create an Internal Marketing Plan
Are you ready to start engaging your employees with an internal marketing plan?
Here are 5 steps you need to think about before implementing your strategy:
Goals
Think about what you want to get out of your internal marketing strategy.
Examples of goals could include:
You should then determine how you will reach your goals. This might be as simple as creating a presentation on your current marketing strategies to be shown in a team meeting. 
Another approach could be determining how much expansion is needed in the areas of HR, business acquisition or customer facing, to properly grow your business or meet your marketing goals.
Audience
Who will need to receive internal marketing communications in order to meet your goals? This could include your whole team or different employees from different departments.
You should share your plan with everyone in the company. This allows each employee to ask questions and submit ideas to help improve your internal marketing strategy.
Marketing Message
Once you know who you're targeting and the goal, you can start to think of the messaging.
Start by making a list of things you want to communicate internally, this could be anything from company news or important documents from the past year.
Your Internal Communications Tactics
How will you communicate your message internally?
The distribution of your marketing plan is one of the biggest differences between internal and external marketing. With internal marketing, you want to make messages private for your company and only employees are allowed to view them.
Some channels you could use are:
An intranet is certainly the best option to communicate your goals internally with your team. It allows you to connect instantly with different departments and distribute company news in seconds.
Measure the Impact
Build your metrics. 
Set metrics that help measure the success of the strategy. For example, if you intend to increase sales by 10% by the end of the year, be sure to keep track of where the team is in terms of meeting this goal. You should also ensure that the goals are attainable and reward employees when they are met.
Internal Marketing Plan Template
Are you ready to take the next step? Download our internal marketing plan template. Simple and easy to follow, the template will get your planning off to the best possible start!