The Challenge
Having relied on traditional printed methods of communication, Five Guys needed a more innovative solution that could reach their workforce fast and allow them to track information that had been received.
With a majority of deskless workers, they also needed a platform where staff could easily access information to help them carry out their role responsibilities better such as training materials and access to rotas and payslips.
"With most of our workforce having no access to a desktop or emails, we relied heavily on printed communications and hanging up information in staff rooms. It was clear this form of communication wasn't working. We needed something instantaneous that could be easily accessible to our workforce."
Planning
Recognising they needed a more effective internal communications solution; the search began for the perfect fit. Several pitches later and still no luck finding the provider right for them, Oak came along.
It wasn't just the innovative and easy to use technology that attracted Five Guys to Oak. They quickly realised they had more in common with the Oak team than they thought; being fanatical about burgers, fries and people they also discovered Oak were passionate about employee engagement and promoting positive workplace culture.
Bowled over by the ease of use of Oak's technology and sharing strong core values, it was no question for Five Guys to partner with Oak to implement their employee engagement app.
"After searching for months to find the perfect fit for us, Oak came along to save the day. Oak has all the capabilities we need to connect all of our workforce in one easy to use app."
Implementation
Representing their brand identity throughout was a must to the team. From the off, they wanted an employee engagement app that clearly demonstrated their identity with the iconic red and white colouring.
This can be seen from the colour scheme of their employee engagement app and the name of their app very much fitting in with their key product, Chatty Patty.
"Oak has enabled us to represent our brand in more ways than we could imagine. From the app store to the main timeline, our brand identity has remained constant."
As with many plans this year, the global pandemic did have a slight impact as Five Guys were still in the middle of the testing period when the pandemic started. However, this gave a lot of urgency to the project as it was critical for the launch to go ahead so they could stay in contact with their workforce at such a crucial time. Luckily with the help of Oak, they created a slimmed-down version where employees could keep up to date with important company news and information.
To get their employee engagement app up and running, Oak worked closely with Five Guys to get their workforce onboarded to the app, populated with critical news and information and sent out push notifications to all staff so they were always kept up to date.
"We launched Oak to the entire Five Guys workforce in the middle of the pandemic, and it's been a game-changer in the way we communicate and engage with our people."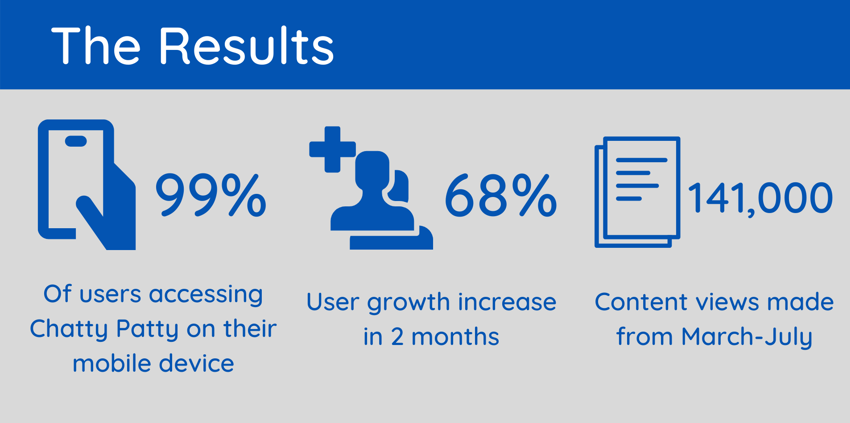 Summary
In such a short space of time, Chatty Patty has brought the Five Guy's community closer than they could have ever imagined.
Oak has provided Five Guys with all the tools they need to boost employee engagement, promote employee wellbeing and connect their stores through one app.
But don't just take our word for it, here are what some of the Five Guys employees had to say;
"The amount of support we've had from Five Guys during this difficult time has been great. Chatty Patty has enabled us all to connect and stay informed."
"I've felt very informed by Five Guys during this whole process."
"Chatty Patty has been massively helpful over the past few months and it's great for everyone to be connected."