Top 3 Internal Comms Challenges
Internal Comms professionals have a lot on their plate. They are tasked with keeping employees informed, engaged and loyal to the business. Employees see past any veneer an organisation may be able to portray through their external marketing. This makes internal messaging all the more important and certainly not without its challenges. 
With the increase in remote working, internal comms professionals have had to adapt as much as any other role and are more reliant on technology than ever to fulfil their purpose in the business.
The challenging nature of their role is all but evident in the fact that 74% of employees feel like they're missing out on company news.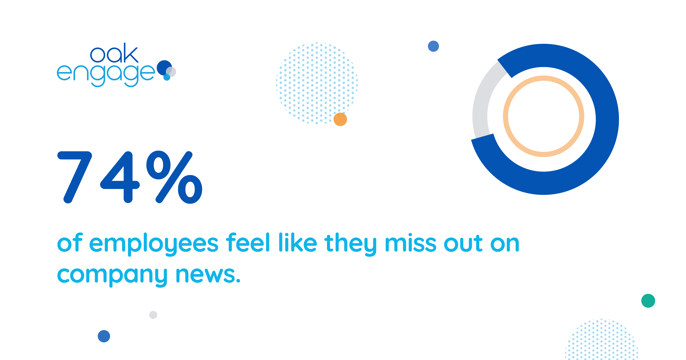 This can be a product of the many hurdles internal comms managers face on a daily basis, that creates difficulty in reaching specific audiences. This blog will take you through the main challenges of internal comms in 2022 and how an intranet can help overcome them. 
We'll cover:
Ramifications of Internal Comms Challenges on your Business 
Top 3 Internal Comms Challenges and How an Intranet could help: 
Disengaged Workers
Lack of Capacity/HR in Team
Lack of Analytics 
Ramifications of Internal Comms Challenges on your Business 
Not only do internal comms impact the flow of information to and between employees, the starker impact is that poor internal comms leads to disengaged employees, inefficient workflows, missed deadlines and lower employee retention.
It is reported that 85% of employees are more engaged when they are regularly updated about company news, which shows its importance. But why does this have such significant ramifications?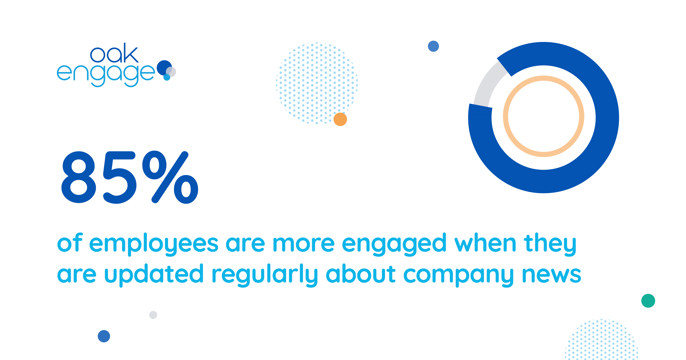 Naturally, if employees are more engaged when they feel like they're updated accordingly, they'll be disengaged if they feel like they're kept out of the loop. 
However, it's not simply a case of feeling like they're in the know around company news. Inefficient or disrupted communication can cause: 
Confusion
Poor workflows and missed deadlines
Employees unaligned with the brand
No/poor workplace relationships 
Poor dynamic between employees
On the flip side, good internal comms functions can play a significant part of your company's success. It will help improve business culture and ultimately benefit the bottom line. According to McKinsey, effective internal communication can improve productivity by up to 25%. A strong internal comms function really is worth its weight in gold.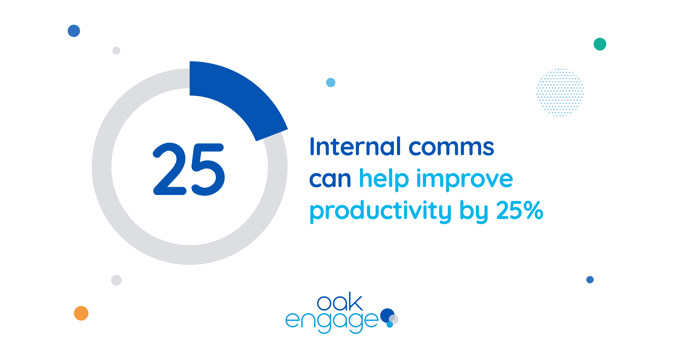 ---
Recommended Reading 📖:  Internal Communications Software [Buyer's Guide] 
---
Top 3 Internal Comms Challenges and How an Intranet Could Help 
The role of an internal comms professional is so vast that it is difficult to sum up the individual challenges they face in their day-to-day life in one blog. 
We have summarised the three main challenges they face and how an intranet solution like Oak can help combat internal comms to address them. 
Disengaged Employees 
As discussed, employee disengagement is a product of ineffective communication. 
Just like any external messaging, internal communication needs to be engaging and compelling to your audience or it's not going to get through to them. If you don't have the means or insight to do this, engaging employees is a difficult feat to achieve. 
Much of this comes down to the technology and tools that internal comms have at their disposal. Understanding audiences has become more difficult with the increase of remote working and particularly in bigger businesses, visibility makes understanding different personas and audiences a struggle.
Oak surfaces content for individuals based on their behaviours and relevance through intelligent algorithms.
The Curated Content System tailors content for specific needs that reaches and engages with the user across the relevant channels. Employees will be able to cut through the noise of irrelevant information and create a more engaging experience.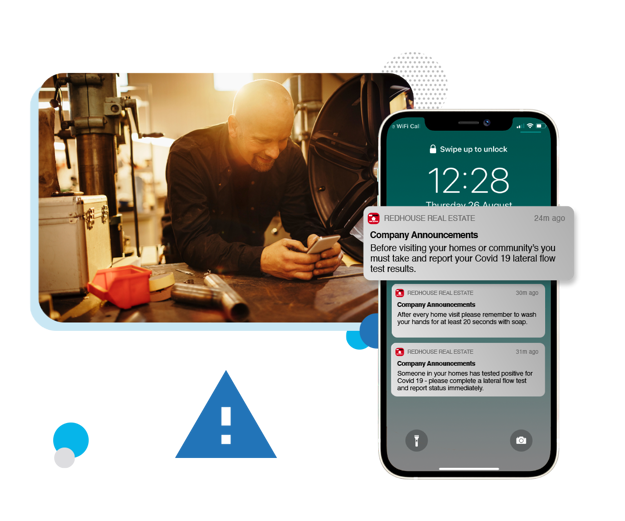 Lack of Capacity
Personnel, or a lack of, can be a root cause of issues in any department and internal comms is no different. With the many facets of internal comms this poses different challenges. When businesses are using different applications and systems to serve different purposes, it's difficult to manage them all. This leads to a lot of unused channels, confusion and lost messages. 
A cloud-based intranet like Oak is a unified internal comms platform. Social features like instant messaging, timelines and community hubs replace the traditional company email and are channels for employees and the business to communicate with each other on one platform. 
Oak also integrates with third party content sources and provides a centralised source through content management and federated search, where information is easily accessed. Policies and guidelines can also be housed centrally as well as sent with mandatory reads. This can help boost compliance and ease any lack of personnel in HR departments. 
The key is in integration and unification of communication and information channels, which is how Oak can help rectify some of the issues of a lack of manpower in internal comms and HR, among other departments. 
Lack of Analytics 
How can you measure the success of your internal comms objectives without the metrics to do so? Without analytics, any internal comms strategy is pure guesswork. Even if you do have SMART objectives, what do you have to measure them against without analytics?
With Oak, your intranet has built-in analytics dashboards where you can get several metrics used to measure successful comms in real-time. Not only can you measure and view intranet user numbers and interactions on content posted to your social timeline for engagement, but you can also track mandatory reads, so you can keep track of who is and isn't aware of the vital policy and company updates.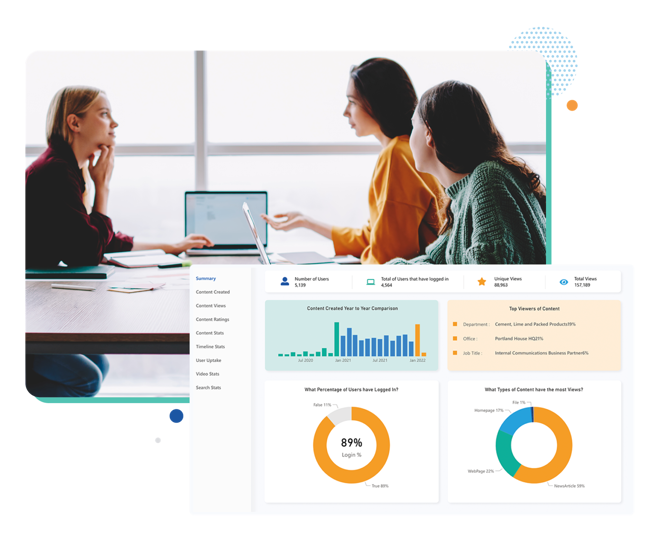 It's likely through all stages of your intranet from business case to post-implementation, you will have to prove the value to leadership and the wider business. Through analytics you can measure the success of your intranet on a daily basis to demonstrate its value to the business through evidence. 

 A key pillar of internal comms is employee feedback Pulse Surveys and polls also have integrated analytics to measure feedback and the sentiment of employees. Through analytics you can action data on what is and isn't working in your internal messaging and content you're putting out.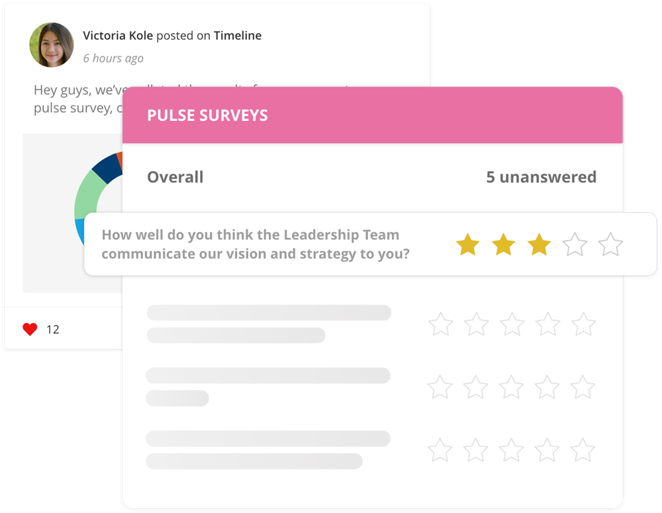 Conclusion
A modern intranet can be an absolute godsend for internal comms. Not only can they unify internal communications and channels, but they can also help you to achieve the objectives of your internal comms strategy through targeted and effective messaging. 
The challenges outlined in this blog are not critical and they can be fixed with an intranet solution like Oak, making your job and the job of your employees that little bit easier. 
What other challenges do you face as an internal comms professional? We would love to hear from you on our Twitter and Linkedin.