Prioritising Employee Wellbeing at Work

While some businesses may be itching to get their employees back to work, it's no secret that returning to work after time off can come with feelings of anxiety and stress.  
Although there are most likely, a large proportion of workers who can't wait to get some normality back by returning to work, there will be some who could find the situation overwhelming. A long break away from work could knock many people's confidence and make them wonder how they will get to grips with a new way of working. Not to mention the fact we're still in the midst of tackling a global pandemic.
Returning to work after any amount of time off can feel daunting. There's the dread of missing out on important tasks and having to spend hours catching up and not to mention the underlying fear of thinking you'll have completely forgotten how to do your job.
Whilst we're all indirectly aware of the benefits of wellbeing in the workplace, it's not often we get to sit back and reflect on just how important employee wellbeing is. Thankfully, right now is just the time to do so. In honour of world wellbeing week and of course, the fact that businesses up and down the country will be preparing to get their staff back to work, we wanted to share some tips to take into consideration when preparing for the big return. After all, the benefits of wellbeing in the workplace can be far reaching.
Return to Work Meetings 
Like previously mentioned, going back to work after being away for a period can bring on feelings of anxiety and stress. As an employer, it's important to ensure you prioritise employee wellbeing in the preparations of getting your staff ready to get back to work.
First and foremost, managers should arrange 1-1 meetings with all direct reports who will be returning to work. By doing this you'll be able to gain an insight into how your employees have coped without being at work for 3 months and you'll be able to ask how they feel about returning to work. It's also a chance for them to ask any questions they may have and confide in you as a leader if anything is worrying them about going back to work.
A 1-1 meeting is also a great way to promote trust between you and your employees. Making the effort to talk to your people one on one regarding personal, work-related issues or just to have a general conversation will show that you're willing to go the extra mile and invest in your people and their feelings.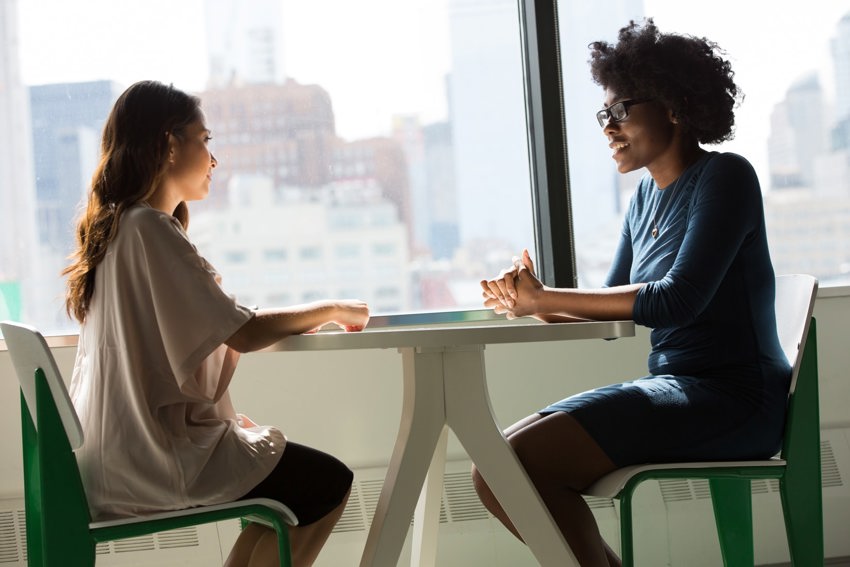 Promote Social Interaction 
Isolation is a key trigger for depression and anxiety, which is why it's crucial to promote social interaction within your team to boost their mental health and wellbeing. A digital workplace can transform social interactions within your team and get people talking.
Hubs are a great place to start. They can be about anything and allow your people to collaborate and share ideas. Whether you want to create a space to discuss returning to work information and policies or you want a place for your people to discuss what series they're currently watching, Hubs are sure to bring your teammates closer.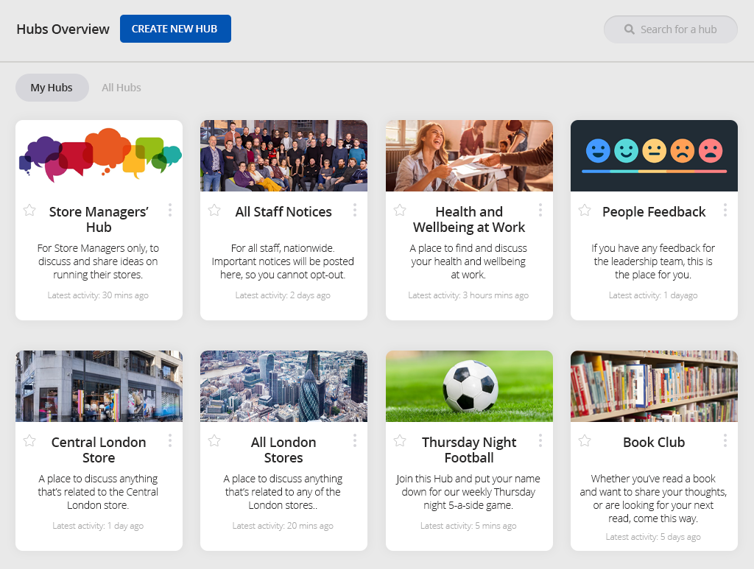 Encourage frequent breaks 
Say goodbye to the days of a 1-hour lunch break and instead encourage your people to take frequent breaks throughout the day.
This is particularly important to those that work in a deskless based environment such as the retail and hospitality industry. Working on your feet all day can be immensely tiring and having to work with members of the public will mean that extra caution must be taken to ensure work is carried out safely. Therefore, frequent short breaks will enable your workforce to refresh and fight off fatigue. Plus, many workplace studies have found that several shorter breaks throughout the day can increase productivity.  Yes, that's right, just another one of the many benefits of wellbeing in the workplace.
The Power of Recognition 
Remember, we're still living in the middle of a global pandemic and there is still a risk even by leaving the house. If your employees are willing to return to work, it just shows how dedicated they are to their job. So, make sure they always feel valued for their hard work.  
Giving praise and recognition can have a great impact on your employee's mental health and wellbeing. According to Gallup, employees who regularly receive praise are more productive and engaged.  Positive reinforcement is a great way to get the most out of your team and the business as a whole. Acknowledging the benefits of wellbeing in the workplace can reap great rewards for both the organisation and its people.
Like previously mentioned, having a long break from the workplace can cause a lack of confidence and feelings of anxiety. Just simply telling someone they're doing well can work wonders on their self-esteem and wellbeing.
Regular Wellbeing Checks 
It's important to regularly check up on your workforce to find out how they are dealing with returning to work.
Every three or four weeks send out a Pulse Survey to your employees and ask close-ended questions such as; 'Have you felt in any danger by returning to work?' 'Has your mental health and wellbeing been affected by returning to work?'  
Sending out Pulse Surveys will enable you to identify any employees who may be struggling with their mental health and wellbeing on returning to work. This way you'll be to plan out steps you need to take as a leader to improve the returning to work process and identify how you can make your workforce feel comfortable and safe.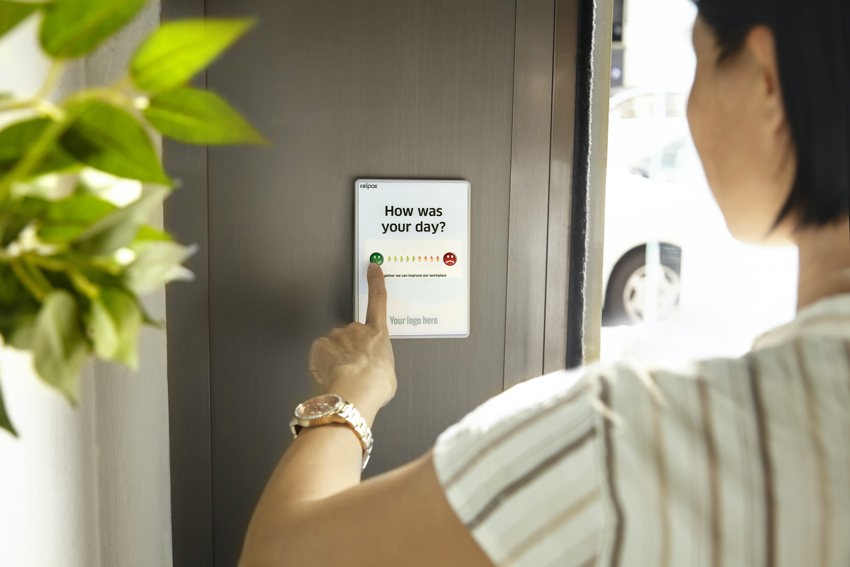 While we may be getting some normality back into our lives, it's quite clear that things won't go back to how it was for some time. Of course, returning to work after lockdown was always going to come with its challenges, ensuring you put employee wellbeing at the forefront of your back to work plan and your team will bounce back stronger than ever.
---
Want to see more?
Get a demo with one of our intranet experts and see how Oak could work for you.
---