Effective internal communication in healthcare is essential to smooth operations and quality care.
In healthcare, communication efforts are often aimed at the patients and outside partners. It can be easy to overlook the importance of effective communication among internal team members.
Internal communication is just as important - if not more important - than patient communication. And it's important to know how to improve it.
In this blog we'll cover:
Internal comms in healthcare
Why is it important in the healthcare industry?
Reasons for poor internal comms in healthcare
How to improve internal comms in healthcare
---
Key Takeaways
⭐ 80% of serious medical errors involve miscommunication during patient transfers.
⭐️ In the healthcare industry, regulations and processes are constantly evolving.
⭐️ For the healthcare industry, the email open rate is just 39% with a click through rate of just 6%.
⭐️ Implementing a company intranet allows healthcare workers to access everything they need in one place.
---
Internal Comms in Healthcare
So what exactly do internal communications consist of in the healthcare industry?
Firstly, immediate and direct communication in healthcare environments is essential. The health and wellness of patients depend on a clear and accurate exchange of information.
Research shows that 80% of serious medical errors involve miscommunication during patient transfers.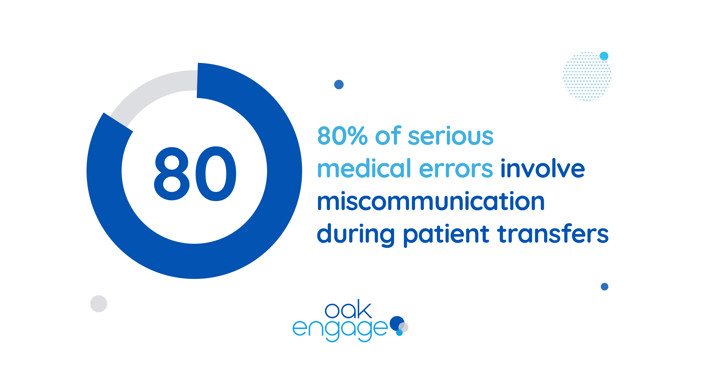 Secondly, since many employees in the healthcare field tend to travel to various facilities and make home visits, real-time communication can be especially challenging. 
Healthcare workers don't usually or regularly check their emails as most of their time is spent on the go, working with patients or other colleagues. Therefore it can be difficult to stay updated on company announcements.
Let's take a look at some reasons why effective communication in healthcare are so important:
 It makes sure operations run smoothly and patients get the care that they need.
 It's key to have efficient communication between management and staff.
 Leaders must be able to distribute policies and compliance regulations quickly.
Lines of communication need to be open to reduce liability risks.
Now that we've discussed what internal communications consists of in the healthcare industry, let's delve deeper into the importance of it.
Why Is It Important in the Healthcare Industry?
Internal communication in healthcare is a huge factor in shaping an organisation's culture - which in many instances can affect the quality of vital work.
In the healthcare industry, regulations and processes are constantly evolving. That's why effective communication is essential to ensure that every employee stays up to speed.
Here are some of the benefits of having effective internal communication in healthcare: 
Better Collaboration
Without effective communication methods, healthcare workers end up making decisions individually instead of as a team.
But, good internal communication in healthcare fosters teamwork and collaboration.
Several studies have shown that good communication increases employee engagement and productivity. 
Improved Patient Care
Depending on the patient's situation and the type of healthcare facility, a patient may end up interacting with many different healthcare professionals in the course of their care.
This is when effective internal communication is vital.
If employees are communicating well and collaborating with their team, every member of the care team will understand the goal of care for each patient.
With a good means of communication, care workers will be able to pick up where the last team member left off and create a seamless and consistent experience for a patient.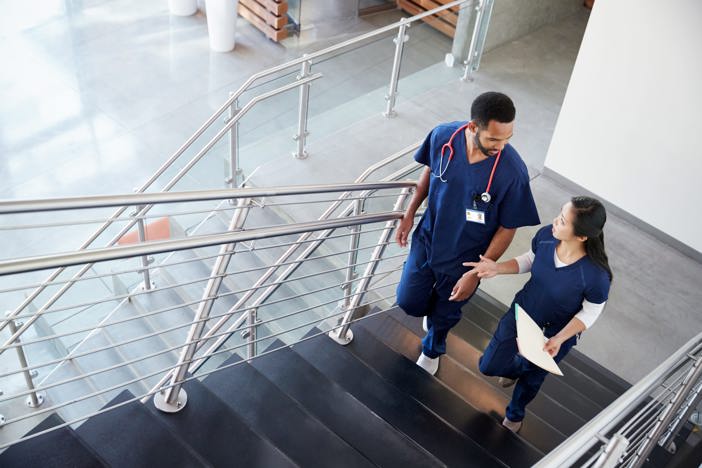 Improved Compliance with Changes
In an industry like healthcare, policies and requirements are constantly changing, especially with COVID.
When these changes come, effective internal communication is key to conveying these changes to employees. They need to be implemented quickly and consistently across the organisation.
Better Employee Satisfaction
Effective internal communication leads to happier and more engaged employees, which leads to more positive outcomes. 
If employees are satisfied in their role, it also reduces burnout rates. In fact, burned out workers are 2.5 times more likely to seek new employment. 
Now we know why internal comms is so important in healthcare, why is there still such a lack of communication in this industry? 
Reasons for Poor Internal Comms in Healthcare
Since the pace of work can be fast and relentless for healthcare workers, staff work across different disciplines and on different shifts, and communication can be lost.
The COVID 19 pandemic also placed an extra strain on the healthcare industry all over the world. In addition to running out of beds, ventilators and PPE, hospitals have had to postpone surgeries and turn patients away. 
Keeping employees informed in this type of environment is a challenge, let alone during a pandemic.
With a cloud based platform like Oak, your workforce can access a COVID -19 resilience pack to help organisations from across various sectors manage their workforce.
Using a simple online form, employees can enter details of their first and second vaccinations, complete with dates and manufacturer.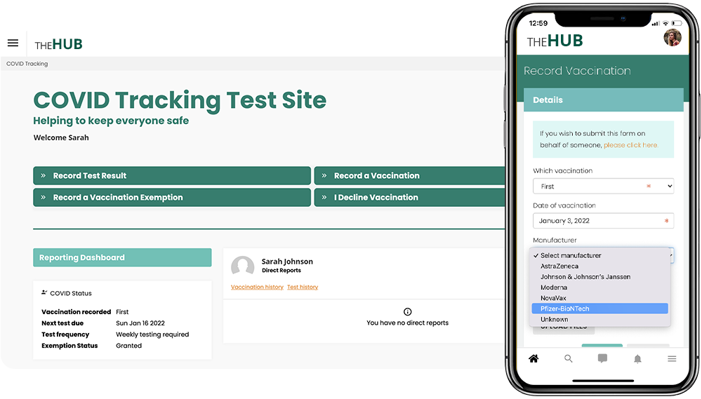 Evidence of vaccinations can easily be uploaded as part of the form, even on mobile devices.
We've also created a place for employees to record their test results in a simple, fast and efficient manner, directly from the homepage. Within this form, employees can distinguish between the types of tests that have been taken, when these were taken and also the results. 
This is perfect for healthcare workers and saves valuable time for compliance. 
So let's delve deeper into why internal comms is so poor in this sector.
Outdated Methods of Communication
Many organisations are still using outdated technology such as faxes, radios and telephones that just won't provide quick and effective information to large groups of employees. 
These types of tools only work as a one-to-one communication which requires manual replication to get the information around to everyone.
However, funding is always an issue in the healthcare industry. Money is tight so quite often investing in internal communications is seen as "non-essential" despite it having a profound effect on patient outcomes.
Encouraging management and teams to see the importance of investing in internal communication improvement is a challenge in itself.
---
Recommended Reading 📖: 11 Internal Communication Tools for 2021 & Beyond
---
Email Overload
Did you know that most healthcare workers are still using email as their number one channel of communication?
The average professional spends 28% of the work day reading and answering email, according to McKinsey analysis. For the average full-time worker, that amounts to a staggering 2.6 hours spent and 120 messages received per day.
This is simply just not feasible working in healthcare. Employees are burdened by so many emails hitting their inboxes every day and they don't have time to open them all.
This results in important information being missed.
For the healthcare industry, the email open rate is just 39% with a click through rate of just 6%.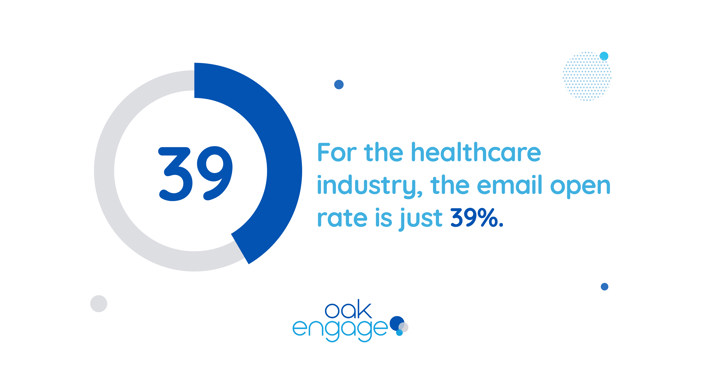 Means, if you're sending an email with a hyperlink to important information - such as policy and procedure changes - it's getting missed by employees.
Lack of Effective Channels for Crisis Communication
Hospitals and other healthcare organisations tend to deal with emergency situations every day, and having systems and processes in place to deal with that is a given. 
However, a lot of the time, the appropriate channels for dealing with this type of emergency are not always in place.
Hospitals can't just rely on email in order to keep people informed, especially when a situation can escalate so quickly. 
💡 Top Tip!
A mobile employee app facilitates real-time communication between healthcare workers and supports the time-sensitive nature of their work.
Information Silos
Information silos is a term used for situations when information just gets lost. This is one of the main problems that large healthcare organisations are facing.
Communicating well is key to receiving the correct information, at the right times. And healthcare professionals need a technology that can be used on the go to receive this means of communication.
Manual Alert Delivery
The final reason for poor internal comms in the healthcare industry that we're going to talk about is manual alert delivery.
Traditional communication methods such as faxes, radios, telephones and pagers are becoming obsolete.
These methods of communication are inefficient and don't have the ability to quickly and easily reach large numbers of people at once. 
For example, making multiple calls or sending multiple faxes is time-consuming for the person sending out the information. Their time could be better spent doing other things such as patient care or responding to problems. 
---
Recommended Reading 📖 Common Internal Communications Challenges & How To Beat Them
---
How to Improve Internal Comms in Healthcare
The big question is, how do we improve internal communication in this industry? 
Well, it's easier than you think!
We'll take you through 5 core steps on how to solve those communication challenges. 
⭐️ Assess Your Current Method of Communication
Before you can make improvements to your internal communication, you need to assess your current methods.
It's so important to avoid making costly mistakes so it's important that you don't skip this step.
Are there any obvious gaps in your communication that result in mistakes? 
You should note down detailed steps of what works and work doesn't.
Once you've assessed your communication, it's time to ask for feedback and create an internal communications strategy.
A great example of communication is allowing your staff to have a voice, listen to their feedback and make appropriate changes.

⭐️ Streamline Communication Channels
Communication should be simple. Especially for healthcare workers.
Working in healthcare, there are protocols you need to follow, but when you do your assessment of your current state of communication, don't forget to see if there are ways to streamline your channels.
Implementing a company intranet allows healthcare workers to access everything they need in one place.
At Oak, we know how important efficiency and connectivity are within the healthcare profession. We empower organisations to improve communication, boost connectivity and centralise information.
We support large organisations and deskless employees, regardless of shift pattern. 
The solution is always on hand to support teams at any time, anywhere. 
Working shifts in healthcare can be an emotionally challenging and stressful working environment. That's why it's important to create a centralised space for employees to connect.
Oak is designed to facilitate a more streamlined operation within any industry. 
In healthcare, this helps to adapt to a more modern and holistic undertaking of day to day operations.
⭐️ Encourage Mobile Collaboration 
As discussed earlier, pagers and outdated means of communication still remain the primary communication method.
While these may be an effective way to alert someone to return your call, they're not always an effective or practical way to conduct a two-way conversation.
This is where a mobile app comes in.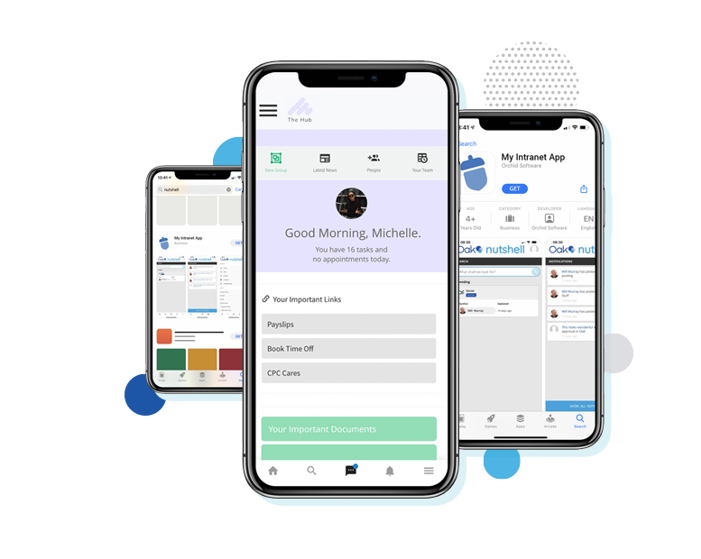 Speed and access are key to keeping healthcare workers aware of updates relating to their role and public health.
Since frontline workers are the backbone of an organisation, it is vital that workers are equipped with a mobile app to read updates instantly. Push notifications can help achieve this instead of sifting through emails.
⭐️ Give Employees a Voice
Research suggests that a key indicator of organisational success is a company's ability to make its employees feel heard.
Giving employees a voice is a critical component of establishing a workforce that is happy, more productive and engaged.
However, employees must be convinced that their suggestions play an integral role in decision making. They will then become willing to communicate ideas, concerns and opinions within their role.
You can understand your employee's requirements with pulse surveys and polls.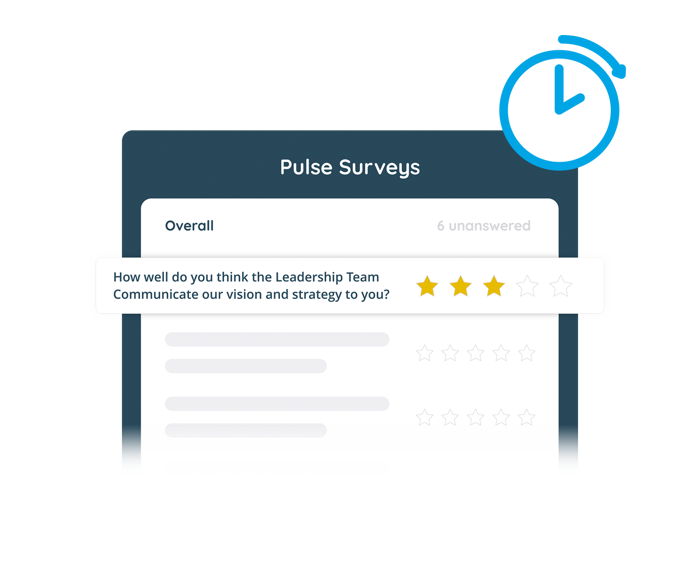 That means no more gathering information via emails. You can create and launch a poll or pulse survey with ease for better engagement rates within your company. All in a matter of minutes.
---
Recommended Reading 📖: Pulse Surveys: A Beginners Guide
---
⭐️ Share a Mix of Important and Engaging Information
Your internal communications shouldn't just be about important work documents.
Giving updates or sending out company policies are great examples of what content to put on your company intranet. You should also share positive moments, reinforce your organisation's values and create engaging content on your company timeline.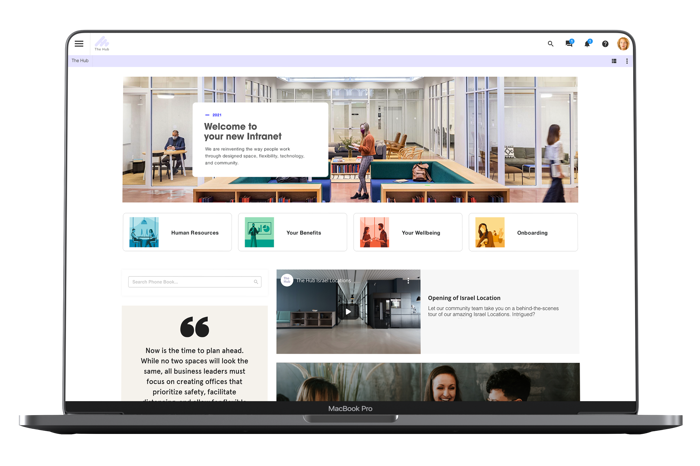 Not only will you see your open rates improve, but this kind of information sharing can also boost employee engagement, improve morale and enhance patient satisfaction.
If you'd like to hear more about how we can cater our approach to improve internal communications in healthcare and how to manage your workforce during COVID 19, please get in touch.